What Is The Difference Between A Face Wash And Face Cleanser?
Understand the differences to know which to use when in your skincare regimen.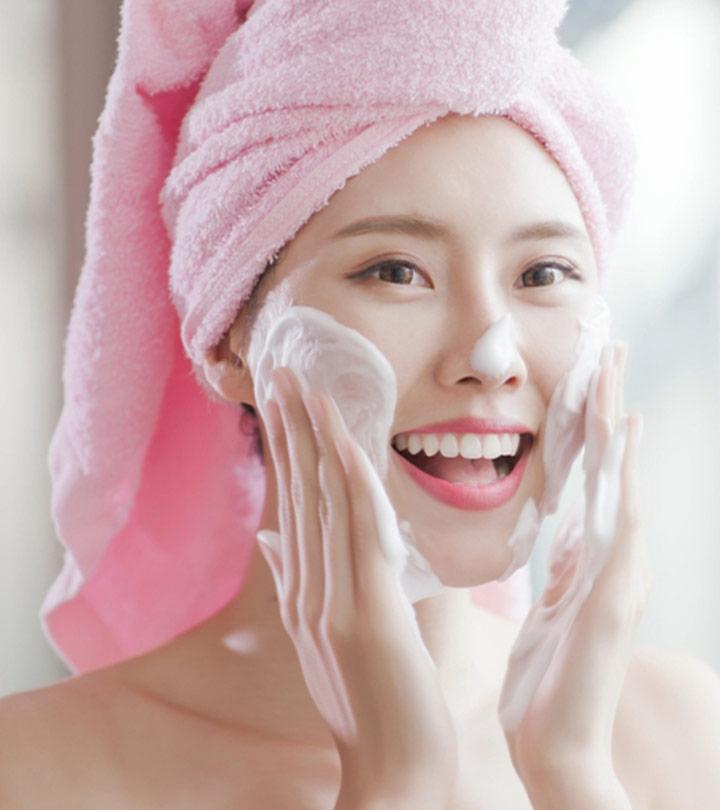 Cleanser vs. face wash – is there any difference between the two? Face cleansing is the first step in a comprehensive skincare routine and a small step towards personal care, which can leave your skin feeling revitalized. However, the difference between a cleanser and a face wash is not known to many.
While both products help cleanse your skin, the ways in which they work are different. This article explains all the differences between a face wash and a cleanser and how they work. Keep reading to learn more about the difference between face wash and cleanser!
Difference Between A Cleanser And Face Wash
1. Benefits
Cleanser
So, what is a cleanser? It is a gentle skin care product that eliminates dirt, grime, oil, and even makeup from the skin surface. There are several types of cleansing products meant to address different skin types and skin issues. You can choose one based on your beauty expectations and skin type. Cleansers usually have a skin-friendly pHi  XA chemical scale used to measure the acidity or basicity of a solution. The optimal skin pH value is between 4.7 and 5.75. and can even be used on sensitive skin.
Throughout the day, our face comes in contact with several pollutants that stick to the surface of the skin and make it appear dull. These specs of dirt are not water-soluble and cannot be removed with the liquid alone. Cleansers are a great way to tackle this issue. They help remove dirt and dust particles, making your skin fresh and bright.
Excessive amounts of dirt, oil, and bacteria can build up in the pores, resulting in acne, blackheads, and whiteheads. Cosmetics and beauty products also leave residues on the skin. Cleansers wipe away acne-causing pollutants and other impurities from the skin before they get a chance to enter the skin pores.
Proteins, such as collageni  XAn abundant protein found in the body that helps provide support and structure to the skin, tendons, and connective tissues. and elastini  XA protein found in the connective tissues of the body that is responsible for providing elasticity to the skin. , which contribute to your skin health and elasticity, require moisture to function. Cleansers help retain the natural moisture of your skin to keep it looking soft and supple.


Trivia
The concept of cleansing dates back to the origin of the human race when it was done by scraping the skin with a piece of bone or stone. Later civilizations used plant-derived materials and water as cleansers.
Face Wash
A face wash eliminates the dirt, dead skin cells, oil, and grime from the pores and offers deep cleansing. They produce a good amount of lather and may contain more astringent ingredients. In addition to the benefits mentioned above, face washes also have the following USPs.
Besides oil and dirt, a facial wash has the unique ability to remove dead skin cells. This prevents acne and enhances the rate of cell turnover, resulting in younger-looking skin.
Face wash essentially preps your skin for the rest of your facial care routine. It clears and opens your pores, enabling better absorption of other facial products.
Enhances Blood Circulation 
The best way to apply face wash is to massage it onto the skin. This boosts blood flow to your face and helps achieve a healthy glow.
2. Usage
How Do You Use A Cleanser? 
While you can use a cleanser alone, it is typically used before the face wash. For best results, follow the steps mentioned below:
Splash your face with lukewarm water. Ensure that your skin is thoroughly soaked.
Take a pea-sized amount of cleanser and apply it over your cheeks, chin, nose, and forehead.
Gently massage the product onto your skin with the tips of your fingers.
Wipe away the cleanser from your skin using a wet cotton ball.
Apply some toner or moisturizer to your face.
How Do You Use Face Wash? 
Follow these steps while applying a facewash:
Wet your face with lukewarm water.
Take a coin-sized dollop of face wash and rub it with your hands to lather it up.
Massage the product gently onto your forehead, cheeks, chin, lips, and nose in small circular motions. Then, slowly proceed in upward and outward directions. Be careful with the skin around your eyes.
Rinse your face with lukewarm water.
Use a toner and moisturizer to soothe your skin.
3. How Does It Work?
Interestingly, cleansers and face washes function similarly. They contain surfactants, natural or chemical compounds that penetrate the surface layer of the skin. These products break down the larger substances present in the skin through a process called micellization. This helps remove dirt, dust, and impurities from the skin easily and helps maintain face hygiene.
These skin wash products also contain fatty acids and alkaline solutions. The fatty acid attaches to the oil in the skin pores and dissolves it, while the alkaline solution washes away the oil.
However, a face wash contains more potent surfactants and is primarily used for deep cleansing the skin.


Fun Fact
Ancient African rulers used to make facial cleansers by combining clay and olive oil into a soap mixture.
4. When Should You Use These Products?
Cleanser 
Cleansers are mild and can be used multiple times during the day to maintain facial hygiene without drying out the skin. You can use a cleanser:
After waking up in the morning and before going to sleep.
After exercising, running, or swimming.
After a bath to ensure that your face is properly cleaned.
If you have dry or sensitive skin.
Face Wash 
Unlike cleansers, face washes contain relatively strong agents that can dry out your skin if overused. Therefore, it is recommended to limit their usage. You can use a face wash:
Before you go to sleep.
After intense physical activity that results in sweating.
After exposure to the sun, pollution, and dust for long hours.
If you have oily or combination skin type
Now that you know the major differences between these face products, let's explore the frequency of their usage.
Cleanser Vs. Face Wash: How Often Should You Use Them?
Both cleanser and face wash can be used daily to ensure smooth, flawless skin. However, avoid using face wash more than twice a day to prevent dry skin. You can use a cleanser as many times as required.
Are you wondering if you can use a cleanser and face wash together? Read the next section to find out.
Can You Use Cleanser And Face Wash Together?
Yes. A cleanser and face wash can be used alone as well as in tandem. However, it is recommended not to use these products together during your daily skincare routine.
Note: Remember to follow up with a toner, moisturizer, or face oil after using a face wash.
Cleanser Vs. Face Wash: Which One Should You Use?
Although cleansers and face washes are different, they play an equally important role in your skincare routine. If you want to cleanse your skin lightly, go for a cleanser. On the other hand, if you want a deep cleansing, opt for a face wash.
Infographic: Cleanser Versus Face Wash
When it comes to skin care, understanding the difference between a cleanser and face wash is essential. While both are used to clean the face, they have distinct characteristics and purposes. Take a look at the key differences between these products in the infographic below. Stay informed to make better choices for your skin care routine!


In A Nutshell
To sum up the question, "Are cleansers and face wash the same?" the answer is no. Both cleansers and face washes help maintain your skin and clear impurities. However, they are not the same. The difference between a cleanser and a face wash lies in how they work. The cleanser is a gentle skincare product that helps remove dirt, grime, oil, and makeup, while a face wash aids in eliminating dead skin cells, cleaning the pores, and offering deep cleansing. You can use a cleanser to clean your skin lightly and a face wash if you need deep cleansing. However, it is best not to use a face wash more than twice a day.
Frequently Asked Questions
Is rosewater a cleanser?
Yes. Rosewater can be used as a cleanser on all skin types.
How long should I leave a cleanser on my face?
Massaging a cleanser on your skin for a minute is enough to allow it to work.
Is cleanser good for oily skin?
Yes. Cleansers can work well on oily skin if they have the right ingredients, like salicylic acid, to control oiliness and unclog pores.
Is it okay to use toner without cleanser?
It depends on the product and your skin type. However, toner should not replace your cleanser as it does not provide deep cleansing.
Does cleanser help acne?
Yes. However, while cleansers help keep your skin clean and oil-free, they alone are not enough to treat acne.
Key Takeaways
Cleansers can eliminate dirt, grime, oil, and makeup from the skin whereas a face wash eliminates dirt, oil, grime, and dead skin cells by deep cleansing the pores.
Cleansers are mild and can be used multiple times during the day without drying out the skin, but face washes contain relatively strong agents that can dry out your skin if overused.
Cleansers are better suited for dry or sensitive skin, whereas facewash is more appropriate for oily or combination skin types.
Finding the perfect cleanser for your skin type is crucial for a radiant glow. Join us as we explore this enlightening video to learn what kinds of cleansers suit different skin types. Click on it to get started!
The following two tabs change content below.