5 Clever Makeup Tricks To Hide Your Double Chin
Right from how to dress to what cosmetics to use, here's what you should know.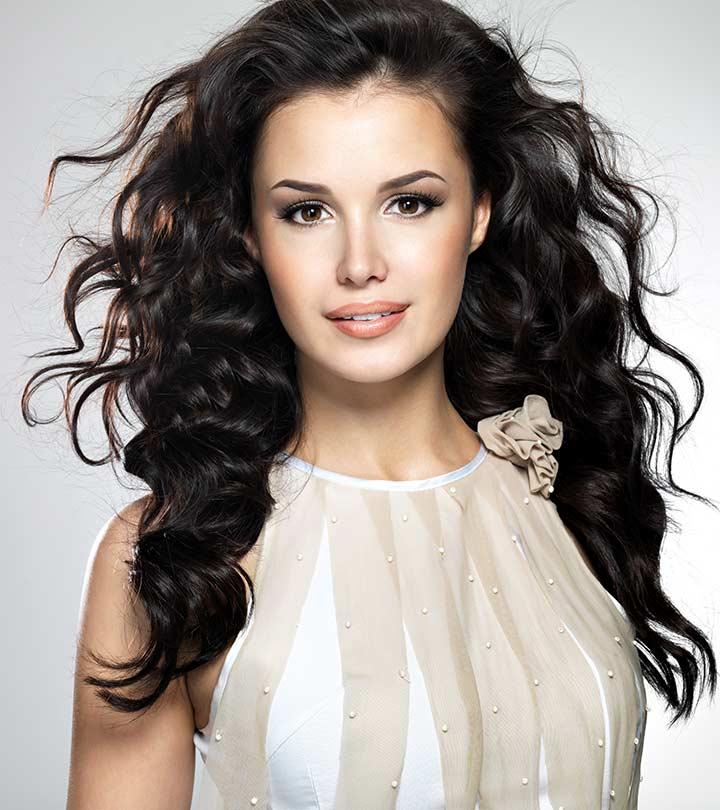 Having a double chin can adversely affect your self-confidence. That's why some people want to know how to hide a double chin with makeup.
We understand it is annoying how such an unimportant thing can ruin your selfies. So, why let it make you feel embarrassed when you can easily hide it? Getting rid of a double chin can be expensive as it requires surgeries. But makeup offers a safer and cheaper alternative. While it is a temporary solution, makeup can help you get a perfect glamorous look that makes you feel confident.
This post discusses some simple, easy, and creative ways to use makeup for hiding a double chin. Swipe up!
How To Hide Double Chin With Makeup – Top 5 Tricks:
1. Dress Smart:
You may wonder how your dress can decide what your chin looks like. But the fact is, what you wear can make a lot of difference. In this case, avoid drawing attention towards your double chin. Let people notice your neckline, collarbones or even your throat. How do you do that? By wearing scoop neck tops.
A scoop neck top gives a wide view of your throat and collarbones. Plus, it is stylish and can be teamed up with a formal pair of trouser.
So, the mantra here is to show off!
2. Hairstyle Matters:
Wear a hairdo that doesn't fall on your neck, close to your chin or rather double chin. The volume of hair hanging down your neck accentuates the visibility of the double chin. One suggested hair style is the high ponytail. Or better yet, go for a bob cut. You won't have to think of a new tricky hairstyle every morning.
One hair style which is a big no-no is hair ending with curls under your chin. Your double chin suddenly starts to look like triple chin.
3. Get Cheeky:
No, don't take the meaning literally. All we mean to say is, wear your makeup such that it highlights your cheeks and eyes. For eyes, you could use a subtle eyeshade. For cheeks, use a blusher upwards to enhance the area prominently.
Quick Tip
Stay away from shimmery makeup as it accentuates the double chin. Instead, opt for creamy and matte-textured contour and highlighter.
With cheeks and eyes drawing attention, it gets easier to divert the focus from double chin.
4. Lips Do Lie:
Your lip color can make a huge amount of difference in your appearance. But here, what's important is which lip color you wear. To hide your double chin, use bold lip colors like dark red, dark brown, etc. You can also go for shiny lip gloss. That attracts attention to your face, and not to the portion below your face.
5. Define Your Jaw Line:
Just as you have enhanced your facial features like the cheeks, eyes and lips, another cheat trick is to try and clearly define your jaw line. How? Use a bronzer. Brush it across the jaw line. If you are of wheatish or dark complexion, go for gold-toned bronzer. If you are of fair complexion, opt for rose-toned bronzer.
Quick Tip
Use a tapered or angled brush to define your jawline. Trace along the jawline and not below it. While blending, blend both upward toward the face and downward toward the chin for a sculpted look.
If you highlight your jaw line, it takes away the attention from your double chin.
So, now that you know some cheat tricks to hide your double chin, you can comfortably move around in the office, chill at a party and not get teased by your friends! But remember, the problem of a double chin arises when fat accumulates in your neck. Why does it happen? Because there is no physical activity happening in that particular area. The cheat tricks are only to hide your double chin. For a long term solution, you must either practice yoga or consult a doctor.
Infographic: Top 5 Ways To Hide Your Double Chin
We know how inconvenient it can be if a minor issue simply ruins your look. For example, many people have double chins, a common facial feature. But they may be drawing attention away from one's other attractive facial features. If you are in a hurry and want to fix this issue, here is what you can do – switch up your cosmetic look, hairstyle, and clothing choices. There are a few simple ways to cover your double chin, and we have listed them in the infographic below. Take a look.


The most brilliant way to learn how to hide a double chin with makeup would be to highlight other features of your face, so the attention is focused on them and not your double chin. Apart from this, you can also opt for all the other tips and tricks that this article offers. From wearing a high-neck top to defining the jawline, your options are endless. Also, we believe it is important to wear your confidence first. Your confidence has the most incredible power to help you steal the show and be the showstopper wherever you go.
Frequently Asked Questions
How can I make my chin look smaller in pictures?
To minimize the appearance of your chin in photos, try contouring the jawline with a darker shade of foundation or bronzer. This will create a shadow effect, making the chin appear slimmer and more defined.
Can you tape a double chin?
If you want to instantly improve your appearance in photos and hide your double chin, taping is a handy solution. It's quick, straightforward, and can make a noticeable difference. And, for a more lasting outcome, incorporating healthy eating and physical activity into your routine is definitely worth a shot!
Key Takeaways
Scoop neck tops allow you to focus on the neckline and collarbones instead of the chin area.
A bold lip color or a shiny lip gloss can deflect attention from the chin area.
Hairdos like a middle part or short bob highlight the double chin.
A gold-toned bronzer on a wheatish or dark complexion helps define the jawline.
A rose-toned bronzer on a fair complexion does not bring attention to the chin area.
The following two tabs change content below.