Is Clindamycin Good For Acne? Clindamycin is a topical antibiotic prescribed to treat acne. It is used as the first line of treatment for mild to moderate acne. However, some believe it may only help manage acne and cannot be a complete treatment.
Topical clindamycin comes in gels, lotions, solutions, and foams. The right form of application depends on the tolerability, preference, and affected area of the patient. Here, we discuss the effectiveness of clindamycin as an acne treatment, how you can use it, and its potential side effects. Keep reading to know more.
Benefits Of Using Clindamycin For Acne
A 2007 study showed that clindamycin was more efficient than other topical antimicrobials like erythromycin and tetracycline in treating acne (1). Another study suggested that a nano gel emulsion made with 1% clindamycin was more effective in treating acne than other conventional gel formulations (2).
Research has also evaluated the effects of topical clindamycin hydrochloride and clindamycin phosphate (2% concentration for both) in treating acne. They were compared with two non-prescription, anti-acne hydroalcoholic products (3). After eight weeks, the clindamycin formulations proved to be better for patients with moderate to severe acne. However, the study highlights the possibility of a placebo effect in this regard.
Topical clindamycin reduces the count of bacteria, like propionibacterium acnes, in sebaceous follicles by disrupting their growth. It also may reduce inflammatory acne. Pairing a topical antibiotic, like clindamycin, with benzoyl peroxide reduces resistance in the bacteria. These antimicrobials suppress the growth of propionibacterium acnes that is known to cause acne (1).
Clindamycin is thought to show better results when used in combination with other drugs. We have discussed them below.
Combination Therapies Using Clindamycin
Clindamycin can be used differently depending on the severity of acne. However, it cannot effectively treat acne by itself. Using it with another antimicrobial treatment may bring desired results.
Variations of topical clindamycin paired with benzoyl peroxide have shown the most promise in acne therapy. This combination treats inflammatory and anti-inflammatory acne. A study showed that using an aqueous gel made with 1.2% of clindamycin phosphate and 3.75% of benzoyl peroxide proved effective in treating moderate to severe acne (3).
The topical application of 1 to 4% of clindamycin and erythromycin, in combination, with or without zinc, could effectively treat inflammatory acne (4). Clindamycin phosphate (1.2%), paired with 0.025% of tretinoin and applied as an aqueous gel, had also shown to be effective (5). It may also reduce acne lesions better than clindamycin monotherapy (6).
Clindamycin is clearly beneficial in acne treatment. But how exactly do you use it once prescribed by your doctor?
How To Use Clindamycin For Acne
Be aware that some formulations like topical foams may contain alcohol that might sting or burn when applied to the skin. Wash your face and apply the foam with clean hands on all acne spots and blemishes.
As mentioned above, there are many combination therapies that a doctor might recommend for treating acne (such as pairing clindamycin with benzoyl peroxide or with a topical retinoid). These combinations will be recommended based on the severity of acne breakouts.
Do not discontinue using clindamycin even if the acne starts to improve. Complete the full course as prescribed by the doctor. Once the course is completed, the doctor might ask you to stop using topical clindamycin and continue other medications.
As with any treatment, the possibility of side effects after using clindamycin cannot be ruled out. We discuss the potential adverse effects of clindamycin in the next section.
Side Effects
Clindamycin is considered safe. However, in some cases it may cause side effects like (4).
Erythema
Peeling
Itching
Dryness
Burning
Pseudomembranous colitis (inflammation of the bowel's inner lining)
While the safety of chronic use of clindamycin during pregnancy still needs to be determined, its short-term use is considered safe. Research shows that it can be used in combination with other medications for treating acne in pregnant or lactating women (7). Pregnant women can use topical clindamycin and benzoyl peroxide to treat mild to moderate acne. However, clindamycin gels, lotions, solutions, foams, and swabs are not recommended for use as monotherapy.
A combination of 1% clindamycin and benzoyl peroxide gel (of either 1%, 5%, 1.2%, or 2.5% concentration) may be used in patients with gastrointestinal diseases after consulting the doctor. Clindamycin may cause clostridium difficile diarrhea (colon inflammation) in such individuals.
Clindamycin may cause side effects in some individuals. Hence, they may consider alternatives like antibiotics and retinoid creams. Keep reading.
Alternatives To Clindamycin
Antibiotics are normally prescribed for treating mild to moderate acne. Topical retinoid creams may be used for blackheads and whiteheads. Combination therapies of antibiotics and retinoid creams may be suggested for treating moderate to severe acne breakouts.
Many home remedies are often suggested on various blogs. But they may not be as effective as medication. Certain home remedies might not work on particular skin types, and may instead cause further breakouts.
While a few over-the-counter medications can also be used, make sure to consult a doctor first. There may be side effects you need to be wary of.
When To See A Doctor?
Consult a dermatologist if the existing treatment is not working or causing more breakouts. Prolonged acne despite treatment may actually be a symptom of something more severe.
Consult a doctor before using any creams or oral supplements to treat acne. The wrong medication may worsen your breakouts. Inform your doctor about your regular skincare routine and the frequency of your breakouts. They will accordingly suggest a plan of action.
You might notice an improvement in your skin condition once you start using the medication. Use the medication as prescribed. Do not discontinue it beforehand.
Takeaway
Clindamycin is an effective treatment for acne, especially when paired with other medications or therapies like benzoyl peroxide. It may not be as effective on its own. Though it is generally safe, it also may cause certain side effects that you must be wary about. Also, remember to use the acne treatment as prescribed. Do not discontinue it beforehand. Following the treatment as directed can help treat your acne condition and improve your skin health.
Sources
Articles on StyleCraze are backed by verified information from peer-reviewed and academic research papers, reputed organizations, research institutions, and medical associations to ensure accuracy and relevance. Read our editorial policy to learn more.
Recommended Articles
The following two tabs change content below.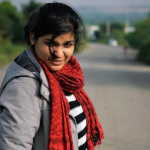 Anjali Sayee is a writer and an introvert. From studying Aeronautical Engineering and wanting to design her own airplane to writing articles on hairstyles, she has been on quite a journey. She believes that hair is one of the key factors that define a woman's personality. To quote her, "What's the first thing they do in the movies to show a personality change? Change the hair – because it has a life of its own." She's here to help you find the hairstyle you need. This bookworm is a self-professed Wholocker, a talented drummer, and an amateur photographer.