Cocktail Attire For Women – 8 Dos And Don'ts
Follow this checklist, and you won't draw eyes for the wrong reasons at cocktail parties.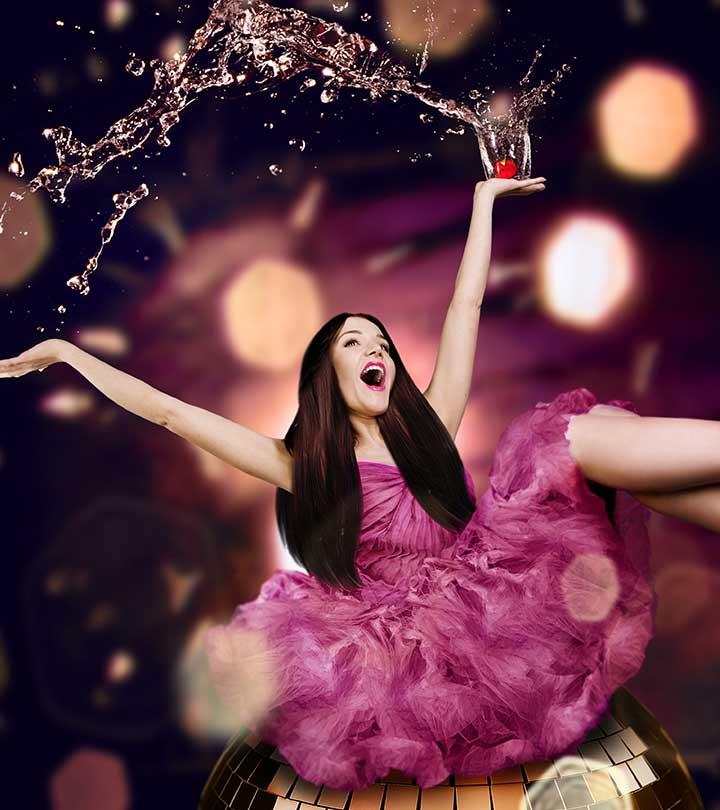 Cocktail attire for women is one of the most elegant, modern, and essential pieces of clothing in the closet. Though they were tailor-made for fancy occasions during the early 19th century, today they are not confined to just that. They can be worn at any celebration if they are worn the right way. You will need to know the very many rules and rituals that are associated with the cocktail attires. But don't worry when we are here. Today, in this article, we are going to help you rock a cocktail outfit by introducing you to some essential tips and tricks. So, all you have to do is scroll down and give this piece a read. Now, without any further ado, go ahead and get started because it is time for you to flaunt some beautiful and glamorous cocktail dresses for that next grand cocktail or literally any party that you have been wanting to attend. Come on!

Ace The Look
Body Type: Look for an outfit that cinches at the waist if you have an hourglass body to emphasize your curves. Choose a dress with a flared or A-line shape if you have a heavy lower body to balance your proportions.
Hair: Pick a hairstyle based on the overall look you want to achieve. For example, choose braids, tousled waves, ponytails, and messy or low buns for a casual look. But opt for more elegant styles like updos, blowouts, and curls for formal events.
Makeup: Enhance your cocktail attire with your makeup. Opt for a bold lip color, like red or plum, to make a statement. A smokey eye look adds a touch of drama.
Accessories: Look for statement jewelry pieces such as bold earrings, a chunky bracelet, or a statement necklace to add glamor to your outfit.
What Is Cocktail Attire?
Simply put, cocktail attire is nothing but formal clothing but far more celebratory. It is casual than your office wear and tad bit formal than your regular casual attire. More often than not, if you are expected to show up in cocktail attire, the invitation will say so. If it does not, then you need to understand that events like anniversaries, reunions, engagements, weddings, etc. are all your typical occasions for cocktail attires.
What Is A Cocktail Attire For Women
A general rule of thumb for a cocktail dress is that it cannot be skimpy, transparent, too short or too long. Basically, the stuff that falls in between the formal and casual spectrum. Anything from a classic little black dress (LBD) to an A-line, strapless, embellished, lace or long sleeves midi dresses are your safe bets. We will discuss more on this in a bit.


Did You Know?
French fashion designer Christian Dior coined the name "cocktail dress" for early evening frocks in the late 1940s.
8 Must Know Do's and Don'ts of Cocktail Attire For Women
1. Don't Wear Skimpy Dresses/ Do Watch Your Hemline
Do not confuse the cocktail party to be a night out with your girlfriends, because it is not. Do not wear something that is transparent, sleazy or something that gets you unnecessary attention. Ask yourself, would you appreciate someone wearing the same dress at your party? There, you have 'your' answer. Be watchful of your neckline and that they don't plunge into the oblivion. Also, let's not try and pull a Kardashian with see-through dresses.
A-line dresses, princess cut or anything with a flowing hemline that is below your arm's stretch works. A black cocktail dress is an evergreen choice that will never go out of style. From strapless dresses to sweetheart necklines, spaghetti straps to long sleeves, there's so much you can do.
2. Don't Wear Huge Gown That Trail Out/ Do Midi Sized Dresses
Keep those ball gowns for your 'Cinderella' moment. The fashion gurus usually suggest that you steer away from wearing gowns that trail out and about. Since they are the experts, we should just keep at it.
Midi size dresses are perfect cocktail dresses if you are not comfortable with shorter ones. Your options here are unlimited, so, unfortunately, we have no excuses here either.
3. Don't Show Up In Jeans/ Do Wear Trousers
Jeans might be your ultimate comfort dressing, and there are no questions asked there, but it still does not give you the leeway to wear them for a cocktail party. Since they do not fall under the formal-clothing category, don't even have it as an option.
Instead, try pant suits or chic looking trousers with a chic silk or chiffon blouse. Pair the outfit with a pearl necklace, pumps, and just enough makeup. It is not all that difficult, after all. Is it?
4. Don't Carry Huge Bags/ Do It With A Clutch
As a woman, I know the urge to carry a mini-convenience store for all the 'just-in-case' scenarios and hence the need for an oversized bag. But, by all means, avoid it, and it does not go with the idea of a cocktail party.
A clutch is your best bet or a small yet stylish body bag. If you feel the need for things that go in your handbag, leave the big bag in your car and carry the absolute essentials in a clutch. It makes a statement in itself.
5. Don't Do Flip-Flops/ Do Heels Or Platforms
We all practically live in flip-flops, and the comfort from these flip flops is indisputable. Not just flip flops, but boots, gladiators, flat sandals, etc. are not considered as cocktail outfits, unless of course, it's an exception.
Platform heels, wedges, or pumps are perfect footwear, plus they enhance your silhouette.
6. Don't Overdo Accessories/ Do One Statement Piece
Accessories go a long way in elevating your outfit, and just one neck piece is enough to enhance the look of a plain dress. So, think about that one piece in your accessories kit that will not only stand out but also complements your dress.
One statement piece and just one needs to stand out, too many things at once will just look sloppy and unappealing, and ruins the entire outfit. You could probably add fine jewelry like a bracelet, finger rings, etc but keep them minimal.
7. Don't Go In Shoddy Or Crumpled Dresses/ Do Consider Dry Cleaning Or Steaming Your Attire
It goes without saying. But, just in case you are considering a pant suit, fancy trousers or jumpsuit, make sure you iron it out and not end up with a crumpled outfit.
If you are like me and not good at pressing your clothes, just get it steam ironed by a dry cleaner. Plus, you usually are given enough time to prepare for the event, so lack of time is no excuse.

Quick Tip
Always pick lighter fabrics for a cocktail dress. Fabrics like chiffon, cotton, or lace suit any body type effortlessly.
8. Don't Let Your Undergarments Show/ Dp Strapless Or Stick On Bra
Your undergarments should be way out of the radar, and this is an unsaid and a non-negotiable. They are called undergarments for a reason If you think that sometimes a peeking bra can make us look great, a cocktail party is not the place, especially not when it's not your own.
If your dress has a plunging or tricky neckline, strapless or stick-on bras are your best bet. If you are wearing shapewear, ensure that they align with the shape of your dress and don't stick out. Not just as an etiquette, but even otherwise, it is not a pleasant sight.
Infographic: 9 Best Celebrity Cocktail Attires
Cocktail dresses are indeed gorgeous and fun at the same time. So, if the ideas above have already inspired you and you can't wait to flaunt your pretty cocktail outfit, it is totally understandable. But can you have too many ideas about dressing up, especially regarding cocktail attire? You certainly can't, and this is why we have compiled a list of celebrity cocktail outfits you must check out right now to grab your much-needed celeb inspo. Scroll down and check the infographic below.



As you know, cocktail attire for women is a tad bit formal and kind of party wear at the same time. And we understand that it can be confusing to style it the right way. But now that you have this article by your side, why do you even have to worry? Remember to dry clean or steam your attire before wearing it and avoid show-through clothes. To complete the look, style your hair in a fashionable and trendy manner that complements your dressy outfit. Accessorize your dress with a cute clutch, and you are good to go. If required, try wearing them with the shoes and accessories a day before the party to see if you are comfortable.
Frequently Asked Questions
How long should cocktail dresses be?
Your cocktail dresses should neither be too short nor trailing out on the floor. It should be below your arm's length when stretched down and ideally be above your shins, like a midi dress or skirt.
What are the important tips for choosing cocktail dresses?
Take a minute to understand the host's taste in clothing, what they might like or the theme of the party. It's usually a good place to start. If you are still unsure, just pick up the phone and talk to the host or other friends from the party. Also, the most important thing to remember is always to be slightly overdressed than be one of the outliers in the party.
What type of shoes should I wear for a cocktail party?
No matter what kind of footwear you select, be sure it is appropriate for the event and matches your dress and jewelry. Common cocktail party shoe choices are ankle boots, mules, heels, and flats.
What is the difference between cocktail attire and business attire?
Cocktail attire consists of dresses generally worn at evening social events like cocktail parties. While business wear comprises formal clothes like pantsuits, shirts, and pencil skirts worn at offices or for business meetings.
Are there any color restrictions for cocktail attire for women?
There are no strict color restrictions for women's cocktail attire. However, it's best to choose darker or neutral colors like black, navy, red, or emerald green, as they are considered more sophisticated and formal.
What is the difference between a cocktail dress for women and casual cocktail attire?
A cocktail dress for women is typically a semi-formal dress that is worn for evening events like cocktail parties, weddings, or other special occasions. Party dresses in fabrics like silk, lace, or chiffon are classic choices for cocktail events as it is knee-length or shorter. On the other hand, cocktail casual attire is more relaxed and allows for a wider range of outfit choices. This could include a dress, jumpsuit, A-line, or pencil skirt.
What are the different types of winter cocktail attires one can wear?
The winter cocktail dress code can vary depending on the occasion and location. If you are not planning to wear a dress, try a stylish jumpsuit, sleek pantsuit, or tailored blazer with chic pants to create the perfect cocktail party attire.
For women's cocktail dresses, choose a thicker material like velvet or wool and wear it with tights to stay warm. Add accessories like a scarf or gloves to add some winter flair to your look.
Key Takeaways
When selecting cocktail clothes, it's crucial to be aware of the occasion and dress code.
Choose timeless and refined items like a fitted jumpsuit, a knee-length skirt, or a little black dress.
It's necessary to pick the appropriate accessories, such as a purse, bold jewelry, and high heels.
In order to enjoy yourself, be confident and at ease in your cocktail outfit.

Have to attend a cocktail party and wondering what to wear? Check out this video to know some of the best cocktail outfit ideas and styles that you can pull off and dazzle everyone.

The following two tabs change content below.