How To Use Coconut Oil And Lemon Juice For Gray Hair
Want your hair to continue looking lush and vibrant? Take note of the different ways you can use coconut oil.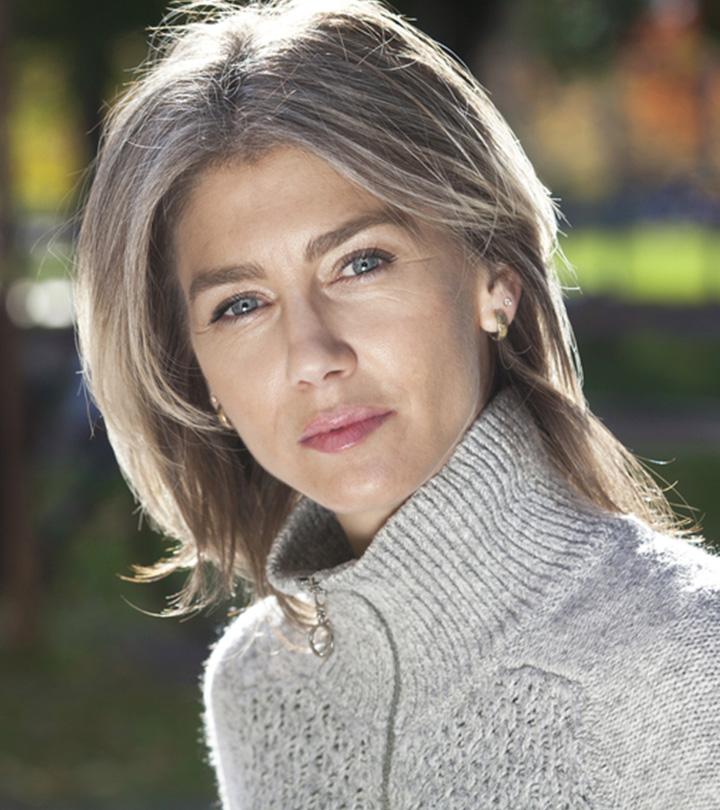 You are staring at the mirror and notice a few stray gray strands. Unfortunately, constantly coloring your grays is not healthy for your hair and may not be financially feasible for you. A popular traditional remedy is using coconut oil for gray hair. Coconut oil, treated like a magical elixir of youth, is said to have anti-aging properties that turn your white hair into the hair color you were born with! Sounds unbelievable?
Coconut oil has many nutrients that provide hair nourishment, but can it stop your hair from becoming gray? Keep reading to know if there is any scientific evidence to these claims and how you can use coconut oil for your gray locks. Scroll down and put your curiosity to rest.

Did You Know?
Researchers say that smoking cigarette may also cause premature graying of hair. Therefore, it is best to avoid it (
1
).
Why Should Use Coconut Oil For Grey Hair?
As you age, the antioxidantsi  XSubstances or agents that prevent or reduce the effects of free radicals in the body and prevent cell damage can help prevent various chronic ailments including free radical activity in the body. If free radicals in your body are allowed to increase, your body's natural defense system gets weaker (2). The level of melanin pigment which protects your skin and hair from harmful UV rays and free radicles also reduces (3). This results in graying hair orcanitiesi  XThe natural process of hair graying due to aging, which is often considered premature that happens due to excess stress or smoking .
Coconut oil is a natural sunscreen with an SPF of 8 (4). This property helps fight oxidative stress. Hence, it is believed that coconut oil can aid in hair rejuvenation and delay graying of hair. Anecdotal evidence also suggests that coconut oil promotes hair growth and helps reduce premature graying of hair. It is a natural alternative to chemical dyes that can damage your hair in the long run.
Coconut oil mixed with lemon juice is a common home remedy that is used for gray hair treatment. Scroll down to learn more about its efficacy.
Does Coconut Oil And Lemon Juice Work For Gray Hair?
Yes, to some extent, because both coconut oil and lemon may help in delaying gray hair due to their anti-aging properties. Lemon is rich in antioxidants that fight free radicals and reduce oxidative stress (5). Hair graying is a biological process that is regulated by genetics (3). So, keep in mind that hair graying can only be delayed to some extent. This is not a miracle cure. It is just one of the natural remedies that can help you, especially if you are experiencing premature graying.


Quick Tip
You may also apply a mixture of curry leaves and coconut oil to prevent premature graying of your hair.
So, there is a chance that
coconut oil along with lemon juice
can help in reversing premature gray hair. Find out how in the next section.
How To Use Coconut Oil And Lemon Juice For Hair Growth
You Will Need
3 tablespoons of coconut oil
3 teaspoons of lemon juice
Process
Mix the coconut oil and lemon juice in a bowl.
Apply this mixture to your hair and scalp. Ensure you coat the lengths of the hair, focusing more on the graying areas.
Use a shower cap to cover your head. The heat trapped inside the cap will help in better penetration of the mixture.
You can leave this mixture on for 45-60 minutes.
Shampoo as usual as well as ensure regular hair conditioning.
Repeat this remedy once every week for the best results.
Infographic: Home Remedy For Gray Hair Using Coconut Oil And Lemon
It is only natural for our hair to turn gray as we age; however, a few of us might not want to see those gray strands sticking out. There is no magical solution to the entire getting-old process, but combining coconut oil and lemon has shown some relief in this area. The infographic below provides information about both of these ingredients and the benefits of using them together. Check it out!


Growing old is the most natural process of life. Embracing your body and hair as you age is a sign of self-love and confidence. However, there is nothing wrong with covering up those gray tresses. And rather than using hair dyes packed with chemicals that can harm your aging hair, opt for natural remedies that keep your tresses healthy and strong. And when it comes to hair care, there is no better remedy than coconut oil. Coconut oil improves your overall hair health and may even darken those grays. But bear in mind that using coconut oil for gray hair may not work effectively. It will undoubtedly boost your hair quality and appearance, but it may not make your hair darker.
Note: Early graying can be a sign of an underlying disease and/or deficiency, so it is important to get yourself checked for it.
Frequently Asked Questions
Does lemon juice and coconut oil lighten hair?
Lemon juice can react with the sun's rays and have a lightening effect on hair. However, coconut oil does not have such an effect on hair.
Can I leave coconut oil and lemon juice in my hair overnight?
Yes. Coconut oil and lemon juice are safe to leave in your hair overnight.
How can I control my early gray hair?
While it's not possible to completely prevent gray hair, there are some things you can do to help slow down the process or cover up existing gray hair, such as eating a well-balanced diet, managing stress, quitting smoking, using natural remedies on hair like curry leaves, amla, bhringaraj, black tea, etc.
Can coconut oil be used to moisturize gray hair?
Yes, coconut oil can be used to moisturize gray hair. It is a natural moisturizer that can help nourish and hydrate the hair, which can be especially beneficial for dry, brittle, or damaged hair.
Can coconut oil make my gray hair greasy?
Coconut oil can potentially make your gray hair greasy, only if it is used excessively or not washed out properly. This oil is heavy, and that can weigh down the hair if too much is applied.
Are there any side effects of using coconut oil on gray hair?
Coconut oil is generally considered safe for use on gray hair. However, some people may experience mild side effects or allergic reactions such as itching, redness, or swelling. Hence, it's important to do a patch test before using coconut oil on your gray hair, and to use it in moderation to avoid any negative effects.
Key Takeaways
The aging process causes your hair to gray, but you can stop premature graying with home remedies like coconut oil.
Coconut oil acts as a natural sunscreen that protects your mane from oxidative stress.
Coconut oil mixed with lemon juice is a popular remedy for treating gray hair.
Learn how to naturally turn white hair to black with coconut oil. Watch this video to get simple tips to get your hair looking healthy and black again.
Sources
Articles on StyleCraze are backed by verified information from peer-reviewed and academic research papers, reputed organizations, research institutions, and medical associations to ensure accuracy and relevance. Read our editorial policy to learn more.
The following two tabs change content below.