How To Use Coconut Oil For Ringworm Coconut oil is a common home remedy for managing ringworm (tinea corporis), a highly contagious fungal infection. It has both antimicrobial and antifungal properties and is effective against several strains of bacteria and fungi. In this article, we explain why coconut oil may help manage ringworm and how to use it. Keep reading to know more!
What Is Ringworm And What Causes It?
Ringworm (tinea corporis) is caused by the fungi Microsporum canis. This strain of fungi feeds on highly keratinized tissues, such as the hair, nails, and skin, destroys the epidermis, and causes inflammation.
Ringworm looks like a red, circular, flaky, and bumpy rash on the skin. It is highly contagious and may itch.
This condition is commonly treated with oral and topical antifungal medications. However, many people use coconut oil as a home remedy for ringworm. Is it effective? Let's find out.
Is Coconut Oil An Effective Treatment For Ringworm?
Here are the reasons coconut oil may work for ringworm:
Coconut shell oil has antimicrobial and antifungal properties, is effective against Microsporum canis, and may help reduce tinea corporis or ringworm (1), (2).
Coconut oil promotes wound healing as it has anti-inflammatory and antioxidant properties (3). It soothes skin irritation and flakiness and may also help reduce the other symptoms and discomfort caused by ringworm.
Here are some ways you can use coconut oil to manage ringworm.
How To Use Coconut Oil For Ringworm
Wash your hands and the affected area and pat them dry.
Apply coconut oil to the affected area with a cotton swab or ball.
Leave it overnight.
Apply coconut oil 3-5 times a day.
You can combine coconut oil with essential oils with antifungal properties (4), (5), (6), (7). They include:
Tea tree
Peppermint
Oregano
Marjoram
Clove
Garlic
Myrrh
Helichrysum
Lavender
Geranium
Mastic
Terebinth
Santolina
Turmeric
Coconut oil is safe for the skin. However, it may cause some side effects.
Side Effects Of Coconut Oil
Avoid coconut oil if you are allergic to it as it may cause:
Hives
Rashes
Dryness
Itching
Blistering
It may even worsen the rash. Therefore, to prevent any adverse reactions, perform a patch test on the back of your hand or neck. If there is no inflammation or irritation, you can apply coconut oil to the affected area.
To Conclude
Coconut oil can be used as an effective home remedy for ringworm. It is a safe and natural alternative, without any major side effects. However, ringworm is a highly contagious condition, and it is better to consult a dermatologist before trying any home remedies.
Sources
Articles on StyleCraze are backed by verified information from peer-reviewed and academic research papers, reputed organizations, research institutions, and medical associations to ensure accuracy and relevance. Read our editorial policy to learn more.
Recommended Articles
The following two tabs change content below.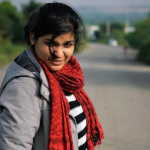 Anjali Sayee is a writer and an introvert. From studying Aeronautical Engineering and wanting to design her own airplane to writing articles on hairstyles, she has been on quite a journey. She believes that hair is one of the key factors that define a woman's personality. To quote her, "What's the first thing they do in the movies to show a personality change? Change the hair – because it has a life of its own." She's here to help you find the hairstyle you need. This bookworm is a self-professed Wholocker, a talented drummer, and an amateur photographer.