Coffee For Hair: Benefits, How To Use, And Precautions
Your morning cuppa has more important benefits than just keeping you alert.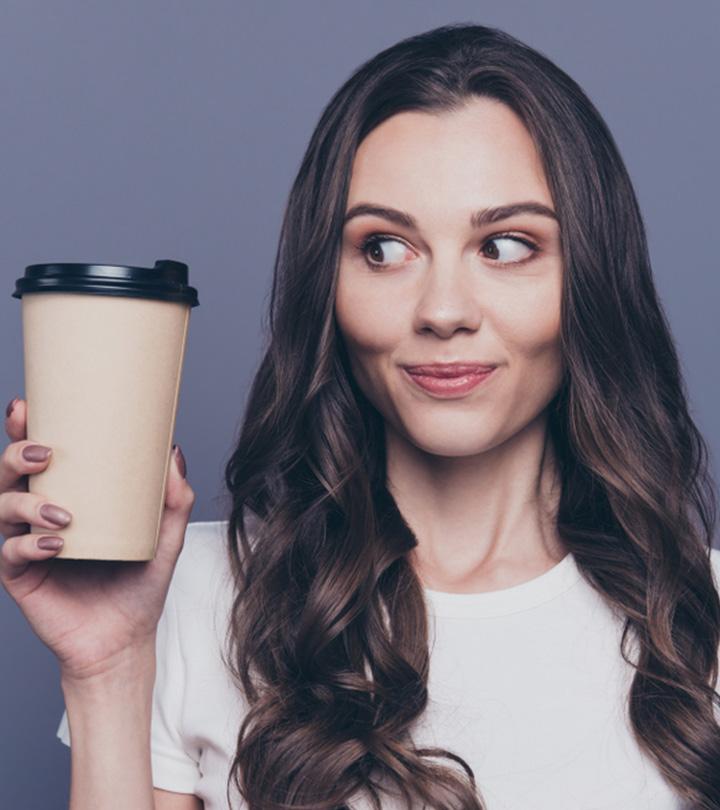 Morning coffee is the ultimate energizer most of us need. But, if you are amazed by so many hair care products with caffeine and wondering, "Is coffee good for hair? the answer is yes. Applying coffee to your hair can promote hair growth! Moreover, anecdotal evidence suggests that it is good for your hair health. The caffeine present in coffee also prevents hair loss, enriches the hair color, and makes your hair shiny and smooth. This article discusses the benefits of coffee for hair, how to use it, and a few safety precautions you need to take. Read on to get all the information here!

Know Your Ingredient: Coffee
Who Can Use It?
Anyone can use coffee on their hair as it is a safe ingredient.
How Often?
You can use coffee on your hair once or twice a week.
Caution
Coffee may cause irritation or redness if you have a sensitive scalp. Therefore, do a patch test before applying it. Also, ensure not to apply hot coffee to your hair.
Is Coffee Good For Your Hair?
Yes, coffee is good for your hair in many ways. It benefits your hair as it has many nutrients and vitamins that your hair needs. From preventing hair loss to supporting healthy and strong hair growth, it does wonders for your hair.
Coffee has become one of the most popular natural remedies for promoting scalp health and is often used in beauty treatments for hair. Check out all the benefits of coffee for hair in the next section.

Quick Tip
Use organic coffee preferably to avoid leaching your hair with unwanted pesticides and chemicals.
Benefits Of Using Coffee On Your Hair
1. Stimulates Hair Growth
Did you know that the matrix cells in a healthy hair follicle divide every 39 hours? The caffeine in coffee stimulates these matrix cells to divide, which in turn, stimulates the growth of hair (1). Also, caffeine contains antioxidants that reduce trans epidermal water loss and stimulate healthy hair cell production (2). Researchers also observed that drinking coffee for hair growth can increase follicles in both females and males.
The hair matrix is a critical part of the hair follicle structure. It produces keratin – a major protein that makes your hair. A research study conducted in Germany found that caffeine stimulates the proliferation of keratinocytesi  XSkin cells that majorly constitute the epidermis (upper skin layer), which help in skin repair and restore the epidermal barrier. (3). Furthermore, since caffeine is a stimulant, it also increases blood circulation to the hair follicles, which can enhance hair shaft elongation.
2. Exfoliates The Scalp
Coffee grounds may help exfoliate the scalp due to their gritty texture. When gently massaged onto the scalp, it helps remove dead skin cells, product buildup, and impurities. Coffee's natural exfoliating properties may promote better circulation and scalp health. However, it's necessary to be gentle to avoid scalp irritation or hair damage. Also, ensure to wash your hair and scalp with warm water afterwards to avoid any buildup.
3. Prevents Hair Loss
If you have weak hair follicles, you may face abnormal hair loss and baldness. Coffee stimulates hair follicles and fights against the loss of hair. You can witness hair loss with age, and it affects both males and females. The topical application of caffeine formulation has been found to reduce hair loss and promote regrowth (4).
In males, baldness occurs mostly due to the sex hormone, dihydrotestosterone (DHT). It damages the hair follicles and leads to hair loss. Caffeine blocks the effects of DHT in male hair follicles (5). It also prolongs the anagen (hair growth) phase. Women with high DHT levels also experience hair loss and can overcome this problem with coffee.
4. Promotes Healthy And Shiny Hair
The antioxidant properties and nutrients of caffeine strengthen the hair follicles and, thus, add shine to your hair (6). Anecdotal evidence suggests that rinsing your hair with coffee reduces the dullness of hair and makes it smoother. This can also reduce frizz and revive your hair's appearance.
You might think that caffeine has a drying effect on your hair because of its diuretic effect. But, on the contrary, it does not strip away the natural oils when you apply it to your hair. It helps your hair retain its moisture and natural shine. Furthermore, it increases blood circulation and helps the nutrients reach the roots of the hair, resulting in healthy and shiny hair.
5. Darkens Your Hair
If you want to dye your gray hair or darken your hair color naturally, a coffee rinse is the best option. Coffee stains your hair with its dark color. It is also a quick fix to hide your gray hair. Use strong coffee for the best results.
Sky, a blogger and self-professed tree hugger, tried a DIY coffee rinse to achieve silky brown hair. In her blog, she explained how she darkened her medium-brown hair. She writes, "If you have lighter hair and want to try it out, know that it will probably darken your hair to some degree. If that's not a desirable effect, this probably isn't for you. However, the darker your hair, the less that will show, so if like me, it doesn't do much to your color then have at it and enjoy the ensuing silkiness (i)!"
Listed in the next section are a few ways to use coffee to improve hair health. Check them out!
How To Use Coffee For Hair Growth?
1. Coffee Rinse For Hair Growth
If you are looking to dye your hair to hide gray strands, prevent hair loss, or improve the shine of your tresses, a coffee rinse is your savior. Making a coffee rinse at home is simple.
What You Need
Brewed and cooled coffee – 2 to 4 cups
Spray bottle
Shower cap
What To Do
Depending on the length of your hair, pour 2 to 4 cups of brewed coffee into a spray bottle. Make sure that it has cooled down completely before you do so.
Spray the brewed coffee on your wet hair, making sure to saturate all your hair strands.
Massage the coffee into your scalp for a few minutes.
Put on a shower cap and allow the rinse to sit on your hair and scalp for 20 minutes.
For an extra layer of moisture, you can mix the brewed coffee with your favorite leave-in conditioner before applying it to your hair.
Rinse off the coffee from your hair with cold or lukewarm water.
Which Is Better: Drinking Coffee or Applying Caffeine Topically?
Applying coffee topically is the safest way to stimulate hair growth and improve hair health. To get the same stimulating effects by drinking coffee, you would need to consume around 50 to 60 cups of coffee a day, which is not recommended (7).
2. Coffee Hair Mask
What To Do
Ground coffee – 2 teaspoons
Honey – 1 tablespoon
Carrier oil (olive oil or coconut oil) – 1 tablespoon
What To Do
Mix the three ingredients well to make a smooth paste.
Apply this mixture to your scalp and scalp.
Cover your hair with a shower cap and leave it on for 20 minutes.
Rinse off the hair mask with lukewarm water.

Quick Tip
You can make an alternative hair mask by mixing 1 tablespoon of ground coffee with an egg yolk for an added protein boost to your hair.
3. Use Intense Thickening Shampoo
Washing and conditioning your hair with caffeine-based shampoos give your hair a fuller and more voluminous appearance. These shampoos are enriched with hyaluronic acidi  XA naturally occurring compound used on hair to make it moisturized and frizz-free and to add volume. and biotini  XA member of the B complex vitamins that helps in various metabolic functions and also promotes hair growth. that help stimulate the hair follicles and improve hair density.
This is a simple hack using coffee for hair growth. You can create a moisturizing conditioner with brewed coffee. For this, all you need to do is rinse your hair with a mild sulfate-free shampoo. Squeeze out any extra water and apply brewed coffee all over your hair. Leave it on for 5-10 minutes before rinsing it off with lukewarm water.
5. Use Caffeine Hair Serum For Hair Density
Finish your caffeine hair care routine with a caffeine serum that is formulated to help you achieve visibly thicker, healthier, and fuller hair.
Now that you know how to use coffee for your hair, learn about the possible side effects of using it in the section below.
Side Effects Of Applying Coffee On Hair
Applying coffee on your hair may lead to side effects such as temporary hair staining, dryness due to coffee's natural acidity, scalp irritation from abrasive coffee grounds, and allergic reactions. However, these side effects vary depending on each person's hair type and scalp sensitivity. Perform a patch test to check for sensitivity, use coffee treatments in moderation, and ensure thorough rinsing to minimize these risks.
Precautions
While choosing coffee powder for hair, use unflavored coffee for your hair rinse. Anything with added flavor or an instant coffee mix will have extra sugar and is likely to be less potent.
Don't use hot coffee on your scalp. Wait until it cools down completely before applying it to your hair.
Infographic: Top Benefits Of Using Coffee For Hair
All the many benefits of coffee for your hair has probably given you a new reason to go out and stock up your pantry with its aromatic grounds. There's something for everyone here – whether you are looking for anti-aging remedies or a new natural solution for your hair-shedding problem.
Check out the infographic below to learn more about the best advantages of using coffee for your hair.



The jury is out, and the verdict is in –⁠ there are many advantages to using coffee for hair care. Coffee contains nutrients that replenish your hair strands. It stimulates hair growth, prevents hair loss, and improves the overall health and appearance of your tresses.
Coffee can also be used as a natural hair dye to darken hair. You can use it as a rinse or add it to a hair mask, shampoo, conditioner, or serum to attain its hair care benefits. Coffee is mostly safe for your hair and scalp. But, it is advised not to use flavored or hot coffee on your hair.
Frequently Asked Questions
Can coffee damage your hair?
If you leave coffee powder in your hair for too long, it might clog your hair follicles. So make sure to wash it off with water and shampoo.
How long should I leave coffee in my hair?
You can leave coffee in your hair for about an hour. If you want to stain your hair, leave coffee in your hair for 2-3 hours. But wash it off with warm water and a mild shampoo.
Can coffee make the hair gray?
No, coffee does not cause graying. It improves hair health, growth, color, and feel.
Can I mix coffee with shampoo?
Yes, you can mix coffee with shampoo to attain its hair-improving benefits. You can also buy hair care products, like shampoos, serums, and masks containing coffee extracts.
Key Takeaways
Coffee is loaded with many nutrients and vitamins, making it an attractive natural option for maintaining healthy hair.
You can use coffee to prevent hair loss, keep your hair smooth, and make it look more vibrant.
If you want to make the most of this ingredient, you can incorporate it into your DIY hair masks, shampoos, and conditioners.
Make sure to use only unflavored coffee on your hair.
Coffee is a great natural remedy for hair growth. Learn the wonderful benefits of using this simple ingredient to improve your hair health from the video below.
Personal Experience: Source
i. DIY Coffee Rinse for Silky Brown Hair;
https://skyshappyplace.wordpress.com/2014/12/28/diy-coffee-rinse-for-silky-brown-hair/
Sources
Articles on StyleCraze are backed by verified information from peer-reviewed and academic research papers, reputed organizations, research institutions, and medical associations to ensure accuracy and relevance. Read our editorial policy to learn more.
The following two tabs change content below.