What Color Shoes Go With A Navy Blue Dress?
If you are exploring wedding or party themes, dresses, etc., chances are a navy blue outfit is a part of your final list. Navy blue is elegant, sophisticated, and a great alternative to black. It's dark, camouflages those little bulges we all could do away with, and is appropriate for just about anywhere you are headed to. And, did you also know that navy blue is one of the most sought-after colors for bridal wear and bridesmaids' dresses? While almost all colors go with navy blue, some add a whole new level to it. And, that's why we are going to talk about the second most important thing – best shoe colors that go with a navy blue dress.
Best Shoe Colors That Go With A Navy Blue Dress
1. Black Leather Boots
Black is a staple in our shoe closet, and is probably that one color we wear every single day. And, it goes just as well with navy blue dresses too. Instead of just wearing your regular black pumps for a party, throw on a pair of leather boots. Even better if your dress is a backless one. Match your accessories with your shoes, and let the dress stand out.
2. Nude Cutout Flats
Here's a navy blue short dress that is both elegant and fun without being too loud. Now, ditch your regular sandals for these cute nude cutouts. Nude is one of the colors that go with any skin tone. Throw on a nude colored body bag and some big shades too, just in case.
3. Silver Platform Heels
Bodycon or little dresses don't always have to be black. Here's giving you a different perspective that involves navy blue, of course. Silver dresses with blue pumps or heels are something you see quite often, but swap them, and they are even better.
4. Transparent Block Shoes
And, if you decide to strut around in transparent shoes, you can do it. They go with this long, body-hugging, fit and flare dress. If you are headed to a wedding, or if you are wearing something along these lines for a bridesmaid's dress, you can consider these. They are comfortable, chic, and subtle too.
5. Black Ankle Strap Stilettos
For T-length dresses with an empire or an A-line cut, these black ankle strap stilettos are fitting. You can wear fine jewelry, or do without it too.
6. Purple Lace Shoes
Purple is a hot favorite for a lot of us. It's deep, profound, and incredibly stylish. But, imagine wearing this color with a navy blue dress. Yes, it does not blend – but stands out for all the right reasons. You can go a little more dramatic with the purple tones of your shoes, and lighter with the dress, or either way.
7. Ankle Length Camel Boots
This fall, match you ankle length boots in camel color with an asymmetrical dress. Most people usually go for black, white or pastel undertones – you could do that too, or get dramatic like this one.
8. Tinted Gold Stilettos
Rose gold, tinted gold, sequin or glitter – all of these colors go with navy blue perfectly. Again, if you look at most bridal themes, this one tops the list. Taking the bold and plain navy blue, and marrying it with shades of gold – just perfection. No wonder this combo is such a perfect fit for weddings!
9. Candy Pink Pumps
Candy or peach pink boots with your navy blue dress when you want to be coy, feminine, and subtle; and hot and neon pink pumps for when you are throwing a party – people will always want to party with you or come back for fashion advice. Kill it!
10. Red Gladiators
Gladiators look impeccably stylish and are comfortable too. Instead of the usual pumps or elevated footwear for your bodycon dresses, pick gladiators in red, maroon or wine color to show the world how it should be done. Go with red pumps if you decide to go with a navy pantsuit or a satin dress.
11. White Pumps
White pumps with a lace dress are not the first choice for most of us. Yes, a navy dress like this one looks amazing with white pumps. So, break this stereotype next time around you are headed to a party. It's a discerning choice for a woman who is at the top of her fashion game.
12. Tan Boots
Tan and blue have been a huge part of bridal themes, home decor, and apparel. Tan, brown, bark, toffee, caramel, mocha, and million other tones in this shade card will take it top notch. If it's a wedding, add a little sparkle to your shoes; if it's work, keep them subdued; for a lunch date blow it out with tan boots, a big bag, and shades. And, even brown lipstick too, maybe.
13. Suede Boots
Go all out in blue, and there's no stopping you. You could do an ombre effect, or keep it all bold, blue, and royal. Suede boots pack a punch – if you decide to master the navy blue dress and everything about it, you might want to check off the suede boots from the list too.
Navy blue is called the color of the royals for a reason, and the list here is proof. Honestly, I still cannot figure out which one of these is my favorite. Did you always think navy blue was a tough color to deal with? Let us know by dropping in a text in the comments section below.
Recommended Articles:

The following two tabs change content below.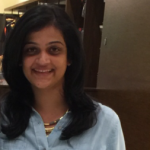 Latest posts by Pratima Ati (see all)