Everything You Need To Know About Lip Shapes
Identifying your lip shape will help you make your luscious pout stand out from the crowd.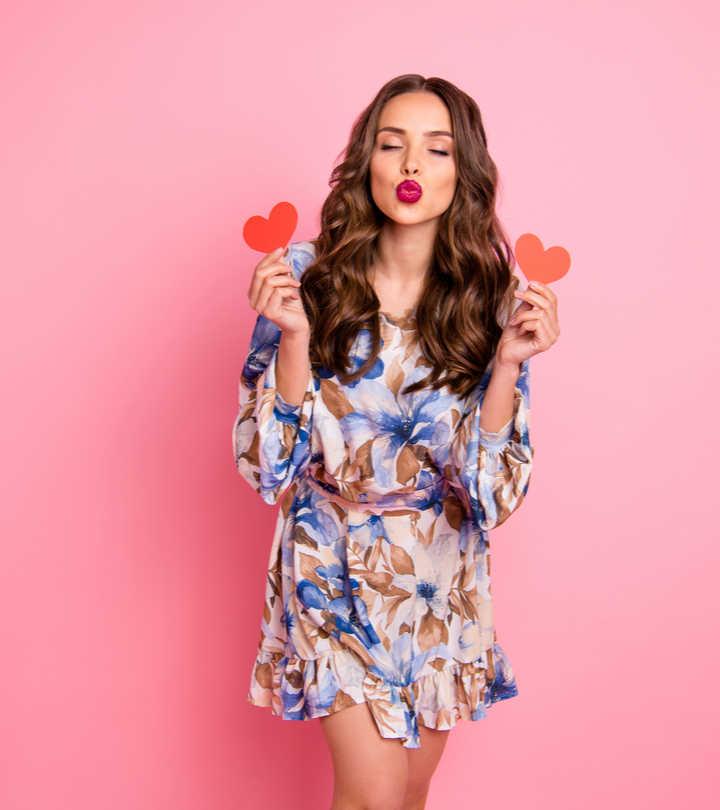 Experts say there are nine universal lip shapes. However, you may have a combination of two or more common lip shapes. Each person has a unique set of grooves, irregularities, and freckles, which may not match the nine shapes. In this post, we discuss the different lip shapes and the factors that make them unique. Keep reading.
Why Does My Lip Shape Matter?
The first facial feature that people notice about you is your lips. A lot of cultures associate lips with beauty. While their shape is mainly determined by genetics and your facial structure, the way you take care of them can make a huge difference to the way you smile or expression other emotions. Hence, it is important that you identify your lip shape and understand how to accentuate and take care of it by investing in the right products.
How To Identify Your Lip Shape
According to experts, the best way to identify your lip type is by looking at a vanity mirror. If your top lip is more voluminous than your lower lip, it is a top-heavy lip type. Once you identify this, find ways to accentuate your bottom lip and balance the symmetry.
Similarly, if you have wide lips that stretch from cheek to cheek, you might want to show this off. However, you must first understand what category your lips fall into to know how to improve them.
Here is a rundown of the most commonly identified lip types. Examine your lips and find which subhead they fall into.
The Most Common Lip Shapes
1. Full Lips
Full lips refer to evenly plump lips with voluminous top and bottom halves. These are best accentuated with bold and bright colors – try blending them outward with your fingers. Full lips do not need a precision cut, but make sure to choose a shade that matches your complexion. Apply pop-on gloss to the center of your lips and tap some highlighter on the cupid's bow.
2. Heavy Upper Lips
Heavy upper lips or top-heavy lips are voluminous and heavy at the top. To accentuate them, add volume to your lower lip using a liner. Complement it with a gentle shadow drawn with a brow pencil. You may also use a concealer to make your upper lip less prominent.
3. Wide Lips
Wide lips are longer than full, spanning from one cheek to another and forming a perfect smile. Go for an ombre look with a subtle of lip liners. Apply the darker liner on the outer side and fill the rest with a lighter shade. Finish your look with complementing lipstick.
4. Round Lips
You have round lips if your top and bottom lips have the same width all around. Such lips create a natural-looking pout and feature a gentle cupid's bow. A touch of gloss in the center can accentuate the plushness of this lip type. If you want to widen the shape, use a lip liner to tweak the look, but do not go overboard.
5. Heavy Lower Lips
If your bottom lip is more voluminous and heavy than the upper half, you fall under this lip shape. You need to follow the opposite of the 'heavy upper lips' strategy to get a balanced fullness. Conceal the lower half or enhance the upper half with makeup, and you are good to go.
6. Thin Lips
Those with thin lips have lower volume and thickness on both upper and lower halves. Make lip gloss your best friend and apply it to the center for a fuller and plushy look. You can also opt for lip liners to create an illusion of thicker lips. Embrace your natural shape and add a little makeup to accentuate it.
7. Bow-Shaped Lips
This lip shape features a prominent cupid's bow. To enhance this coveted lip shape, you can highlight the center of the cupid's bow or soften the 'V' on your upper lip or contour the bow shape. Create a sharp edge with a concealer or lip liner if you want the shape to pop.
8. Heart-Shaped Lips
Heart-shaped lips have a defined cupid's bow and a sharp lower lip that makes a shape of a heart. To bring more attention to the heart, dab some highlighter on the cupid. Smudge the lip liner towards the outline if you want to blur out the edges. These heart-shaped lips are perfect for a stunning pout or romantic kiss.


Did You Know?
Celebrities such as Taylor Swift and K-Pop singers, including Jisoo from BLACKPINK, V from BTS, and Jaehyun from Golden Child, have lustrous heart-shaped lips.
9. Downward-Turned Lips
Down-turned lips tend to have a slight dip or frown towards the corners. This lower lip shape has a downward protruding appearance. To counter this, apply lipsticks or formulas that do not fill your lips. Use a darker lip color than your lip shade to create an illusion of a shadow. You can go for botulinum toxin injectionsi  XA protein injected into a muscle to relax it to improve its appearance or treat certain spasms. .
There is no ideal lip shape. Only the right techniques can make your lips look their absolute best. Here are a few tips on how you can take care of your lips.
How To Take Care Of Your Lips
1. Exfoliate Regularly
Just like your skin, your lips tend to accumulate dead cells and become dry and dull. Apply lip balm every night before sleeping. Follow up by gently exfoliating your lips with a brush the next day. You can mix coconut oil with granulated sugar and use that as a scrub to exfoliate your lips.
2. Hydrate Your Lips
Drink 2 to 3 liters of water every day to avoid dry and irritable lips. Your lips need as much hydration as your body, and water is the best treatment to achieve soft, smooth, and healthy-looking lips. You can also use a lip moisturizer that contains aloe vera, honey, and shea butter to prevent chapped lips and cold sores (1), (2), (3).
3. Avoid Makeup When Indoors
Lipsticks can make your lips dry and chapped over time. So, avoid them as much as you can, especially when you are indoors. Apply a primer or balm before using lipstick to limit the damage.
4. Do Not Lick Your Lips
Refrain from licking your lips as it can lead to discoloration and redness. Anecdotal evidence suggests that saliva can also make your lips drier as it contains enzymes that are perfect for breaking down your food but terrible at moisturizing your lips. Apply a soothing lip balm to keep your lips hydrated and soft.
5. Use Vitamin E Oil
Vitamin E exhibits antioxidant properties, which help protect your skin from harmful UV rays and free radical damagei  XThe damage caused to DNA, lipids, and proteins by unstable molecules produced in cells. It can also affect the appearance of your skin and lips. (4). You can apply vitamin E oil to your lips and keep them healthy-looking, plump, and beautiful.
6. Avoid Staying In The Sun For Long
The harsh UV rays of the sun can damage and darken your lips and make them dry and chapped. Use a protective lip balm that contains SPF to prevent this issue.
Can you enhance the shape of your lips? Yes, your lips can be redefined in various ways. Scroll down to know what they are.
How To Enhance Your Lip Shape
Makeup 
The right use of makeup can work wonders to accentuate and reshape your lips. Experiment with several lip shades, lip liners, and concealers to find the perfect fit for you. Each lip type must follow unique makeup tips to make it healthy and attractive.
Fillers
Fillers, both permanent and temporary, can help you achieve successful and promising results. Hyaluronic acidi  XAn acid used cosmetically either by ingesting it or using it topically to treat wounds or aging skin and to keep the skin hydrated. and polyacrylamidei  XA synthetic polymer found in cleansers and lotions used for skin care as a film-forming, foaming, and soothing agent. are the most widely used fillers for your lips (5).
Hyaluronic Acid Filler: Depending on your natural metabolic rate and type of filler used and amount, this filler can last for up to12-15 months.
Collagen Filler: Collagen is a naturally occurring protein in the body and helps make your lips smooth and plump.
Silicone Filler: It is a permanent lip filler and hard to reverse its effects. Silicone fillers are pre-made and usually cheaper than temporary fillers. However, they are not recommended as they can become lumpy and move and are dangerous.
Lip Exercises
Your chosen lip-fix, be it temporary or permanent, might take some time to settle in its new form. This is where lip exercises can help you (6). Various pouting techniques and jaw exercises that work on your mouth muscles can keep your lips fit enough to support a change in their structure.
Botox
Botox, also known as lip flip, can make your lips look fuller. This involves injecting a small amount of botox above the upper lip near the cupid's bow and near the corners of the mouth. It helps relax your lips and naturally curl them upwards like a flip. This technique plumps your lips and helps smoothen wrinkles and fine lines around your mouth (7).


Did You Know?
Botox for lips lasts up to three to four months, and you can feel the result within one week of the treatment.
Nova Threads
This minimally invasive procedure uses tiny dissolvable threads to restore your body's natural collagen production. It can last up to two years and help define the lip area. Nova threads can also fade lip wrinkles and prevent the formation of fine lines.
Infographic: 5 Ways To Take Care Of Your Lips
No matter how many lip colors you choose to wear, if your lips are chapped or cracked, they won't look good. Even the application would be challenging. Check out the infographic below and read through our suggestions for lip care to have plumper, smoother, healthier lips.


Your lip-type may be determined by your face structure and genetics, but proper care and makeup can enhance your lips beautifully. Before you do that, identifying which one of the common lip shapes or a combination of lip shapes you have is important. Once you identify your lip shape, you must follow tips such as hydrating your lips and avoiding overexposure to the sun to protect them. There is no perfect lip shape, but you can go for makeup or cosmetic procedures such as fillers or botox to bring out your gorgeous lips.
Frequently Asked Questions
What is the rarest lip shape?
Cupid is the rarest of all lip shapes. Cupid has a strong, youthful aspect and is particularly visible in pre-adolescent females.
What are rosebud lips?
Rosebud lips are small, round lips that resemble the petals of a rose and are bright red.
What are M-shaped lips?
M-shaped lips, popularly referred to as cherry lips, are identified by an upper lip that resembles the letter M.
Key Takeaways
There are nine common lip shapes, including full lips, wide lips, round lips, and more.
You can give your lip shape a personal touch with makeup, exercises, or esthetic treatments/procedures.
Exfoliating, moisturizing, and avoiding prolonged exposure to the sun are some ways to care for your lips.
Use darker tones on prominent lips and lighter shades on smaller lips to make your face look symmetrical.
Learn all about the different shapes of lips in this informative video. Discover the unique characteristics of each shape and how to identify them.
Sources
Articles on StyleCraze are backed by verified information from peer-reviewed and academic research papers, reputed organizations, research institutions, and medical associations to ensure accuracy and relevance. Read our editorial policy to learn more.
The following two tabs change content below.