How To Choose Compact Powder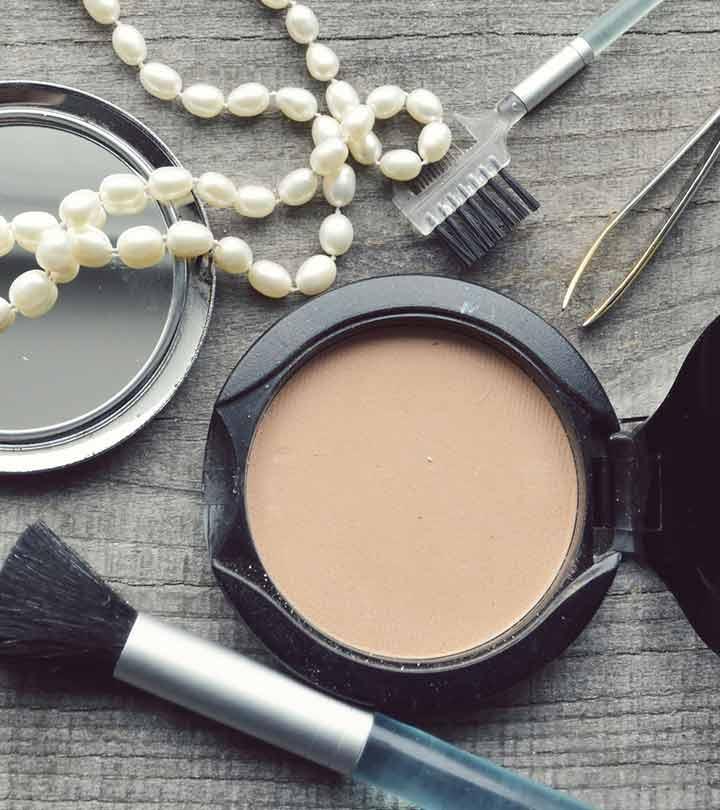 Sleek, versatile, and handy – compact powders have earned their indispensability. Compacts are the solution for setting makeup, midday touch-ups and lazy, no foundation days. Whether your skin looks dull or slathered in grease, you have compact powder to the rescue. No matter what your skin type or tone is, when it comes to compacts, you are spoilt for choices. From barely there to full coverage, from dry skin to oily skin, there seems to be something for everybody. Wondering what shall work best for you? Keep the following points in mind when you go makeup shopping.
Compact Powder – How To Select & How To Use?
Let us now discuss a few interesting points on how to choose compact powder shades.
Select The Perfect Shade of Compact Powder
Regardless of the brand, always choose a shade that matches your skin color.
If you end up picking up a compact that is a few shades lighter than your skin tone, your skin may turn grey or ashy in some time.
Know your skin type and the coverage level you are looking for before buying a compact powder.
If your skin tone is on the lighter side, you can opt for a compact with a pink undertone and one or two shades lighter than your skin tone. If your skin tone is on the deeper side, go for a compact with a yellow or orange undertone and a color that matches your skin tone.
Always try the product on the face and not on the back of your hand.
Ask your makeup artist for suggestions.
Every compact has a different coverage level. If you want more natural finish, then opt for one with sheer coverage, or you can even try translucent powder. A medium or full coverage powder evens out the imperfections and unevenness.
Now, let us tell you how to find the right compact for different skin types.

For Oily Skin
An oil-control matte finish powder is ideal for oily skin as it controls the excess oil secretion.
Avoid powders that provide shine and radiance as they might make your skin look oilier.
Investing in a sweat proof and waterproof compact powder also helps.
Before starting your makeup, apply a primer. It mattifies your skin and controls oil as well.
Use a makeup brush or a sponge to evenly apply the compact all over your face. Apply an extra coat on the T-zone.
A great tip is to rub an ice cube on the face before applying the compact. This controls the excess oil secretion and minimizes the appearance of pores. Try out Studio Fix Powder by MAC.
For Dry Skin
Don't go for a matte finish compact as it makes your skin drier. Instead, use a cream-based compact or translucent powder to make your skin look healthier and less flaky.
Start your makeup by massaging the moisturizer into the skin. Give it some time to get absorbed. Then apply the compact powder. This helps your skin look hydrated and smooth, without drying it out.
To prevent your skin from looking patchy and uneven, do not build up layers of foundation. Keep it simple with just two to three coats of foundation.
Avoid applying powder on the areas which are usually dry, such as the cheeks, and around the nose area.
Highlighters or mineral-based powders are good choices for dry skin as they add radiance and make the skin glow.
For Sensitive Skin
Look for mineral-based powders as they do not contain the emollient oils and waxes, fragrance, and preservative ingredients that are usually found in the conventional powders.
Another option is to look for non-comedogenic and non-acnegenic powders for sensitive skin.
Whether your skin type is oily or dry, consider its sensitivity while choosing a compact powder. Choose the one which is skin-friendly.
Quick Tips
Sanitization is very important, so remember to clean your tools before applying the powder.
Always carry a blotting paper in your makeup kit to quickly mattify your skin.
Avoid using sponges to apply the powder as sponges have a tendency to absorb most of the product. They are ideal for touch-ups.
Invest in good quality brushes as they provide a better finish and give a professional touch to your look.
The correct technique to apply a compact powder is to first deposit the product, and then blend with either a brush or a sponge, instead of just dabbing and leaving it.
A compact powder is a one-stop solution for brighter, clearer, shine-free skin. Finding one that is perfect for you might require a bit of trial and error, but it sure is worth the effort. Hope this article aids you in your quest. Suggestions and recommendations are welcome, so feel free to comment!
Recommended Articles
The following two tabs change content below.