250 Best Compliments For Girls To Make Them Feel Special
Cute and heartfelt compliments can make the women in our lives feel special and loved. They say flattery will get you anywhere and a way to a girl's heart is through small gestures like compliments! Whether you are trying to make your mother, sister, girlfriend, wife, daughter, friend, or crush happy – paying them a compliment, or sweet talk, goes a long way. But are you running out of compliments to express admiration for the girls in your life? We have you covered.
Some of the best compliments for a girl are those that come from the heart. They work better than most pickup lines do, and they are guaranteed to make a girl smile. Compliment the girls in your life based on their character, qualities, how supportive they are, the impact they've had on your life, and the strength they show despite what they have gone through. If you need help coming up with unique compliments for ladies or need help to impress a girl with words of adulation, keep scrolling down. Whether you are looking for compliments for your girlfriend or a sister, we have your back!
250 Cute Compliments For Girls To Make Them Feel Special
We all find unique ways to make the women in our lives feel special. Here's a comprehensive list of a few interesting and thoughtful compliments for women that they will love:
You make thoughtful choices in life, and they are worth appreciating.
I am so happy that our paths crossed and we met each other.
There's no way that an extremely cute girl like you exists in this world. But here you are!
Your creativity and artistic ability just blow my mind.
You make a huge difference in the lives of those around you.
Spending time with you is a lifetime enjoyment.
Our friendship is like a special cup of tea. It is made with a special blend of you and me.
You look stunning in whatever you wear.

Quick Tip
Grab the opportunity to pay this compliment when a woman asks you how she looks in a particular outfit.
The sound of your laughter makes me feel like I just won a million-dollar lottery.
I'm charmed by your beauty and sense of humor.
You are full of confidence and positivity.
Thank you for never getting tired of me. You are a true friend.
Pictures don't do justice to your looks.
I'm fascinated by your lips because they always say the most amazing things with a bright and beautiful smile.
I enjoy your unique mindset.
You are the first person to strike my mind every morning.
Chocolate is sweet, but your friendship is sweeter.
You are a natural beauty.
I feel like I'm on vacation when we're together.
The kindness you have for everyone is inspiring.
Oh, your smile – it's killer!
I am lucky that friendship is for free. Or else, I would have never been able to afford you.
Your fragrance is simply irresistible.
I value your opinion. You make keen observations.
I have the best fun when I'm with you.
You always bring brightness along with you, and that's what I love about you.
Your work is beyond impressive.
I'm sorry that I got so delayed in meeting a person like you.
I like you because you know exactly what you want from your life.
You are a brave heart who is never hesitant to meet challenges.
You are such an incredible problem-solver.
Your beautiful eyes sparkle like jewels.
Your confidence is outstanding.
I love the way you take care of me, you selfless beauty.
You have a heart of gold.
I am so glad that I asked you to marry me.
Your smile is so beautiful that it attracts everybody.
You really know what you want and fearlessly go for it.
You make me want to be a better version of myself every day.
I'm a big fan of the way you impress everybody.
Even after several years, I still fall in love with you every single day.
You are gorgeous and confident.
Your elegance cannot be missed.
You are like a dazzling diamond that I will treasure forever.
Thanks for making my life worth living.
Thank you for being such an amazing life partner who has never stopped loving and appreciating me.
What's the secret to your extraordinary style?
Your loveliness is just amazing.
With you one look, the dark clouds roll away and the birds start singing.
Everyone loves you, and there are a hundred reasons why.
Everything about you is worth knowing.
There's really no need for you to wear makeup. You are the epitome of natural beauty.
You are the spark that ignites me.
I'm drawn to your warmth and intelligence.
It's lovely that you lead a life of simple living and high thinking.
You make life so worth living.
 Your voice is so mesmerizing.
Your humility and grace cannot go unnoticed.
The sight of you in that dress is stunning.
I must be kissing an angel because nothing else can make me feel so good.
I find you sexy, attractive, and impactful.
I love your carefree attitude.
How do you manage to look this pretty all the time?
I could listen to your heartwarming stories for the rest of my life.
I cannot believe how this much beauty can exist in one person.
You always brighten up any room you are in.
Your smile makes me weak.
I can't take my eyes off the beauty you radiate with that sparkling smile.
I want to be as mentally potent as you are.
Holding you is the best cure for anything.
Do you know how attractive you look to me?
Your laugh is contagious.
Your kisses are like mellow raindrops on a drought land.
If someone wrote a book about you, it would be a bestseller.
I'd rather spend time with you than anyone else.
I admire the way you are ready to sacrifice everything for your family's happiness.
I love your sassiness.
You are like sunshine on a cloudy day.
When I focus on you, all my pains are gone.
You put a lot of effort into caring for others. You are worth admiring.
You are limited edition.
I am so grateful that we met.
'Breathtaking' is not enough of a word for you. You are way beyond.
You always know how to put your best foot forward.
I love how you make ordinary events worth remembering.
If I had to make a choice between my FIFA and you, I would certainly go for you.
You have an unbeatable sense of humor.
You're beautiful all the time, but when you smile, you make the world halt.
Your taste is so impressive.
Your humility and grace attract many people.
You have always been there for me with motivation and the best advice.
I love the passion you put into everything.
It's always such a pleasure to be by your side.
No matter who is in the room, I always find myself looking at you.
The sight of your beautiful face framed by your soft hair can't be resisted.
I don't know how to explain what you mean to me.
I love how you stay calm and composed in any situation.
Your beauty knows no bounds. You are meant to conquer the world and hearts.
 I can never express in words how much you mean to me. I fall for you more deeply every day.
If life was a river, I'd choose to paddle with you.
 You don't like a few things about yourself, but it doesn't matter to me. You will always be perfect to me.
You know how to bring out the best in people.
I will never miss spending time by your side.
Wherever you are is where I would love to be.
I am comforted by your presence.
Those eyes are stairways to heaven anyone would like to climb up.
You are the most astonishing woman I have ever met.
Your enthusiasm and passion for life are just exquisite.
You always know what to say.
My sadness fades away when I see your million-dollar smile.
I can never stay mad at you – your love is that addictive.
You are so great when it comes to giving gifts. You know exactly what people want.
Your kisses are as soft as candy floss and as warm as a cup of hot chocolate.
Whenever you walk into the room, my heart skips a beat.
I'm so glad we are still beside each other.
I find myself lost in your eyes – they are deep like an ocean.
I know that you can do anything to accomplish that you set your mind to.
You're irreplaceable. You're my one and only.
I can't wait to see what is there for us in the future. You make everything lovely.
A day without you is meaningless.
Your laugh is the cutest of all.
You carry yourself with so much pride and respect.
You are one of the women that I really admire due to your great achievements.
Your strength and dedication made me believe in myself.
I would love to follow you for the rest of my life.
I'd never want you to change. I love everything about you.
You are so mature and energetic.
You are as bright as the sun because you spread the warmth of your love.
You have the most beautiful and deep eyes.
You are like the shade of a tree on a hot summer day.
You are that missing piece of the puzzle that completes my life.
Nobody is perfect, and there is nothing that I would change about you. I have fallen for the way you are.
I'm pretty sure that whoever falls for you will never experience boredom ever again.
You have such a talent to put together the most stunning outfits.
Your love is like an orchard: sweet, surreal, and sublime.
Your voice makes my life worth living.
If only there were more people like you in the world, it would have been such a pleasant place.
Do you know why I wouldn't ever compare you to an angel? It's because you're real.
You are so gorgeous, and that is the least I can say to compliment you.
I have never been more proud to call you my lifeline.
When I see you sad, it shatters me.
Girls run the world – and you are the best of them.
I am sure there cannot be anything else better than you being yourself.
I love how you love yourself.
No matter where I go and who I meet, no one will be better than you.
The secret behind your beauty is that your heart is beautiful too.
You have got some sexy dance moves.
You are the essence of perfect beauty and a truly strong woman.
There is something about you that makes me want to be a better version of myself.
No matter what you do, you always look classy.
God didn't write our names together. He made us for each other.
I never have more fun than when I am with you.
You are the essence of boldness and beauty.
Whoever is lucky enough to end up with you will never miss anything in life.
When I need a pick-me-up, I just think of you and it brings back my smile.
When we are together, I want time to stop because I can't pull myself out of your alluring deep eyes.
You have a way of making everything so easy.
When the world needed hope, you came to the rescue.
You are a strong, smart, and sensual woman.
I don't usually think about many things, but when I do think, it's invariably related to you.
Don't say that you can't dance. Your moves made everyone's eyes pop out.
You are a woman that no one would want to miss out on.
I am blown away by your energy and passion.
They say that there are plenty of fish in the sea, but you are my favorite one.
It's not my fault that I fell for you. Your vibe is irresistible.
All I want is for you to spend the rest of your life with me while I try to make you happier with each passing day.
You add life to the party.
True friends are rare. I regard you as one, and you're a cut above all the diamonds.
I love how confident you are. It makes me fall for you even more.
I'm trying my best to fall asleep, but I just can't get enough of your smile.
I didn't believe in soulmates, but after meeting you, I certainly do.
There is never a dull moment when you are around.
You make me come to life.
You are the first thing that I want to see every morning and the last thing I want to see before falling asleep.
You looked great today. I know I didn't see you, but deep within, I know.
 Life isn't perfect, but when you are with me, "perfect" is a small word to describe life.
Everyone gets knocked down sometimes, but you always have a backup plan to keep going.
You are worthy. You matter the most.
I notice that you lit up the room as you walked in.
No obstacle seems too big with you by my side.
I could hold your hand forever.
You're more helpful than anyone I have ever met.
I feel peace when I am beside you.
You remind me of cherry blossoms. It must be because you always look fresh and lovely.
Your most attractive feature is your kindness. It makes me melt.
Your one smile can make me do anything you want.
I do not mind growing old and fat with you.
You walk with such grace, it looks like you can take over the whole universe.
I am captivated by your beauty, but I am even more enthralled by your wisdom.
I can't get you out of my head.
My only wish is to make you laugh whenever I can.
Your laugh is like music to my ears.
Your love for others makes me want to work on myself.
You have the smile of someone who knows the big secret of living in harmony.
Let me flip a coin. Heads, I'm yours. Tails, you're mine.
You will always be my sunshine, babe, even when we are old and gray.
You are an outstanding listener.
I like the way you use your intelligence.
Whenever I need a friend to talk to, you are the first person to strike my mind.
Damn, your smile. It is so pretty.
A strong and confident woman like you should be my future wife.
The hardest part of hugging you is letting you go.
In my eyes, you are an angel.
You mesmerize me with your beauty.
I'm wearing the smile I got from you.
Could you be any sweeter?
I bet it will feel perfect when I can call you mine.
Someone is getting through something hard right now because you are stuck in their head.
You can be anything you want in the world, and I feel fortunate to be the chosen one to go through this life's journey with you by my side.
I love how beautiful you look when you are sleeping.
Whenever you are around me, my happiness multiplies.
You're my evergreen reason to smile.
Your hair flows with the grace of a majestic river.
You know exactly what to say when someone is feeling down.
I could listen to you talk for hours.
You're like sunshine after rain.
I'm grateful that we met.
You are wiser than a princess who has traveled the world in search of wisdom.
Thank you for never getting away from me.
You bring the best out of life.
You are full of courage.
You look sexy when you're bossy.
Having someone as beautiful as you reminds me that the mercy of the Lord is truly something I can never deserve.
You are beautiful – never forget that, even when you don't feel like it.
You have an outshining presence.
You're like a ray of sunshine on a gloomy day.
I get blown away every time I see you.
If I had the ability to do magic, I would have kept you for a lifetime.
I love your sensuality.
You teach me something new daily.
What a smart chick you are.
You shine like a rare, priceless diamond.
Your touch fans the flames of my desires.
Your creativity is endless.
You are my dream come true.
I like the way you keep honesty as a priority.
I feel drawn towards you every time I look at you.
Your beauty makes my day.
You are incredible in your own way.
You are a superwoman for every man.
I'd like to be captivated by your beauty forever.
If I had to choose between life and you, I'd certainly choose you.
Your patience makes you even prettier.
You light up everyone's day with your gentle touch and bright smile.
A true example of beauty is you!
You make time stop and hearts fly.
If my wish is granted, I'd like to spend my life with you.
How do you manage to touch my heart every time I see you?
Love, faith, and pride are how I define you.
Your innocence or beauty, both are alluring!
Infographic: Tips To Sound Genuine While Complimenting A Woman
Women appreciate genuine compliments. And we understand that it takes a lot of courage to bare your heart to the woman you admire. While you can use the suitable compliments for females from our list to make her feel special, ensure you sound sincere and thoughtful. Check the infographic below to understand how to sound genuine while complimenting the most important lady in your life.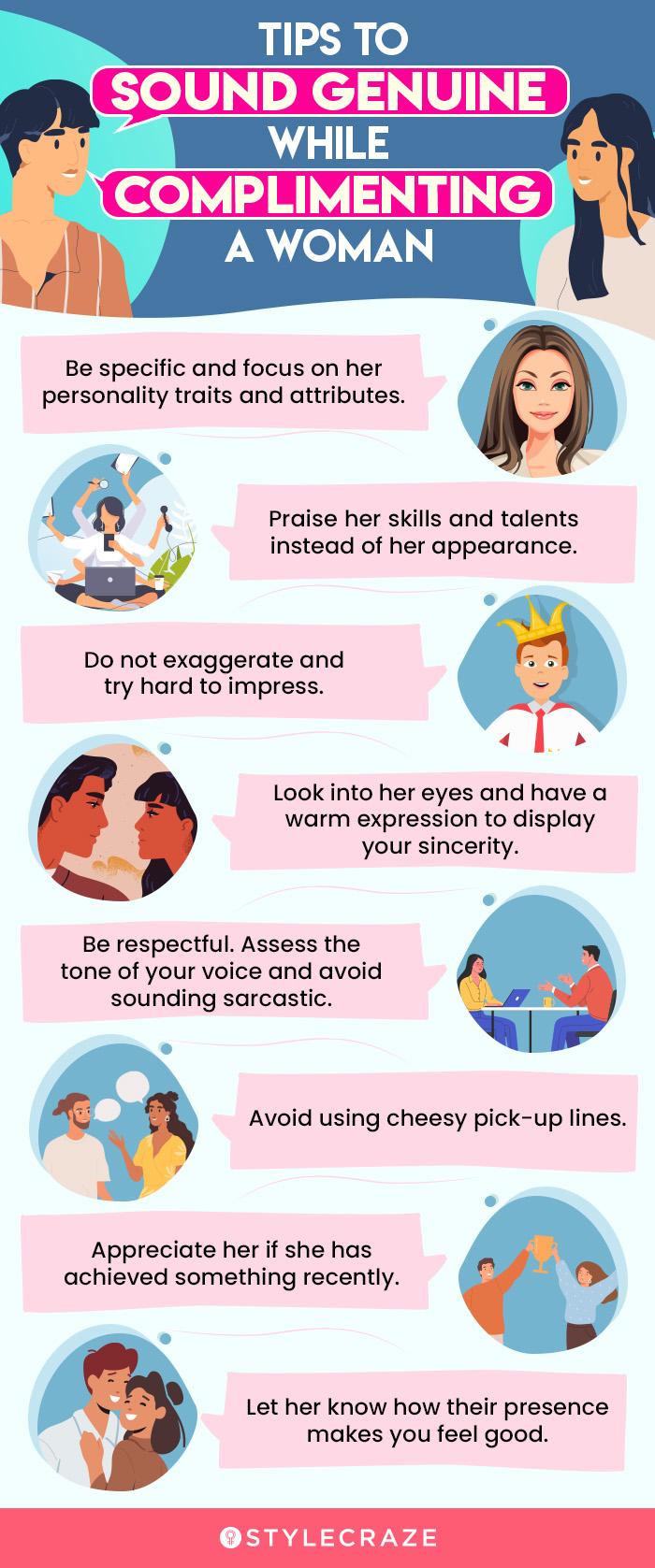 It is strange how we don't notice that compliments for girls are quite uncommon. Girls do not get appreciated enough for the value they bring to the lives of people around them. A lot of girls don't even want grand gestures to feel validated. An unexpected, genuine compliment on the little things about them would keep them happy for days. It does not require a lot of effort. You can also use these compliments for daughters and other women in your life. You could have the girls in your life smiling all around you with a few honest emotions, coupled with some witty lines! We hope this article inspires you to reach out to the special girls in your life and shower them with all the compliments they deserve.
Frequently Asked Questions
How do you give a girl a unique compliment?
Notice her unique positive traits and build a compliment around them. This way, she will receive the praise that no other has.
Why do girls fall for the compliments?
Compliments are a form of appreciation, and everybody likes to be appreciated. Hence, girls fall for them. But this applies to all the other genders too.
What compliments do girls like?
Girls like compliments on their work ethics, personality, skills, talents, and looks. But this can vary from person to person.
Learn how to make a woman feel special with these five compliments that will make her melt! Watch this video and get ready to make her day sweeter.