Best Compliments For Women To Brighten Their Day
All those love songs were right – eloquent words can steal your love's heart in an instant.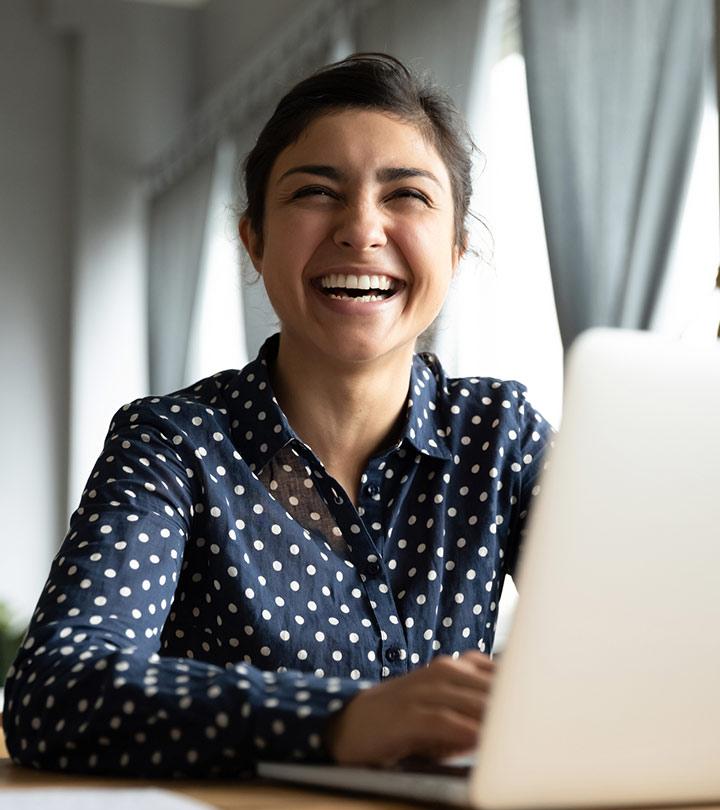 Compliments for women can act as catalysts to kickstart any conversation and make it 100 times more interesting with heartfelt appreciation. However, impressing women is tough these days as they don't fall for cliches and flattery anymore. Do not expect women to take heed of your fancy yet hollow words, as sincere admiration is the heart of a compliment. So, the best way to compliment women is by understanding them. You can frame the words accordingly when you know what they like and dislike. And trust us, such words will make an impact and impress her, and you will likely receive love and care from them in return. If you want to learn how to compliment women gracefully and respectfully, continue reading this article. We discuss a few ways to weave words and honest observations into compliments. So, let's dig into the art of complimenting women and learn how to do it most beautifully. Read on.
Guide To Compliments For Women
One of the best one-word compliments for women would be simply saying that she is smart! When you use it at the right time, we bet it will lighten up her mood.
But what are the other few ways that you can employ to compliment her? You may compliment a woman's eyes, her hairstyle, her voice, or her smile. And people who have a thing for fashion would definitely look at the clothes and accessories. Whatever is the first thing that grabs your attention, be sure you compliment it. And, of course, the tone matters! You should be warm and polite while you state your compliment. Because more than the words, the tone is what is gonna get into her head.
There are a few things that need to be considered when you compliment her. First of all, as already stated, the tone of adulation matters. Always be polite, and it should not sound forced. Don't overdo the complimenting or exaggerate as well because complimenting way too often could be annoying to her, and soon she will not value those words of commendation either. Ensure that the situation is also right! You don't wanna throw a random compliment and make it awkward for both of you. Understand what means to her the most and compliment her on that. Avoid body shaming or size-based compliments because most women don't enjoy it. Bonus tips to be kept in mind are to be bold, genuine, and kind.
If she is someone you have known for a while and is not a complete stranger, you can go ahead and pick any of her character traits. She can be bold, courageous, outgoing, or even a people person. Many women love it when you compliment them on their specific nature.
Also, while jotting down a nice compliment for a woman, you might wanna take her very many skill sets into consideration too. The ideas she comes up with, the way she handles her tasks, her attitude to subordinates at work are certain things to be observed and complimented. Oh, and you can also compliment her on her dancing skills, her expertise in music or instruments, or even cooking or organizing the house. Comments on her driving can also be a great compliment for women.
However, you need to know all the risks you might land yourself in if you do things the wrong way. One thing that certainly will annoy and make a negative impact on you is when you use those offensive backhanded compliments for women. Yes, it is demeaning and can also affect her whole attitude. Even if you were trying to be funny, we do not recommend using this. It can also imply that she is generally not good or the best at whatever it is. Let's say, for example, if you tell her "this dress makes you look prettier," she can also take it in a sense that she generally does not look very good in other dresses, and it can be very damaging for her while she chooses her outfit the next time. These little things can ruin your relationship with her. So it is better to refrain from making those statements that can be the cause of her insecurities.


Quick Tip
Try to link your compliment with something you genuinely feel about your partner. This way, your compliment will also feel authentic.
Best Compliments For A Woman To Brighten Her Day
Here are a few examples of some really wonderful compliments for a woman that can be used when you can get hold of the right situation. We are positive that these are minor things that will brighten her day.
"I think I know that I often bore you, but you always listen to me, which makes me love you more."
If your friend is someone who listens to your rant when you are upset, telling her that she is a good listener is a very nice compliment for women. She will remember it for a long time.
"I have never met a woman as strong as you are. You're truly an inspiration."
Commending on the way she carries her is often being appreciated by women. Her confidence can be one of the best compliments for a strong woman.
"When I lost my direction, you were there with me, guiding me to the right path. I still don't know what I did to even deserve such a wonderful woman like you."

Quick Tip
Be mindful of your language and ensure your compliments to her aren't putting others down (especially people she cares about).
Often, thanking her for being there for you is also considered to be taken as a compliment or a gesture of approbation. You can phrase it in a manner that she has been a support for you, and you appreciate her sense of responsibility in taking care of you and making you feel important.
"Honestly, you're the sole reason behind me being organized in my life now. The way you handle your work, your personal life, relationships, and everything, is immensely praiseworthy!"
Women usually plan things out and organize their work or tasks. Her intelligence in working efficiently is also something that could be complimented.
"When we plan to meet up, you always make sure to pick the best place in town. I dunno how you do that every time."
Some leisure activities like the spots she chooses to dine in or have a coffee with can also be complimented. Her ability to spot and pick places with a good vibe is a good trait to applaud.
"Your beliefs and principles and the strong ability to fight for them are commendable. You inspire so many people out there to do the same for the greater good."
Her ability to stand for what she believes in is truly something that needs to be admired. If you also feel something like that about her, you should definitely take a chance to compliment her on it.
"No matter where you are, or with what you are busy in life, you always lend your helping hand to solve others' problems. Only angels can do so."
Being a problem-solver is a superpower! Compliment on this or give kudos to her when there is a situation.
"I can see it in you that you can fight the world if you have to in order to establish equality and peace in the world. It is so impressive."
Women often love to hear that they are fearless. This plays a crucial role in actually boosting her confidence and brightening up her day.
"You're the strongest woman I know. I can only dream of making all the milestones that you have been able to achieve in your life."
Compliments for older women are the most wholesome. They have lived an eventful life and experienced a great many things. All their experiences have contributed to their wisdom and the grace with which they carry themselves. Hence, complimenting their previous accomplishments and accolades and giving her a big round of applause can be a good idea.
"You are my home. You make me feel so safe. I owe you the world."
Romantic compliments for women, especially if you are in a committed relationship, should be easy. You can actually open up your feelings about how happy you are with her or how she understands and makes you feel safe. I bet she will have similar things for you to say too.
While the usual compliments for women are about her beauty, grace, and physical appearance, there is just so much more to her. When you value her for the person she is, and the care, love, time, and effort she puts in for you and your friends and family, complimenting her will likely come naturally to you. Whether in personal relationships or dealing with work deadlines efficiently, make sure you see your woman and praise her as an individual in herself rather than simply labeling her based on her domestic and professional roles and responsibilities.
Frequently Asked Questions
What to say to flatter a girl?
You may shower a girl with compliments to flatter them. However, remember to be sincere and compliment their behavior, intelligence, and other aspects, not just their physical appearance.
How do you tease a girl with sweet words?
Some ways to tease a girl are giving them a cute nickname and joking about their habits while keeping the teasing positive. Also, it is crucial to respect their boundaries and behave appropriately.
What compliments do ladies like?
Women like compliments on their appearance, sense of humor, and personality. Consider commenting on how she brightens any space she enters, how gorgeous she looks at times, and how much you adore her impeccable manners and sense of style. However, make your praise realistic and authentic, as using false or cheesy words to impress today's women might backfire.
How do I compliment her beauty?
Compliment her on her posture, hairstyle, skin, and especially her hair. Don't miss a chance to appreciate her skin, because women go to great lengths to maintain clear and glowing skin. So, your compliment on the result of all that effort will most likely make her smile.
How to compliment your crush?
Comment on small details, the way she talks and treats other people and her sense of style as well as how you like her eyes.
How do you compliment a girl without flirting?
Try to focus on her inner beauty rather than her outward beauty when complimenting her. For example, pay attention to her musical preferences or how she treats the waiter.
What are some compliments that make women feel appreciated for their accomplishments?
Commendations, such as "I'm so proud of you", are perfect to appreciate a woman for her accomplishments. Let her know how much of a difference she is making.
What are some compliments that make women feel respected?
Congratulate her on her mannerisms and her work at the office. If she is a mother or a homemaker, let her know what a great mother she is or how much you appreciate her relentless efforts to keep household affairs rolling. Comment on her immense hard work if she works day and night at her job.
Key Takeaways
Complimenting women is one of the best ways to brighten their day.
You can compliment a woman's voice, eyes, smile, or hairstyle with heartfelt words.
Remember that while complimenting seems easy, overdoing it may affect the relationship negatively.
Learn 10 compliments that will leave a lasting impression on a girl. Master the art of complimenting and creating meaningful connections with the following video.