12 Condolence Messages For A Friend To Express Your Support
Offer comfort and solace to your friend with some moving words to help them deal with their grief.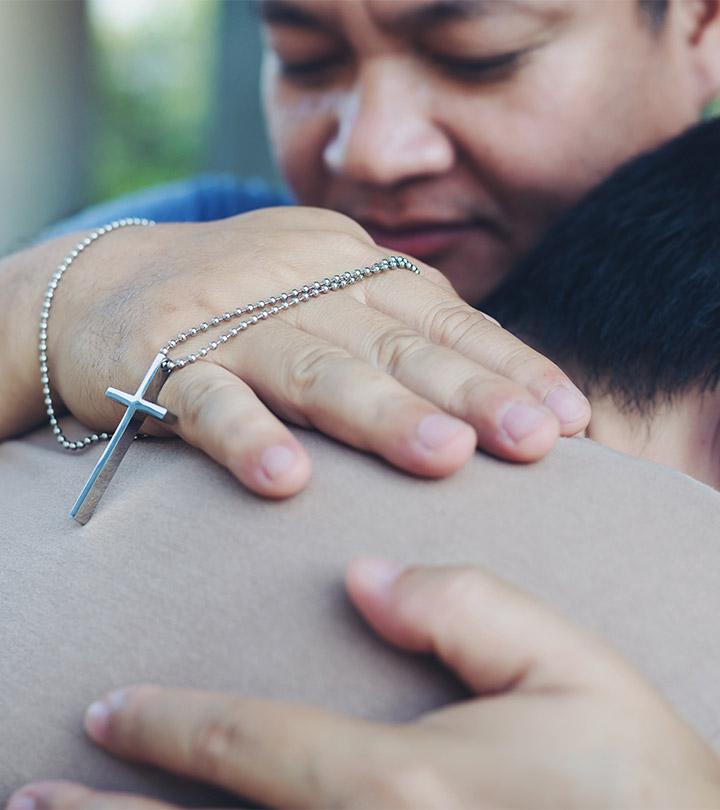 Condolence messages for your friends should be a well-thought-out piece of writing because coping with sorrow and loss is difficult. If your friend has suffered a loss and is going through a challenging situation, it becomes one of your responsibilities to ensure that you are by his side. It is a tough situation, and the emotional intensity may overwhelm some. Many people feel lost and find it hard to put together the appropriate words that will calm and soothe the mind of their grieving friend. Also, writing a proper condolence message to a close friend requires a lot of sensitivity. Warmth, support, and assurance should be conveyed in these messages to help a friend stay positive during these difficult times. So, worry not if you do not have the mental state to put together the right message. We have got that part covered for you. Our list of impactful condolence messages will help ease your friends' pain to some extent and show your earnest empathy. Swipe up to explore these texts!
How To Send Condolence Text Messages To Friends – The Chemistry
While learning how to offer your condolences fairly, the first thing you will have to do is approach the loved ones of the deceased. Being close friends, you must be natural and avoid using excessively formal or artificial phrases to offer condolences for the death. Yes, it's difficult to send words of strength or compassion to those who live through such a trance. That is why, we have created some moving and thoughtful phrases for you. These phrases mentioned below can help.
12 Simple Condolence Text Messages To A Friend
Do not forget to turn to me for anything you need, my friend.
The most important thing now is to move on and keep the flame of your memory alive.
I share your feelings, and I will be close whenever you need me.
I know I may not be able to do much to ease your pain, but remember that I am there for you now and always.
Sending you all my love and support at this time. Know that you always have my unconditional love.
Precious friend, I have just heard the sad news; I am very sorry for your loss.
I have no words to express how sorry I am. I have the consolation of having met your father, and you can count on me to help you overcome this trance.
My most precious friend, may God give you peace and serenity in the midst of so much pain.
Although it is not easy, I wish that the beautiful smile of your family member is the most frequent in each of your thoughts.
I share your grief at the death of your brother. He was a great person.
It is sad although it is the law of life, death comes when we least expect it. You have my love, friend!
I accompany you in the immense pain of the loss of your mother.
Biblical Condolence Message To A Friend Who Lost A Grandfather – Christian Condolences Message To A Friend
My condolences for the death of your grandfather; we pray to God so that his soul may rest in peace. I am very sorry.
Have strength, my friend. Lean on God, and he will help you see the light at the end of the road. My deepest condolences.
Condolence Message To A Close Family Friend Who Lost Her Grandmother
In this challenging time of life, my prayers and thoughts shall be with you. My sincere and deepest condolences to you and your family on the loss of your grandmother.
As difficult as it may seem, you will get through this tough time and come out stronger. We will always be around to help you during this trial period.
May the love of family and friends comfort you in this painful time.
Condolence Message To A Close Friend Who Has Lost A Mother
I feel very sorry for you, my friend. I would have liked you not to go through this great pain of losing a mother that you loved so much in life.
Unfortunately, life puts us in situations on the road that we have to know how to accept. Embrace the love and care your mom gave and move on with your life. I'm really sorry.
I know that right now, your heart is in mourning because the woman you loved the most in this world has gone to heaven. Think that if things had been the other way around, you would not like to see her cry all the time from heaven; that is why I ask you to try to overcome and be strong.
Condolence Message To A Good Friend Who Lost A Father
Dear friend, receive my deepest condolences for the enormous loss of your dear father.
My special friend, in this sad, and regrettable moment for the loss of your father, I can only offer you my deepest condolences and give you all my support.
I am deeply sorry for the death of your father. He was a great person and his teachings will always be with us. I join in your pain and sadness. You know that, as always, you can count on my sincere friendship.
This unfortunate news has shocked me. We have shared many moments of life, and in these difficult days, I will be by your side to accompany you in this feeling of deep pain until finally, the light of hope appears again. I'm so sorry. I send you a big hug.
Condolence Message To A Friend Who Lost Her Husband
I learned of the death of your husband, and I have come to give you my condolences personally. He was a wonderful person, and I will always remember him with great amity.
My friend, I share your pain in these moments. I imagine how you must feel. You will carry this grief intensely for a long time until you accept your husband's departure with resignation. But always know that I'm here for you.
I express my heartfelt condolences because I also deeply regret the departure of your husband. Let us pray together so that his soul may rest in peace.
Condolence Message To A Friend Who Lost A Son
I know there is no word of comfort for you in a difficult time like losing your little baby. I pray to God to take care of you, protect you and help you to live with his absence.
What you are living today seems like a nightmare. Please let me know what I can do for you, my friend. May the Lord have him in his glory.
Children are the greatest treasure that a mother can have; they are our reason for living, our smiles, joys, and much more. But the departure of your little one has shocked me too. Please pray for him and ask God to take him in his arms and never leave him alone. Sorry.
Condolence Message To A Friend Who Lost A Sister
Dear friend, I have heard the sad news about the death of your sister. She was a wonderful soul and will always live in our hearts.
Surely she will be with God resting in sweet peace. An affectionate hug for you and your family.
I'm so sorry to hear about the loss of your sister. The great loss that your family has suffered also causes immense pain to me. I offer you all my support and affection that I hope can alleviate your pain for the loss of a woman as simple and as good as her.
Infographic: How To Cope With A Loved One's Death
While bereavement messages to your friend would help them feel your support in the tough time, they would need much more to sail through it. Dealing with a loved one's demise is a long journey and often painful. The infographic below lists a few ways to help you grieve a close person's death without taking a toll on your health. Keep reading.



When we are mourning the loss of someone close to us, as much as we would like to be consoled, certain words, intending to be a consolation, may only make us feel hopeless. We do not want to hear that the departed are in a better place, that things will get better, or that we are strong enough to brave this storm because we cannot believe in anything besides the pain we strongly feel.
As a friend wishing to offer words of comfort to a grieving friend, it might be tricky to judge what kinds of words will be appropriate in such situations. So, here are a few samples to give you an idea about writing a nice and short condolence message to a friend. We hope you find these useful.
Frequently Asked Questions
What can I say instead of sorry for your loss?
Try these: "I don't know how to help you, although I would like to be able to do it," or "I wish I could calm your pain in some way."
What is the simplest way to send a condolence message?
This should help: "There are many of us who feel the loss of [deceased name]. We will always remember him/her."
Is it appropriate to share personal memories in a condolence message to a friend?
If you were acquainted with the deceased, sharing a good personal memory with his/her family may add some comfort during their time of loss.
How long should a condolence message to a friend be?
While there are no word limits to a condolence message, it is better to keep it short and simple. One is less likely to read pages during their time of grief.
Is it necessary to send a condolence message in writing, or is a verbal expression of sympathy enough?
There is no harm in a verbal expression of sympathy. However, one is likely to receive many condolences over the phone and in person, but it is the written messages that are often most remembered.
What are the creative and innovative ways to deliver a condolence message to a friend, such as through a video or a photo album?
Condolence cards, memorial photo albums and condolence videos or condolence video songs are creative and personalized ways to express your sympathy.
Sending a condolence message to a friend can be difficult, but it's important to let them know you're there for them. Check this video for tips and examples to help you express your sympathy.