How To Style Converse Shoes With Dresses – 17 Outfit Ideas
Humor your young, wild, and free soul with our cool converse and dress combo ideas.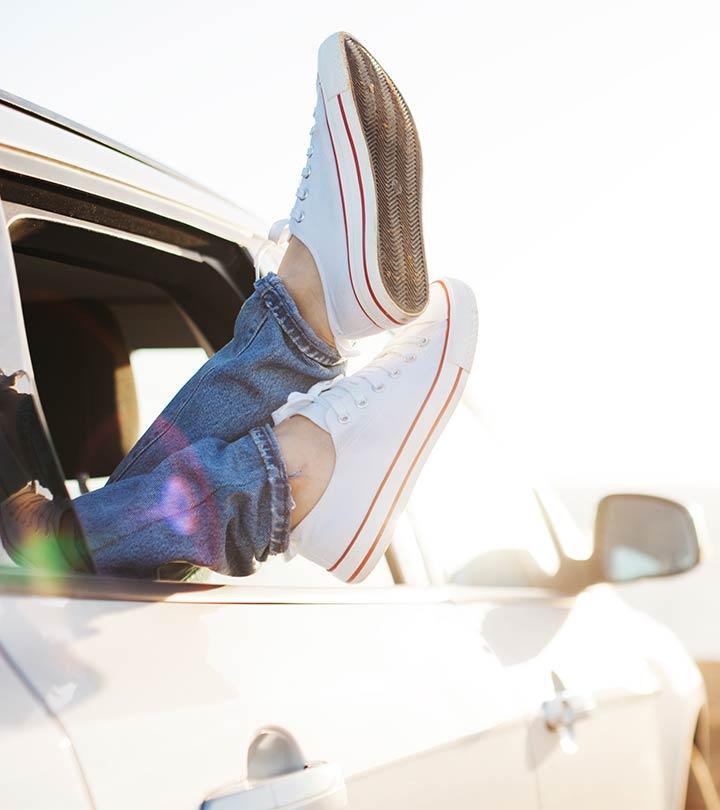 Converse with a dress is now a widely popular trend, thanks to Kristen Stewart. She rocked it at the MTV Movie Awards, and since then, we have often come across fashion influencers flaunting off a similar look. Converse sneakers have always been a preferred footwear choice for fashionistas as they do not compromise style for comfort. If you are looking for some ideas to pull off this look, you have landed on the right page. Swipe up!
Ace The Look
Lacing Techniques: Play around with different lacing techniques like criss-cross, over-under, and gap lacing to add a new feel to your Converse shoes.
Customize: Add DIY rhinestones, beads, or stud patterns to your Converse for a personalized touch.
Styling: Pair high-top Converse with dresses and shorts and low-top shoes with skinny and mom jeans.
Occasions: Opt for bold colors like yellow, pink, and red and denim Converse for casual day outs and stick to the basic blacks and whites for work and official events.
17 Ways To Style Your Converse Shoes
If you have already jumped on the Converse bandwagon, you know that they go with pretty much everything. Jeans and skirts? Yep. Prom? Sure. Date night? Hell, yes. Wedding dress? ABSOLUTELY! Take a look!
1. Wedding Dress With Converse
We wanted to start with the mother of all outfits – a wedding dress. Talk about brides breaking fashion stereotypes and choosing details that truly define who they are. An increasing number of women are sporting Converse with their fancy wedding gowns to showcase every bit of their personality while walking down the aisle.
2. Skinny Jeans And Converse Shoes
Skinny jeans – whether white, black, or anything whacky – call for Converse shoes. We recommend investing in a customized pair as they can spruce up your everyday apparel instantly.
3. High-Waisted Shorts And Converse
Denim and Converse are like a match made in heaven. But if you want to dial up the chic factor, pair high-waisted denim shorts with a bright graphic T-shirt. Such little changes can transform your look completely.
4. Formals And Converse Shoes
If you thought that formals are one space Converse cannot venture into, you need to reconsider your opinion. Whether you are headed to a meeting or are in the mood for comfortable trousers, throw on your favorite pair of Converse with your formal attire. Tell the world you choose comfort and like breaking the monotony with this look.
5. Animal Prints And Leather Converse
Animal prints add oodles of character to your outfits without trying too hard. We get that they are not for everyone, but if you can pull it off, throw some leather Converse into the mix to round off your outfit!
6. Prom Dress With Converse Shoes
Prom night is around the corner, which means the anxiety of getting every single detail right is at its peak. If you march to the beat of your own drum, get yourself a pair of Converse shoes to comfort your feet and soul. I know it's getting dramatic here, but trust me when I say that a lot of people will be coming to you for fashion advice after seeing you sport this edgy look.


Quick Tip
Consider wearing bright white Converse with a prom gown in a delicate hue like pink or a dress in a striking shade like red, blue, or green.
7. Trench Coat And Yellow Converse
A For an edgy and urban look, you can always opt for an outfit consisting of an elegant trench coat and sweatshirt dress with converse and an oversized hat and scarf.
8. T-Shirt Dress With Converse
Whether it is a denim one-piece, a pastel noodle strap dress, or just a basic T-shirt dress – a pair of Converse will take it to the next level.
9. Dresses And Converse
Be it a midi-length, long, or short dress, rest assured that it can be paired with Converse. Whether you want to go all out with tulle or keep it semi-formal with a striped dress, Converse is the way to go!
10. Skater Dress And Converse Shoes
Skater dresses are jam-packed with cuteness and help you get away with bad hair days, lazy Sundays, and those days when you don't feel like moving a muscle. Add Converse shoes to this equation and finish off the look!
11. Black Outfits With Colored Converse
A black T-shirt dress is a blessing in summers. It is super comfortable and can never look outdated. Wear it with a pair of brightly-colored Converse, and you can conquer mountains. But if you want to take your black outfit up a notch, wear them with a casual pantsuit. Tie your hair in a half bun and put on some red lipstick to slay the look!
12. Party Wear Dresses And Converse
Every part of your outfit needs to be thoroughly thought through when it comes to big events like a wedding, homecoming, or prom. But, you don't always need to follow the stereotype and wear a dress and heels. Break the monotony with your Converse shoes, and you will get heads turning!


Fun Fact
When Millie Bobby Brown stepped out on the red carpet at the SAG Awards wearing a Calvin Klein by Appointment dress and a pair of white Converse Chuck Taylors, it grabbed the attention of all the Gen Z fashionistas.
13. Maxi/Tea-Length Dresses With Converse
When you are in the mood to break the Bohemian vibe of your maxi or tea-length dress a little bit, take the sporty route. It's a look everyone needs to try out. I can't get enough of it!
14. Ruffle Skirt And Converse Shoes
There is nothing else I can think of on a lazy weekend than an outfit like this. It's fun, cool, and chic. Just a graphic tee with a ruffle skirt, a high ponytail, and a pair of converse. It's airy and relaxed, but with just enough style.
15. Summer Dress And White Converse
You can sport white converse with bold colors like red, navy blue, and green. Let the shoes take center stage and the dress be the sidekick for once.
16. Black Crop Top And Yellow Trousers
Black or white Converse shoes with colored trousers like these can make the oh-so-smart and effortless girl in you come out. Envision this outfit without the shoes – it just falls flat!
17. Edgy Outfit With Converse Shoes
The one celebrity that comes to mind when we think of Converse shoes is Taylor Swift. She is often spotted wearing bold outfits (like this patent leather number) with a simple pair of Converse to tell us that she's one of us.
Infographic: 10 Best OOTD/OOTN Clothes To Pair With Converse Shoes
So, you picked your favorite pair of converse shoes to create your OOTD/OOTN look. But now you're having a tough time trying to pick outfits that match your shoes. And the list above is just too long.
Fret not friend! We have your back!
Check out the infographic below to learn the 10 best clothing choices to create a favorite outfit with converse shoes at any time.


Converse with a dress is a fashion trend that is not going away anytime soon, and for a good reason. Why stick your feet in uncomfortable stilettos when you can amp up your cool quotient 1,000 times quite snugly with the right pair of converse high tops? However, you need to style converse shoes and dresses the right way to avoid looking clumsy. Go for bright white converse with dresses in soft pastels like a pink tulle dress for prom (yes, you can wear your pair of converse to the dance floor) and bold colors like red, blue, and green. In addition, you can sport T-shirt dresses, maxi dresses, tea-length dresses, and even wedding gowns with converse high tops. You just need to be confident about being comfortable!
Frequently Asked Questions
Are you supposed to wear socks with Converse?
Yes. One should always wear socks with any kind of shoes to avoid unpleasant smells or blisters.
Why do Converse sneakers look better dirty?
Converse sneakers may look better dirty to some people as it evokes a vintage vibe, and you don't have to worry about maintaining them.
Can you wear Converse in winter?
Yes. The white color of Converse stands out against the usually warm winter tones, making them a stylish choice for the season.
Key Takeaways
Converse sneakers have always been the preferred footwear choice for fashionistas as they do not compromise style for comfort.
They go with pretty much everything – jeans, skirts, and even prom or wedding dresses.
Whether it is a denim one-piece, a pastel noodle strap dress, or just a basic T-shirt dress – a pair of Converse shoes will take your looks to the next level.
Step up your wardrobe style by pairing your outfit with Converse shoes. Watch this video for creative ideas on how to style these shoes effortlessly.
The following two tabs change content below.