Top 10 Cool Lion Tattoos You Can Sport Too
We all know that tattoos are considered one of the most powerful means of expressing one's beliefs and feelings. People tend to reveal their inner feeling, nature and sometimes their attitude towards life through these tattoos.
Lion tattoo designs are one of the most loved ones among tattoo lovers as they are considered to be a symbol of bravery and power. Not just men, but even women love to get lion tattoos inked to show their strength and valour.
Here we will show you the 10 best lion tattoo designs which rank high in popularity!
1. The Small Lion Face:
This is one of the best lion tattoos. It is simple, elegant and depicts brave attitude while covering just a small area of your body.
2. The Heart Faced Lion:
Heart shape is universally loved by women. Combining the mighty lion with the symbol of love depicts both strong and feminine side of a woman. This tattoo inked on a girl's back is a perfect example of a successful heart faced lion tattoo.
3. The Big Lion & Text:
This big lion tattoo with a message shows the seductive and bold nature of its owner. Whether you wear a backless gown for a formal do or seductive lingerie for your man, this tattoo is sure to grab eyeballs.
4. The Chinese Lion:
You must have heard about the Chinese dragon tattoo, but here we are going to show you a Chinese lion tattoo. This tattoo is perfect for your arms or the wrist area. What makes this tattoo attractive is its flaming lion face. This is a popular and much loved design.
5. The Princess Tattoo:
Every girl wishes for a life of a princess. This tattoo makes it a reality for you. A lioness with a crown is just the perfect design for a woman who is a daddy's girl and loves to live a good life. Although simple, this tattoo is cute and attractive.
6. The Lion Pride Tattoo:
A tattoo that depicts a lion and its cubs clearly portrays the pride and responsibility you feel for your family. It shows the strength and the bond you share with your family. This tattoo, however, is a big design and will cover a major part of your body.
7. The Basic Lion Tattoo:
Even though there are a variety of lion tattoo designs available, the basic outline of a lion's face has its own charm. This versatile design is perfect for any part of your body – whether it's your arm, ankle, wrist, leg, waist, back or shoulder.
8. The Pencil Sketch Lion:
This tattoo design is similar to what a pencil sketch of a lion would look like. The design is abstract yet very attractive. Your waist is the perfect spot to get this design inked.
9. The Big Japanese Lion:
We've already talked about the Chinese version of the lion tattoo design. This is the Japanese version. It does not have flames like the Chinese design but instead has a furry, puffy look that sets it apart and gives it an adorable look.
10. The Tribal Lion:
Last but not the least on the list is the tribal lion tattoo. This design is a small and is perfect for your shoulder, wrist and ankle.
These tattoo designs are fabulous, aren't they? Now you can easily decide which lion tattoo you need to get inked.
Just don't forget to tell us which one. If you have any more interesting tattoo designs, please feel free to share with us!
Find more interesting tattoo designs on this tattoo app.

The following two tabs change content below.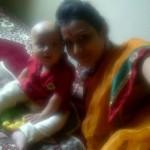 Latest posts by Khushboo Mehta (see all)