Top 10 Latest Corner Rangoli Designs That You Should Try In 2019
Rangoli is a traditional Indian form of floor art, which has been an integral part of our culture for a long time and continues to be so even today. Festivities like Diwali, Holi, and Onam are quite incomplete without a dash of color at the entrance of each household in the form of a Rangoli. In the yesteryears, elaborate rangolis were crafted in the huge frontyards of the houses and these required a lot of skill, patience and time. In today's fast paced world, with a majority of the populace residing in compact apartments, the need for smaller yet beautiful rangolis which can be tucked into any small space or corner of a home, sis felt immensely.
Corner Rangoli Designs To Try In 2019
Here is a compilation of a few such rangoli designs for corners: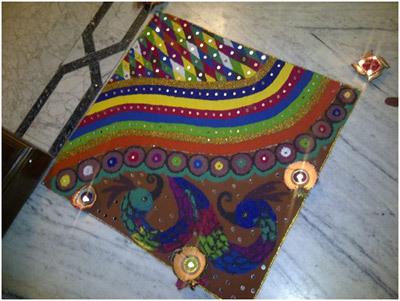 1. This is a vibrant and colourful rangoli made with coloured rice powder and sand. The pair of peacocks in one corner is beautifully integrated with the geometric patterns in the opposite corner diagonally. The use of glitter and small pieces of mirror in the rangoli gives it an added dimension. The use of diyas is optional. This is a perfect option among the diwali corner rangoli designs.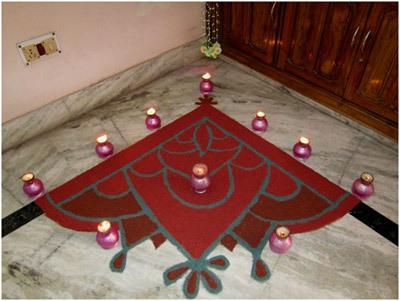 2. A triangle shaped corner rangoli for any occasion. This beautiful and sober rangoli uses only three colors Red, maroon and blue for borders. The design is pretty simple too with minute designs and details. The small diyas make the design looking more beautiful.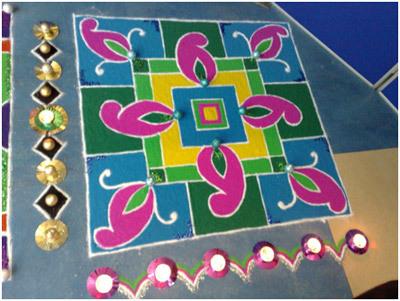 3. This one of the rangoli designs for corner is a flower rangoli with colors used to add details to it. The rangoli uses marigold and rose petals to decorate the design. Small candles are used to enhance the rangoli design as well as the small star shaped designs in the rangoli.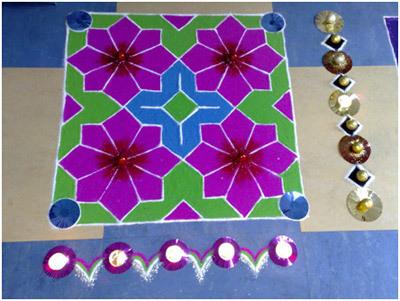 4. This square rangoli with mango motifs on the inside and bright colours to match is not only striking to look, but is also easy to do. A touch of glitter can be used to enhance the corners.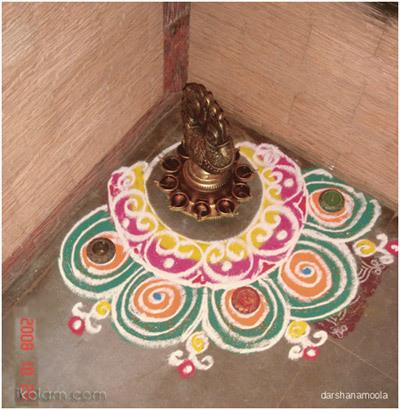 5. This is a simple rangoli design which looks as beautiful when drawn partially to enhance the corner of a room as it would if it were to be drawn fully at the center of a room. The use of bright colours like green, orange, yellow and magenta with spiral patterns along the periphery makes it very appealing.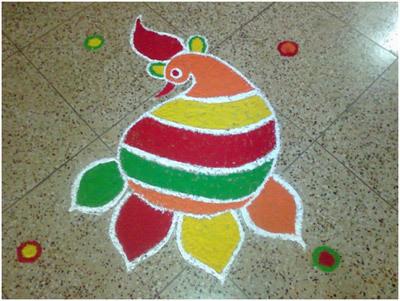 6. Another small and simple corner rangoli design for you ladies to try out. This design is done with minimal colors like green, pink, blue and white. The patterns are simple and resemble the ones we are familiar with the rangoli with dots technique. This being a simple rangoli design will be good choice for beginners.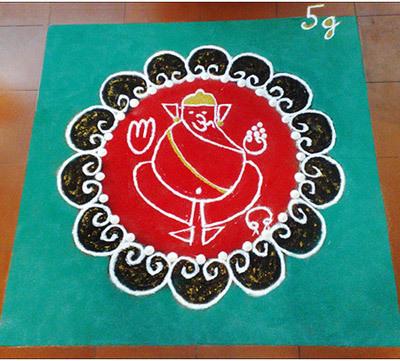 7. This is a small and simple design featuring a peacock motif unlike the usual peacock motifs which are labour intensive and require a lot of skill to craft. The colours used here are very subdued, but they can be replaced with brighter shades too.
[ Read: Indian Rangoli Pictures ]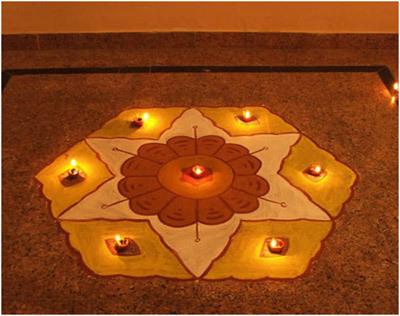 8. A rangoli depicting Lord Ganesha is one that is suited for all occasions. The white outline of the god in a crimson red backdrop makes it eye catching. The repetitive motifs along the circumference of the circle make an interesting detail. The blue backdrop for this circular pattern can be opted depending on the space availability.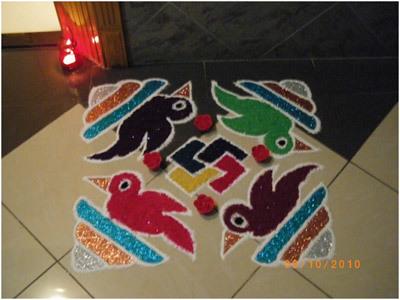 9. This is a hexagon shaped rangoli enclosing a star motif, which in turn encompasses a floral motif within it. The addition of diyas makes it suitable for festive occasions too. The tone of colours used can be heightened or diminished to suit one's palette.
10. This rangoli forms an imaginary square which features a small swastika motif in the center enclosed by the design of four birds which represent the four angles of the square. The use of blue, silver and gold glitter adds a touch of modernism to this traditional design. In many states, the drawing of a rangoli is a family tradition which is unfortunately losing its sheen in view of rapid urbanisation.
The above mentioned designs are smaller and easy to do rangolis to choose from are sure to give the required boost to the city dwellers and encourage them to continue this wonderful tradition of making rangolis.
Images: Google
The following two tabs change content below.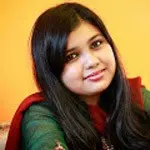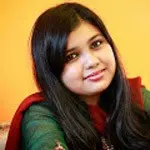 Shabby
A Blogger, a writer, Makeup hoarder and makeup fanatic- I love writing and love love trying new products and sharing my makeup ideas with the world. .