20 Yummy Cotton Candy Hair Color Ideas
Amazing hair trends keep us alive. And cotton candy hair, (or just candy hair,) has us bursting with life. When rightly done, the vivid colors and expert blending can leave anyone mesmerized. From stunning pastel colors to vivid yet soft blues, pinks, purples, yellows, reds, and greens, this trend has it all. Following, we've put together, a list of 20 of the yummiest cotton candy hairstyles that we've come across. But first, let's look at how you can get this look.
How To Get Cotton Candy Hair
You Will Need
 A bleaching kit (if you have dark hair.)
 Clips for sectioning
 Hair dye
 An old shirt
 Applicator brush
 Plastic bowls
 Color protecting shampoo and conditioner
 Hairbrush/comb
 Petroleum jelly
 Gloves
Pre-Lightening
Ensure that you are working with 2-3 day old hair. The oils that build up in your hair a few days after washing will help lighten your hair faster.
Use a brush to untangle your hair.
Put on your gloves and apply the petroleum jelly all along your hairline.
Mix the bleach by following the instructions in the kit.
Divide your hair into an upper and a lower section. Clip the upper section away and start working with the lower layers of your hair.
Apply the bleach to the lower layers. Ensure that you are applying an even coat to avoid ending up with patches.
Once you are done with the bottom layers, start bleaching the upper layers that you had clipped away.
Following the instructions, leave the bleach on for the recommended amount of time.
Shampoo and condition your hair.
Note: You might have to repeat this process a couple of times to get the desired lightness.
Coloring
After lightening your hair, pick some cotton candy colors to work with.
Work with freshly washed hair that has not been conditioned.
Use a brush or comb to untangle your hair.
Put on your gloves and apply the petroleum jelly all along your hairline.
Pour the hair dye into plastic bowls. Use separate bowls for each color if you are going for a multi-hued style. For an ombre with a single hue, use two bowls, one with the fully pigmented dye, and one with a dye that has been diluted with conditioner. (Arctic fox, pulp riot, pravana, manic panic, and crazy color are some good hair dye brands to work with.)
Apply the dye onto your lightened hair in sections.
After applying the dye, wait for 30 minutes.
Wash your hair with a color protecting shampoo and conditioner.
20 Stylish C
otton Candy Hair Color Ideas
1. Fairy Floss
Pink and blue, our favorite cotton candy colors. This style is so spot-on it almost looks edible. The artist has taken two contrasting colors to give an unnatural low-lights effect. The beautiful blue is expertly blended and fades to a pastel pink.
2. Candy Mania
We all love candy and so, by general logic, all of us are head over heels in love with this style. The artist has expertly painted pink, yellow, and blue hues that are bound to look as good on straight hair as it does on these wavy locks.
3. Pink Sorbet
This style is nailing the alternative beach hair look. This pink is pure pastel goodness with subtle rose gold undertones, and who doesn't love rose gold? If you have a bob and have been thinking about turning into a candy head, this might just be the style for you.
4. Candy Mermaid
Has a single-hued style ever looked better? While it might not seem like a big deal, getting the perfect shade without any patchiness actually takes the hands of a true artist. The pink has evenly taken to this gorgeously long style. This is one of the best pink cotton candy hairstyles for women with long and fine hair.
5. Fiery Rainbow
This cotton candy hairstyle is on fire. The gorgeous red roots melt into pastel candy shades that have been painted on so meticulously. The style has a sweeping effect that has definitely swept us off our feet.
6. Cotton Candy Ice Cream
Ooh~ the sterling in this style. The artist has expertly blended two of our favorite hair trends—cotton candy and opal. The dark roots seamlessly blend out to shades of sterling, pastel pink, and pastel blue, creating the perfect cotton candy ice cream look.
7. Hot Candy Pink
We thought cotton candy styles were all about the pastels until we stumbled upon this beauty. This style is so perfect it almost seems fake and extremely candy-like. The asymmetrical bob further ups the chic quotient, making this the perfect hairstyle for women with straight hair.
8. Red Sorbet
We will never say no to a pastel red and we cannot tell you how gorgeous this color is. The half-mermaid, half- candy style is sure to suit all hair types and textures. Just make sure you get a stylist who can nail the look as well as this one did.
9. Candy Grunge
While candy styles usually have a cute and naive look to them, the edge on this one is so extremely badass. We're in awe. The artist has created a seamless blend from the dark roots to the vivid pink. They've also added a touch of yellow to the tips to create the perfect amount of dimension and movement.
10. Dipped In Candy
Did we already mention that we LOVE sterling? This look seems to be bereft of all warm tones and the perfect sterling locks start to take on a beautiful pastel blue from the mid-lengths of the hair. These perfect locks seem as though they've been dipped in blue fairy floss.
11. Peekaboo Candy Rainbow
Candy, rainbows, and unicorns are just a few of our favorite things, and this look has created a perfect blend of all three. The hair at the crown has been perfected with a sweeping effect using a two-toned pastel pink. The peekaboo lower layers look like a perfect rainbow, making this the best style you could wish for if you love high ponytails.
12. Streaked With Candy
How many colors do you see? At first, it may seem like two, but the artist has meticulously created dimension using two tones of blue for the low-lights and has topped the style off with the perfect candy pink. Were you looking for a dimensional fix for your fine hair? This might be it.
[ Read: 30 Short Hairstyles For Fine Hair ]
13. Sterling Candy Melt
Talking about fixes for fine hair, it really cannot get better than this. The pastel pink roots create a gorgeous root-melt with the platinum at the crown of this style. The lower layers have more pink spruced up with streaks of purple and blue. This style is definitely topping our list of favorites.
14. Green Peekaboo
Green hair has been so underrated for so long, but we are extremely glad that it is catching on. This perfect a-line bob has an almost anime feel to it with the gray highlights. The lower layers are a single-toned green, making this style, chic, simple, and so extremely classy.
15. Feelin' Pink
There is so much more than meets the eye with this style. While it may look like a single-toned pink, the artist has meticulously added subtle purple tones near the tips to create movement and make the style dimensional.
[ Read: Best Pink Hair Colour Products ]
16. Candy Unicorn
Candy land cannot not have unicorns, and this gorgeous lady is not not a resident of the area. Dark roots that perfectly blend out to the most gorgeous lavender we've laid our eyes on, all topped off with our favorite candy pink. How can this not be what dreams are made of?
17. Candy Waves
This style has so much going on. Pink, blue, orange, yellow, and green, they are all there. Some may say that too many colors could mean a potential disaster, but this artist showed them! The pink roots blend out to a candy blue, taking on shades of orange, yellow, and green on its way there.
[ Read: 7 Modern Wavy Hair Styles To Inspire You ]
18. Melting Candy
This style is most certainly the epitome of expert blending and the perfect pastel pink. We can't wrap our minds around how the artist has managed to create a seamless blend between colors that are so far apart on the spectrum. This style is nothing short of perfect.
19. Kinky Candy
Talk about texture. If this doesn't look like cotton candy to you, I don't know what will. This yummy cloud of fairy floss has been created with pastel pink that has subtle sterling undertones, making it perfect for women with olive or cool-toned skin.
20. Candy Shop
Can't decide what your favorite candy color is? Then this style was tailor-made for you. The vivid colors with contrasting hues start off with vibrant pigment at the roots, fading out to perfect pastels. How the artist managed to create such a perfect ombre with so many colors, we will never comprehend.
These cotton candy hairstyles are so perfect, they've satisfied all of our sweet cravings for a while, with none of the calories. Are you feeling inspired yet? Let us in on your next big hair adventure in the comments section below.
Recommended Articles

The following two tabs change content below.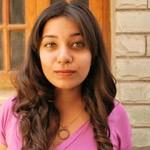 Latest posts by Meenal Rajapet (see all)