5 Creative Ways To Shorten Your Hair Without Cutting It
Sometimes it is scary to go under the scissors. What if the hair stylist trims more than that is required? What if I become a topic of mockery amongst my friends? Or worse, what if my boyfriend breaks up with me?
What if..that..what if..this..
And a million other WHAT IFs which give you sleepless nights.
But on the other hand, you want your hair shorter. Unruly long tresses are robbing your comfort.
So what should you do?
Scroll your eyes down the page.
*Smiles*
1. Curls, Girl. Curls!
Curly hair enjoys the sweet reputation of making hair look shorter without making it so. And the best way to get curls is by using curlers. Because heat rollers might expose your hair to prolonged heat which may not be healthy for your tresses.
Wash your hair first. Because this is when it is totally elastic and the easiest to manipulate into any form you want. Use hair curlers depending on the size of your curls you desire. One thing that must be kept in mind is the alignment of the curlers, which should be organized. Otherwise your hair would stand out in different directions and that is not what you want, right?
Sleep with curlers on. I know it will be uncomfortable, but I also know that it's going to be worth it. And once you wake up, DON'T brush your hair, as your curls might get ruined.
And lo! There you go! beautiful curls that make your hair look stylish, and shorter!
2. The Demi Lovato Style
Wanna flaunt a bob hairstyle? Then this is what you should do! Demi Lovato's simple yet trendy bob style makes her stand apart from the rest.
All you got to do is apply a little amount of shine serum to smooth those flyaways. Pull the top half of your hair onto the top of your head and let it stay in place with a clip.
Come to the bottom section of your hair. Make two inch sections that go upto your scalp. Now with the help of a bobby pin, fix the ends of your hair. You can use another pin for extra hold.
Now here comes the magic! Unclip the top of your hair and see it beautifully cascade over the tucked-in hairs. In case all of your hair is one full length, then you can roll the ends of the top half beneath the bottom sections that are pinned.
Use a hairspray to spritz your hair all over.
3. Bobby Pin Flips
Simple, easy and attractive.
That is what bobby pin flips are like.
The first thing you got to do is part your hair from ear to ear in a headband shape. Split the rest of your hair in four to five sections.
Bring up the first section so that it drapes over your face. Now secure using bobby pins, and flip it back over to the back and secure them again with use of bobby pins. Repeat the process with the remaining sections.
Pull the hair in the headband shape back over your hair and over the bobby pins. You can add couple more bobby pins to keep the hair in place.
4. Get A Ponytail
Leave the shorter section of your hair be in the ponytail, because these would serve you as those short hairs which you had always wanted!
And guess what? You can either roll up your ponytail or just pin it to the back of your head!
5. The Half Bun Style
This by far is the simplest and fastest way to make your hair short without having to chop it. Tie your hair into a half or incomplete bun, and sweep the extra lose hair onto your shoulders.
So there you go! Five awesomely simple and creative ways in which you can shorten your hair….without cutting it!

The following two tabs change content below.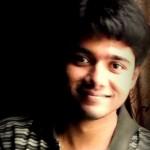 Latest posts by Ravi Teja Tadimalla (see all)