Here's How You Style Cropped Pants With Boots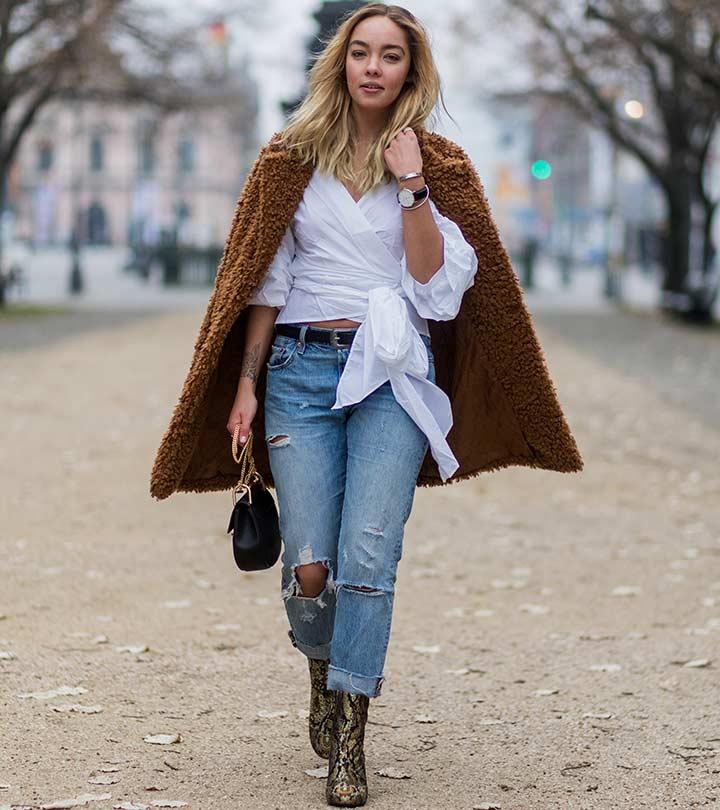 Cropped pants with boots have become the new rebel outfit. For the fashion police, the combination may seem mismatched. But, there lies the beauty! Fall staple boots along with cropped pants have become the magic essential to go from blah to fab – just ask trendsetters like Kim K, Kendall Jenner, and Ariana Grande! The street-style enthusiasts love it, and so will you. Scroll down to learn how to style cropped pants with boots!
What Are Cropped Pants?
Cropped pants are ankle-length pants that stop at the shin or ankle and don't go all the way down, unlike your regular trousers or jeans. You can cuff the ends of your pants or jeans or fray their edges to crop them as well. Either way, they look great. Don't confuse cropped pants with capris because the latter are calf-length and quite outdated.
Now that you know what cropped pants are, here are 11 cute ways that you can style them with boots!
11 Ways To Style Cropped Pants With Boots
Cropped pants are the new norm, and full-length trousers are fast becoming passé. There's one sure shot way of styling this outfit – with boots. Let's see how you can go about it.
1. Printed Cropped Trousers And Gold Boots
Don't shy away from gold boots. In fact, go all out with them! Go for printed pants, an oversized fur jacket, a long top, and anything you would otherwise not imagine bringing together to create this edgy look.
2. Blue Jeans And Ankle Booties
Wearing full-length jeans or leggings with ankle-length boots is not the norm anymore, cropped pants are.
3. Trousers And Black Boots
Do you never miss a chance to look all tomboy-ish? Then, go for that look with cropped pants. A leather jacket, black combat boots, and wide-legged trousers will do it just right for you.
4. Pantsuit And White Boots
Pantsuits are all the rage right now and not just as quintessential formal wear. In fact, they are being worn for anything but formal occasions. A retro checkered suit with white boots, angular glasses, and a fanny pack is one way to stand out.
5. Boyfriend Jeans And Animal Print Boots
If you want to make the most of your boyfriend jeans, crop a couple of inches off the bottom. It will make them look incredibly sexy. If you want to polish the look, throw on a red trench coat and finish off with animal print boots to add character.
6. All-Black Outfit And Red Boots
An all-black outfit can be a real savior and something I don't mind living my life in. I know that I'm speaking for most of us here. If you want to break the monotony of this look, do it with red ankle booties. A scarf, glasses, and red lipstick play well with this look too.
7. Mommy Pants And Beige Boots
Mom jeans with an oversized shirt is like comfort food, never looks dated, and has a demeanor you can't quite get with anything else. Keep up with this look and pair it with beige boots.
8. Cotton Pants
Break all workwear norms and stereotypes of cotton pants with these wine red ankle beauties. Keep everything else subtle except the footwear, going for brown suede combat boots. Remember, the trick to nailing this look is in the cropped hem.
9. Chelsea Boots With Cropped Jeans
When it comes to combat boots, Chelseas are a crowd favorite. They look great when the attention is not divided, so cropped pants are your answer. Culottes that go down till your calves are an even better option. Throw on a tank top and trench coat to ease through this outfit!
10. Culottes And Combats
Culottes are not cropped pants per se, but they are something that everyone is collectively falling in love with. You can wear them as casuals, formals, and as partywear. A turtleneck sweater to balance the width of the pants, combat boots, and a trench coat can all keep up with the swag.
11. Skinny Cropped Pants
Skinny jeans are bae. Throw on a leather jacket, and it's twice as good! A simple T-shirt and ankle-length boots add up this look to a hundred!
Pairing cropped pants with boots is the latest and coolest street style, with trendsetters like Ariana Grande, Kendall Jenner, and Kim Kardashian backing it up. Cropped pants typically end at the ankles or the shin and are different from capris which are calf length and quite passé. You can play around with cropped trousers, jeans, and even pantsuits while pairing them with booties and ankle boots. The resulting style is often street smart, hip, and tomboyish. Don't be afraid to make statements with your boots when wearing cropped pants. However, don't go bold on both to avoid a clash in your outfit.
Frequently Asked Questions
What shoes go with cropped pants in winter?
You can try combat boots in winter with cropped pants. They give you good coverage without fully covering your legs. Sneakers are good too if it's not snowing. But if it's getting colder, you need higher boots.
What kind of pants do you wear with boots?
Cropped pants and tapered jeans look great with boots. Jeggings, treggings, and leggings are exciting choices as well. In fall, summer, or when going to a ranch party, go for frayed shorts and boots.
Should you tuck pants into boots?
Don't tuck your pants in if you are wearing ankle-length boots. Do it if you are wearing calf-length or knee-high boots. Make sure you wear tapered pants, though.
Key Takeaways
From Kim K to Ariana Grande, many trendsetters love to wear cropped pants with boots.
And unlike your regular trousers or jeans, these cropped pants don't go all the way down.
Cropped pants are the new norm, and you can try this rebel outfit in many cute ways.
The following two tabs change content below.