10 Angelic Cupcakes Tattoo Designs
Cupcake tattoos are as impossible to resist as the baked confectionary itself. Cupcake motifs are prominent in tattoo art perhaps because food is an integral part of art and literature. Baking the perfect cupcake is considered to be culinary art. Similarly, creating vibrant and trendy cupcake tattoos is not child's play. These top ten cupcake tattoos are colorful, quirky and unique, and even inspire childlike joy in some cases. Read further to be sufficiently tempted to make your way over to your nearest tattoo parlor or a confectionary shop!
Top Ten Cupcake Tattoo Designs:
1. Miniature Cupcake Tattoo:
Fun and exuberant, cupcake tattoos often make great miniature body art. This miniature cupcake tattoo is a trendy embellishment for your fingers. Whilst having this replicated by an experienced tattoo artist, feel free to experiment with your own choice of colors.
2. Cupcake with Cherry Topping Tattoo:
It's impossible to ignore the vibrant contrast of colors in this piece of art. Observe how the luscious red of the cupcake base and the cherry topping perfectly contrast with the pitch black background. This tattoo is best replicated on your skin as depicted here, for maximum impact.
[Read:Gypsy Tattoos]
3. Zombie Cupcake Tattoo:
This tattoo is a twisted version of the conventionally bright and cheerful cupcake motif. Apparently inspired by the zombie craze, this cupcake tattoo is embellished with eyeballs, a tooth and even a spider. If you are looking to shock your peers with a quirky piece of body art, this is the perfect find for you.
4. Cupcake with Skull Tattoo:
Another tattoo that deviates from the traditional cupcake motif, this cupcake tattoo is embellished with the 'Day of The Dead' skull motif. The Day of The Dead is a Latin American festival, similar to the Catholic All Souls' Day. It is amazing to see how much of an influence it has on tattoo art.
5. Floral Cupcake Tattoo:
This tattoo has a feminine charm that is unbeatable. This innovative depiction of a flower that resembles a cupcake is bound to be popular amongst younger women. Stay true to this brilliant concept while having it replicated on your skin.
[Read:Gemini Tattoos]
6. Diamond Cupcake Tattoo:
A sparkling blue diamond and a red bow on a cupcake is the perfect recipe for a girl's tattoo. This tattoo is all about flaunting your gender and taking pride in your feminine charms. Pink, blue, yellow, black and red, this tattoo boasts of the perfect combination of colors too.
7. Subtle Black Cupcake Tattoo:
Are you looking for a subtle cupcake tattoo minus the over-the-top display of colors? Then this tattoo is the perfect find for you. Note how this tattoo is created with a single shade of midnight black that effectively highlights this piece of art. Who said cupcake tattoos are all about bright, over-the-top colors?
8. Behind the Ear Cupcake Tattoo:
Placing tattoos behind the ear are trending nowadays; hence, it was imperative to add this miniature cupcake tattoo to our list. However, you are free to have this tattoo inked on other parts of your body such as your wrists, the nape of your neck or ankles.
[Read:Best Leo Tattoos]
9. Cupcake Back Tattoo:
This tattoo is mostly an example of how you can use the cupcake motif to embellish your back with tattoo art. Keep the stars while having this replicated on your skin, as a star signifies vibrancy, exuberance and glamour.
10. Heavenly Cupcake Tattoo:
This tattoo stands out for its vibrant display of colors. The blue and white striped theme for this cupcake tattoo is sure to remind a few of the Greek national flag. Closely observe the fine halo on top of the cupcake that signifies the heavenly taste of these treats.
Hope you liked these tattoo designs. Do leave us a comment below.
Find more such tattoo ideas on Tattoos For All android app.

The following two tabs change content below.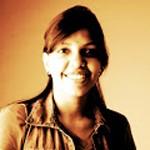 Latest posts by Shruti Goenka (see all)