5 Curly Ponytail Hairstyles That Every Woman Should Try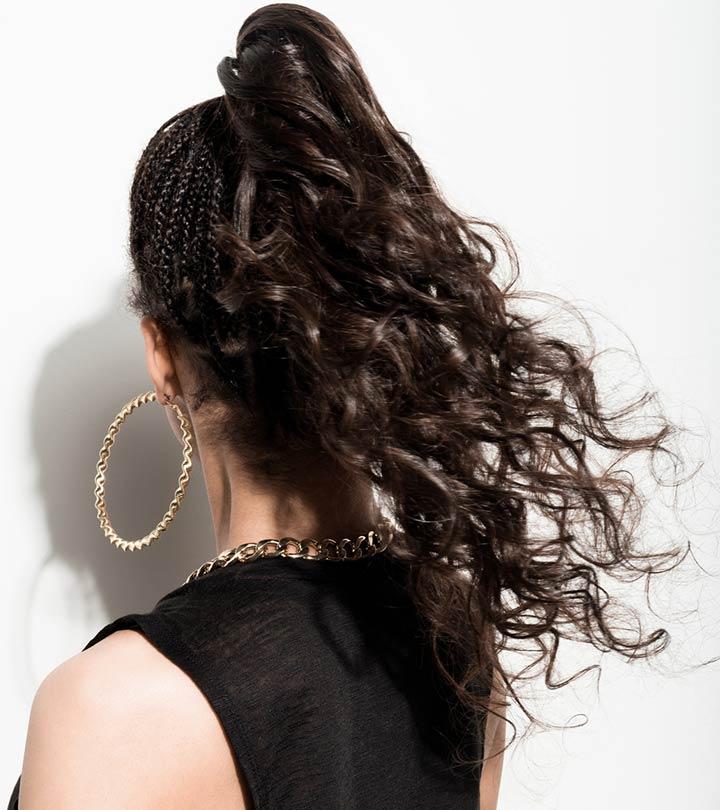 While ponytails are undoubtedly your best bet to give that touch of freshness to your look, curly ponytail hairstyles add the right amount of bounce to your hair. In addition, they give you the oomph you need to make your hair stand out in the crowd. So, we have listed some of these curly ponytail hairstyles sported by celebrities that you must try. Scroll down to find your fave!
What you will need:
a rubber or elastic band
hair spray or gel to keep fly-a-ways at bay
water to keep your hair damp and manageable while you style them
a  hairbrush
flat iron and curling iron (for some styles)
Curly Ponytail Ideas That you Should Try:
A Low Curly Ponytail:
This is a perfect ponytail for curly hair.
To get this look, take a straightening iron/ flat iron and straighten the front section of your hair, brush and place it at the back of your head.
Hold the hair in the place you want your low ponytail to be and hand brush the rest of the hair (below where you are holding) and tie it with a tight elastic band.
For those with wavy or straight hair, part the hair into 4/5 sections (depending on the volume of your hair).
Use a medium barrel curling iron to create some curls into each section.
In the end,use a hair gel or spray to keep the hairstyle intact throughout the day.
Messy Curly Ponytail:
For this look, just brush your hair lightly to get rid of any tangles, holding the hair in one hand take the elastic secure the hair using it.
Keep the ponytail slightly high one and use a curler to make some curls in the back parts of the hair and some waves into the first section of hair (for people who do not have natural curly hair).
A High Curly Ponytail:
If you have long curly hair then try this ponytail style.
Straighten the first section of your hair and then tease it. Brush out the rest of the hair.
Use an elastic band to make a ponytail that sits over the head, ensuring that the back section of the hair (the ponytail) does not weight down the front section of the hair.
Apply some gel to keep the fly-a-ways at bay, letting you manage your long tresses.
Girls with straight hair can tease the front section of hair and secure it.
Use a curling iron (of different barrel sizes) to create some big loose bouncy curls.
Apply hair spray to keep the hairstyle intact for long hours.
To enhance the look, use accessories like some stone studded clips or hairpins.
Curly Ponytail Hairstyle:
Girl with curly hair do not need a straightener.
Brush your hair and hold it tightly along the back of the head.
Make itat a middle height and secure it with tight elastic.
Take a small section of the hair and wrap it over the elastic, to hide it from being seen.
As for the end of the strand, tuck it below the ponytail and use a bobby pin to secure it.
Finish it with a hair spray to get a clean look and long lasting look.
Side Curly Ponytail Idea:
For the above curly side ponytail look, take a flat iron and straighten the front section of hair.
If you have straight hair, start by parting your hair and hold all of your hair at the side, where you want your ponytail.
Secure it using an elastic band and curl the hair in sections.
Curl them in two different sizes to create more shapes and volume.
Keep the front section loose and let it hang loosely on the face.
One of the best hairstyles to flaunt your curls in is a ponytail. A ponytail allows you to style your hair while still showcasing those perfect curls. It is also a great coverup hairstyle if you haven't washed your curly tresses. You can try a low, side, high, messy, or loose ponytail depending on your preference and the occasion. Loose, low, and side curly ponytails are wonderful to flaunt at formal events like weddings. A high curly ponytail best suits a work meeting or a night out. If you are just chilling at home, you can try a loose or messy ponytail, so even if someone stops by suddenly, you look perfect.
Image source: 1 , 2 , 3 , 4 , 5

The following two tabs change content below.