20 Cute Pregnancy Outfits Ideas
Is your idea of a pregnant outfit the same as Phoebe Buffay? Are you getting comfortable in those Santa-like pants? I know many women in my family who used pregnancy as an excuse for not getting ready no matter where they went, but I also had friends who rocked their pregnancy. And, I think you really should take advantage of the pregnancy glow and embrace those nine beautiful months in style. Considering the pace at which the maternity industry is growing, your options are practically endless.
But, if you are you running out of ideas and need some fashion inspiration, you've come to the right place. At the end of the article, I'm sure you'd agree that nothing has to change with your dressing just because you are pregnant. Are you ready, hot-mama? Let's go!
20 Best Pregnancy Outfit Styles
1. Strapless Maxi Dress
Are you preparing for a photoshoot or going for a party? Wear this ethereal-looking blue strapless maxi dress with a sweetheart neckline. It's effortless, stylish, and comfortable. With a beautiful bump popping out, you need no other accessories, quite literally.
2. Black Noodle Strap Dress With A Hat
Are you missing your little black dress? But, why? There's nothing cuter than a pregnant woman in a noodles strap or an LBD that's well fitted. Throw on a hat to protect yourself from the sun, and sport some wedges if you can pull off elevated footwear. Or, just go for some cute converse shoes.
3. Pencil Skirt And A Turtle Neck Top
Are you shying away from wearing skirts, especially anything well-fitted? Look at this uber-cute maternity outfit that will change your perception. The pencil skirt can be teamed with a funky looking turtleneck top to spruce up your outfit. You can also keep it simple by pairing it with your regular fitted T-shirts. Doll up in big hoops, a chignon updo, and ballerinas.
4. Shorts And Long Top
I know most pregnant women avoid wearing shorts for various reasons, but maternity brands have tackled this too. So, if you are not comfortable with your regular shorts, get yourself pregnancy shorts that come in a stretchable material.Pair it with a hip length asymmetrical top. Cute and chic!
5. Asymmetrical Floral Dress
If you are working throughout your pregnancy, I think you should totally slay it with bodycon dresses like these. They look elegant, classy, and chic!
6. An Off Shoulder BodyCon Dress
We all love our off-shoulders and would never want to part ways with it. Luckily, you don't have to. Will you now trust me when I tell you that maternity clothing is a big deal? Couldn't have been more grateful!
7. One Piece Kaftan Dress
While you should try and avoid dresses that are too loose and billowy just because you are conscious, there are other ways to deal with it. Like a kaftan dress that is not too figure hugging but cinches at the waist, adding definition to your dress.
8. Plain Midi Dress And A Striped Jacket
Add layers to your midi or bodycon dresses if you are feeling conscious, or even otherwise too. Ditch your regular sweater for a striped flowing jacket like this one or something that is stylish and chic.
9. Kimono With Shorts Or Skinny Jeans.
If you have always been a fashionista like this mom-to-be, then you can continue to be that during your pregnancy too. Come fall or winter, throw on a tank top, a kimono for coverage, boots, and a scarf – just like you always did. Or, if the weather still permits feel free to throw in them, shorts, tank top, and a kimono, which is equal parts comfortable and chic. Winter, pregnancy or anything else should not stop you from being yourself.
10. Bohemian Dress
Boho is the new frenzy, and it has caught on like wildfire. Since Bohemian dressing is all about flowing and breathable clothing, they are totally meant for moms-to-be. So, go all out with those chic Bohemian dresses.
11. Black Formal Dress
A black or any bold colored formal dress with ballerinas will make your work or formal wear interesting – you don't have to be stuck with anything boring or old.
12. A Jumpsuit
There's something about pregnant women wearing jumpsuits. It's just an incredibly cute sight. And, if you can pair your suspenders with interesting tops like this one, nothing like it.
13. Track Pants And A Fitted Top
Yoga and sweatpants are the most comfortable clothes for pregnant women. With a loose oversized T-shirt like this one, it's just like comfort food. But wait, you can still keep it loose and stylish. Wear a well-fitted tank or a T-shirt and throw on a cute shrug.
14. FItted Skirt And A Loose Sweater
Like we just discussed, you do not have to shy away from fitted skirts and tops. If you are still not sold on the idea of a fitted top, wear a pashmina or a loose sweater and pair it with boots. Perfect maternity clothing for winters.
15. Floral Chiffon Dress
Chiffon is smoothing, non-sticky, and comfortable, just how maternity outfits ought to be. Pair your knee length chiffon dress with knee-high boots to bump up your style.
16. Polka Dots Dress
No pregnancy is complete without black stripes or polka dot dresses. A design that is a staple in maternity outfits, don't miss out on this classic dress. You will make it your go-to dress, trust me!
17. Sweater Dress With Plaid Or Denim Shirt
Raise your hand as you read this if you are a sucker for a sweater or a T-shirt dress with a plaid or denim shirt. If not, raise your standards. (Cliche, I know!) Because this is a classic and will never go out of style, no matter what!
18. T-Shirt Dress
Speaking about T-shirts, here we go. A knee-length T-shirt dress with shoes, bandana, and sunglasses will never cease to look beautiful.
19. Distressed Jeans And Cold Shoulder Tops
Yes, you guessed it right, maternity brands have distressed jeans too. So, go on, rock it sister. You could just wear simple tank tops or make it a little fun with cold or off-shoulders!
20. Asymmetrical T-shirt Dress
You will end up with a lot of one-piece dresses during your nine-month pregnancy. While at it, get your hands on asymmetrical dresses and style away!
With the kind of amazing maternity brands present out there, you don't even have to worry about the quality of the fabric – they are all smooth, soft, and comfortable. From palazzo pants and jumpsuits to distressed denim and one piece dresses, the options are limitless. If you have any questions or ideas, leave a message in the comments section below. Good luck, mom-to-be!
Recommended Articles:

The following two tabs change content below.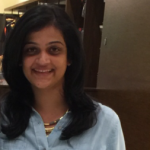 Latest posts by Pratima Ati (see all)