Cystic Acne – What Is It And How To Heal It?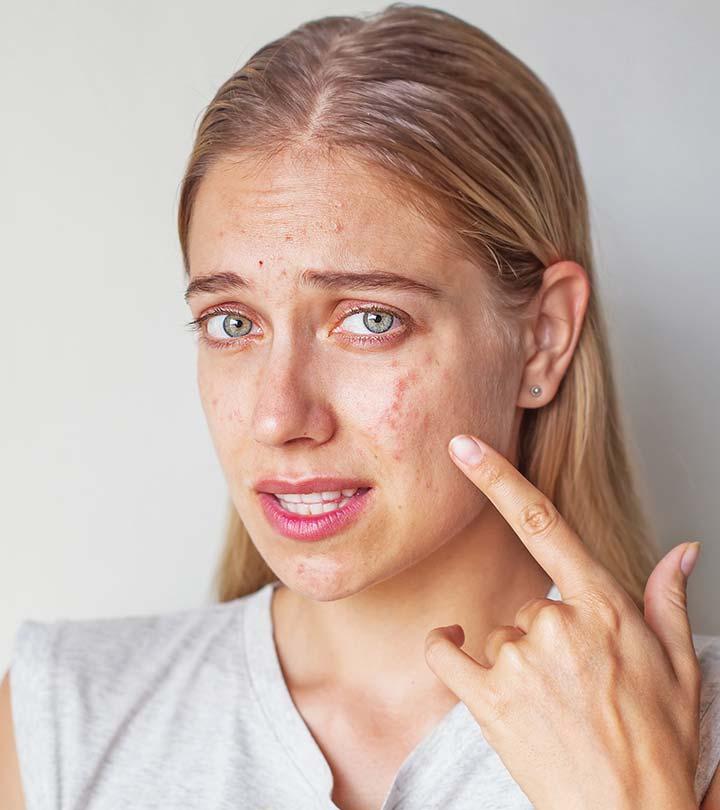 Acne is a menace. And if it gets worse and becomes cystic acne, even more so. The breakouts are massive and painful and make you look like a zombie. They are clearly a nightmare!
If you have cystic acne, it's time to cure it. If not, you must take care not to let it attack you.
How do you do all of this, though? Just sit back and read on. We are going to tell you all about cystic acne and ways to solve the problem.
What Is Cystic Acne?
Why do you get a pimple? When the pores on your skin get clogged with dead skin cells, oil or dust, pimples are formed. Bacteria also can get into the pores and cause the skin to swell and become red.
When this infection goes deep into your skin, causing bumps of pus to form all over, it is called cystic acne (1). Cystic acne infects your skin and results in inflammation.
The cystic bump itches and hurts. Cystic acne occurs mainly on the face, but it can even affect the neck, chest, back, shoulders, and upper arms.
It is a problem that can linger on for years if not treated in time. It affects large parts of your skin and can leave permanent scars behind.
Usually, people tend to develop cystic acne in their teens or early 20s. But, at times, it can even occur in somebody as young as 10 or as old as 50. Cystic acne is more common in women.
It is difficult to pinpoint the exact cause of cystic acne. Certain hormones like androgens could be a reason. In men, the levels of androgen increase in their teenage years, leading to skin changes and cystic acne.
Whereas, in women, cystic acne could occur because of menstruation, pregnancy, menopause, and/or polycystic ovary syndrome.
Even genetics play a crucial part in causing cystic acne. If your parents suffered from it, it is quite likely that you will suffer from it too.
For whichever reason it occurs, cystic acne is problematic and needs immediate attention and care. Find some of the best natural ways to cure cystic acne below.
How To Get Rid Of Cystic Acne
Home Remedies For Cystic Acne
1. Baking Soda
You Will Need
1-2 tablespoons of baking soda
Water
What You Need To Do
Mix baking soda and water to form a paste.
Apply the paste to the affected areas and leave it on for 15-20 minutes.
After it dries, wash it off with lukewarm water and pat dry.
Follow up with a moisturizer.
How Often?
Once or twice a week.
Why This Works
Apart from helping you bake scrumptious cakes, baking soda can come to your rescue in dealing with cystic acne. It removes excess oil from the face and also kills the bacteria causing the infection with its antibacterial properties (2).
[ Read: 11 Effective Ways To Use Baking Soda For Treating Acne ]
2. Benzoyl Peroxide
You Will Need
Face wash containing benzoyl peroxide
What You Need To Do
Wash your face with the face wash to keep cystic acne away.
How Often?
Twice a day.
Why This Works
Benzoyl peroxide helps to unblock the pores, reduces inflammation, and kills the bacteria responsible for cystic acne (3).
Caution
Benzoyl peroxide is drying and can irritate the skin. So, be careful if you have dry skin and do a patch test before using it.
3. Apple Cider Vinegar
You Will Need
Raw apple cider vinegar
Cotton buds
Water
What You Need To Do
Take a cotton bud and dip it in raw apple cider vinegar. If you think raw apple cider vinegar is too strong for you, dilute it with water.
Dab it gently on your cystic acne.
You can also add a tablespoon of apple cider vinegar to a glass of water and sip it throughout the day like a tonic.
How Often?
Do this twice a day.
Why This Works
Apple cider vinegar balances the pH of the skin. It also has antiseptic, astringent, anti-inflammatory, and antibacterial properties that can help treat cystic acne (4), (5).
[ Read: How To Use Apple Cider Vinegar To Treat Acne? ]
4. Salicylic Acid
You Will Need
Salicylic acid cleanser
What You Need To Do
Wash your face with the salicylic acid cleanser.
How Often?
Do this twice a day.
Why This Works
Cystic acne is deep-rooted and tough to get rid of. Salicylic acid prevents the sloughing of skin cells, which prevents the dead skin cells from sticking to each other and clogging the pores (6).
Caution
If you have dry skin, it is best to use a salicylic acid cleanser only on the affected areas. Use a regular cleanser for the rest of your face.
5. Epsom Salt
You Will Need
2 tablespoons of Epsom salt
1 1/2 tablespoons of baking soda
Warm water
What You Need To Do
Mix the Epsom salt and baking soda with warm water and make a paste.
Apply it to the affected areas and let it dry.
Wash it off with warm water.
How Often?
Do this every alternate day.
Why This Works
Epsom salt absorbs excess oil and eliminates the acne-causing bacteria from the skin (7). It has anti-inflammatory properties that help in reducing the pain and swelling caused by the infection (8).
Caution
The paste can dry the skin, so this remedy works best for oily to combination skin.
6. Neem Oil
You Will Need
What You Need To Do
Clean your face and apply neem oil with a cotton pad on the cystic acne in a circular motion.
Leave it on overnight and wash it off in the morning.
How Often?
Do this two to three times a day.
Why This Works
Neem oil is the best remedy for cystic acne. It not only kills the bacteria that cause cystic acne but also reduces inflammation and redness with its antibacterial and antimicrobial properties (9).
7. Witch Hazel
You Will Need
What You Need To Do
Wash your face and using a clean cotton ball, apply witch hazel on the affected areas.
Leave it on.
How Often?
Use it twice or thrice every day as a toner after you wash your face.
Why This Works
Witch hazel is tough on cystic acne and gentle on the skin. It tightens the pores and soothes them, which reduces cystic inflammation (10). It also softens damaged skin and heals and moisturizes it.
8. Birth Control Pills
You Will Need
Birth control pills that contain estrogen
What You Need To Do
Take birth control pills as prescribed by your doctor.
Why This Works
Some birth control pills regulate the hormone levels in women and help in controlling cystic acne (11). Birth control pills that contain progesterone and estrogen lead to less amount of androgen in the body. With less androgen in the body, less sebum is secreted, leading to lesser breakouts on the skin.
Caution
Take birth control pills only if you need to use them as contraceptives. Avoid pills that contain only progesterone as they can cause severe cystic acne. These pills also have a few side effects such as weight gain, blood clots, and nausea. Hence, they must be used strictly under medical supervision.
Cystic acne can take a toll on your personality and confidence. Do not allow it to put you down. We understand that it is a difficult problem to deal with, but you must not give up. Try the remedies mentioned above and let us know in the comments section below if they have worked for you.
Expert's Answers For Readers' Questions
Does cystic acne pop?
Yes, it does, and you must avoid squeezing it as that spreads the infection.
Will cystic acne go away on its own?
No, cystic acne does not go away on its own. You need to follow the necessary precautions and treatment to get rid of it.
What foods do I eat and not eat while suffering from cystic acne?
Avoid milk, sugar, junk food, and foods with a high glycemic index. Consume flaxseeds, fruits, vegetables, and grains.
Recommended Articles
The following two tabs change content below.