The Best Skin Care Routine For Dry Skin
Caring for skin that is dry is as tough as caring for skin that is oily. For the latter, it is the constant blotting with tissues issue, whereas for the former one, it is the continuous application of moisturizer. There are a lot of concerns associated with dry skin, such as flaky, itchy, and sensitive skin. However, with proper care, you can tackle these problems. Following a consistent daily skin care routine for dry skin is the trick to achieving moisturized and dewy skin. Here's what you need to do to achieve that.
Daily Skin Care Routine For Dry Skin
1. Morning
Step 1: The first thing you need to do as soon as you get up is splash your face with cool water a few times. This makes your skin feel completely refreshed.
Step 2: Then, pick a moisturizing cleanser and gently cleanse your face with it. Make sure you choose a natural product with minimum chemicals.
Step 3: After that, tone your skin. Pick a toner that is not drying. Rose water is a good and natural option that you can try.
Step 4: The next step is moisturizing – the most important one. Apply the moisturizer thoroughly all over your skin until it gets completely absorbed.
Step 5: Then, it is time for the sunscreen. If you are stepping out, ensure that it has an SPF of 30 or more. Reapply every few hours.
Step 6: If you want to use makeup, then it is best to go light. Tinted moisturizers, bb creams, and concealers are good options. Make sure they are moisturizing too to prevent any dry patches.
2. Day
Step 1: Your morning routine would suffice for a good number of hours, but it is best to touch up during your tea break before lunch. Rub in some moisturizer all over your skin or on specific dry patches.
Step 2: It is important that you take care of your lips too and moisturize them well. Carry a butter lip balm with you to keep your lips smooth all day long.
Step 3: Also, along with all the outer care, keep a check on what should go inside your body. Make sure you have lots of water – that's the basic rule. If not water, lots of liquids and foods having a high water content. Be smart and choose fresh juice over soda.
Step 4: Eat food rich in vitamins. This will help keep your skin firm, dewey, and moisturized from within. Avoid over-fried food and choose more of raw and boiled food.
Step 5: And, before you leave your study/workplace to go home, apply another round of moisturizer.
3. Night
Step 1: Your night skin care routine is crucial. The time when you sleep is when maximum skin repair occurs, and if you apply the right products to your skin at this time, your skin will heal more quickly and stay healthy.
Step 2: After coming back home, rinse your face with warm water and remove the makeup off your face with a cleansing oil or makeup remover.
Step 3: Then, cleanse your face in the same way you did in the morning. Follow it up with a thick and nourishing night cream that keeps your skin moisturized throughout the night.
Step 4: Make sure you sleep for a good 7-8 hours.
Also, remember to exfoliate and use a moisturizing face mask once a week.
Now, some tips to keep in mind to care for your dry skin.
Tips To Care For Dry Skin
Stay away from extreme hot baths. They damage and dry out your skin even more. Stick to lukewarm water, and you should be fine.
Do not leave your skin bare after cleansing your face. Follow it up with a moisturizer immediately.
Carrying a moisturizing facial mist in your bag is a good idea. It is easy to use and handy to keep.
Fix humidifiers in your room to increase the moisture levels in your living space to help combat your dry skin issue.
Products containing harsh chemicals and strong fragrances are a big no-no for people with dry skin. They make the skin irritated, red, itchy and scaly.
Wear comfortable clothing that doesn't feel scratchy on the skin. Light cotton and khadi are good options.
Avoid spending too much time in the sun. Tanning and dryness can be a lethal combination.
Make sure you regularly moisturize your palms and fingertips because they are constantly exposed to harsh products. You need to remember to moisturize the soles of your feet too.
With consistent care, you can surely combat dry skin. The key is to keep at it and not give up. Follow the routine mentioned above, and in a few days, you will begin to notice a difference. Try it out and let us know in the comments section below on how it worked for you.
Expert's Answers for Readers Questions
Does dry skin appear only during the winters?
Some people have naturally dry skin that stays flaky through the year while others develop it during the winter due to the harsh weather conditions.
Can I apply oil on my dry skin?
Yes, you can apply coconut/almond/olive oil to your dry skin. They will act as moisturizer.
Recommended Articles:

The following two tabs change content below.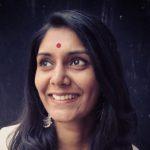 Latest posts by Ramya Achanta (see all)