Top 10 Daisy Tattoo Designs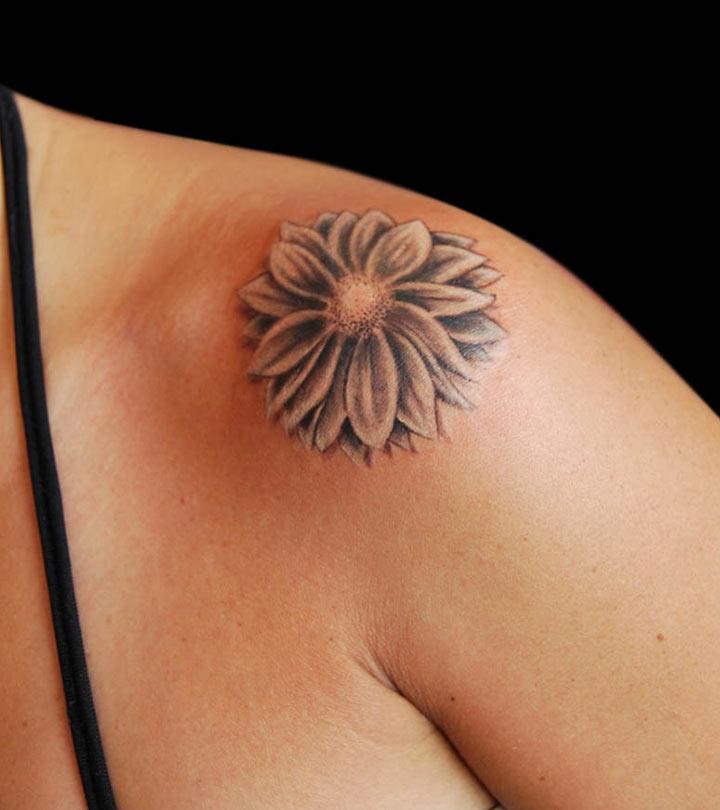 Daisies symbolize loyal love, beauty, patience, purity, innocence, and simplicity. Daisies belong to the family of Asteraceae, they are part of the largest flowering family and are known to be at least 4,000 years old. With flower motifs so integral to tattoo art, it's almost impossible to ignore the humble yet beautiful daisy that holds universal appeal. These top ten daisy tattoos for women could get you hooked on to daisy tattoos as much as you love a bouquet of daisies.
Top Ten Daisy Tattoos for Women:
1. Ying and Yang Daisy:
This tattoo of a daisy incorporates the Chinese Ying and Yang symbol to create a stunning affect. For those who are unaware, the Chinese Ying and Yang symbol in the middle of the daisy symbolizes the Chinese philosophy that for all good things there is a little bad and for all bad things there is a little good. It is perfectly depicted through the black circle in the white space and the white circle in the black space.
2. Multiple Daisies:
This tattoo effectively depicts three daisies from three different angles, take a closer look and make note of the bold black outlines. This tattoo is mainly an example of how you can have your local tattoo artist to use daisies as design motif for a tattoo, use color to fill in the daisies or enlarge the size, it all depends on you.
3. Daisy Tattoo in Bold Black:
This daisy tattoo stands out for its simple yet stunning execution. Make a note of the bold black color and the intricate shading. This piece of art is the best for what it is and experimenting with color or size may ruin it. However, you would need a seasoned tattoo artist to replicate this piece of tattoo art.
[ Read: Flowers Tattoo Designs ]
4. Colored Daisies Arm Tattoo:
If you are looking for vibrant color that has a shock and awe effect this daisy tattoo is bound to get that kind of reaction. These multicolored daisies have been wonderfully paired together with a rose and a butterfly to look like a garden straight out of Eden.
5. Ultra Feminine Daisy Tattoo:
It's only natural that a daisy tattoo is geared towards women. However, this daisy tattoo design is ultra feminine and looks almost like a piece of embroidery. Get this design tattooed by an expert on to yourself however stay true to the design sensibilities and color code for best results.
6. Daisies and Skull Tattoo:
Another shocking and awe design, this tattoo takes the soft feminine daisies and uses it a headgear for a hard hitting gothic skull. This tattoo effectively symbolizes girl power and the fact that behind the soft exterior of a woman, there is a hard uncompromising force. Therefore, this force is ready to take on the world even if it means achieving her ends with a bit of aggression.
7. Multiple Daisies Shoulder Tattoo:
This is yet another example of multiple daisies being depicted in a single piece of tattoo art. Look out for the intricate shading work, which gives this tattoo a realistic effect that is pure genius. Best replicated as it is, this tattoo is best left up to an experienced tattoo artist.
8. Simple Daisy Tattoo:
If you are looking for a simple subtle tattoo that is small and almost inconspicuous, this is the perfect tattoo that would look good inscribed on your wrists or ankles.
[ Read: New Tattoo Designs ]
9. Orange Daisy Tattoo:
This daisy tattoo stands out for brilliant use of color and unique design sensibilities. Make note of how orange and gold is used as the primary colors to create a reflective glimmer effect and also the bold black outlines that effectively contain this tattoo.
10. Delicate Daisy Tattoo for the Midriff:
Most midriff tattoos can very often come across as vulgar however this delicate tattoo of daisy effectively depicts feminine charms and sex appeal.
[ Read: Angel Tattoos for Girls ]
Hope this article on top ten pretty daisy tattoos was interesting enough. Do send your feedback on which one is your pick.
Image source: 1 , 2 , 3 , 4 , 5 , 6 , 7 , 8 , 9 , 10
The following two tabs change content below.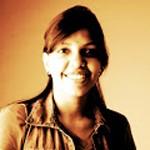 Latest posts by Shruti Goenka (see all)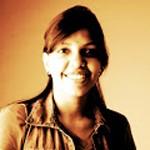 Shruti Goenka
Hi I am very passionate about makeup, fashion and health related topics, I always had a soft corner for makeup and beauty. I believe makeup has the power to enhance features and can turn flaws into strengths. Makeup keeps me busy and yet it gives me the opportunity to follow my passion.