5 Best Recommended Anti-Dandruff Shampoos For Kids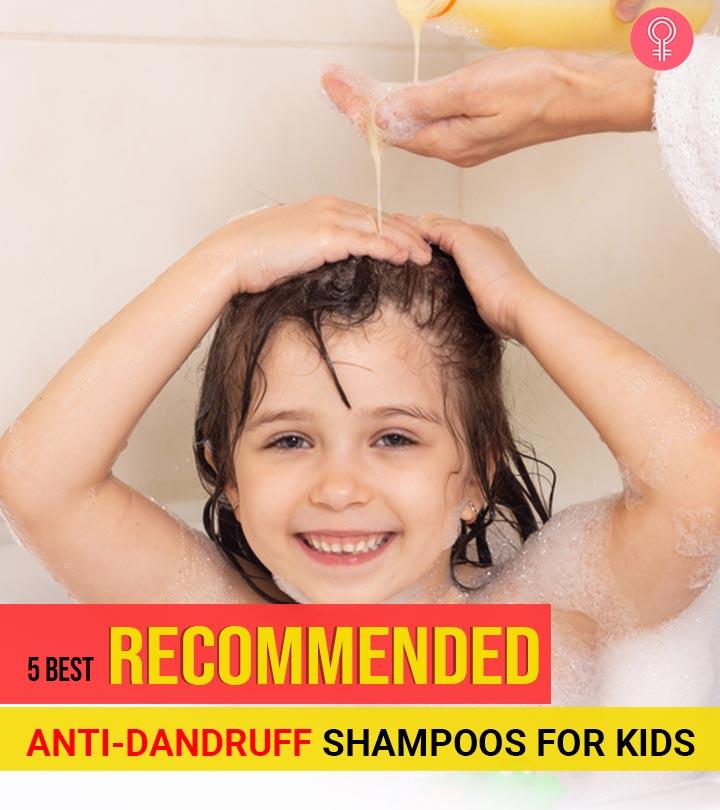 As a mother, it can be nightmarish if your kid is struggling with dandruff. Some causes of dandruff are scalp conditions like eczema, cold climate, and side effects of products, which lead to dry, rough, and itchy scalp. The good news is that there are over-the-counter solutions available to help you get rid of this pesky problem. This article lists the 5 best anti-dandruff shampoos for kids that soothe and keep the scalp itch-free without stripping its moisture. Scroll down to check them out!
5 Best And Safe Anti-Dandruff Shampoos For Kids
This anti-dandruff shampoo for kids from Honeydew helps combat flakiness, dryness, and itching. The irritation-free formula contains emollient oils that keep dryness at bay. Tea tree oil has antibacterial properties that help eliminate dandruff and prevent lice. This shampoo also contains lavender oil that helps in calming and soothing the scalp, and jojoba oil that deeply hydrates the strands, activates hair growth, and promotes shine. It makes your child's scalp dandruff-free and hair smooth and silky.
Pros
Gentle
Sulfate-free
Dye-free
Paraben-free
Fragrance-free
Money-back guarantee
Cons
The Sulfur8 Kid's Anti-Dandruff Shampoo helps treat dandruff in kids aged 2 to 12 years. The 1% pyrithione zinc formula gently cleanses and conditions the scalp and hair while reducing dandruff, itching, and dryness. This shampoo softens and smoothens the strands and works for all hair types.
Pros
Softens the hair
Imparts shine
Gentle
Lathers well
Cons
Unpleasant smell
Not tear-free
This shampoo from TRISWIM is a multipurpose shampoo that eliminates dandruff, hard water minerals, chlorine, salt, and chemical odor from the hair and scalp. It contains chamomile and watercress, which relieve itching and the symptoms of dandruff. Aloe vera moisturizes, soothes, and calms the scalp, while vitamin A and pro-vitamin B5 hydrate and volumize the hair. This anti-dandruff shampoo for kids has a blossomy lime-mango scented fragrance.
Pros
Strengthens the hair
Suitable for everyday use
Smells great
Paraben-free
Gluten-free
Cons
The Happy Cappy Medicated Shampoo from Dr. Eddie's soothes the sensitive scalp to treat dandruff and dermatitis. Its clinically proven formula fights scaling, itching, flakes, redness, and irritation in kids of all age groups. This over-the-counter anti-dandruff shampoo for kids contains pyrithione zinc that provides an effective and safe solution to treat dandruff and seborrheic dermatitis. It also contains licorice root extract to soothe and calm redness. This two-in-one product can also be used on the body and helps in preventing skin sensitivity.
Pros
Mild
Hypoallergenic
Non-irritating
Can be used as a body wash
Paraben-free
Sulfate-free
Phthalate-free
Dye-free
Alcohol-free
Fragrance-free
Vegan
Cruelty-free
Cons
This anti-dandruff shampoo has a plant-based formula infused with Moroccan argan oil and is a great option for frizz control. The shampoo has a powerful combination of organic oils such as avocado, green tea, jojoba, lavender, and coconut that cleanses the scalp and hair gently to keep it dandruff-free. It also adds a healthy shine to the hair and strengthens hair follicles, improving its overall appearance. It is free from harmful chemicals such as sulfates, parabens, and artificial fragrances, making it a safe choice for your kids.
Pros
Plant-based
Gluten-free
Cruelty-free
Vegan
Dye-free
Phenoxyethanol-free
Formaldehyde-free
Vegan
Cons
None
Now that you have checked out the best and safe anti-dandruff shampoos for kids, here are some important points to keep in mind before buying one.
Things To Consider Before Buying A Kid's Dandruff Shampoo
If your child has sensitive skin, it is best to go for an anti-dandruff shampoo that has a hypoallergenic formula. This can help prevent rashes and irritation in the scalp.
We might assume that all kids' shampoos are safe and mild, but the reality is that many contain harsh chemicals, parabens, sulfates, and preservatives, which can harm your child's skin. Therefore, always opt for anti-dandruff shampoos that are free of harsh additives.
Toddlers and younger kids do not always close their eyes while you are shampooing their hair. Hence, look for shampoos with tear-free formulas to prevent their eyes from burning and stinging.
Look for ingredients like zinc pyrithione, which is gentle and helps soothe irritation in the scalp and get rid of flakes.
Say goodbye to those pesky flakes! Try any of the anti-dandruff shampoos for kids listed above that can help you tackle dry scalp, itching, and dandruff with ease. If the problem persists, contact your pediatrician.
Frequently Asked Questions
Why does my kid have dandruff?
Some of the reasons contributing to your kid's dandruff are dryness, cold weather, eczema, dermatitis, product buildup, and dead skin cells.
Can kids use dandruff shampoo?
Yes. Ensure you pick one specially meant for kids.
Recommended Articles
The following two tabs change content below.