Walnuts: 5 Major Side Effects + How Many Walnuts To Eat
Don't turn a blind eye to the harmful side of this snack everyone loves to munch. Loaded with antioxidants and many beneficial nutrients, walnuts can be a great addition to your diet to fight nutrient deficiencies. Many of us even munch on them as a healthy snack. But are you also aware of the side effects of walnuts caused due to their excess intake? Are walnuts actually good for you?
Learn more about these side effects based on research. Continue reading to know more.

Know The Flip Side: Walnuts
Short-Term Effects
Bloating, diarrhea, stomach pain, anaphylaxis, itching or swelling around the mouth, kidney stones, and risk of choking in children.
Long-Term Effects
May aggravate ulcers and lead to weight gain.
Drug Interactions
Might interfere with the absorption of iron, dietary supplements, and certain medications like over-the-counter, anti-coagulant, and thyroid-regulatory drugs.
When To See A Doctor
If you experience fatal anaphylaxis or allergic reactions such as hives, itching, swelling, or tightness of throat.
What Are The Side Effects Of Walnuts?
1. Can Cause Digestive Issues
The fiber in the nuts may cause gastrointestinal issues if consumed in excess (1). Though walnuts (and nuts in general) may help treat digestive issues, sometimes, they may aggravate the problem. Hence, please consult your doctor before consuming walnuts if you have any digestive problems.
Other common digestive side effects of tree nuts (including walnuts) include constipation, bloating, gas, stomach pain, vomiting, or diarrhea (2).
In other studies involving walnuts, a few participants reported various forms of gastrointestinal distress, including bloating (3). Consuming more than 1 ounce of walnuts may pose this risk. Walnuts have a high fiber and high fat content (30 grams of walnuts have 2 grams of fiber and 20 grams of fat).

Trivia
Walnuts are believed to be the most ancient tree food discovered by man dating back to 7000 BC. They originated in Persia and were introduced to the world by the Romans.
2. May Cause Allergies
Allergies to tree nuts are common. The symptoms include nausea, shortness of breath, difficulty in swallowing, itching of the mouth, throat, or the eyes, headache, and nasal congestion (4).
The most dangerous allergic reaction is anaphylaxis. It impairs breathing and sends the body into a state of shock (4). You may experience either a primary or a secondary allergy with walnuts. Primary allergies involve the direct intake of walnuts or their products, which can lead to anaphylaxis. Secondary allergies involve pollen, which reacts with walnuts due to cross-reactivity (this is because of the similarities in the nature of proteins in the pollen and walnuts). Here, the symptoms include itching skin irritation, or swelling of the mouth (5).
An allergy to walnuts doesn't necessarily mean you would be allergic to other tree nuts as well. But it is essential to check with your doctor before you consume walnuts or any other tree nut – more so if you are easily susceptible to allergies (6).
3. May Lead To Weight Gain
Walnuts (and nuts, in general) are excellent sources of fiber and can help in weight loss. But they also are high in calories.
Seven walnuts pack about 183 calories (7). Eating them in excess would surely mean more calories and may eventually lead to weight gain.
Studies show that a diet supplemented with walnuts can lead to greater daily energy intake. This can lead to weight gain, although not very significant (8).
One way of countering this is to round out your meal with walnuts instead of having the nuts by themselves because just 4 ounces of walnuts contain over 740 calories (9).
Though they are rich sources of protein, you cannot replace your better protein sources (like meat or eggs) with walnuts. Also, nuts, in general, need to be combined with animal proteins for a complete amino acid profile.
However, some sources suggest that eating more walnuts doesn't lead to weight gain (10).
Other research also states that walnuts may activate a specific brain region involved in impulse control. This means walnuts may help people have better control over their cravings (11).
Given the mixed findings, we suggest you speak to your doctor about consuming walnuts especially if you are on any medications related to thyroid problems.
4. May Cause Choking In Children
Almost all nuts (and most foods that are firm) carry the risk of choking in children. These foods are difficult for kids to bite through and break down and swallow safely. Instead, they might get stuck in their airways (12).
As walnuts are comparatively larger than other tree nuts, they may pose a higher risk.
If your child is below 7 years of age, avoid giving them whole nuts as they would be at the risk of choking (13).
5. May Aggravate Ulcers
Since nuts, including walnuts, are high in fiber, they may aggravate ulcers in susceptible individuals (14). However, more research is required to establish this fact.
Like all other nuts, walnuts are healthy. A large body of research highlights their anticancer, anti-inflammatory, cardio- and neuroprotective properties (15).
But it is important to take note of the side effects and practice moderation.
How Many Walnuts Can You Consume In A Day?
It is important to be mindful of how many walnuts to eat per day for optimal health and wellness. Even though there is no scientific consensus on the ideal dosage of walnuts, an ounce of the nuts (7 whole walnuts) a day should do. You can make them a part of your diet and not overindulge.


Fun Fact
While walnuts were called "Jupiter's royal acorn" by the Romans, Greek legend has it that the gods exclusively lived off eating walnuts.
Infographic: Major Side Effects Of Walnuts To Watch Out For
While walnuts are praised for their rich nutritional value and benefits for the brain, their potential adverse effects often go unrecognized. Overeating walnuts may prove to be harmful to a few people.
Discover the major side effects of walnuts you should be aware of in the infographic below.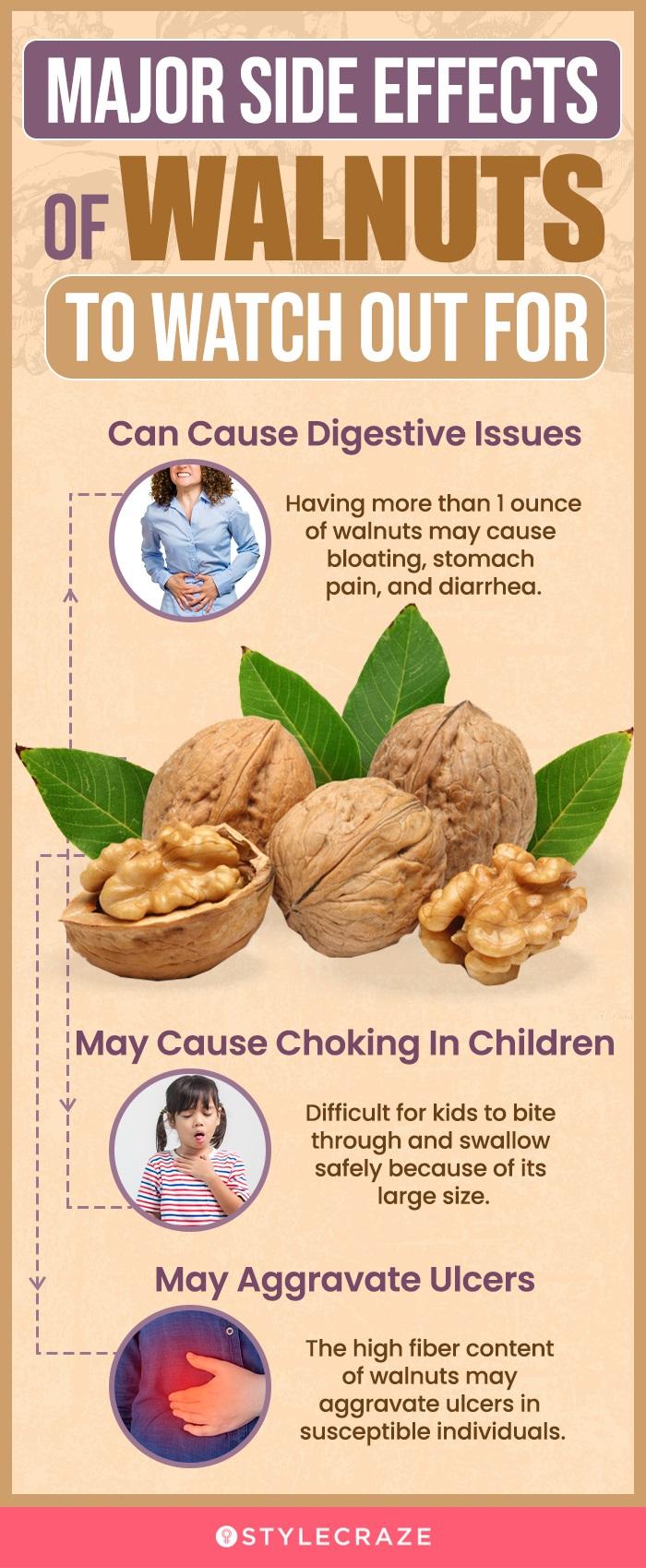 Walnuts are highly nutritious nuts with many health benefits. They are packed with essential fats, antioxidants, fiber, and plant compounds that improve overall health. However, one must also be aware of the side effects of walnuts. Overconsumption of walnuts may cause digestive issues and allergies, lead to weight gain and choking in children, and aggravate ulcers. Though there is no established dosage, it is better to consume no more than an ounce per day. Taking walnuts in moderation is ideal.
Frequently Asked Questions
Who should avoid eating walnuts?
Eva De Angelis, Dietitian Nutritionist, says, "If you get a rash, hives, or have trouble breathing after eating walnuts, consult your doctor to see if you should stop eating them. Likewise, because walnuts are high in fiber, eating too many could cause diarrhea. If you have irritable bowel syndrome (IBS), you should limit your intake of walnuts."
Do walnuts have tyramine?
Eva De Angelis says, "Walnuts are a source of tyramine. It is a natural compound found in foods, and our body produces it as well. It helps with blood pressure regulation and beats depression. Yet, too much tyramine can be dangerous. It can lead to migraine and headaches. It can also lead to a quick rise in blood pressure, resulting in headaches, dizziness, nausea, sweating, rapid heart rate, chest pain, and shortness of breath."
Are walnuts good for kidney stones?
According to Eva De Angelis, "Walnuts are rich in oxalate, and oxalate is one of the reasons for kidney stones. This compound binds with calcium and other minerals and forms kidney stones. So, if you're prone to develop kidney stones, walnuts are not a good choice for you."
Is eating raw walnuts safe?
"Yes, both raw and roasted walnuts are extremely nutritious and safe to eat. Yet, people who are allergic to nuts, have IBS, or have kidney stones should avoid eating them," says De Angelis.
Do walnuts increase blood pressure?
Eva De Angelis says, "Walnuts have healthy unsaturated fats that may have anti-inflammatory properties, keeping our blood vessels healthy and thus lowering blood pressure. Yet, because they are high in tyramine, eating too many of them may be harmful and lead to increased blood pressure." So it's better to consume walnuts in the limit if you have high blood pressure.
Should we soak walnuts?
It is important you soak walnuts. Walnuts and other nuts contain phytates. These are natural compounds that hinder the absorption of some essential nutrients. Soaking walnuts can help reduce their phytate content, making them all the more nutritious (16).
You can soak walnuts in a container of fresh saltwater overnight (about eight hours).
Are walnuts good for the liver?
Walnuts contain antioxidants, omega-3 fatty acids, and fibers which help in reducing mortality in patients with nonalcoholic fatty liver disease and reduce liver damage. (17)
Key Takeaways
Walnuts might cause bloating, stomach aches, and diarrhea among people with persisting digestive problems.
Individuals with nut allergies should consult their doctors before consuming any walnuts.
Walnuts are high in fats and calories, so consuming them in excess may contribute to weight gain and obesity.
Children below seven years of age may choke on walnuts as they are difficult to bite through and swallow.
Walnuts have a high fiber content that may aggravate ulcers in susceptible individuals.
Excessive consumption of walnuts can lead to digestive issues, weight gain, and increased risk of heart disease. Watch the following video to find out some of its important side effects!
Sources
Articles on StyleCraze are backed by verified information from peer-reviewed and academic research papers, reputed organizations, research institutions, and medical associations to ensure accuracy and relevance. Check out our
editorial policy
for further details.
The following two tabs change content below.