31 Fun And Easygoing Date Ideas For Teens
Expensive dates are so overrated! Make the best of your dates with these wholesome ideas.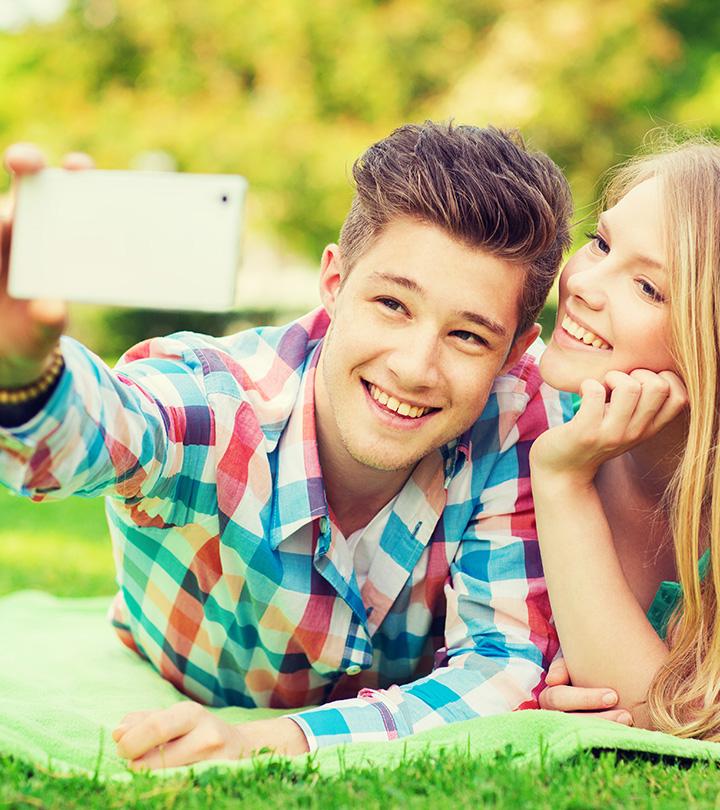 When you are a teenager, you usually don't have much money to blow on dates which prompts the need to come up with some creative plans. So if you are looking for fun (and cheap) date ideas for teens, you have come to the right place.
Logically, your earnings are constrained as a teen, but your expenses are limitless because your part-time work can only support so much. But, it would not be fair to dismiss the prospect of a date, would it? So, what is your strategy? Well, we have got lots of pointers to help you get the most out of your limited resources while still having fun with your special someone. Check out these 31 ridiculously entertaining, inexpensive, and cute date ideas for teens that can make you a hit with your companion without breaking the bank. Check them out below!
31 Date Ideas For Teens
1. Go Bowling
This might be borderline cheesy for a date idea, but you can never go wrong with the classic. Not too shabby as a place, and not too expensive either. It can also be the perfect place to break the ice, especially if it's your first date with your partner-to-be. A group hangout can be the perfect setting to get to know your date without any pressure. You can indulge in some friendly competition and celebrate your win later with some burgers and fries at the cafe.
The entire atmosphere is so fun and relaxing that it will keep your date going fun and full of smiles, making it one of the sweet first date ideas for teenage couples. The best part about going on a date at a bowling alley is that regardless of whether or not you are athletic, you can still enjoy a night or even a day of bowling coupled with great ambiance and some tasteful music instead of just sitting around and chatting. If you happen to drop by late at night, there are colored pop-up lights too. Plus, those shoes increase your funky factor!
2. Visit An Animal Shelter
Nothing spells cute and expresses love better than animals. Why not choose to take your date to play with fur babies for free? To an animal lover, there is nothing better than getting to spend some valuable time surrounded by a bunch of animals, be it dogs, cats, rabbits, or cattle at any time of the day. This is a very thoughtful date to plan for that special someone in your life and makes for one of the best options for cute date ideas for teenage couples.
Additionally, this visit is also a great way to make some animals very happy too. While you don't necessarily have to be looking for adoption to pay a visit to the shelter, it can get difficult to leave without wanting to take one home.
3. Go To An Arcade
Whether you are 8 or 18, you are never too old for the arcade. Taking your partner to the arcade is a great way to show off your sense of humor and show them that you are absolutely comfortable being goofy. Play some air hockey, skeeball, and collect tickets because it's all about providing your date with an exciting and interesting experience they've never had before.

Quick Tip

You can also go to an escape room as it will be super fun, competitive, and a great way to know how someone acts under pressure.

Plus, a little healthy and flirty competition will strengthen your bond and keep the conversation going smooth and easy. If you happen to be good at these games, you might even be able to win them a plush, oversized, and cute-looking purple dragon!
4. Have Some Carnival Fun
Visiting carnivals, amusement parks, or a fair is always a great option because they are light on the pocket while being extremely fun. Most carnivals and festivals have a number of food stalls, street performers, great finger foods, and many more exciting events.
The entry is usually free; if not, it'll not be too hefty either. Any teen would love to join their partner on this eventful date where they can let loose and have unlimited fun. What can be more romantic than sharing a corn dog and kissing on top of the Ferris wheel?
5. Have A Picnic
A scenic view, a food basket, and a can of soda with your partner beside you can make any summer morning special. Pick any place where you find a great view – could be a park or a beach – and plan a picnic, the best kind of romantic outing. Throw some cookies, sandwiches, and sodas into a bag or go all out with a picnic basket and head out for your date.
Accompany your food with other things to indulge in once you are done eating. Fly a kite, play some cards,play ball, or just sit around people-watching. Having a picnic is a great choice for first date ideas for high schoolers and is a cheap and comfortable way to kick off a conversation.
6. Watch Movies And Shows At Home
In the era of online streaming, it is easier than ever to plug in your TV and stream any movie or show of your choice. Be it a romantic movie you've been planning to watch with your partner or binging a show on Netflix for an entire weekend, movie nights make for beautiful date night ideas for teenagers.
Sometimes, if you are looking for budget-friendly options and need to plan a date but cannot afford to go to the movies, this tip comes in handy. You can just get some popcorn and cold drinks for accompaniments, and you are good to go. You can also use this time to get familiar with each other's favorite movies or shows and watch them all without having to invest a fortune.
7. Cook Dinner Together
Instead of going out to a fancy restaurant and spending big bucks on food, not to mention the waiting time, how about cooking a whole meal together? It is romantic to stay in and whip up a yummy dinner with your partner.
You don't need to be a master chef to make this date happening. In fact, it is so much more interesting to try and implement a recipe together. Head out to the grocery store, pick up a few things for your meal, and go back to either of your places to cook together.
8. Hit The Mall
This is probably one of the most common high school date ideas. The mall isn't just a great place to go shopping because there are a million other free things to do there. Walk around to check out some cool store displays, make your way to the food court and fix up a cheap snack, or head to the entertainment or gaming area to indulge in a few easy games. The best part about going to the mall is indulging in some window shopping that literally costs nothing.
9. Spend A Night Stargazing
What can be a better cheap date idea for teenage couples than spending a night simply gazing at the sky full of stars? Choose someplace quiet without a lot of hustle-bustle and a clear sky for this date. It gives you plenty of time to talk, hold hands, maybe sneak in a few snuggles, and it might sound borderline clichéd, but that's really romantic. Lie down on a bed of grass, indulge in stargazing, and maybe even impress your date with your knowledge of constellations (just a little research will go a long way).
10. Plan A Board Game Night
Board games are a nice way to bring out the child in you and your competitive edge. They are perfect for flirting with your bae, especially during the initial course of your relationship. Since most of the board games are best played with more than two people, try making this one into a double date instead. Pictionary, Taboo, Monopoly, and Twister are a few options to consider.
11. Go To A Concert
It is rare to find a teenager who doesn't enjoy music festivals and concerts, so this one will definitely make for one of the nicest date ideas and cultural experiences for teens. This date is for older teens of typically 18-19 years because you'll need a bit of money to attend a concert, but it is still cheaper than a fancy restaurant. Live music makes a great evening indulgence – be it at an intimate bar gathering or an amphitheater concert.


Quick Tip
There's nothing more enjoyable than dancing at a concert with someone you like and it will be great to bond over a common interest.
12. Head To The Zoo
The zoo is a great option for going out with someone when you have a low budget. You get to see all sorts of wild animals at almost no expense and walk for hours with your partner. Look up some no-cost zoos in your area and have a lovely evening date.
13. Go To A Museum
Just like zoos, you have plenty of museums in most cities that allow you to experience years of primitive history. Choose some uncommon oddball museums that give you an insight of interesting artifacts rather than the usual boring ones, because that's where the real fun is at.
14. Go On A Drive
Going on a long drive with your partner is romance done right. Just pop up some good old music while driving out to a beautiful countryside place near your city for totally impeccable views. However, to make this date into a reality, at least one of you will need a valid driving license.
15. Go To A Water Park
Water parks are flooded during summers for a reason. They are a great way to cool off during the summer days and a great excuse to get out of the house, making for one of the most fun date ideas for teenage couples. Water parks also have some fun specials, so there's another activity that you can indulge in on this date.
16. Take A Walk
Walks are your best bet for a nice, calm date. You can indulge in the best conversations for hours at an end while burning a few calories. There are a lot of times when you have tons of things on your mind that you wish to share but hardly find the time to do so.
Walking gives you plenty of time to interact, chat, and spend time with your partner. No cash required! Endless interesting communications and an evening filled with epic romance are in store for you.
17. Go Ice Skating
Ice skating is another activity most teens love. It is happening, joyous, and an extraordinary experience for going out to a date. Even if both of you aren't great at skating, you can help each other up after every fall while learning to skate and sneak in a lot of laughs too.
18. Visit The Botanical Gardens
Don't ignore it until you've tried it. Going to the botanical gardens can sound like a boring option at first, but you can turn it into a fun place to take your date by indulging in some outdoor games, like hide and seek. Huge trees and an extensive area to work with give you the perfect opportunity to play this game. If not, you can do some project together at the botanical garden while submerging yourself in the greenery around you.
19. Solve Puzzles Together
Look over at that dusty corner of your bedroom, and you'll find your old puzzle games. It is time to bring those out for a good game night with your boyfriend or girlfriend. It is fairly common to find that most people love to solve puzzles as they are an interesting activity.
Once you both start to fit the pieces together, you will end up in some harmless fights where you are fighting over one puzzle piece and where it will fit in the puzzle. There will also be times when you will help each other find the right piece and the right fit. It is a game of harmony, and once completed, you will get to know how good you two are as a team.
20. Karaoke Together
Another interesting activity for your date is karaoking together. This is the epitome of being comfortable with someone because only if you have a level of comfort, you sing in front of someone without the fear of being judged. There are tons of places organizing karaoke nights in most cities, so check to see if they allow teenagers. Or head on to a karaoke room, take up the mic, and start singing your heart away!
21. Go Biking
Biking is a great way to experience and indulge in nature. Even if you don't own a bike, it's pretty cheap to rent one just for your date. However, the one important task that you need to make sure of is choosing the trail that is best suited for biking.
Choose a place on the outskirts of the city that has lovely landscapes that you can enjoy and take beautiful pictures with to commemorate your adventurous day. A route around a lake, a hiking path, or maybe a quiet residential area can also work. Pack a light snack with plenty of water, so you don't have to stop to look for a place to refresh and rejuvenate. Plan it in a way such that you can head to a good lunch place as the end of your trail arrives.
22. Go Sightseeing
It doesn't matter if you are a local or someone who has recently shifted, there are always certain nooks and crannies left unexplored. If your partner is new to your city, while you have spent your entire childhood there, or even if you both have grown up in the same place, you can explore some offbeat places in the city as a couple together for the first time and indulge in some outdoor adventure. It won't be too heavy on your pocket and be a fun way to discover your city in its entirety.
23. Try Baking
This is a great option for people who love creating something out of scratch and enjoy doing it. Baking cookies, cupcakes, cakes, or muffins is a good activity to do on a date night. Ask your partner to join in and participate in making baking goodies together.
While you don't need to be an expert baker, consulting a few recipes online and shopping for some additional baking ingredients definitely helps in ensuring you have tasty treats to eat by the end of it. Brew a hot cup of coffee or tea and enjoy eating them fresh with your boyfriend or girlfriend.
24. Try Swimming
Water sports are fun. If both you and your significant other are water people, swimming should be a good venture to explore. To up the ante, you can challenge each other to push for more by indulging in a light competition. Additionally, swimming is also a form of workout that helps you stay fit. If you have a swimming pool in your society campus, you don't even need to go out and spend anything on the date and have an unlimited amount of fun.
25. Play Scrabble
Scrabble is one of those indoor games that can bring out the innocent and childlike side of every person and make any date night fun. As a teenager, staying out past curfew can be a difficult thing, so it is a great way to enjoy at your home with your partner. Plus, as students, it can even help you increase your vocabulary. Who knew learning could be this fun, right?
26. Go On A Coffee Shop Date
Figure out an inexpensive local coffee shop in your area or city that you can sit and hang around with your date while sipping on a delicious hot cup of joe. We are sure it will not be a hard task to find a coffee place that serves some cheap snacks to go with it. You can have many dates at this place in the future too because you won't have to spend a fortune to enjoy some good coffee.


Quick Tip
Always pick a place where you feel comfortable and are familiar with – a place where you can feel relaxed and also allows you to grab a quick bite too.
27. Have A Bookstore Date
This one is for all the bibliophiles out there. Interesting reads, comfy bean bags, and peaceful silence around is a true book lover's paradise. If you and your bae love reading books more than anything, a bookstore can be the best venue. The most fitting part of this place is that it won't cost you a penny and is an amazing way to indulge in your favorite activity.
28. Use DIY Videos To Make Stuff For Each Other
These days, DIY videos are quite the craze, and they are pretty much available all over the internet. Both you and your beau can choose one of those videos and come up with something to make for each other that you think they'll love and all in the comfort of your own home.
Be it a lipstick, deodorant, moisturizer, or a scarf, you can craft just about anything by following the instructions provided in the video. Pop up some music and enjoy crafting with your partner on your date. Once you are done, you can give it to your partner to try it out. Their reaction will definitely be worth all that effort.
29. Enjoy Live Comedy
What is better than being on a date with your favorite person and laughing your heart out? Going to a comedy club in your area is one of the best fun date ideas for teens because not only is it cheap, it is also a way to enjoy your time to the fullest.
Some places even offer impressive student discounts, so you can use that to your advantage. If you are someone who loves doing comedy or wants to try it out, you can head to the stage at an open mic night and impress your date by making them laugh.
30. Go On A Cheap Restaurant Date
Teenagers are always on the lookout for some good bakeries, eateries, and coffee shops that offer cheap yet delicious food to eat. If you have found such a place, you can use it for your next date and have a chance to impress your partner with your discovery. There are tons of food truck eateries that serve up tasty meals at a lot less price, which you can check out too.
31. Have A Workout Date
This isn't one of the usual date ideasfor teenagers, but having your partner workout with you makes even the most strenuous exercise fun and bearable. Teenagers who are a lot into fitness and follow an active lifestyle will love this idea.
Infographic: 10 Wholesome Yet Inexpensive Date Ideas For Teenagers
It is not easy to be a teenager with an active dating life—- you want to make good memories, but pocket money is scarce and everything nice and romantic seems big dollars away. Well, you have already seen the list of things you can do on a date on a budget. To help you a bit more, we shortlisted date ideas that don't cost a time, but rather pay you back in fulfillment and joy!
Check out the infographic below for 10 things you can do that do not require you to spend anything noteworthy out of your pockets.



When planning a date, you should remember that the thought counts and not the price tag that comes with the experience. As a teenager, you may not have a truckload of money to spend while taking out your partner, but you can plan an outing that will be a cherished memory for years to come. For instance, you can go to a carnival, arcade, or other low-cost places. You can spend hours indulging in fun activities and getting to know each other there. The options for a pocket-friendly date are plenty; all you have to do is put in some thought.
Frequently Asked Questions
What's the best first date for teens?
A picnic remains a simple yet fun and affordable first date idea for teens. This hassle-free romantic picnic idea is a big swing for your first date. It won't require any reservations or schedules. However, it won't be complete without mouth-watering food. Hence, choose the best location, have a photo shoot, eat your favorite food, or watch a movie with your special someone to make your first date memorable.
How should a first date end?
No matter how much swag you have, first dates are always nerve-wracking. But you should end your first date in the right way without feeling awkward. How you end your date depends on whether you want another date with that person. However, express gratitude and always remember to thank the other person.
Should I hug my girlfriend on the first date?
While you can try a friendly hug at first, a romantic hug is not recommended.
How long should a first date last?
It is always better to limit first dates to less than an hour.
Key Takeaways
When you are a teen, you need to come up with fun date ideas that will not burn a hole in your pocket.
Teenagers can have entertaining and easygoing dates visiting carnivals, going for a picnic, stargazing, or playing a board game.
Making cute and thoughtful gifts for each other is also a good way to spend time on a date.

Check out this video for 10 amazing first date ideas for teenagers! From outdoor activities to creative setups, this video has got you covered. Watch it now!