Dating After 60: Rules, Advice, And Common Mistakes
Let no one stop you from living your best life with the love and happiness you deserve.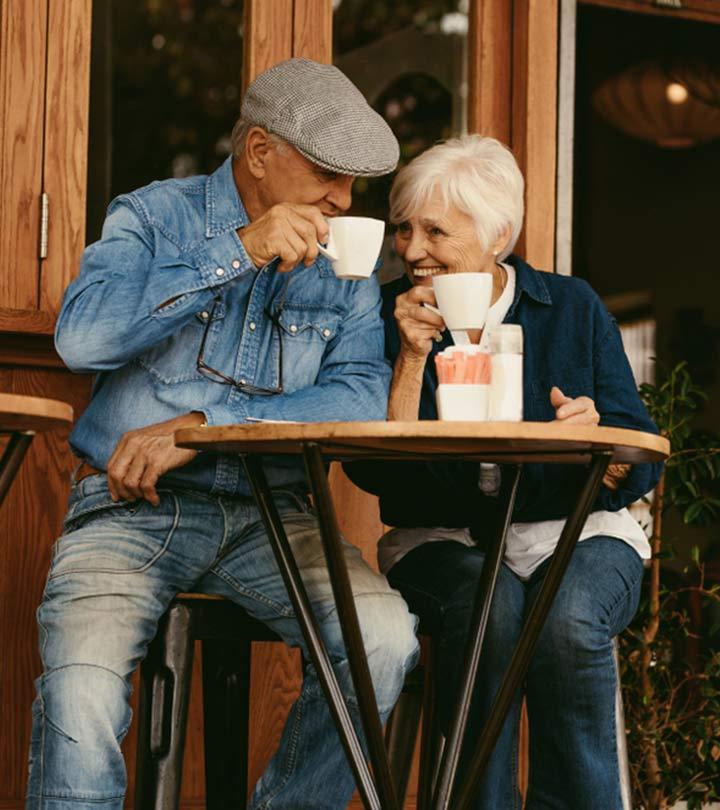 Dating after your 60s may seem intimidating. But dating is not meant for only your twenties or thirties. If you recently lost your partner, got divorced, and do not want to lead the rest of your life as single, dating can be the best option to try. It can be a fun and life-changing experience. So, if you want to know how this dating game will work for your age, read this post. This article explores simple and easy tips and rules for dating after 60 and the common mistakes to avoid. Keep reading.
Dating After Your 60s – Rules, Advice, And Tips
Know What You Want: When you were younger, you probably dated for fun of the experience. But as you age you realize that you become picky with who you date. Do you want a relationship? Or do you just want to have a good time after a bad divorce? Being clear on your motives for dating helps you choose a better-suited partner.
Be Honest About What You Want: Being honest with your partner lets them know where you stand. You aren't making promises you cannot keep. It keeps both of you on the same page.
Take Your Time: You don't have to deep dive into all the aspects of dating right away. Take your time to sort through them slowly. Look at it as an opportunity to rediscover what you like about dating.
Take Time To Heal: Maybe you're reeling from the loss of your partner or a nasty divorce experience. It is important to take your time to heal. A rebound relationship might be a great idea when you're in your 30s, but after your 60s you might find yourself looking for something else. If you don't take time to heal, that experience might not go as well as you hoped.

Quick Tip
A coffee shop is a fantastic spot to meet interesting men. You never know who you might meet if you pay attention on your morning coffee run.
Be Open To A New Experience: You have to be willing to get out there and be open to trying new things. It doesn't mean you have to immediately download a dating app. But you can be open to meeting someone at your supermarket, church, or a local singles meet. Be open to sharing about yourself and getting to know the other person. Be open to also letting them know when you aren't comfortable with something. Your first date after your 60s might not go that well, but be open to seeing it as a learning experience.
Boost Yourself: Dating after your 60s might be scary, mostly because you don't look as you did in your 20s. Your confidence may also have taken a hit. It is time for you to remind yourself how amazing you are. Look back on your life's journey and recount all the experiences that make you, you! Don't be afraid to look into the mirror before a date and give yourself a confidence-boosting pep talk.
Online Dating: After your 60s, you might not want to get on a dating app or website and meet someone online. But it is a great way to meet new people. If this is something you are open to trying, make sure you go about it the safe way. Don't share personal information with someone until you have met them and can be certain of who they are. You must take precautions before meeting someone physically whom you have known online. Meet them at a restaurant, and have an easy way to leave if you find something shady. Don't invite them home or get into a car with them on the first meeting. Make sure your family and friends know that you're out with this person. And most importantly, look out for scammers.
Health Checks: Being older makes you more prone to sickness. Make sure you are on top of your health. Also, make sure your partner is on top of their health. This is extremely important when you get physical with someone.

Quick Tip
Hiring a dating coach is becoming increasingly popular. A dating coach can help you find better matches more quickly if you are ready to spend some time and money on individual sessions. Along the way, you may discover a lot about who you are, your tastes, and your life's objectives.
Sometimes, when you get back out there, you might make a few mistakes. Here are a few common mistakes that can be avoided.
Common Mistakes Made By Men And Women Dating After 60s
Trying To Fit In: Getting back into the dating groove can be tough, but don't try to do what the younger crowd is doing. When you're dating, figure out what works best for you and do that. Forcing yourself to like something might just spoil your experience.
Taking It Too Seriously: A relationship is very serious, but when you're just heading back out into the dating scene you might want to take a breather and just go for a test drive. It is absolutely fine to not make things serious. You can have fun with dating, and it does not have to be serious.
Dating An Ex: Because it has been so long since you dated, you might think it is a good idea to date an old flame. While it may work, remember that there was a reason you both parted in the first place. It is easy to get caught up in emotions with an ex, but take your time and go slow. Dating an ex might be fun, but it can also be like opening a can of worms.
Not Taking Your Health Seriously: Just because you are older doesn't mean you shouldn't know all your options health-wise. Visit a doctor and talk to them about what you need to be aware of before you get physically involved with someone.
Dating After A Divorce: It is easy to let the emotions of a past relationship spill out into a new one. Give yourself time to move on from the divorce and your ex, get comfortable with the idea of trusting someone new, and then start dating again. Don't jump into a relationship or hold your new partner accountable for your ex's mistakes.
Dating After A Loss: Many people will say it is time to move on and get back out there. But it is important for you to take your time to heal. You have lost someone who was extremely important and close to you.
Infographic: Dating At 60 – Things to Remember
Getting back into the dating scene after 60 can be intimidating. You might get cold feet about stepping into the newness of the experience knowing that the rules of dating have changed. Fortunately, you have the advantage of years of experience and can be yourself confidently. Chances are you'll find someone perfect for you. Here are some rules and tips that might help you navigate this world to find love!


To start dating after 60 means getting back into the game after a long break. Whether you have been divorced, lost your partner, or been single for this long, the decision to start dating at this age may be daunting. It cannot be easy if you are unsure what you are looking for or how the dating rules may have changed with the times. The good news is that you have lived long enough to know what you want and don't want. The most important thing is not to be scared of being unapologetically yourself. It may make things even more thrilling, and you may find exactly the person meant for you!
The key is to deeply understand what you really want and not let your fears and insecurities limit you. Avoid entering the "self-sabotage" trap by judging yourself for your current appearance or other. Life has not ended and you have so much more to add to your and others' existence. After all, happiness is a path we all decide to walk every day, and not a destination you set at a certain point in your life.
Frequently Asked Questions
Is 60 too old to date?
There is no age limit to date or seek romantic experiences. There is a longstanding social stigma that makes dating after a certain age difficult. However, there has been more acceptance of the concept of older people dating in recent years.
What are the chances of getting married after 60?
In these times, the chances of getting married, even after 60, are pretty high. Whether it is a marriage of love or convenience, more and more people are challenging social norms and standards and choosing to be more open-minded.
Can you find love in your sixties?
Yes! As one grows older, their understanding of love evolves through their experiences. Love in your sixties may not look the same as love in your twenties. It may not be a torrential kind of love full of passion and fireworks, but one that is calming and comforting. Besides, technology has come too far for finding love in your later years not to stand a chance! Many dating sites are specifically designed for senior people looking to make romantic connections.
Key Takeaways
Dating after 60 may seem intimidating, but it can be a fun and life-changing experience.
Being clear about your motives for dating can help you choose a partner who is suited to your needs.
Give yourself time to move on from any previous relationships, get comfortable with the idea of trusting someone new, and then start dating again.