7 Golden Rules Of Dating After You Turn 50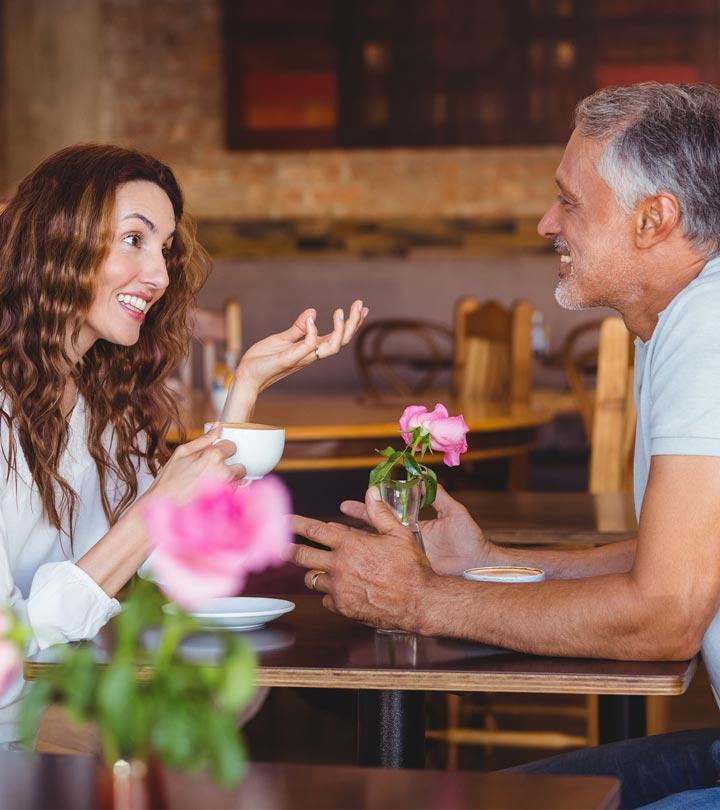 Dating in your 50s very different from dating when you were in your 20s and 30s. You are not the same person you were in those formative years. As you grow and mature, your intentions and approach towards dating are also bound to change. If you were attracted to free-spirited, youthful people then, you might seek stability and maturity in people now. You may have very little patience for brash behaviors like breadcrumbing or ghosting. Though challenging, dating at 50 can actually open you up to fresh and exciting experiences in life.
If you are wondering if the dating rules for those over 50 are drastically different from what you already know, we have some helpful advice for you. With all of the tips below, you surely can re-enter the dating game without much of a hassle. Here are the top seven tips that you can keep in mind when you get into the whole 'dating after 50' game.
1. Online Dating Was A Taboo Long Ago, But Now, It's Really Not!
When you start dating in your 50s, the prevailing dating trends might not resonate well with you. You might take some time to get used to this altered dating scene. The biggest shift you might experience is that it is now very common to meet people online. There is a good chance of you finding potential matches on the hottest new dating app. However, it is better to go for websites that are paid for. This is definitely one of the most important dating rules for those over 50. The reason? The company that gets these people enlisted has their credit card details verified, which also works as a check against fake profiles. Plus, nobody really spends money on things they are not really interested in.
You can try websites like Match and eHarmony. If you feel a little intimidated by too many young people on the platform, you can choose the age filter and connect with people of your age. Additionally, you can work on your profile with your friends. Get them to help you with your pictures. Ensure that the pictures you use are recent and not from 20 years ago.
Be honest in your profile, because frankly, deception is not going to help you if you are looking for meaningful relationships. Most people in your age bracket might be looking to find an emotional connection as opposed to one night flings, so make sure you know what you are getting into. It may be a little intimidating to get back to dating in your 50s, but the more honest and upfront you are, the higher the chances of building a genuine and loving relationship.
2. Let The Traditional Tactics Also Be A Part Of Your Game
When you get back to dating after 50, embracing the new culture is important. But honestly, some tried-and-tested traditional tactics can also work very well. Though using online dating apps is the new norm, do not rely only on technology to be your savior. Remember to keep the face-to-face meetings alive too.
Let your friends and family know that you are ready to get back into the game. Attend events and outings arranged by work, so you get to meet new people. You can also check out different meetup groups to find people who share your interests. It would be a good way to blend your interests and personality with your online presence. You can meet people who share your interests by joining book clubs or movie clubs, and from there, you can get talking!
If none of these methods interest you, you can go for a matchmaking service like It's Just Lunch. They provide highly personalized services, and it's more likely that you might get a strong match easily.
3. Do Not Take Rejections To Your Heart
For most people, getting into the dating game after a certain age is intimidating. In addition to this, dealing with rejection can be challenging, especially for people who have not experienced rejection before. Apart from being just discouraging, rejection can feel quite hurtful too. However, the key here is to not take the rejection to heart.
Most people who startdating in their 50s come with a host of different sets of experiences. Sometimes, they may be scared of becoming emotionally vulnerable, or they just want to stay friends with you. The rejection might not have anything to do with you personally, but it might be because of their preferences.
For those of you struggling to cope with rejection, here is something that therapists ask you to consider: the 'pineapple theory.' It says that people who do not like pineapple end up keeping it off their plate. But there are still many who love pineapple. Just as with food, people have preferences when it comes to dating as well. You have a type too. Do not feel disheartened, and stay in the game to get the best prospects. This is perhaps one of the most important and golden dating after 50 rules.
4. Let Go Of The Past Pain Before You Start Something New
When you start dating after 50, the chances are that you have gone through some really tough relationships. It can be very challenging because there may be a lot of hurt and unpleasant experiences from the past that might still be giving you nightmares. You cannot get into a new relationship without resolving past hurt.
You might end up dating someone on the rebound, but such a relationship might not last. To build a healthy long-term relationship, heal your past hurt, and ensure you embark upon a new journey altogether without looking back at the past.
5. Do Not Let A Few Bad Dates Dishearten You

You went out there. You revamped your look, you got all ready to get back into the game. But then, a few bad dates have left you feeling discouraged. Finding the right partner takes a lot of effort. You might not end up finding your ideal partner and falling in love with them within the first two or three dates. It is perfectly okay to take your time.
Dating definitely comes with its fair share of ups and downs. You have to realize that you have to get out there and go on a lot of dates with different people before you actually find somebody you can establish a connection with. Hence, do not give up after the first few bad dates. Treat them as part of your dating experience. It could take a lot of time for you to find the right kind of person. However, if you remain determined, you will get there.
6. Have A General Idea Of What You Want
This goes for everybody, not just those who are back in the dating game in their 50s. When you get back into the dating scene, have a rough checklist ready. Reflect on what did not work out for you in the past and figure out what is actually a hit for you now. With experience, you will learn to understand people better. This will help you build healthier relationships with prospective partners.
When you start dating after 50, begin by looking for similarities and shared interests. For instance, maybe your children can be a common connect or being from a similar book club can get you close. However, differences are inevitable. You might have different political views or interests. But figure out what differences you are willing to let go of. Learn to recognize what really matters to you in such situations and work through your differences. Having a good idea of what you want and what you don't will help you immensely.
7. Try The Three-Date Rule

Try the three-date rule. Do not judge a person after just one date. Everybody tries to be impressive on the first date. They would not show you their real selves, and they may even agree with you about everything. In fact, it is only after two-three dates that you will get to know the person better. You will then be able to figure out if you have a comfort zone with them or not. Spend some time with people before deciding. Ensure that you go on at least three dates before rejecting a person or making a final decision.
With all of these fun and simple rules, we are sure that dating after 50 would not be all that difficult for you. Follow these rules and get back in the game! These tips will make your transition very back into dating easy and comfortable. Happy dating!
The following two tabs change content below.