40 Deep Relationship Questions To Ask For A Better Love Life
The best way to get to know your partner deeper is to keep asking the right questions.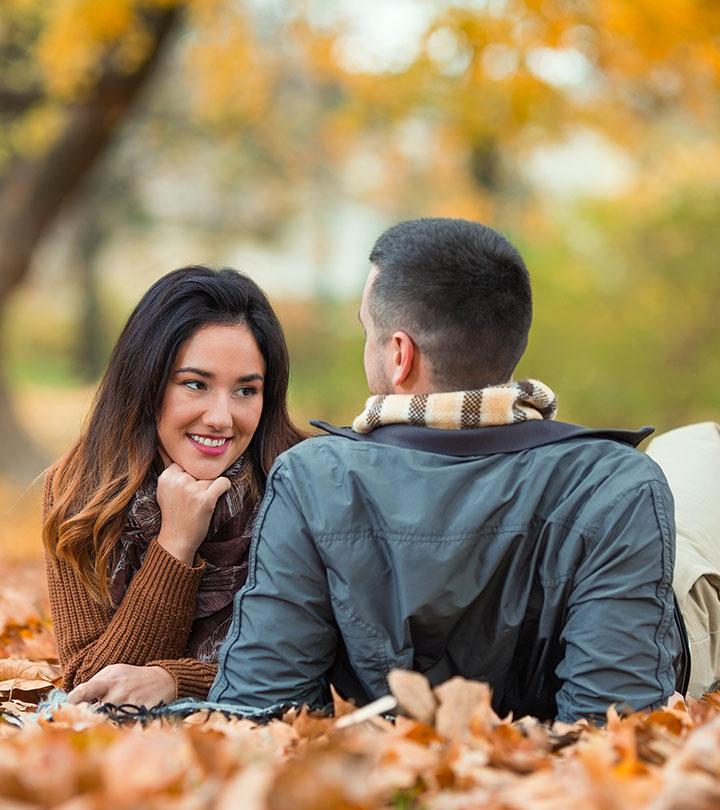 A series of deep relationship questions may help you and your partner reflect on your relationship. Your relationship has gone through many phases, and both of you may feel like you have spent your lifetime together experiencing joys and sorrows. You may lose some of its lusters and eventually come to a halt at some point. However, your relationship with your significant other is carefully crafted, and you don't want to lose it.
A romantic relationship relies heavily on communication, and it goes beyond just checking on your partner from time to time. Deep conversations allow us to forge stronger bonds, reinvent ourselves, and renew our vigor. This article will guide you on how to bring back the feeling of connection you shared or get your relationship back on track. These 40 relationship questions will help you rekindle your relationship and get a better understanding of your partner. Scroll down and check them out.
40 Deep Relationship Questions To Ask For A Better Love Life
Delve into this questionnaire of love and intimacy and see the magic work for you:
Do you think we have changed as individuals over the years?
If you could change one thing about me, what would that be?
What is your dearest memory about us?
Which is your favorite family holiday, so far?
What are the things that you remember from our first date?
What made you fall in love with me?
Would you like to live in a small apartment in the city or a big house with a backyard on the outskirts?
Do you consider me your best friend?
How often do you think we fight?
What is the one superpower you would love to have?
What are your worst nightmares?
Do you have any regrets?
What would you consider a stress buster — a relaxed weekend at a resort, an adventure trip, a disco party, or stay at home and watch TV?
Do you think we are made for each other?
Which fictional couple reminds you of us?
If you were to make a movie about our relationship, what genre would you choose; romance, drama, comedy, thriller, or science fiction?
What is the one thing that you are looking forward to, of which I am a part?
Have you ever been jealous of a friend of mine from the opposite sex?
What is the one thing you would not change about yourself?
What according to you is your biggest accomplishment?
What's the most hurtful thing I have said to you?
What is the best compliment I have given you?
Do you think our love has grown over the years?
If we could travel right now, which place would you like to visit?
Do you like hanging out with my friends?
Do you think I care enough about your parents?
What is the one quality in me that you adore the most?
Do you feel insecure with me?
Do you think we know each other well enough to complete each other's sentences?
Would you ever like to get a pet?
Do you think we get to spend enough time with each other?
Mention a crazy thing you would want us to do?
What is a present that you have always wanted?
What present do you think would make me happy?
Is there enough passion in our relationship?
Is there a fantasy of yours that you would like me to fulfill?
How would you like to spend a day of quality time with me; watch a romantic movie, cook together, or play board games?
What attire makes me look hot?
Who is the sacrificing partner?
Do you have a dream that I can help you achieve?

Quick Tip
It's great to have a clarity on your expectations from a relationship. But try not to have unfair expectations of how you want your partner to answer these questions. Understand how their mind works instead of looking for a poetic answer.
If you are a veteran at relationships, coming up with these questions is a cakewalk.
But what if you are an amateur stepping into a relationship? No worries! To make your life easier, we have framed 40 romantic deep questions to ask your girlfriend/boyfriend about your relationship.
40 Romantic Deep Questions To Ask Your Girlfriend/Boyfriend
Before committing to a serious relationship, ensure that the two of you are on the same page. These questions will help you understand your girlfriend/boyfriend better and assess if you are meant for each other:
What is your idea of a perfect romantic date?
When was the last time you thought about me?
Do you feel comfortable hanging out with my friends?
Would you like to plan events or would you like surprises?
Do you believe in marriage?
Why did you break up with your ex?
Who are your closest friends?
How often do you talk to your parents?
What is your ideal holiday destination —beaches, hills, museums, or wildlife?
When we have enough money, would you like to buy possessions or travel?
What are your biggest fears?
Which is your dream city to live in?
What is the best gift you would like to receive—diamond jewelry, a weekend trip, or a high-end gadget?
Are you an overthinker or a carefree person?
Do you like to wine and dine in a quiet place or hit a nightclub?
What according to you are the most important qualities a man must possess?
What kind of a wedding would you prefer —a quiet ceremony with close friends and relatives or a theme wedding with many guests?
What do you find attractive in men?
Which is your favorite fictional couple?
How would you like to celebrate Valentine's Day?
Do you believe in soulmates?
What are the 5 things you cannot live without?
What do you like to do when you are sad?
Would you like to enroll in a couple's dance class?
What qualities in me do you find attractive?
Is there anything you would like to change about yourself?
What's the weirdest thing you have done?
What was your favorite book as a child?
Are you a morning person or a night owl?
What is the one thing you would like to change in the world?
What are your wildest fantasies?
Which is your favorite date, so far?
Is there anything about me that you would like to change?
When would you like to meet my parents?
Do white lies appeal to you or would you prefer being told the bitter truth?
Is there any decision you have made that you regret now?
Are you a super-career woman?
What are you most passionate about?
Do you follow your heart or your brain?
How do you like to begin your day?

Quick Tip
Do not brutally judge your partner if their opinion on these questions differs from yours. You can always use these questions to discuss that difference and agree to disagree if you like them enough.
Whether yours is a newfound love or one tested by time, asking relationship questions will only bring you closer.
To understand your partner better and strengthen your connection, we have rounded up 40 deep relationship questions to ask your partner.
40 Deep Relationship Questions To Ask Your Partner
You can begin with fun and quirky questions that will break the ice and then get down to the intimate ones. Here are some interesting questions you canask your partner that would also let you spend quality time with each other:
What is the first thing that you observed about me?
What is more important to you —physical appearance or intellect?
Do you find me attractive?
What are my best qualities?
What, according to you, are your most impressive traits?
Do you believe in love at first sight?
Do you think our love will last forever?
How would you like to spend time with me?
Do you like to be alone most of the time or do you like company always?
How would you react if I forgot your birthday?
Do you like sentimental gifts or practical ones?
Do you like public display of affection (PDA)?
Do I compliment you enough?
Do I make you feel safe and protected?
Would you like to get married in the near future?
Where would you like to go on a romantic date?
Is there anything you would like to change about yourself?
Is there anything you would like to change in me?
Would you rather go on a holiday or buy something expensive?
Would you go out of the way to help someone?
How serious are you about our relationship?
What kind of a holiday would you like — a cruise, a hike through the mountains, or a jungle safari?
Do you like to shop online or visit shopping malls?
How close are you to your parents and siblings?
Do you make decisions on your own or do you get influenced by other people?
Do you have a bucket list?
What is your favorite cuisine?
Would you consider cooking together as spending quality time?
What is the first thing you think of when you wake up?
Are you comfortable with my parents?
If we were to go to a concert, which artist would you like to see perform?
What kind of perfume smell do you like?
Would you like to be the dominating person or the submissive one in the relationship?
If there is one country you could get a free airline ticket to, which would that be?
Do you find me sensitive and caring?
What can I do to be a better partner?
Do you need a lot of space in the relationship?
Do you feel comfortable sharing your problems with me?
Do you think the best is yet to come for us?
Infographic: Questions To Ask For A Fulfilling Love Life
There are highs and lows in every relationship, but more often than not, problems can be solved with simple conversations. It is important to create and maintain a comfortable space that allows you to discuss anything with each other. The easiest way to do this is by asking questions.
If you are out of ideas, check out the infographic below for questions that you can ask for a more fulfilling relationship.


Deep conversations help strengthen the bond and add excitement and vigor to a lackluster and stranded relationship. These deep relationship questions help you strike such conversations. So, go ahead and ask them without any inhibitions.
Before you begin, be ready for surprises and take all replies with an open mind. Do not judge your partner based on their answers. After all, no one is perfect. One of the reasons relationships die off is because we start thinking we know who the other person is. These questions are a great way to be curious about who the other might be in this stage of your relationship. You can also make this process more romantic by including a few presents for the winners or even video-record the fun and quirky parts of the game. So, get ready to curate a list of your questions and shoot them at your partner.
Key Takeaways
Asking deep relationship questions to your partner can bring back the charm and strengthen the bond.
Relationship questions allow you to understand your partner better, and knowing your partner's likes and dislikes is essential to keep the bond strong.
It is essential to keep an open mind while asking deep relationship questions to your partner to prevent yourself from having judgemental thoughts or making judgemental comments and brace yourself from surprising answers.
Frequently Asked Questions
What are some deep relationship questions for self-reflection in a relationship?
Ask yourself if you feel safe and comfortable around your partner. Reflect on instances from the past and ask yourself if they are trustworthy, dependable, and able to understand your perspective on important issues.
How can I use deep relationship questions to resolve conflicts in my relationship?
Deep relationship questions help you understand your partner's perspective and give you a chance to understand their thought process. This may help you achieve common ground during conflicts. Once an understanding is established, you may be able to resolve your issues peacefully and effectively.
How do you ask deep, emotional questions?
Try using open-ended questions that encourage your partner to share their thoughts and feelings. Avoid questions that can be answered with a simple yes or no.
When is the best time to ask deep relationship questions in a relationship?
The best time would be when both you and your partner are relaxed and have plenty of time to talk. Avoid asking them when either of you is stressed or distracted.
How can I make sure my partner is comfortable with deep relationship questions?
Make sure your partner is comfortable by checking in with them before asking anything too personal. Give them the option to pass on any questions they don't feel comfortable answering. Don't get angry if they are not in the mood to talk about anything.
What are some tips for active listening during deep relationship conversations?
Some tips include giving your partner your full attention, using body language to show that you are engaged, and repeating back what they have said to ensure that you understand their perspective.

Are you looking for relationship questions to ask your partner? Check out this video for 20 thought-provoking questions to ask your lover and strengthen your relationship!