How To Apply Makeup For Deep-Set Eyes
Ever wondered why a certain makeup look you tried to recreate didn't turn out as you expected? When it comes to doing your eye makeup, it is essential to know your eye shape and use the right makeup techniques and products to enhance their beauty. If you're a gal with deep-set eyes, chances are you have large eyes that are set deeper into the eye sockets, creating the illusion of a more prominent brow bone. Here's a simple makeup tutorial and a bunch of hacks that will help your gorgeous eyes stand out.
Deep-Set Eyes Makeup Tutorial
Before you apply any makeup or product on your face, make sure it's nice and clean. It is also a great idea to use an eye primer, so your makeup stays in place and looks stunning for longer.
What You Need
A neutral eyeshadow palette
Shimmer eyeshadow in a soft salmon shade
Black eyeshadow
Fluffy eyeshadow brush
Precision eyeshadow brush
False eyelashes
Eyeliner
Brow product
Tutorial – Step By Step Tutorial With Pictures
Step 1: Start With The Base
The secret to making deep-set eyes pop is to highlight and brighten the contour of the eye with a lighter eyeshadow. Use a neutral eyeshadow all over your lid and make sure you blend it in really well.
Step 2: Move To The Crease
Use a black or deep brown eyeshadow and apply it to the crease and outer corner of your eye with a fluffy eyeshadow brush. Make sure you build up the color as you go instead of applying the dark shadow in one go.
Step 3: Add Some Shimmer
To bring the eyes forward, apply a salmon-colored shimmery eyeshadow to the middle and inner corner of your eyelids. Blend it out well so that the dark eyeshadow and the shimmer look seamless. This can be achieved with a stiff and precise eyeshadow brush. However, don't over-blend the shimmer or spread it out of the middle and inner corner of your eyelids.
Step 4: Highlight Your Brow Bone
Use a light eyeshadow to highlight your brow bone and create a subtle gradient.
Step 5: Enhance Your Lower Lash Line
Using the same dark eyeshadow that you used on the outer corner of your eyelid, connect the outer corner with your lower lash line and blend it in well.
Step 6: Beige To Bring Your Eyes Forward
A beige eye pencil can really do the trick in bringing deep-set eyes forward. Apply it to your lower waterline.
Step 7: Add Some Oomph With Falsies
For the final touch, groom your brows and fill in any sparse areas with some brow product. Curl your lashes and apply some mascara or simply go in with a pair of luscious false lashes if you want to take it up a notch. If you're getting ready for the evening, amp it up further with some good old winged liner.
Here's the outcome! Doesn't it look gorgeous?
Now that you know the basic makeup techniques to bring your stunning deep-set eyes forward, here are some hacks that will come in handy the next time you're doing your eye makeup.
Makeup Tips And Tricks For Deep-Set Eyes
Always start with a dab of eye primer on your lids and the area underneath your eyes to ensure that your efforts don't go to waste. This step also extends the staying power of your makeup.
It is essential to conceal any dark circles and creases for a flawless look. If your dark circles are very prominent, use a color corrector and a concealer to cover them up.
It is impossible to go wrong with mascara. Make sure you curl your lashes and then apply mascara to add volume and length to your lashes.
If you have oily skin or are going to be running around, it's a good idea to use a waterproof eyeliner and mascara to prevent your makeup from running down your face.
Applying a lighter shade of eyeshadow all over your lid and to the inner corner of your eye really helps in brightening and bringing forward deep-set eyes.
If you're using a dark eyeshadow, make sure you only apply it to the outer corner of your eye.
Ensure your eyebrows are on their A-game by using a brow product to fill in any sparse areas.
Go easy on the eyeliner. It's best to apply eyeliner only to the outer corners of your eyes.
Use a magnifying mirror in proper lighting while you apply your makeup to get the most precise and flawless results.
Ladies, when you apply your makeup using the right techniques and a tad bit of skill, deep-set eyes can look extremely bright and oh-so-intense! It does take some practice to master the techniques, so keep at it.
That was our take on makeup application for deep set eyes. We hope this article helps you make those gorgeous eyes stand out. Are you excited to try out this tutorial? Let us know in the comments section below.
Recommended Articles

The following two tabs change content below.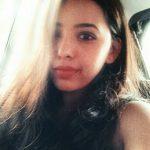 Latest posts by Esha Saxena (see all)