Dermalinfusion Facial Treatments, Benefits, And Side Effects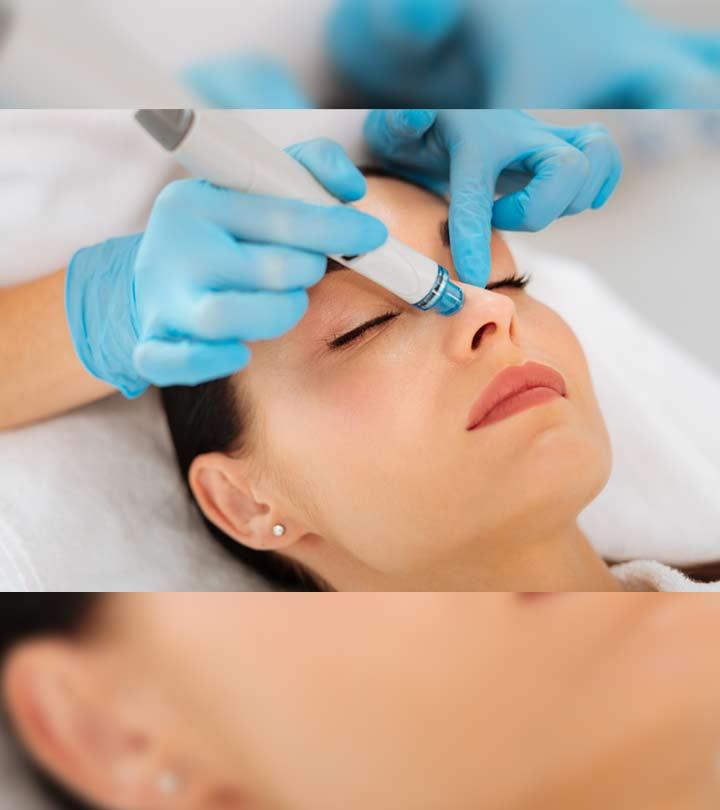 Dermalinfusion facial appears to be all the rage these days, with a slew of beauty bloggers gushing about how bright, smooth, and clear their skin has become after getting one. You might be fascinated with and a little suspicious of a new skin treatment that claims to deliver softer, firmer, and plumper skin in just half an hour.
Let's look at what dermal infusion is all about before you schedule an appointment. Keep reading!
What Is Dermalinfusion?
Dermalinfusion is a skin-resurfacing treatment. It is designed to exfoliate, remove debris, and infuse your skin with serums. It is a patented dermatological treatment used for treating a variety of skin issues, such as acne scars, hyperpigmentation, rosacea, psoriasis, stretch marks, and sun damage.
Let us take a look at how the actual procedure is done.
Dermalinfusion Facial: How Is It Done?
Dermalinfusion facial is a procedure that promises to improve the overall appearance of your skin. The facial treatment is painless and takes around 30 minutes to one hour. This is how it is done:
Preparation
Your skin is cleansed thoroughly before the dermalinfusion process begins. All traces of dirt, debris, and makeup are removed from your face. Most beauticians apply a clarifying mask on your face for a few minutes to clean out the pores and remove any impurities.
The Three-In-One Dermalinfusion Procedure
The skin care professional begins the process by treating every part of your face with a diamond-tipped or disposable vortex-tipped wand. The abrasion levels of the tip of the wand are adjusted according to the sensitivity of your skin. A gentler setting will be used when going over sensitive areas, such as around your eyes and lips.
Three things happen simultaneously during a dermalinfusion facial:
As the wand is gently traced over your skin, your skin is exfoliated in a non-invasive way. In other kinds of exfoliation treatments, the time lag between the actual exfoliation and the application of the serum prevents active ingredients from penetrating deep into the skin. However, in dermalinfusion, these procedures take place simultaneously, thereby maximizing the chances of your skin absorbing the serum's nutrients.
The tip of the dermalinfusion handpiece is equipped with a vacuum system that suctions the dirt, impurities, and debris from your skin. This is excellent for providing your skin an ultra-deep cleanse, especially if you suffer from clogged pores and acne breakouts.
The procedure infuses your skin with a serum specifically customized to your needs. If you have healthy skin and want to boost your appearance for a special event, you can go for a serum that maximizes skin radiance. Those with acne-prone skin can choose a serum formulated to fight acne and tighten pores.
Depending on your skin's needs, you can select serums enriched with vitamins E, A, and C all known for their anti-inflammatory and antioxidant properties (1).
Dermalinfusion therapyis a super-hydrating treat for your skin, and it boosts your skin appearance in many ways. Find out the benefits of this procedure below.
Benefits Of Dermalinfusion
Dermalinfusion facial offers a wide range of benefits:
Gentler Alternative To Microdermabrasion
While dermalinfusion therapy is often compared to microdermabrasion, the former is much gentler. Dermalinfusion does not irritate your skin, unlike dermabrasion treatments. It also provides a boost of nourishment with instant serum infusion.
Dermalinfusion is a gentle and non-invasive procedure. It makes use of a handpiece with a specialized diamond tip gradient that gently rubs away dull and damaged skin cells on the surface. It simultaneously extracts dirt and debris from the epidermis without irritating your face.
Dermalinfusion helps accelerate skin rejuvenation by improving blood circulation to the skin, thereby boosting healthy cell turnover. While you will start seeing the effects after just a single session, dermatologists recommend repeating the treatment every few weeks for the best results.
Dermalinfusion facial is a versatile skin treatment that can combat fine wrinkles, dullness, brown spots, and sun damage. This cosmetic procedure can improve the appearance of your complexion, making it visibly smoother, clearer, and plump.
· Fights Acne
Dermalinfusion can be effective for oily, acne-prone skin. The process opens up the clogged pores and draws out all the acne-causing impurities, thereby minimizing the chances of acne. Infusing serums with tea tree oil a proven anti-acne agent helps to keep your skin blemish-free for a longer time (2).
If you have an important party to attend in the evening but are worried about acne-ridden, dull skin, dermalinfusion facial is an easy way out. This facial treatment only takes 30 minutes to one hour of your time, so you can be ready with glowing skin for such events.
Dermalinfusion gives you the flexibility of choosing from a range of serums customized for specific skin needs. Infusing these nutrient-rich serums directly into the newly unclogged pores allows for maximum penetration, giving you smoother, plump, and youthful skin.
While dermalinfusion facials are the most common, your face is not the only part of your body that can be boosted with this unique procedure. Find out which areas you can try this therapy on below.
Which Areas Can Be Treated With Dermalinfusion?
Dermalinfusion can be performed on many parts of the body, including:
Face
Neck
Upper chest
Breasts
Upper back
Arms
Legs
The procedure can also be done on the delicate areas around the eyes and lips, which could be potentially harmed by other skin procedures.
Often, dermalinfusion is confused with hydrafacial. However, these terms are not synonymous. Here is the lowdown on the major differences between both cosmetic procedures.
What Is The Difference Between Dermalinfusion And Hydrafacial?
Both dermalinfusion and hydrafacial are comprehensive skin treatment methods that promise you firmer, clearer, and glowing skin. Even though similar in a few aspects, they are two unique treatments.
Dermalinfusion is a three-in-one process that simultaneously exfoliates, cleanses, and infuses serum into your skin. However, hydrafacial is a multi-step procedure designed to stimulate and rejuvenate your skin.
A typical hydrafacial treatment is divided into five steps, while there is only one multi-purpose step in a dermalinfusion procedure.
Specific Issues They Address
Dermalinfusion can make your skin softer and smoother by removing impurities and infusing your skin with a nourishing serum. You can use a customized serum to address acne, clogged pores, excessively oily skin, hyperpigmentation, and fine lines.
On the other hand, hydrafacial is less targeted and addresses common skin concerns. It is said to treat only the topmost layer of the skin and requires multiple sessions to treat deeper issues like clogged pores, scarring, and dark spots.
Dermalinfusiontreatments offer a high level of customization. You can choose from several serums for infusion, depending on the specific skin concerns you wish to address. They can also be used on many parts of the body besides the face. Hydrafacials offer a lesser degree of customization and are suitable only for the face.
Now we know that dermalinfusion is a superior skin treatment that is suitable for all skin types. But, does it have any side effects you should keep in mind? Read on to find out.
Does Dermalinfusion Have Any Side Effects?
In general, dermalinfusion therapy is a painless process. However, here are a few things you should keep in mind before going for your first session.
You might experience some redness immediately after receiving the treatment. Dont worry it will dissipate within minutes.
Your skin may feel sensitive for a short time following dermalinfusiontherapy.
The procedure is not recommended for people with underlying conditions like skin cancer and active herpes sores.
People with a compromised immune system should check with a skin care expert before getting this treatment.
Now, lets answer some frequently asked questions about this facial.
How Much Does Dermalinfusion Cost?
The cost of a dermalinfusion treatment can vary depending on the location and facility. Customized treatments that target specific problem areas will generally cost more.
Since medical-grade diamond tips are used for the procedure, it is relatively expensive and could cost anywhere between $100 to $300 for a single session. Dermalinfusion is a cosmetic procedure, meaning your insurance is unlikely to cover it.
How Many Dermalinfusion Treatments Do You Need?
Dermalinfusion promises visible improvements in skin hydration and radiance after just one session. However, to tackle conditions like acne, hyperpigmentation, scarring, and fine lines, you need to undergo at least 4 sessions. Beauticians recommend a series of 6 sessions, scheduled every 2-3 weeks, for sustained results.
Dermalinfusion is a non-invasive, safe, and gentle treatment that exfoliates your skin, cleanses the skin pores, and infuses it with a tailored nutrient-rich serum to make your skin healthy and firm. The facial treatment lasts between 30 minutes and an hour. Although it is expensive, dermalinfusion is effective for scars, dark spots, acne, and fine lines, and it may be designed for specific needs. For example, if you have a big occasion, such as an engagement party, we highly recommend getting a dermalinfusion facial to look your best on the big day.
Frequently Asked Questions
Does dermalinfusion work for acne?
Yes, dermalinfusion is great for treating acne.
What is the downtime fordermalinfusion facial?
One of the best things about dermalinfusion is that it requires no downtime!
What skin type is dermalinfusion good for?
Dermalinfusion is great for all skin types, including sensitive skin.
Key Takeaways
Dermalinfusion facial is a dermatological procedure to treat psoriasis, rosacea, and stretch marks.
It is a non-invasive treatment that reduces acne and improves your overall skin complexion.
Commonly done on the face, breasts, neck, and legs, dermalinfusion facial shows visible signs of improvement after 4 sessions.
References:
Articles on StyleCraze are backed by verified information from peer-reviewed and academic research papers, reputed organizations, research institutions, and medical associations to ensure accuracy and relevance. Read our editorial policy to learn more.
The following two tabs change content below.