10 Regal Diamond Tattoo Designs
tattooshunter.comThere is no second thought, when we say that diamonds are a girl's best friend. From engagement rings to earrings, diamonds have always held first position in the jewelry market and as if that was not enough, diamond motifs are a popular fixture on clothes, bags, shoes and other accessories and rightfully.
So as a girl who knows about style and class could never have enough of diamonds. As in everything else about women's fashion, diamond motifs have a place of pride in tattoos for women too. These top ten diamond tattoo designs will show you exactly why you need a diamond tattoo to compliment your actual diamonds.
Top Ten Diamond Tattoos:
1. Coral Blue Abstract Diamond Tattoo:
This abstract diamond tattoo effectively depicts a diamond in an abstract form and stands out for the use of coral blue and black that has a definite smudged effect. The shimmering colors have an overall impressive effect on the eye. This piece of art is not easily replicated.
2. Tribal Diamond Tattoo:
Simple and easy to replicate, this diamond tattoo design with an arrow running through it is the perfect embellishment for your arms. Make a note of the precise bold black lines used to create this subtle piece of art.
[ Read: Tattoos ]
3. Subtle Diamond Tattoo:
This miniature diamond tattoo is best replicated as it is and in the same position. If you are looking for a subtle tattoo that is barely conspicuous yet adds on to your overall look, then this is the perfect design for you.
4. Pink Diamond Tattoo:
This diamond tattoo stands out for its clarity even without any outlining. However, this is mainly just an idea for you to work on and you could have an experienced tattoo artist replicate this piece using different colors and sizes and have it inscribed on strategic parts of your body. For example, you can have it inscribed on your neck or lower back.
[ Read: Dragon Tattoos ]
5. Crystal Diamond Tattoo:
Barely conspicuous, this crystal diamond tattoo has a definite feminine charm. This tattoo is mostly an example of how you can use crystal tattooing concepts to create diamond tattoos in varying sizes and colors and have them inscribed on different parts of your body.
6. Ankle Diamond Tattoo:
Another miniature diamond tattoo that sits pretty on your ankles as this picture suggests. Keep it simple, small and bold and you are sure to attract a lot of attention.
7. Reflective Diamond Tattoo:
This diamond tattoo stands out for its pure brilliance. The effective use of color and shading gives this designer tattoo a reflective characteristic that is closest to real diamonds. Check out the vibrant shade of blue, purple and pink and do your research to find the perfect tattoo artist to replicate this piece of art.
[ Read: Female Celebrity Tattoos ]
8. Diamond and Bow Tattoo:
This ultra feminine diamond tattoo stands out for its design conceptualization using a bow to accentuate a simple diamond depiction. This is mostly just an example of how you can mix and match diamonds with other motifs or you could even experiment with different colors and sizes.
9. Diamond Moth Tattoo:
This tattoo has an almost diabolical quality perfect for those who treasure their dark side. A perfect example of pure shading and fine lines used to create a masterpiece, this tattoo combines a diamond and a moth effectively with a dark gothic twist. This tattoo is best replicated as it is and in the same position. However, you would have to seek out the services of a seasoned tattoo artist to get this right.
10. Crown Jewel Diamond Tattoo:
This tattoo effectively depicts a diamond as a crown jewel and this fact is hard to argue with. Make a note of the brilliant ornate quality of this tattoo and sheer expertise on the basis of color, shading and fine bold lines.
[ Read: Temporary Tattoo Designs That you Can Try Too ]
So which one of these diamond tattoo designs is your favorite? Please don't forget to drop in your comments below. Thank you.
Find more interesting tattoo designs in this tattoo gallery.
Image source: 1 , 2 , 3 , 4 , 5 , 6 , 7 , 8 , 9 , 10

The following two tabs change content below.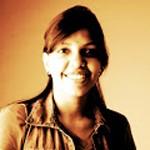 Latest posts by Shruti Goenka (see all)