What's The Difference Between Acrylic, Gel, & Shellac Nails?
Knowing how they differ can help you make better choices at your next manicure session. There is no denying the aesthetic and hygiene-related benefits of a manicure. But how often do you find yourself staring down the list of services at the nail salon, all confused about the difference between various nail enhancements like acrylic, gel, and shellac nails? True, we are spoilt for choice (and we aren't even complaining!), but it helps to know the difference between various manicures to understand what we are getting ourselves into. Check out this article for all the information on different manicures, techniques, nail care tips, and benefits to make an informed and wise choice next time you visit the salon. Read on.
What Are Acrylic Nails?
Acrylic nails are done with a mix of liquid and powder monomeri  XA molecule that in conjunction with acrylic powder (polymer) forms a bond to fashion a solid structure that becomes the artificial nail. that's rounded into a ball of dough, shaped onto your nails with a brush, and air-dried. When you're getting acrylics, the nail technician usually fashions them into tips to achieve a more natural look. After this, each nail is shaped into your preferred nail shape (almond, round, ballerina, or stiletto are the most popular shapes) and painted with polish. The nail technician may use regular or gel polish. They often prefer gel polish as it goes well with acrylic nails and stays put for at least 4 weeks with ease. If you want more length or are looking to change the shape of your nails, acrylics are ideal for you.
Acrylic nails last about two to four weeks with proper care. However, it is recommended to get them refilled by a technician after 5-6 weeks. This will remove any air bubbles that got underneath the acrylic and helps prevent infections!
Pros
Durable
Versatile (you can decide the length, shape, and color)
Uniformity in length and shape
Long-lasting (they stay for 4 weeks)
Cons
High maintenance
Dealing with the chemical odor while getting them done
Can damage your natural nails
Expensive

Trivia
Polymethyli  XBelonging to the engineering plastics group of materials, it is a solid polymer used in the making of acrylic nails. Methacrylate (PMMA), also called acrylic glass, is used to make acrylic nails.
What Are Gel Nails?
Gel manicures promise chip-free, ultra-glossy nails for up to two weeks. Whether you have natural nails (short or long) or would like to get tips glued on first, gel manicures are for everyone. The technician starts off by applying a base coat that primes your nails for the gel. Then the gel polish is cured under a UV light. After each coat is painted on, you have to place your hand under the UV lamp for 30 seconds. Finally, a glossy topcoat and one minute under the light wraps up the process.
Pros
Shiny and glossy finish
No damage to the nail bed
No chemical odor while getting them done
Up to 2 weeks of wear time
Quick drying time
No chips and smudges
Cons
Expensive
Exposure to UV rays
But, the big question still remains…


Trivia
Since gel nails are hard, acetone cannot always remove them. Instead, salons use buffing to get them off the nails.
But, the big question still remains…
What Is The Difference Between Acrylic And Gel Nails?
To put the acrylic vs. gel nails plainly, acrylic is a mixture of liquid and powder, while the gel is gel. Both these formulas can be made to match the shape of the nail or lengthen it. So, if you want longer or stronger nails, you can opt for either acrylic or gel extensions. However, gel nails are typically more flexible and can endure significantly more force than acrylics. They also cost around 15-20% more than acrylics. On the other hand, acrylics stay on longer compared to gel nail polishes and are easier to lengthen (think about those long and vibrant nails sported by Cardi B or Khloé Kardashian)!
Now, you must be wondering where shellac polish fits into this picture. Here's what you need to know.
What Is Shellac Nail Polish?
Shellac is a patented nail product by the company CND (Creative Nail Design). It is basically a hybrid of gel and regular nail polish. As it is like polish, it can't be used to extend your nails. However, it does a great job of adding strength and durability. Shellac also happens to be a lot less damaging to nails when compared to traditional gels or acrylics.
Pros
Lasts for 14 days
Mirror finish
Long-staying
No drying time
Does not chip, peel, or fade
Free of formaldehyde, toluene, and DBP
Cons
UV exposure
Not meant for brittle or thin nails
Here's how shellac nail polish differs from gel nail polish.
Shellac Nails Vs. Gel Nails – All You Need To Know
While the processes for getting both manicures are similar, there are two significant differences between the two. The first one has to do with the formula. Shellac is a type of permanent nail polish (half gel-half polish), while gel polish is basically a gel in the form of polish. The second big difference is in the removal time. Shellac is faster and easier to remove than gel nails.
How Do You Know Which Ones Are Right For You?
In the end, all these manicures are going to give you beautiful, smooth, and long-lasting results. But if you have to pick, you need to know what you're trying to achieve. Here are some pointers to help you make a decision:
If you want longer nails, acrylics are your best bet.
If you want stronger nails and a long-lasting mani, gel or Shellac is the way to go as it will give you chip-free, durable nails.
Shellac works best if you want the most natural finish.
Infographic: Acrylic Vs. Gel Vs. Shellac Nails: Which One To Choose?
While the perfect manicure may appear simple, it is actually more difficult than you believe. How to achieve chip-free, long-lasting, ultra-shiny, and eye-catching fingertips? How can a nail enthusiast choose what to try with so many manicure possibilities? As each treatment has its benefits, we've compiled a list of everything you need to know about gel, shellac, and acrylic before booking your next manicure. Check out the following infographic to find out the perfect manicure best suited to you.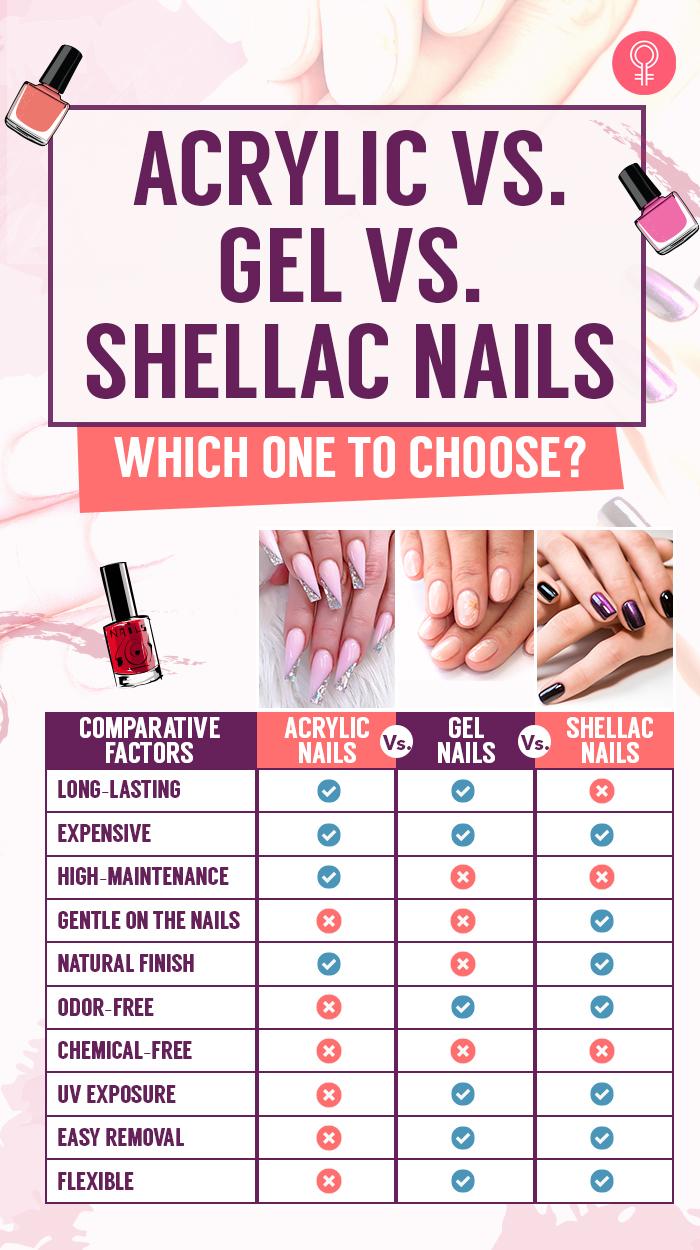 The state of your nails reflects your overall health. Taking care of them is as important as your skincare, haircare, dental care, or general health care routines. When experimenting with your nails, you have a range of options to choose from, including nail art to nail extensions. To achieve the best results, it's important to approach well-trained estheticians who can guide you through the process. We hope you find this article useful where we have detailed the differences between acrylic and gel nails and more. All these manicures have their unique charm and pros and cons. They all look great after the finishing touches. You just need to figure out your desired style, and the experts will work their magic for you!
Frequently Asked Questions
Is gel or acrylic more expensive?
Gel nails are more expensive than acrylic nails. However, acrylic nails have a more natural finish than gel nails. Ensure that you understand the pros and cons of gel and acrylic nails before opting for one.
Which is easier to remove – acrylic or gel nails?
Gel nails are easier to remove because they are more flexible. However, incorrect gel or acrylic nail removal techniques may damage the nail bed. Exercise caution while removing gel or acrylic nails.
What lasts longer, gel or acrylic?
Acrylic nails last for 2-4 weeks whereas gel nails last for two weeks. You can choose either gel or acrylic nails based on your preference.
Key Takeaways
Acrylic nails consist of liquid and powder monomers. They are great for changing the length and shape of your nails.
Gel nails use a gel formula hardened and set by using UV rays or LED light.
Shellac nails are a blend of gel and regular nail polish that offer a glossy finish.
Acrylic nails are durable, while gel nails are less damaging. Shellac nails, however, give the most natural look.
Are you confused about which nail treatment is better—acrylic or gel? Then check out this informative video that shows which one would be a more suitable choice, and decide accordingly.
The following two tabs change content below.