Acrylic vs. Gel vs. Shellac Nails: What's The Difference?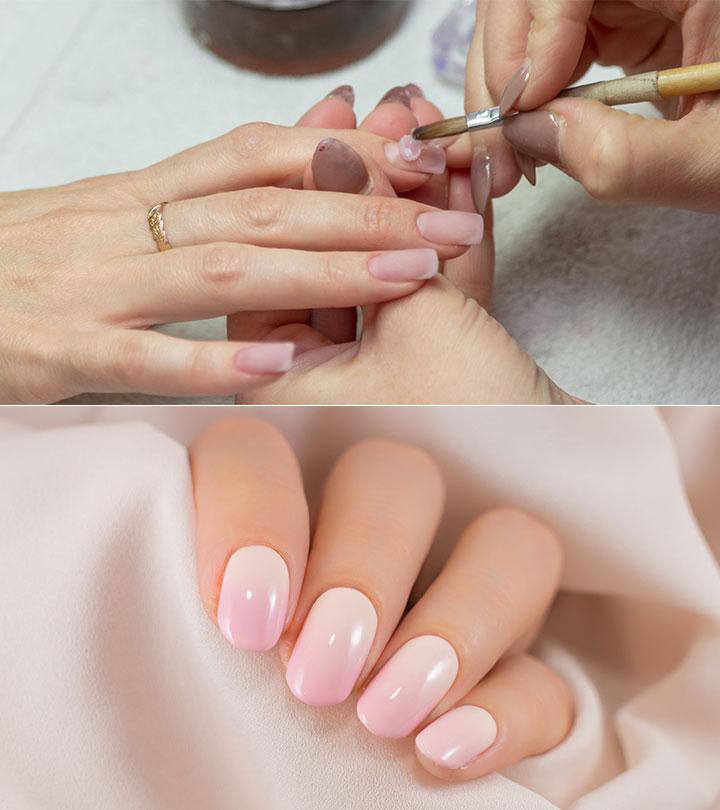 Whether you love indulging in on-trend manicures or are entirely new to the nail game, there's no denying the aesthetic benefits of a manicure. But, have you ever wondered what really is the difference among the bazillion options you see on the salon menu? There happens to be way too much choice (not that we're complaining!), which can get quite confusing. Before your next trip to the salon, you need to know the difference between acrylic nails, gel nails, and shellac nails, so you can understand what you are getting yourself into. Read on to gain an insight into every type of manicure.
What Are Acrylic Nails?
Acrylic nails are done with a mix of liquid and powder monomer that's rounded into a ball of dough, shaped onto your nails with a brush, and air-dried. When you're getting acrylics, the nail technician usually fashions them into tips to achieve a more natural look. After this, each nail is shaped and painted with polish. If you want more length or are looking to change the shape of your nails, acrylics are ideal for you.
Acrylic nails last about two weeks with proper care. Nail refills performed by a technician can make them last a few weeks longer.
Pros
Durable
Versatile
Uniformity in length and shape
Long-lasting
Cons
High maintenance
Dealing with the chemical odor while getting them done
Can damage your natural nails
Expensive
What Are Gel Nails?
Gel manicures promise chip-free, ultra-glossy nails for up to two weeks. Whether you have natural nails (short or long) or would like to get tips glued on first, gel manicures are for everyone. The technician starts off by applying a base coat that primes your nails for the gel. Then the gel polish is cured under a UV light. After each coat is painted on, you have to place your hand under the UV lamp for 30 seconds. Finally, a glossy topcoat and one minute under the light wraps up the process.
Pros
Shiny and glossy finish
No damage to the nail bed
No chemical odor while getting them done
Long-lasting
Quick drying time
No chips and smudges
Cons
Expensive
Exposure to UV rays
But, the big question still remains…
What Is The Difference Between Acrylic And Gel Nails?
To put it plainly, acrylic is a mixture of liquid and powder, while gel is gel. Both these formulas can be made to match the shape of the nail or lengthen it. So, if you want longer or stronger nails, you can opt for either acrylic or gel extensions. However, gel nails are typically more flexible and can endure significantly more force than acrylics. They also cost around 15-20% more than acrylics.
Now, you must be wondering where shellac polish fits into this picture. Here's what you need to know.
What Is Shellac Nail Polish?
Shellac is a patented nail product by the company CND (Creative Nail Design). It is basically a hybrid of gel and regular nail polish. As it is like polish, it can't be used to extend your nails. However, it does a great job at adding strength and durability. Shellac also happens to be a lot less damaging to nails when compared to traditional gels or acrylics.
Pros
Lasts for 14 days
Mirror finish
Long-staying
No drying time
Does not chip, peel, or fade
Free of formaldehyde, toluene, and DBP
Cons
UV exposure
Not meant for brittle or thin nails
Here's how shellac nail polish differs from gel nail polish.
Shellac Nails Vs. Gel Nails – All You Need To Know
While the processes for getting both manicures are similar, there are two significant differences between the two. The first one has to do with the formula. Shellac is a type of permanent nail polish (half gel-half polish), while gel polish is basically a gel in the form of polish. The second big difference is in the removal time. Shellac is faster and easier to remove than gel nails.
How Do You Know Which Ones Are Right For You?
In the end, all these manicures are going to give you beautiful, smooth, and long-lasting results. But if you have to pick, you need to know what you're trying to achieve. Here are some pointers to help you make a decision:
If you want longer nails, acrylics are your best bet.
If you want stronger nails and a long-lasting mani, gel or Shellac is the way to go as it will give you chip-free, durable nails.
Shellac works best if you want the most natural finish.
Since your nails provide important clues to your overall health, it is essential to take care of them just as much as you look after your skin and hair. For the best results, make sure you go to a well-trained technician and a reputed nail salon to get your manicure.
That was our take on acrylic versus gel nail polish. Which manicure are you looking forward to getting? Let us know in the comments section below.
The following two tabs change content below.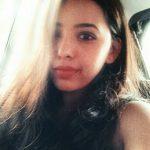 Esha Saxena is a writer, journalist, and a full-time wallflower. She holds a Master's degree in Media and Mass Communication and firmly believes that makeup is nothing less than art. Combining her love for writing with her passion for makeup, she brings to you reviews, techniques, and her ever-growing knowledge on this form of art. In her spare time, she loves reading, listening to obscure indie bands, and writing poetry – all of this while being a crazy dog lady.