The Real Difference Between Being Blonde And Brunette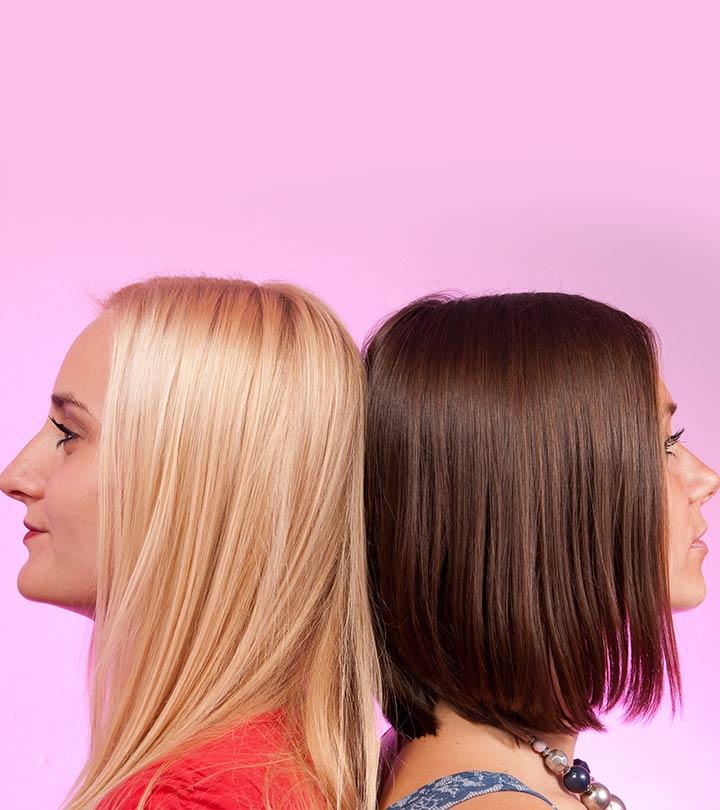 Blondes are the life of the party.
Brunettes are the intellectual ones.
These are some misconceptions that come with hair color. Your hair color doesn't determine your character. Brunettes love a good party, and blondes can be equally intelligent. Apart from the fundamental difference between them, blonde and brunette also have a few things in common. For instance, both these hair colors accentuate gray, blue, and green eyes stunningly!
Fascinating, isn't it? So let's get down to the science that determines these hair colors.
Eumelanin is a pigment found in hair follicles. The concentration level of eumelanin in your hair decides the darkness of your hair color. There are two types of eumelanin, namely brown and black eumelanin. If you have a high level of brown eumelanin, you have brunette hair. But a low level of this pigment gives you blonde hair. If you have low black eumelanin, there's more white color in your hair than black.
Pheomelanin is another pigment that gives yellow and orange tints to your hair. It also determines whether you end up with ginger hair.
What Is Brunette Hair?
Brunette hair is brown or black hair and any shade in between those colors. Brunette hair is a result of high levels of eumelanin and low levels of pheomelanin.
What Is Blonde Hair?
Blonde hair is golden or yellowish. It is a result of low brown eumelanin, high black eumelanin, and high pheomelanin.
Shades Of Blonde And Brunette Hair
There are many shades of brunette and blonde hair. You can find light, medium, dark and mixed shades of both colors.
You may think that the only difference between blonde and brunette hair lies in their color. However, your natural hair color also determines a few key characteristics of your hair. Let's take a look.
Major Differences Between Blonde And Brunette Hair
Natural blondes have more hair than natural brunettes.
Darker hair contains more melanin than lighter hair. Therefore, it naturally provides a better protective barrier.
Blonde hair hides grays easily.
With blonde hair, your scalp is not very visible if you have thin, fine textured hair.
Brunette hair doesn't catch color easily.
Brunette hair is shinier than blonde hair.
Does this make you want to color your hair brown? Well, we've got you covered! Just keep reading.
How To Go From Blonde To Brunette
Since blonde is a light color, coloring it brunette is easy. Depending on the shade of blonde your hair is, you'll need to pick the right shade of brown hair color.
Put on some old clothes. Apply a little petroleum jelly to the skin around your hairline to prevent it from getting stained by the hair color.
Apply the color to your hair and leave it on for some time. The time depends on the shade of brown you want. Keep checking your hair to see if the color has reached the shade that you want.
Wash off the color from your hair. Some coloring kits come with shampoo and conditioner, so use those instead of your regular shampoo and conditioner.
Let your hair air dry.
And that's how you color your blonde hair brunette. Curious to know how you can go the other way round and color your brunette tresses blonde? Here's how you can do it.
How To Go From Brunette To Blonde
As brunette is a dark shade and blonde a light one, you'll need to bleach your hair.
Put on some old clothes. Apply a little petroleum jelly to the skin around your hairline to prevent it from getting stained by bleach, color, and toner. Use gloves to apply the bleach.
Apply bleach thoroughly to your hair to lighten it. You need to check your hair every 10 minutes to see if it has lightened to your desired shade. Just rub off a little bleach on the side to see if it is the right color.
If your scalp is burning and you can't handle it, wash off the bleach immediately.
Rinse the bleach out and dry your hair.
If your hair is dark, you might need to go for a second round of bleach.
Finally, apply toner as it eliminates the yellow tint and brassy tones from your hair. Wash it off after the prescribed duration. Don't keep the toner in for too long as it can add color to your hair.
Now that you know how to color your hair brown or blonde, let's check out the best of these hair colors sported by celebrities!
Blonde Versus Brunette
Actresses constantly have to change their hair color for the roles they play. Let's see which one worked best for them – blonde or brunette.
1. Miranda Kerr
Miranda Kerr is a brunette goddess. While she does look great with blonde hair, her brown locks make her eyes pop. While both colors define her jawline, brunette hair shows off her cheekbones as well.
2. Angelina Jolie
Angelina Jolie has a facial structure that can pull off dirty blonde and brunette hair. Both colors look incredible with her eye color and skin tone.
3. Jennifer Lawrence
Jennifer Lawrence looks incredible with champagne blonde and reddish brunette hair. Both colors showcase her eye color and facial structure very well. But, I have to say, I love her blonde look more than the brunette one.
4. Cameron Diaz
Cameron Diaz is, hands down, a blonde queen! Her blonde locks work gorgeously with her skin tone, eye color, and that excellent nude peach lip color.
5. Elizabeth Olsen
Clearly, blonde hair wins here. The lighter hair shade helps frame her face well as it makes the lower half of her face appear slender.
6. Jessica Alba
Bronde (a blend of blonde and brunette shades) looks perfect on Jessica Alba. A dark brown shade can make her face look harsh, but going light blonde could make her look too soft. That is why bronde is the ideal color for showcasing her facial features.
7. Jessica Biel
Jessica Biel's brown locks are amazing. She is a natural brunette, and that is the hair color that suits her best as it works well with her skin tone.
8. Miley Cyrus
Miley Cyrus has been in the blonde versus brunette game ever since she played Miley Stewart and Hannah Montana. Over the years, she's switched to blonde hair a few times, and she looks great. This is the perfect example of a win-win situation.
9. Margot Robbie
Margot Robbie clearly is a blonde bombshell. This Aussie actress's light hair color works well with her fair skin tone and lovely grey eyes.
10. Lucy Hale
Lucy Hale's green eyes give brunette hair a win. It highlights her cheekbones and makes her jawline appear slender. Blonde highlights can also look great on her skin tone.
11.Selena Gomez
Blonde hair with dark roots looks spectacular on Selena Gomez. While we love her natural brunette hair, blonde is the clear winner here.
12. Carey Mulligan
Carey Mulligan looks great with both blonde and brown hair. As seen here, her brown hair, paired with red lipstick, can make her face appear quite pale (like a vampire, in this case).
13. Kristen Stewart
Kristen Stewart looks excellent in bleached blonde hair. The dark roots make her face look longer while the blonde locks make her eyes pop. The brunette locks make her skin appear pale or cool while the blonde tresses add a bit of warmth to it.
14. Leighton Meester
Leighton Meester won every young adult heart as Blair Waldorf, so we have to side with her iconic hair color. She is a brunette angel.
15. Anne Hathaway
Anne Hathaway stuns with her thick dark brown hair. Her blond locks make her eyes pop a bit too much, making her look like Vampire Jane from Twilight.
16. Cheryl Cole
There are no losers here. Cheryl Cole looks terrific with both blonde and brunette hair. Both colors look great with her skin tone.
17. Sandra Bullock
Sandra's naturally dark hair color is the clear winner here. She shocked us all with blonde locks, and they grew on us over time, but her brunette hair is just lovely.
18. Demi Lovato
Brunette hair comes out on top here. Demi Lovato has experimented with many hair colors, blonde hair being the least edgy among them. But her brunette hair is incredible and makes her brown eyes appear lighter.
19. Lauren Conrad
Lauren Conrad is a blonde bombshell. Her blonde locks look great with her eyes and skin tone.
20. Victoria Beckham
This dark haired beauty shows us how brown hair can accentuate your chiseled facial structure.
21. Sierra Miller
Sierra Miller is a blonde deity. Her bluish gray eyes are accentuated by her blonde hair color. The color also suits her warm skin tone.
22. Dakota Johnson
Dakota Johnson looks incredible with brunette hair. Her cheekbones look soft, and her gray eyes look lovely with this hair color.
23. Amber Heard
Amber Heard is another beautiful example of how blonde and brunette hair look great on fair warm tones. You can see how light makeup with blonde hair makes her face look soft, but bright makeup and brunette locks give her a warm look.
24. Emilia Clarke
It's how you style your hair that decides which color is the winner. Emilia Clarke stunned us as Khaleesi with blonde locks but, at the same time, she looks gorgeous with her brown hair.
25.Emily Blunt
Emily Blunt has naturally dark hair, but I have to agree with her kids. Blonde hair suits her better. The blonde hair works well with her gray eyes and skin tone.
There you have it – the basic difference between blonde and brunette hair. It's the person (and not their hair color) that makes the personality, so don't stereotype. Both shades are stunning! Comment below to let us know which hair color you prefer – blonde or brunette.
Recommended Articles:
The following two tabs change content below.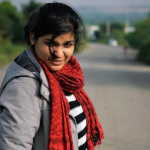 Anjali Sayee is a writer and an introvert. From studying Aeronautical Engineering and wanting to design her own airplane to writing articles on hairstyles, she has been on quite a journey. She believes that hair is one of the key factors that define a woman's personality. To quote her, "What's the first thing they do in the movies to show a personality change? Change the hair – because it has a life of its own." She's here to help you find the hairstyle you need. This bookworm is a self-professed Wholocker, a talented drummer, and an amateur photographer.