15 Differences Between Love And Being In Love We all fall in love, and our lives are surrounded by our near and dear ones with whom we connect and exchange love. But, have you ever thought about the difference between being in love with someone and loving someone? Well, it can be confusing, as both terms sound similar. However, in reality, there lies an ocean of differences between the two.
Being in love is often considered a giddy feeling, especially during the beginning of a relationship. You may feel excitement or a rush of emotions when you see your partner, which may be fuelled by sexual attraction or infatuation. But, loving someone means you care deeply about one another and foster a strong emotional bond. You want to stick it out through the good and bad times, ensuring that your relationship stays strong.
Are you trying to figure out if you're in love with your partner or love them? We list 15 of the biggest differences between the two terms to help you identify whether you have a strong connection with your significant other.
15 Difference Between Love And Being In Love
1. Ownership Vs. Partnership
Being in love with someone may come with a strong sense of ownership and control over that person. You tend to ignore the individual qualities of your partner and may not feel like giving them their space.
However, loving someone allows you to set the right boundaries with one another and feel more like each other's equal partners. Since your relationship is fuelled by warmth and trust, you do not feel insecure about limiting each other's freedom and personal space.
2. Temporary Vs. Forever
Being in love with your partner is a temporary phase that you enjoy during your initial courtship days. During tough situations or constant arguments, you may struggle to understand each other's feelings, leading you to end things. You may also experience fleeting commitment and want to end things at the slightest inconvenience.
On the other hand, when you love your partner, you work together to move past the roadblocks in your relationship. You understand them and always put in the effort to make the relationship last. You and your significant other may also make future plans, signaling that you both want your love to last forever.
3. Busy Vs. Available
Everyone is busy in their lives, and the only way to spare some time for someone you love is by managing your schedule. When you are in love, you may find it hard to make time for your partner. You think just the feeling of love is enough to make the relationship last.
But when you love your partner, you come up with many ways to spend some quality time with them. Since you want to be a big part of their day-to-day life, you will always try to manage your schedule when you love someone.
4. Desire Vs. Priority
It's okay to accept that, for some couples, sex is the top priority in their relationship. It brings them closer and provides a sense of acceptance and happiness. But, you do not desire a purely sexual relationship when you love someone – maintaining intimacy outside the bedroom is desirable, too. The romantic feelings fade away after a while, but the desire to build each other up and help one another grow is strong.
Since you care deeply about them, you will prioritize motivating and appreciating each other over sexual attraction. You admire them for their good qualities and always want the best for them – even if it involves putting their needs above yours. In contrast, you tend to put yourself first when you are just in love with someone.
5. Changes Vs. Acceptances
When you are in love with your partner, you may not be willing to overlook all of their annoying quirks. While you can still learn to accept your partner or spouse's flaws with time, your likes and needs matter more than theirs.
To love someone truly means to genuinely care about them. It involves loving the good and the bad within a person. But, you do not necessarily have to accept the bad or negative traits of your partner. If they love you, they will be willing to work on their flaws to some extent, too. That is why it is important to talk about what bothers you and work on these issues to keep your relationship going strong.
If you or your partner find it hard to compromise, you are more likely to be just in love with each other.
6. How They Make You Feel Vs. How You Make Them Feel
Being in love involves focusing more on how your partner makes you feel rather than the other way around. Loving someone, however, involves going out of your way to make your partner's day special in order to make them happy.
Loving someone is measured through the work and effort you put in to make your lover happy, not what they are doing to make you happy. You take care of them like you take care of yourself – or go even beyond! When you love someone, each other's happiness is what matters more.
7. Attention Vs. Security
When you are in love, everything feels exciting and new. However, your relationship may be lacking a feeling of security that may make you crave their attention. This could be because you do not trust your partner completely yet. However, when you love someone, this craving for attention changes to a sense of security.
Loving someone is a lot more stable, reliable, and secure than being in love. You know you and your partner are both committed to the relationship, so you are not trying to get their attention all the time.
8. Choice Vs. Passion
Being in love with someone happens by choice. You may decide to date someone because of their personality, looks, attitude, qualities, etc. As stated before, once you know their shortcomings, you may be tempted to abandon the relationship. However, you know you love someone when you overlook these factors over time. The only thing that matters is the amount of time you give each other to continue staying in love.
9. Agreements Vs. Disagreements
When you are a couple, you know that you probably won't see eye to eye on every issue. But, how you react to the disagreement is the real difference between loving someone and being in love.
When you love your partner or spouse, you don't have to think about opening your heart to them. You can convey and share whatever you want with your partner and be your true self around them without any second thoughts. However, you should also learn to appreciate your partner's point of view and make decisions for the well-being of the relationship.
On the downside, if you think that your partner does not respect your thoughts or opinions, you may not love them completely. Holding back how you really feel and what you really think is a major sign that you lack trust in your partner.
10. Rekindling Love
Work pressure, family responsibility, and other chores can dampen your relationship. Therefore, there is always a need to rekindle the spark. When making an effort to do so comes naturally and does not really feel like effort, it is a sign of loving someone.
But if you feel that your partner must always make an effort, you are probably in love. True love should not feel like a competition between the two of you. Whatever effort you put in should be in favor of your relationship and not your egos.
11. Being Together Vs. Going Your Way
When you love your partner, you look forward to spending more time with each other. You make an effort to manage your daily chores and spend the rest of the day watching the movie you both like, listening to good music, or just being intimate.
Naturally, wanting to give each other space once in a while is not only normal but also important. But if you love your partner, you want to be more involved in the relationship and try bonding activities that match both your interests.
On the other hand, if you focus more on being your own person and prefer to live a largely separate life, you may only be in love with them. You may feel like doing activities that only you like without thinking of involving your partner.
12. Steady Feelings Vs. On-And-Off Thoughts
When you love someone, you have constant and consistent feelings for each other. Your feelings do not change based on what your partner says or does. For instance, if you had a bad day or disliked something they said, it does not mean that you start arguing, fighting, or talk about leaving. Rather, you tend to act with patience and kindness towards them – even when you are arguing.
But, being in love is like an emotional rollercoaster. Since it is more energetic and spontaneous, you may feel like you like your partner one moment and dislike them the next. A love that is fuelled only by romantic feelings and infatuation will prevent you from understanding and trusting your partner. So, if you start blaming your partner after a fight or think that they don't appreciate you, you might only be in love with them.
13. Ups And Downs
Every relationship has its ups and downs. Once the rush that comes with being in love fades away, you may find yourself fighting and blaming each other more often. But, only those who have the power to sail through the storm can survive.
If you and your lover stick to each other through every course of life, you love each other. You are loyal and willing to stand by them no matter what. However, being in love does not guarantee resilience in your relationship, and you or your partner may be more inclined towards leaving when you hit a rough patch.
14. Comparison Vs. Acceptance
If you ever feel that you could have gotten a better partner due to any reason, you may not love your partner. Comparisons can ruin a relationship.
As stated before, true love feels unconditional. You learn to be okay with your partner's quirks and flaws over time and avoid comparing them to others. So, if you constantly find yourself comparing your partner to other people, then you are probably just in love.
15. Connection
A deep heart-to-heart and mind-to-mind connection are pivotal in any relationship. If you feel that you and your partner share good chemistry and make each other laugh, it's a clear sign of loving someone. You know them intimately, and they feel like your other half.
But, if you are just in love, you may not have a deep connection. Perhaps you or your partner overlook each other's thoughts and don't offer each other much respect and attention.
Closing Thoughts
Being in love and loving someone are two different things. When you are in love, you tend to focus more on yourself rather than considering what your partner may need. But when you love someone, you are passionate, adjusting, and understanding.
Once you learn to read the signs and tell the difference, you will know beyond a shadow of a doubt whether you love your partner or are just in love with them.
Recommended Articles
The following two tabs change content below.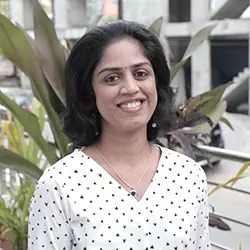 As Chief Editor, Harini sets the tone and editorial direction for StyleCraze to deliver engaging, interesting, and authentic content revolving around women's health, wellness, and beauty. She has over 14 years of experience in content writing and editing for online media. She specializes in the areas of Beauty, Lifestyle, and Health & Wellness and is proficient in Medical Sciences (Biology, Human Anatomy and Physiology, and Biochemistry). Her background in Biomedical Engineering helps her decode and interpret the finer nuances of scientific research for her team. Harini is a certified bibliophile and a closet poet. She also loves dancing and traveling to offbeat destinations.