12 Different Body Shapes Of Women
Your handy guide to understanding different body postures that are unique and beautiful.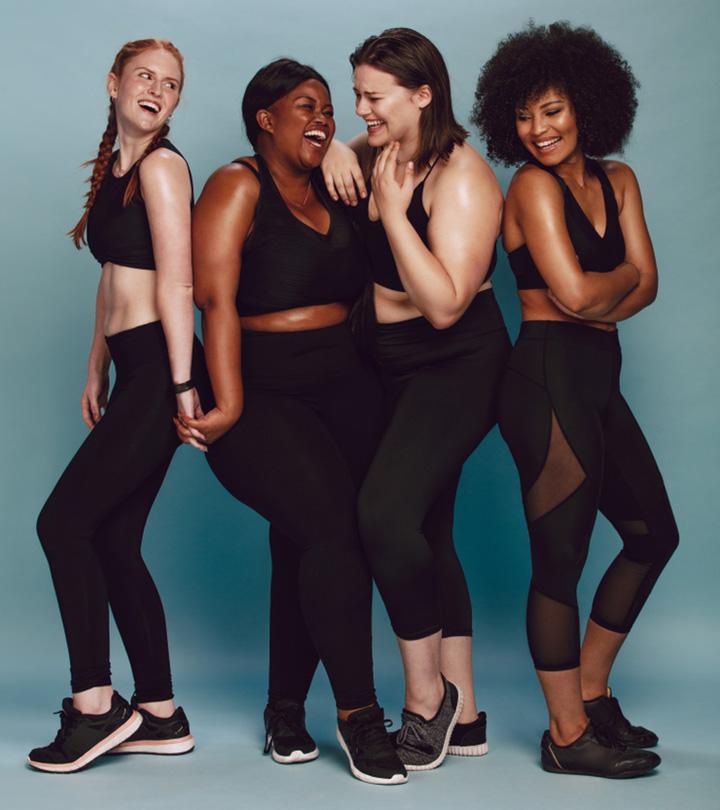 There are many body shapes of women. Each of them is beautiful in its own way. Body shape is determined by bone structure, genes, age, fat distribution, muscle mass, and lifestyle. You could often be puzzled by the common question, 'what is my body type' or 'what is my body shape', but let's finally put an end to that confusion as this article will help you get familiar with your body type. So read on to learn about the different body shapes of women and the styling tips to enhance the best part of your body. Scroll down! Remember, there is no perfect figure for women and all are beautiful.
Body Shapes Of Women
Some research suggests that there are over nine types of female body shapes (1). However, all these broadly fall under 5 categories. Any other body figure is either a mix of two body shapes or a synonym of the five body shapes. Many blogs also interchangeably use the terms 'body type' and 'body shape.' Read on to know about the different female body types and types and understand which one you have.
1. The Straight Body Shape
You know you have a straight body type if you have the same measurements for all sections of your body. This type of body shape is popularly known as the supermodel body. It is also called a rectangular or ruler body. Since it does not have a well-defined waistline, the body tends to look straight.
What To Wear
Tube tops or polka dresses would look charming on you. They not only suit the shape of your body but also highlight your features. A nice and snazzy belt along with a tube dress would be a stunner. This will also help you create a slim and sexy hourglass silhouette. Those with a full-figured, curvy body should wear wide belts to help draw attention to their cinched waist. You can wear bright colors and try different textures and cuts.
What Not To Wear
Do not wear clothes that highlight your waist. Avoid wearing rigid and shapeless clothes. If you have a petite frame, avoid wearing a wide belt as it can make you look shorter than usual.
2. Pear Body Shape
If you have large hips and a tiny bust, you have a pear-shaped or triangle-shaped body. You have broad hips, and your waist section can look beautiful if you dress up the right way.
What To Wear
Wear bright scoop-neck and boat-neck tops. This will make your shoulders look wider. Gorgeous bracelets and accessories should be used to highlight the appearance. Also, wear a push-up bra or a padded bra to make your upper and lower bodies look balanced.
What Not To Wear
Avoid wearing balloon dresses, cigarette pants, and tight skirts.
3. Apple Body Shape
You know you have an apple-shaped body if you have a larger bust as compared to the hip section, an undefined waist, round shoulders, a smaller hip, and slimmer legs and arms. You also tend to put on weight first in the upper body section than the rest.
What To Wear
Wear soft-textured fabrics, A-line dresses, shirts with a tie below the bust line, tops that fall lower than the hip bone, tops with cuff sleeves, well-fitting clothes, V-necks, scoop tops, ruched t-shirts or shirts in the middle to give more definition to your mid-section, flowy dresses from down your bust line, necklaces that come until your bust and not lower or higher, short dresses, dresses which have darker sides and lighter middle section all the way down, well-defined shouldered blazers, summer jackets, jeans coat, boot-cut jeans, flared bottom jeans, jeans with back pockets to give more definition to your hips, low waist jeans, define your waist by wearing high-waisted shorts, heels, sandals with straps, wedges, and platform shoes.
What Not To Wear
Avoid clothes that are tight-fitting, rough-textured, shapeless, and boxy, tight skirts, jeans, or pants that have a minimum or no details near the waist to prevent drawing attention to your waist. Also, avoid turtle or round necks, dresses with waistlines, off-shoulder tops and dresses, boat necks, halter necks, jeggings, boots, kitten heels, necklaces near your neck, and broad belts.
4. Spoon Body Shape
The spoon body shape or the pear body shape is characterized by large hips that are bigger than the rest of the body. This creates a nice shape that resembles the number 8. You tend to gain weight in the upper section, especially the stomach region. Love handles are your biggest issue, and you tend to gain weight in your thighs and arms section easily.
What To Wear
Choose clothes that have lighter color in the upper body region but darker in the middle and lower body region, strapless, boat necks, wide necks, short skirts and shorts to show off your legs, tops with embellishments or patterns that add volume to your bust line, A-line skirts, boot cut jeans or trousers, mid-rise jeans, padded bras, chunky earrings and necklaces, well-defined shouldered jackets, dresses, and tops, well fitted dresses around the waist, bags that come until your hip bone, peep-toes, flats, and ballerina shoes with pointed toes.
What Not To Wear
Tapered ankle trousers or jeans, tops with a tie just below your bust line, shapeless shirts, short sleeves with round neck tops, dresses that are overly ruffled or pleated below your bust, wide stripes near your mid-body region, narrow-shouldered tops, shorts or skirts that end just below your hips, rounded toes shoes, strappy sandals, and kitten heels.


Trivia
Marilyn Monroe, Salma Hayek, Beyonce, and Catherine Zeta Jones are some of the celebrities with a spoon body shape.
5. Hourglass Body Shape
Your buttocks and bust line are well-balanced, and the waist is also defined. Your buttocks are round naturally, and your body is in proportion throughout. You have slightly rounded shoulders that align perfectly with your shapely buttocks, and your legs are in proportion with your upper body.
What To Wear
Accentuate your waist and wear clothes that show off your perfect curves. Wear broad belts over your shirt or dress, wrap-around tops and skirts, flowy dresses, skirts, well-fitting tops, fitting jackets, tops or dresses with pleated waist, pencil skirts, ¾ skirts with side or back slits, jeggings, boots, strappy sandals, high heels, peep toes, and necklaces that fall till your navel.
What Not To Wear
Stay away from shapeless and loose tops and dresses and gaudy embellishments.
6. Inverted Triangle Body Shape
If you have broad shoulders, small hips, and slender legs, then you have an inverted triangle-shaped body. Though you do not have a well-defined waist, your upper body is voluminous and should be accentuated to draw away attention from the waist.
What To Wear
Ruffles around the neck, peplum tops, jeans with back pockets, low waist jeans, checks and stripes in slanting angle, front pockets in skirts, satin dresses, V-necks, A-line dresses and skirts, fish cuts, shorts, chunky shoes and earrings, slender necklace, long dresses, high-waist pants, bell-bottoms, and sequined skirts.
What Not To Wear
Baggy and shapeless dresses and tops, pencil skirts, tapered jeans and trousers, spaghetti and noodle straps, ¾ sleeves, horizontal stripes across your shoulders, baggy waistline, and padded shoulders.
7. Oval Body Shape
If you have an oval body shape, your bust will be larger than the rest of your body. The hips will be narrow, and the midsection will look full. Women with these body shapes tend to gain weight in their stomach before anywhere else. The waist is not very well-defined and ends up being the widest section of the body. The buttocks are flat, and the legs are slender.
What To Wear
Wear square neck, V-neck, and U-neck tops or shirts. You can also wear wrap-around tops, skirts, and jackets to slim down your mid-body area, vertical stripes, peplum tops, tunic tops, belted dresses and tops, wide-collared jackets, fish-cut or flared skirts, cargo pants with pockets near your hip, empire-waisted dresses or tops, dresses or skirts just above your knee to show off your legs and make you look well proportioned, high heels, long and slender earrings, and necklaces that fall until your cleavage.
What Not to Wear
Avoid wearing tapered jeans or trousers, loose-fitting tops, wide stripes, ruffles, pleated skirts, baggy jackets, tight t-shirts, high necks, turtle necks, cardigans, chunky earrings and necklaces, round-toed shoes, heavy boots, and flats.
8. Diamond Body Shape
If you have a diamond-shaped body, your hips will be broad, and your bust will be narrow and in alignment with the shoulders. Your midsection looks full, like the oval-shaped body. You tend to gain weight around the stomach, and your waist isn't well-defined. You have a little more weight in the upper legs. Your arms are also slender and well-shaped. The lower legs are shaped well, and they happen to be your body's best feature.
What To Wear
The key to dressing well would be by creating a wonderful balance with your bust. This will make the waist look lovely. You could also look for clothes that have curves. You can go for pants and skirts that will make you look slimmer. Since you have sexy lower legs, make an effort to show them off! Wear belted tops and dresses, flowy cuff sleeve tops that flow around the buttocks, fluttered sleeves, dark jeans or trousers, off-shoulder or strapless tops, A-line and straight skirts, boot cut and straight cut trousers, well-structured shouldered jackets and shirts, wide belts, chunky earrings and necklaces, medium-high heels, and wedges.
What Not To Wear
Avoid pencil skirts or tapered trousers and jeans, big prints, gaudy embellished tops, vertical patterns and prints, thick scarves that sit around your neck, and heavy boots. This holds especially true for plus-sized or voluptuous body shapes as these outfits can make you look wider than usual.
9. Top Hourglass Body Shape
It is quite similar to the hourglass shape. Your waist is the most gorgeous section of your body. You should definitely make an attempt to highlight it. Your shoulders will be a little round, and the buttocks tend to be bigger than your hips. You will have a proportionate body and well-shaped legs.
What To Wear
The right way to dress would be by wearing clothes and tops that have narrow V-necks. If you are slightly overweight, have a chubby body, or double-chin, then wearing V-necks can help you look slimmer by creating an illusion of a long neckline. You should also try wearing dark tops. A couple of jackets and well-tailored shirts would look amazing. This will help you highlight the buttocks as well as the hips. Do remember to try skirts. You can play with the length too. But, if you have an average height, a knee-length skirt will help highlight your gorgeous waist.
What Not To Wear
Avoid baggy jeans or jackets, loose-fitting clothes, boxy shirts, stiff clothes, square necks, boat necks, frills and ruffles near your bust line, and wide striped skirts or trousers.
10. Skinny Body Type
You have a lean or skinny body type if your pelvis and shoulder are in perfect alignment. You have a small bone structure and are as light as a bird! You don't tend to gain weight quickly but do tend to lose weight with a blink of an eye. You have slender arms and legs. Your buttocks are flat, and you have a defined jawline. It is perfect as you can virtually wear all the hip clothes and look flawless.
What To Wear
Tapered ankle-length jeans or trousers, balloon skirts, and pants, baggy jeans, harem pants, light-colored dresses, belted tops, tunics, and flowy dresses, low waist jeans, push up and padded bra, crop tops, bat-winged tops, flowy fabric, high neck tops with fluttered sleeves, long skirts, pencil skirts, balloon tops, peplum tops, platform heels, pencil heels, wide stripes, broad stripes, thigh-high boots, coats and leather jackets, jeans with hip pockets, sequined belts and shrugs, and colourful flip-flops.
What Not To Wear
Skinny tops or skin-tight dresses, block heels, chunky plastic bangles, loose-fitting dresses and tops, dark color jeans or trousers, and big floral prints.


Quick Tip
If you are skinny but not tall, it is best to choose bob cuts or short hairstyles. However, long hairstyles will look good if you are skinny and tall.
11. Athletic Body Type
You know you have an athletic body shape if you have well-toned, attractive curves. You basically have a more muscular body, tight thigh and calf muscles, well-built shoulders, and a broader and elongated neck. Also, your arms are well built and toned but not flabby.
What To Wear
You can wear well-fitting knee-length dresses and skirts. Accentuate your curves by wearing belts above the waist with dresses, wrap-around dresses and tops, off-shoulder tops and dresses, boat necks, tube tops, and high neck tops. You can also play around with sleeve lengths, sportswear, sports shoes, chunky shoes, slender and long earrings, collarbone length necklaces, medium heel pumps, and pencil heels.
What Not To Wear
Steer clear of padded shoulder tops, dresses, or jackets, baggy jackets, boxy shirts, V-neck, plunging U-neck, noodle or spaghetti straps, halter neck, strappy sandals, flats, and chunky earrings.
12. Lollipop Body Shape
Yeah, that name surprised me too! But did you know that Angelina Jolie also has a lollipop body shape? The lollipop body shape is characterized by a full, round bosom, a slim waist and hips, legs that are long, and shoulders that are broad.
What To Wear
Wear dresses and tops that broaden your hips and shoulders, V-necks, off-shoulders, boat necks, wraparounds, thigh-high slits, pencil shirts, slender and flowy dresses, pseudo-leather jackets, peplum tops, coats with belts, tapered pants, high heels, walking shoes, and wedges.
What Not To Wear
Loose and boxy skirts and tops, long skirts, chunky necklaces, high-waisted pants, bell bottoms, heavy sweaters, empire dresses or tops, bolero jackets, and turtlenecks.
Knowing your body type will definitely amp up your fashion style. But does this mean you only have to dress according to body shape? Jalisa, a fashion blogger and retail worker, shares her experience with body shapes and styles in her personal blog. SHe feels that knowing and dressing per your body shape will definitely increase your confidence. She writes, "Dressing according to your body shape doesn't mean that you're limiting yourself to wearing what you want because I highly doubt that most of you would want to wear a dress that's far from flattering, simply because you love the print or color of it. Knowing, working with and defining your body shape is simply outlining your silhouette, while wearing your favorite color(s) or piece that is most reflective of your personal style is what you color within those lines (i)."
Now that you've found your body shape, one question remains unanswered – can body shape change? Scroll down to find out.off shoulder tops for women
Can Body Shape Change?
The body shape might change in women depending on age, pregnancy, eating habits, and lifestyle (2). The main bone structure remains the same, but pregnancy might make your bust line larger or hips wider.
Similarly, an unhealthy diet and lifestyle may lead to abdominal fat, thereby changing the appearance of a pear or hourglass to a straight body shape. Also, eating healthy and exercising may cause an apple body shape to appear square or rectangle-shaped (banana body shape).
Infographic: Exercises For 10 Common Women's Body Shapes
While styling according to your body shape is essential, fitness plays a significant role too. But know that your fitness regime and goals may vary depending on your body shape. Therefore, to help you identify what's suitable to look your best, we bring to you an infographic of exercises perfect for the 10 most common women's body shapes. Check them out right away.



Your body is beautiful. Despite what some may attempt to convince you, there is no such thing as the perfect body shape for females. All that matters is your health and happiness. You can discern where you belong based on the body shapes listed above, and given that your body is your most valuable asset, choose your dress code properly to showcase your body as it should be. Do not pay heed to society's talk of the ideal body shape for women or how girls' body shape should look like. The female body structure is often targeted and is the center of gossip, thus it is important not to let it affect your opinions and self image. Talk to your doctor if you have any concerns about how your body looks or feels. They will be able to advise you on the best course of action.
Frequently Asked Questions
What is the most common female body shape?
The rectangle is the most common female body shape.
What is the rarest body shape among women?
The hourglass is the rarest body shape in women.
Which body shape is better – apple or pear?
A pear body shape is considered better than an apple body shape. It's because an apple body shape has a higher waist-to-hip ratio and is usually seen in women with metabolic syndrome.
Key Takeaways
The typical body shapes are the rectangle, inverted triangle, hourglass, apple, and pear.
Instead of attempting to fit into a particular trend or style, it's crucial to dress for your body type.
For an hourglass-shaped physique, stay away from loose, shapeless blouses and dresses as well as garish decorations.
Encourage women to appreciate their distinctive body forms and feel confident and beautiful by promoting body positivity and self-acceptance.
Get fashion tips tailored to your shape and learn how to look your best. Check out this video to discover your body type and learn how to dress according to it!
Personal Experience: Source
i. PERSONAL STYLE VS. BODY SHAPE: ARE BOTH (EQUALLY) IMPORTANT?
https://thestylecontour.com/Blog/article/personal-style-vs-body-shape-are-both-equally-important-
The following two tabs change content below.