Different Face Shapes Need Different Kinds Of Makeup
Get an idea of working with makeup that complements your face shape in the best ways.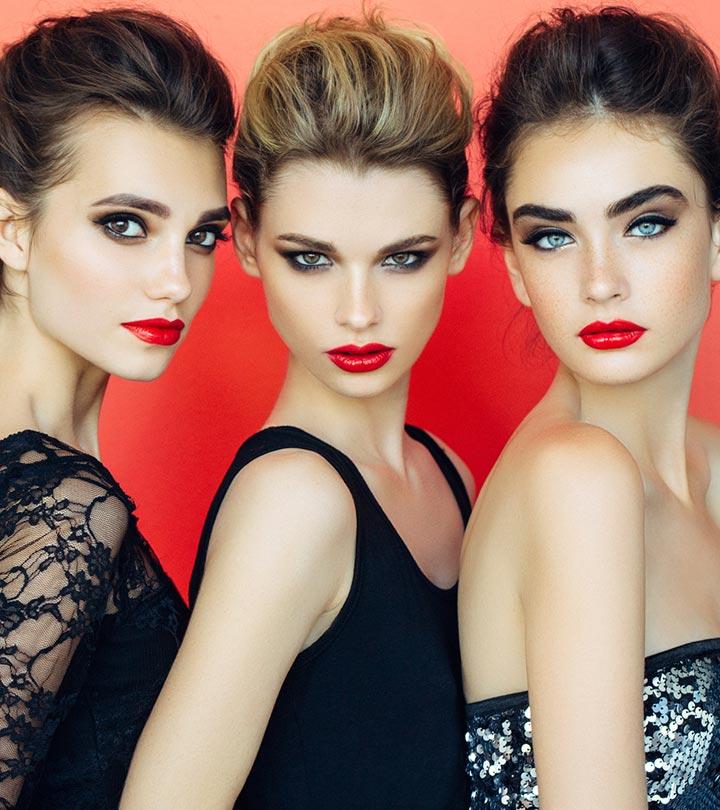 Your face shape plays an important role in nailing your perfect makeup look, as makeup for different face shapes varies with their features. Often, we copy the constantly changing makeup trends of different celebrities and supermodels without considering the different face shapes. As a result, something that looks gorgeous on a certain celebrity does not look half as impressive on us. Therefore, the first and foremost step in deciding on a makeup look is to find out your face shape.
So, if you have not already found out about your face shape and the tips and tricks particular to it, take a quick read through this article. Scroll down!

Keep In Mind
Identify Your Face Shape: Use a measuring tape and measure the length and width of your face. Pay attention to the angles of your hairline and jawline.
Hairstyle: For a round face shape, opt for a high ponytail; for a square face shape, opt for waves and curls. For a heart face shape, opt for chin-length bobs; for a long face shape, opt for a layered bob.
Attire: For a round face shape, opt for v-neck tops and with blazers. For a square face shape, opt for A-line dresses; for a heart face shape, opt for flared pants. For a long face shape, opt for a boat-necked top with cropped pants.
Jewelry: For a round face shape, opt for long earrings; for a square face shape, opt for hoop earrings; for a heart face shape, opt for teardrop earrings. For a long face shape, opt for chunky earrings.
Makeup For Different Face Shapes
Let's have a deeper insight into the face shapes and correct makeup for face shapes which one needs to follow:
1. Makeup For Oval Shaped Faces
The most common face shape is that of the "Oval" shape. I, myself have that shape so am going to get to the topic right away! Well, Jessica Alba's face is also sort of Oval Shaped as you can make out from the picture!
The first objective is to make the face look more elongated, so as to minimize the oval effect of the face. For this, we have to concentrate on our blunt features, if you do have any. Most people with an oval face do not have a pointed and sharp nose. So after applying foundation, what you can do is take some bronzer and apply it between your thumb and first finger and then stretch your thumb and first finger along the length of your nose from top to bottom ( on the sides I mean). In this way, your nose will get the shadow effect on the sides, and the top will remain in foundation looking fairer and heightened. This is a makeup trick that a few makeup artists use for oval-shaped faces.
Next comes eyebrows. High arched brows can give a more oval shape. It is recommended that you go to a professional to get your eyebrows shaped as per your needs. This will also prevent you from over-plucking your brows.
While doing makeup for eyes or lips, concentrate on any one feature, either eyes or lips keeping the other simple. You can either go for bold eyes and a nude lipstick, or a bold lip color and simple eye makeup.
Use blush to make the face look elongated. Suck cheeks in and use blush on the contours (not onto the apples) of your cheeks. It's a damn good technique that makes your face look sleek and stylish! I can BANK on this one. And one more thing, you can use a little blush on the sides of your chin, not in the absolute front. This enhances this effect! You can also add some highlighter to your upper cheeks and bronzer under your cheekbones to add a warm glow and definition to your cheeks.
2. Makeup For Oblong Shaped Faces
Who better than Milla Jovovich ( the Resident Evil Star) to refer to when talking about this face shape? Mainly since the new movie is all set to hit the theaters soon.
Well, I don't have this face shape, but my friend does, and I've seen what she does, well she is also a Google person and learns tricks from here and there.
Here is a tested version, I am sure you'll love it.
If your face is oblong or rectangular, then your first and foremost motive will be to show the face as oval.
Make brows a little arched than the normal run of your brow bones. This will make your face look a little more oval and round.
Use Pinkish (light) shade on to the sucked cheeks ( this will give a plumped up look) and use a rosy darker shade onto apples.
Make your eyelashes look bigger and more dramatic by using double curling (before and after use of mascara) or you may even experiment with darker false lashes. You can even layer your mascara and focus on the corners of your lashes to make them look longer and add a wow factor to your eyes.
Try to keep lips minimum and rosy pink, they look the best and full, to make your face appear fuller. Another option is going for a nude lipstick with some lip gloss on top. This will give your lips a fuller look. Avoid matte lipstick as it can make your lips appear less full.
Minimize sharp edges of the face (like sides of jaws and if your nose is real sharp, follow alternate technique refer to point 6 with a bronzer sweep.
Coming to the nose, like for an oval face you follow a side shadowing, here you need to follow a top shadowing technique. Do not use shadowing on the sides of the nose – let it remain covered in foundation. You can add some highlighter to the top of your nose and bronzer to the sides of your nose to help accentuate your features.
3. Makeup For Heart Shaped Faces
The best face to refer to when talking about heart-shaped faces is Reese Witherspoon's.
Here are a few makeup tips for this face shape. If you have a tapered jaw line and a wide forehead, like most heart-shaped faces, the first focus is to move away any attention from the wideness of the forehead. You can highlight certain features and turn down others to perfectly balance this face shape.
1. Use a bronzer or a foundation (darker to the skin tone) along the sides of the temples and the bottom of the chin. Use a highlighting powder and also on top of the nose. Side shadow the nose with a bronzer and add some color to the cheeks to accentuate the high cheek bones that are typical of this face shape.
2. Plump up your lips rather than your eyes. Use a lip plumper or a high-shine gloss and a bold lip color so that focus remains on lips and not on the tapering jawline.
3. Do not make the eyes too smokey, use lighter shades even if you go for a night out smokey effect.
4. Apply bronzer under your chin and contour your cheekbones with it by tracing the hollows of your cheeks.
5. Use a subtle shade of blush to add color to the apples of your cheeks.


Did You Know?
A heart-shaped face is also a feature of well-known celebrities like Jennifer Lopez, Scarlett Johannsson, and Deepika Padukone.
4. Makeup For Diamond Shaped Faces
The biggest concern with makeup for different face shapes is that they look very disproportionate, and this makes it very difficult to achieve a dazzling look! Use makeup to brighten the center of your face which brings attention to the center of your face. A lighter liquid foundation or highlighting powder will help you achieve this effect with ease.
Apply it to the forehead, bridge of the nose and center of the chin to draw attention to the center part of the face.
Using a bronzing powder or slightly darker foundation, contour the peak of the forehead, the tip of the chin and underside of the cheekbones for minimizing the width and giving the face a more proportionate look. Keep in mind that you should select a foundation that blends well with your skin tone.

Quick Tip
Apply your blush to the apples of your cheeks rather than the hollows beneath your cheekbones. Instead of a light or bright pink blush, use a tawny peach or brown tint. Keep away from illuminating or sparkly blushes. Your cheeks shouldn't appear any fuller than they already are.
5. Makeup For Round Shaped Faces
Round face has equal length and width. So when it comes to makeup, you will have to create the illusion of length. Contouring is very important for this face shape.
A bronzer can work as a contour when applied to the temples and beneath the jaw line. Doing so will create the illusion of an oval face. Also, highlight the forehead, area under the eyes and the chin to draw attention to the center of your face.
A blush can be applied just beneath the cheekbones to give them definition, or apply it directly to the apples of the cheeks to accentuate their perfect shape. Do apply the blush in upward strokes to give a slimming effect.
A little care needs to be taken regarding the colors as bright colors only accentuate the roundness of the face. If you do not know which color to choose, stick to neutral shades as they are the safest bet.
Infographic: How To Apply Blush According To Your Face Shape
Makeup looks more realistic when you embrace your natural face shape. Besides enhancing your facial features, it can also give you rosy-looking cheeks. In the infographic below, we have listed a few tips to use the product the right way no matter what your face shape is. Take a look.


If you are aware of the shape of your face, you can pull off your makeup perfectly. Using a concealer, eyeliner, eyeshadow, lip liner, and brow pencil properly and in the right shades helps make your makeup look perfect. We often fail to achieve our desired look because we do not know what kind of makeup goes well with the shape of our face and how to contour our features correctly. But this article on makeup for different face shapes is here to guide you. No matter what the face shape is, a primer in the beginning and setting spray at the end is a must. Now that you have it all figured out from this piece, you are much closer to flaunting the look you have always wanted. So go ahead and get started.
Frequently Asked Questions
How does the shape of one's eyebrows impact the overall appearance of their face, and how can makeup be used to enhance the shape of the eyebrows?
The shape of your eyebrows can make or break your entire look. They help to add proportion to the face, enhance facial features, and help frame the face. Always pick a shade lighter than your natural color to get a natural effect and enhance the shape of the eyebrows. Use eyebrow pencils, pens, and powders to help accentuate your look.
What are some common makeup mistakes to avoid when applying makeup for different face shapes?
The wrong placement of contour, highlighter, and blush can ruin your entire look.You can also opt for a cream or powder formula that is not too dark in comparison to your skin tone to give a more natural and complete look.
Key Takeaways
For oval face shapes, use the bronzer along the length of the nose to make it look pointed. Do not highlight both the eyes and the lips. Use blush on the cheek contours to make it look elongated.
You can make an oblong face look oval with makeup. Begin by arching the eyebrows. Highlight the eyes with mascara. Give a fuller look to the lips with lip gloss. Use bronzer and highlighter to make the nose look elongated.
Highlight the high cheekbones of the heart-shaped face. Add drama to the lips with a plumper or a lip gloss. Do subtle eye makeup, and use bronzer on the temples and bottom of the chin.
Draw attention to the center of the diamond-shaped face by highlighting the forehead, nose, and center of the chin. Focus the forehead, chin, and cheekbones with the bronzer to give a proportionate look.
Contouring can make the round-shaped face look elongated. Use the bronzer on the jawline to give an oval shape illusion. Use the blush in an upward stroke at the cheeks to shape it to make it defined.
Learn how to contour and highlight according to face shapes with this tutorial video. Enhance your natural beauty and achieve flawless results with these transformative techniques.

The following two tabs change content below.