Different Types Of Curls – Curly Hair Type Guide
Discover your curl type and learn hair care hacks to keep them shiny and healthy.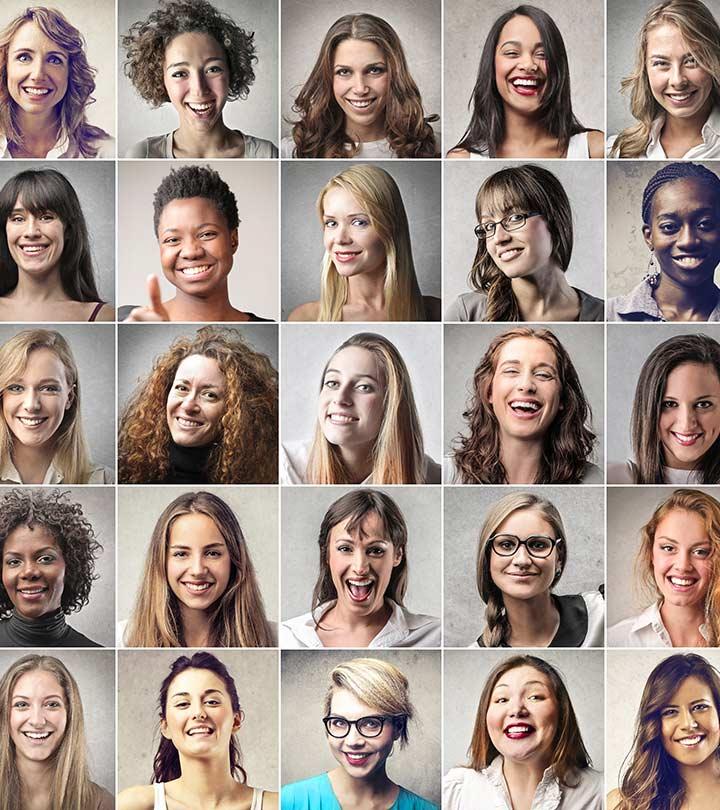 Many people are under the impression that curly hair is of one type. However, there are multiple types of curls, from 2C to 4C hair. The more you understand which type of curls you have, the better you can care for them. Nowadays, so many hair products are available claiming to solve your hair issues magically. But let's be realistic! Every product will not work on your hair. Like Liam Neeson, curly hair comes with its problems. Frizz, split ends, breakage, dry hair, oily scalp, loss of curl definition, decrease in hair elasticity, and coarse texture. To pick the right products that will enhance your hair health, you need to understand your curly hair type. Once that happens, you can fix your hair care routine, learn to style your curly locks to their full potential, and use better maintenance techniques. So, scroll down and discover your curl type now!

Before You Get Started
The curlier your hair, the farther away you need to stay from chemical and heat styling. Natural afros and protective hairstyles are the only healthy options for tight curl types.
To narrow down your hair care routine, alongside hair type, you also need to consider hair porosity and scalp health.
Using products that are not formulated for curly hair can lead to weakened hair bonds and damaged curls.
The Complete Curly Hair Type Guide
Before we answer that question, let's take a little bit of a history lesson, shall we? So, the first person to classify the different hair textures into different types was hair stylist Andre Walker. Now, Andre Walker styles the hair of THE Oprah Winfrey so you can rest assured he knew what he was doing when he divided the hair into 4 different hair types: Type 1- Straight Hair; Type 2- Wavy Hair; Type 3- Curly Hair; and Type 4- Coily Hair. Now, this system worked well and good until people realized that wavy hair, curly hair, and coily hair are not the same. There was a wide variation in the size of the waves, crimps, perm, curls, and coils that needed to be taken into consideration.
So, this is where NaturallyCurly jumped in. They divided the curly hair types into 3 more subcategories each – A, B, and C – according to the diameter of the curls in wavy, curly, and coily hair. So, in essence, there are 10 different types of hair: types 1, 2A, 2B, 2C, 3A, 3B, 3C, 4A, 4B and 4C. This distinction is important for the proper styling and maintenance of all hair types.
What Is A Curl Pattern?
Simply put, a curl pattern refers to how curly your hair is. Very loose textured curls are called 'waves.' Then come the more defined 'curls' that follow a proper spiral pattern. Lastly, we have the super textured kinky 'coils' that makes your hair look way shorter than it actually is because of how tightly the curls are wound.
Different Types Of Curly Hair – What Type Do You Have?
Well, now that you have a basic idea of what the 4 different curl types are, let's look at all the subcategories in detail to help you figure out exactly type of curly hair you have!
TYPE 1 – STRAIGHT HAIR
You must be thinking what straight hair is doing on a hair curl types guide. Well, type 1 straight hair refers to the absence of curls. This hair type reflects the most light, and thus, has the most shine. It is also the oiliest hair texture as the sebum (natural oils) are evenly distributed from roots to the tips of the hair without any curls acting as barriers.
Hair Care Tips For Type 1 – Straight Hair
Wash your hair with a gentle sulfate free shampoo thrice a week to get rid of the excess oil and grease from it without drying out your ends.
Steer clear of thick, creamy conditioners as they will only weigh down your hair. Instead, opt for lightweight formulas to condition and hydrate your hair.
Dry shampoos are a great way to get rid of oil and sweat between shampoos, especially right after workout sessions and other strenuous activities.
Always blowdry your hair while brushing it upwards to add more body and volume to it. Texturizing sprays and light weight mousses can also help you achieve this result.
A flat paddle brush should be your weapon of choice when you want to battle static and frizz and want to smoothen down your straight tresses.
TYPE 2 – WAVY HAIR
The texture of wavy hair falls somewhere between straight and curly. This type of hair lays flat and straight at the roots and forms loops as it goes down. These loose loops follow a lazy S-shaped pattern and add the slightest bit of curl to your hair. Wavy hair is less shiny than straight hair but definitely reflects more light than type 3 curly hair. It is also more prone to frizz than straight hair.
2A Wavy Hair
Type 2a wavy hair has a fine, messy, loosely tousled and beachy texture. It can almost pass off as straight except that it has the slightest wavy bend to it. Type 2a hair can easily be styled straight or curly with the help of heating tools. A lightweight mousse and sea salt spray are the best products to add volume and texture to such hair.
Expert hair stylist Paul Labrecque, with over 25 years of experience, mentions, "Waves sometimes need help staying in place and not looking limp. Gels and mousse-like products are ideal stylers. I highly recommend using a fade prevention foam and firm holding gel to protect your hair color while keeping it in perfect shape for a long time."
2B Wavy Hair
If your hair is straighter and flatter at the roots and transitions into more defined S-shaped waves from mid-lengths to the ends, then you have type 2b wavy hair. This type of hair is slightly more difficult to style and is frizzy at the top of the head. Mousses and gels work wonders with defining type 2b waves.
2C Wavy Hair
Type 2c waves start right from the roots and have more defined waves than the 2a and 2b hair. In fact, they could also have a few well-wound ringlet curls in them. This type of hair tends to be thick and is more prone to frizzing. A hair diffuser works wonders in unfurling these waves in all their glory.
Hair Care Tips For Type 2 – Wavy Hair
Leave-in serums and mousses are a must for people with wavy hair to combat their frizz. These products also help in defining the waves without weighing them down too much.
Wash your hair 2-3 times a week with lightweight shampoos and conditioners specifically made for wavy hair.
Since people with wavy hair tend to use more heat styling tools like straightening and curling irons, don't forget to use a heat protectant to protect your hair from damage.
Hair plopping with a soft cotton t-shirt is a great way to dry your wavy hair while adding oodles of definition to it. It also protects your hair from damage and breakage.
Wide toothed combs work the best when it comes to detangling wavy hair without disrupting its curly pattern. However, if you are a hair brush purist who can't imagine living without one, make sure you go for a vented brush with soft bristles.
TYPE 3 – CURLY HAIR
Type 3 hair is basically what people think of when they picture traditionally curly hair. These curls are super defined, springy, and form perfect ringlets. They have tons of volume right from the roots to the tips. However, type 3 curls tend to be dry because the curls act as a barrier for the natural oils from being evenly distributed down the length of the hair. The biggest concern for people with type 3 hair is to get rid of their excessive frizz. They also need to come up with a good hair routine that will add definition to their curls and prevent them from looking dull and lifeless.
Labrecque suggests, "Curly hair needs hydration to allow curls to expand and look looser and fuller. Plant-based mucilage styling products work great for this hair type. It is beneficial to use the right hair products such as hydrating hair lotion and curl defining gels for your hair type."
Type 3A Curly Hair
These big, loose curls follow a definite S-shaped pattern and each curl is about as thick as a piece of sidewalk chalk. People with 3a hair type face the problem of having too much frizz and their curls losing definition.
Type 3B Curly Hair
This coarse textured hair type has curls that are a little more tightly wound and are as wide as a marker pen. What 3b curls lack in shine, they more than make up for in volume. Styling creams specifically designed to block humidity work great to combat frizz and add definition to your 3b curls.
Type 3C Curly Hair
Often described as corkscrew or ringlet curls, 3c curls have the circumference of a pencil and are tightly packed together on the head. Thus, this type of hair tends to be voluminous despite being fine textured. Indulge in some hair stretching techniques to prevent your 3c curls from shrinking too much and looking shorter than they actually are.
Hair Care Tips For Type 3 – Curly Hair
Wash your hair with natural shampoos that are free of sulfate to prevent them from being leached of the natural oils and drying out.
It is imperative for people with type 3 curly hair to follow a LOC (Liquid-Oil-Cream) method to keep their curls sufficiently hydrated. This method involves regularly washing your hair with a hydrating shampoo and conditioner, treating it with a natural oil, and using a curl defining cream to, well, define the curls.
Avoid straightening your hair as much as you can to protect your curls from heat damage.
Sleep on a silk/satin pillowcase to protect your curls from breakage and getting dried out through the night.
Tie your hair in a loop bun right on top of your head and cover it in a silk scarf or bonnet to maintain the definition of your curls between washes. This is known as the pineappling method.

Quick Tip
It is recommended to wash your hair two to three times a week only if you have 3C curly hair.
TYPE 4 – COILY HAIR
Type 4 coily hair refers to tightly coiled, fine textured hair. The coarse coils of this hair type are tightly packed on the scalp, and thus, are very voluminous and fluffy. NaturallyCurly describes it as "actually the most fragile hair texture because it has the fewest cuticle layers to protect it from dryness." Coily hair is also the hair type that experiences the most shrinkage because of how tightly it curls.
Paul Labrecque says, "Super curly or what was traditionally called afro-texture, demands more care — more hydration and more time. Oils and creams work beautifully to help with frizz. Women with super curly hair can use these hair styling products such as hydrating hair lotion and grooming cream to take care of the texture."
Type 4A Coily Hair
Type 4a springy coils are wiry and fine textured as is characteristic of type 4 hair. These tightly wound coils follow an S-shaped pattern and are about as wide as a crochet needle. Thick natural creams (like shea butter) work brilliantly to moisturize this hair type.
Type 4B Coily Hair
If your curls follow a sharp Z-shaped pattern and are as wide as the spring inside a pen, then you have type 4b coily hair. These coils can either be fine or coarse textured. It's best to treat this type of hair with coconut or castor oil before washing your hair to retain some of the natural sebum of your hair.
Type 4C Coily Hair
The coils of type 4c hair are extremely similar to those of 4b hair. The difference lies in the fact that 4c hair lacks definition and is more prone to shrinkage, thus appearing much shorter. Since it is the most delicate of hair types, it needs to be treated gently with a creamy humectant before being detangled.


Did You Know?
Global celebrities such as Viola Davis, Jessica Williams, Teyonah Parris, and Lupita Nyong'o are known for flaunting their natural 4C hair.
Hair Care Tips For Type 4 – Coily Hair
Moisturize your coily hair with hair creams and natural oils every 2-3 days. This may seem a little excessive, but you need to keep in mind that your natural oils cannot travel down the length of your hair because of the tightly wound coils, thus leaving your ends feeling absolutely parched.
On that note, deep condition your coily hair at least twice a month to keep it sufficiently hydrated.
Avoid blow drying your hair as it can cause some major breakage.
Work with small sections and use a wide toothed comb when detangling your hair to prevent your hair from breaking right from the middle.
Wear a satin bonnet on your head or sleep on a satin pillowcase to prevent your coily hair from getting too tangled and dried up while you sleep.
Paul Labrecque suggests, "I also want to stress that you should dry your hair naturally or slowly with a diffuser if you must heat style. When diffusing, don't handle your hair until it is almost completely dry. Try to twist your hair so that the curls stay separated and loose.
If you live in a humid climate, please embrace your natural texture. Trying to dry and style your hair straight on a regular basis in this type of environment will destroy your hair."
Infographic: Curly Hair Mistakes To Avoid
Different hair types require different hair care regimens. There is a lot of advice on what works for curly hair, but not enough on what does not. Since taking care of curly hair could be tricky, we can help make it easier.
Check out the infographic below to know what to avoid to maintain healthy and bouncy curls.


Initially, hair types were classified into 4 main categories—straight, wavy, curly, and coily. However, later on, three more subcategories were added to bring further clarity and distinction to the types of curls, as it was seen that curls, waves, and coils varied greatly in curl pattern even within their own categories. The alphabets A, B, and C are used in accordance with the diameter of the curls in wavy, curly, and coily hair. So, in essence, there are 10 different types of hair: types 1, 2A, 2B, 2C, 3A, 3B, 3C, 4A, 4B and 4C. This distinction is important for the proper styling and maintenance of all hair types.
Frequently Asked Questions
What are the best hairstyles for different types of curls?
A top knot or a medium bob will suit Type 3A. Try a jumbo box brain for type 3B. Long, loose hair will also look great. Finally, a faux cut or long Dutch braids will look good on 3C.
What are some tips for creating defined, bouncy curls?
Always cover your hair with a silk scarf before going to bed. Try adding moisturizing products and using curl-defining creams for that extra bounce.
What are some easy and quick hairstyles for days when you don't have a lot of time to style your curls?
Try making a bun and wrapping a scarf around the bun to make it look more stylish.
Can different curl patterns benefit from different hair treatments and masks?
Lightweight water-based creams may work best for people with type 3A curls. If you have type 3B or C hair, try moisturizing with milk, mousse, and custards. A fantastic way to keep moisture in your hair is to spritz it with water.
How can you revive limp, lifeless curls and bring back bounce?
Remove the buildup with a moisturizing shampoo and get a trim to cut off the damaged ends. Use moisturizing creams and weekly hair masks instead of heating tools.
Discover the different types of curls with their names from this video! From tight ringlets to loose waves, pick the perfect look for your locks.
The following two tabs change content below.