10 Types Of Manicures You Should Know About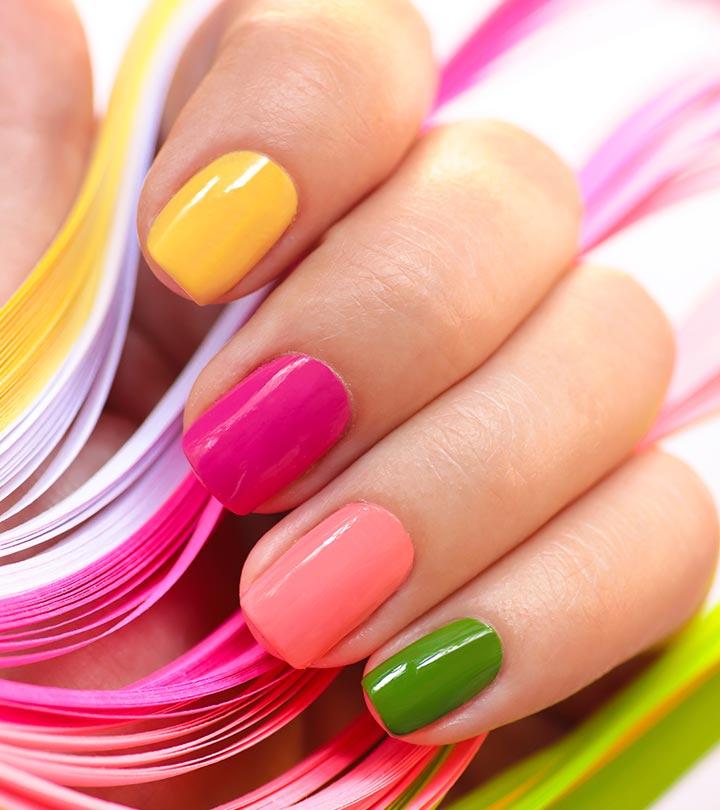 Whether you are totally into it or just love to spice up your nail game once a while, there is no dearth of reasons to treat yourself with a manicure. This is the simplest way to give a complete makeover to your hands. If you have the itch to get crafty with your nails, then here are some manis that you should try. Let's nail it!
10 Different Types Of Manicures To Try
In This Article
1. Basic Manicure
If this is your first time, then it's better to keep it simple and sweet. A basic manicure is fuss-free and is the best way to know what to expect in a manicure session. It's fast and simple. Also, it's easy to change if you are bored with it in a few days.
What To Expect?
Here, the manicurist first applies a lotion or cream or oil on your cuticles. Next, your hands will be soaked for 5 minutes in a bowl containing warm water. After that, the manicurist will dry your hands and clean the cuticles. The nails are trimmed, cleaned, and shaped. A quick hand massage follows this. After that, a base coat will be applied to your nails, followed by a color nail polish of your choice. The nail paint is then sealed with another coat of clear nail polish.
2. French Manicure
It's chic. It's stylish. A classic French manicure can never disappoint you. The crescent moon-like coats of white nail polish on the edges give your nails a crisp look. And nowadays the fashion-conscious divas continuously experiment with this classic form of manicure. So you will see a lot of varieties regarding color choices and embellishments.
What To Expect?
It's very simple. The manicurist will paint your nails with a clear or beige or pale pink nail polish. Once it dries, the tip of the nail is painted with white nail polish in a crescent shape. But you can also paint the tip in different shades if you want to – and then give a colorful twist to the classic French manicure.
3. Reverse French Manicure
The reverse French manicure is a quirky and stylish version of the classic French manicure. Unlike the latter, this one has the crescent moon painted in the darker shade at the base of your nail, which is close to the cuticle. This is simple and stylish, and you can easily do this at your home.
What To Expect?
First, your nails will be cleaned, trimmed, and shaped. Your hands are soaked in lukewarm water for a few minutes. After that, the cuticles will be pushed back or clipped – as the crescent moon shape will be painted near them. Once it's done, the nail is coated with clear nail paint. After it dries, a darker polish is applied on your nails. In this case, the moon will be painted in a lighter shade. However, you can even go for a darker moon with the rest of the nails in a lighter shade. Once the nail polish is applied and dried properly, the manicurist will draw the crescent shape moon at the base of the nail. It's finished off with a coat of clear nail polish.
4. Paraffin Manicure
If you have rough and dry hands, then a Paraffin manicure is the best way to take care of them. The manicure is like a specialized spa treatment for your hands. It involves a stimulating hand massage with oils. At the end of the procedure, you will be amazed by the softness of your hands.
What To Expect?
The manicurist first melts the paraffin wax in a melting device. After that, the wax is let to sit for sometime to lower its temperature. Meanwhile, your hands are massaged with oils or lotion. When the temperature of the wax is bearable, your palms are completely dipped into it. The hands are lifted and the wax is allowed to dry on your hands. It's again dipped into the wax and lifted. This process is done seven times so that your hands have seven layers of wax. The hands are then rested for half an hour. After that, the wax is cleared and this is followed by the regular manicure process.
5. American Manicure
American manicure is similar to a French manicure, but with a subtle difference. Here your nails get a more blended and natural look. Even the nail shape you get is different in this manicure. It's an elegant and go-to style for those who prefer a neutral look to luxuriously manicured nails.
What To Expect?
The initial steps are similar – your nails are cleaned and trimmed. Your nails are shaped and given a rounder form (unlike the square form in French manicure). After applying base coats, ivory shades are applied to your nails. The nail color is either airbrushed on your nails or simply applied with a brush applicator.
6. Gel Manicure
Gel manicures last long. If you are someone who is looking for a low-maintenance yet stylish option for nails, this is what you should go for. Gel manicure doesn't demand a frequent visit to salons for manicure sessions. It just involves the use of a special nail polish, which is cured under UV light for a long-lasting effect.
What To Expect?
The process starts with the basic manicure steps like nail trimming, cleaning, buffing, pushing the cuticles back, and application of base coat. Post this, two coats of a special gel polish are applied to your nails. Each coat is dried completely before topping it with the other. Your fingers will be exposed to UV light during each step for drying the nail polish, a process that takes just a few minutes. The texture of a gel polish is durable when compared to any other. And that's why your nails can maintain that "wow" look for long.
7. Mirror Manicure
Be it Instagram, Pinterest, Youtube, or even Facebook, mirror nails have taken social media by storm. It's a trend that first got noticed in social media, and since then, millennials are crazy about it. If you are someone who loves to show off their inner bling through their nails, then go for it.
What To Expect?
Once all the basic manicure steps are complete, a thick coat of black (or any other dark nail polish) is applied on the nails. You can use gel nail polish for a lasting effect. The nail polish is dried (you may dry it under the UV lamp). After that, the chrome pigment is brushed on the nails to give that mirror effect. A thin top coat is applied, and then it's again cured under the UV lamp.
8. Acrylic Manicure
Don't have long nails? Then the acrylic manicure is your solution. It uses powder polymer and a liquid monomer to form a hard layer of acrylic nail over your nails. It's a nail extension that is eventually camouflaged as your original nail. It's best to get it done by an expert manicurist at a good salon.
What To Expect?
The manicurist buffs the nail surface to make it rough. This rough surface allows the acrylic nail to easily stick to your original nail surface. The gum-like acrylic mixture is carefully applied to your nails with a brush. It's then sculpted using the brush and given the shape of nails. The rough ends are smoothened using the brush. Once it's dried properly, nail polish is applied on the nail surface.
9. Shellac Manicure
Too lazy to take care of your nails on a regular basis? If yes, then shellac manicure will be extremely handy for you. A blend of both gel and regular nail polish, shellac manicure is known for its durability. Which means – fewer chances of chipping.
What To Expect?
The manicurist first cleans, files, and shape your nails. After that, two coats of shellac nail polish is applied to the nails. Each coat is dried using a drier. Finally, a top coat is applied to the nails. Unlike gel manicure, shellac manicure makes your nails stronger. It lasts for about two weeks and doesn't chip.
10. Vinylux Manicure
Do you easily get bored with the same style? Then Vinylux manicure is what you need. This nail manicure has an incredible staying capacity and can be easily removed.
What To Expect?
In this process, post the basic manicure steps, the manicurist will paint your nails with Vinylux nail color. These are available in various shades. You don't need any base coat as this nail polish doesn't chip easily. Two coats are applied, post which it's finished off with a special top coat.
If you want, you can further embellish your nails using stones and stickers. These look pretty. While manicures are the most preferred way to pamper your hands, they can also have several risks. Here are a few things you need to consider to avoid any dangers.
Things To Consider For Avoiding Manicure Mishaps
Chances of nail injury and infection are extremely high during manicure procedures. Excessive pressure on the cuticles while clipping them can hurt your skin. And that's why it's essential that you visit a salon that has experienced manicurists. Check if they use sterile equipment. And check the levels of cleanliness they follow inside the salon.
Make sure the salon you are visiting has simple foot baths. Foot baths that come with motors are a bit tough to clean and thus, you risk infection.
You can even get your nail equipment and carry them while you visit the salons. If you can't carry them along, make sure the manicurist and the technicians clean the equipment and sterilize them before you use them.
Make sure the manicurist washes and sterilizes his/her hands before performing manicure on your hands.
Nail trends keep on changing, and so do manicure styles. You can always choose one that suits your personal preferences, and then customize it accordingly. There is much scope for experimenting with colors and embellishments (such as artificial nails and stones). Talk to your manicurist first, and don't be shy to experiment.
I can sense you already have started thinking about the manicure you want to try during your next salon visit. Do share your experience with me!
The following two tabs change content below.