Different Types Of Mascaras
Get to know all about how these distinct kinds serve you in achieving exquisite lashes.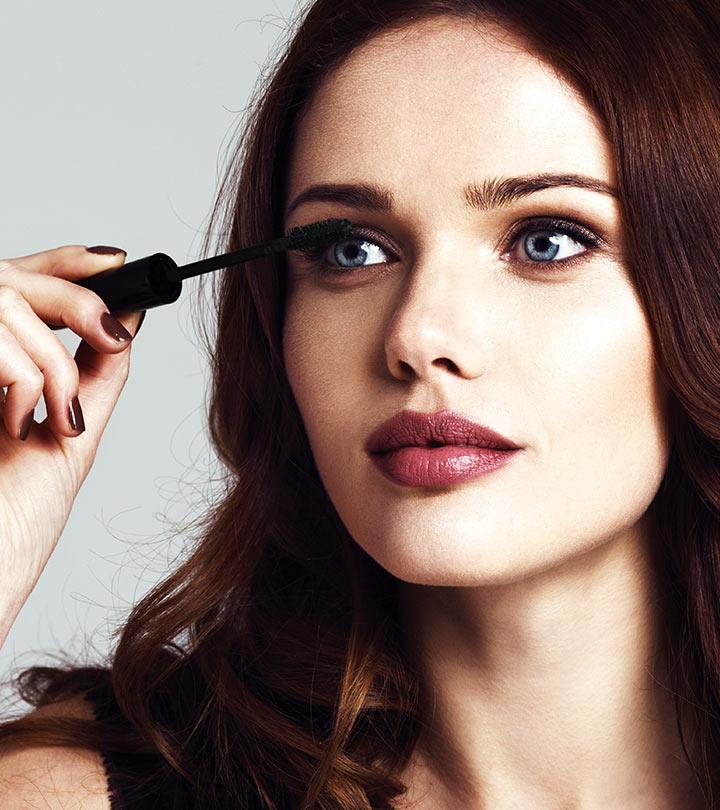 From various textures, formulations, shapes, and sizes, the types of mascaras are evolving in the makeup industry. Everybody loves defined lashes that enhance their makeup look and always make them look ready to take over the world. So, proceed to read through the different mascaras types and find one that fits your bill perfectly. Keep scrolling!


Keep In Mind
Formula: Formula If you have sensitive eyes, choose a gentle formula. Consider using mascara with nourishing ingredients if your lashes are dry or brittle.
Brush: Formula A larger applicator is better for adding volume and thickness, while a smaller brush is better for getting to the inner and outer corners of your eyes.
Skin Type: Formula Look for a mascara that is long-lasting and doesn't budge if you have oily skin. If you have dry skin, however, prioritize a moisturizing formula.
Different Types Of Mascara
There are different types & compositions of mascaras available in the market which change your entire eye look in a second.
Short lashes? Try a lengthening mascara.
Thin lashes? Try a thickening mascara.
Straight lashes? Try a curling mascara.
All three? Try a volumizing mascara.
All you need to know is how to apply mascara in the right way.
Water soluble Mascaras get easily smudged/ flaked & are not long wearing. They can be easily removed with any basic makeup remover.
Water proof Mascaras don't get smudged & are long staying. They are the best bet for summers & Monsoons. They are hard to remove with ordinary removers and needs special oil-based makeup removers. These are highly processed formulas which stay intact on eyes for long hours. Waterproof mascara also tends to hold curls longer than water soluble mascaras.
Apart from this broad classification Mascaras are sub categorized again Into powder, cream and liquid mascaras.
1. Powder Mascara
Powder Mascara is very different from wet and dry mascara. You add a few drops of water into it and use it with a wand. The mascara sets to give a false eyelash kind of a finish.
2. Cream Mascara
Creamy Mascara provides volume to thin and sparse eyelashes and adds depth to the eyes. But this can smudge easily so you will need a special kind of applicator for it.
3. Liquid Mascara
These mascaras are easily found and the most common of all and are mostly used by women who have slightly curled lashes. It enhances and sharpens the lashes. These are available in both water resistant and water-soluble variants.

Fun Fact
Victorian women used a homemade mascara to create the illusion of long dark eyelashes. They prepared it by heating the mixture of ash and elderberry juice on a plate.
Choosing Right Mascara Applicator
Mascara Applicator comes in different shapes and sizes, and each wand serves a different purpose.
Straight mascara wands are easy to use as they allow easier access to small lashes and inner eyelid lashes. You can also hold the brush at different angles to fully coat the lashes.
Curved brushes and tubing mascaras are perfect for those who are looking for more curls and an extra lift to the lashes. Comb shaped mascara is designed to discourage clumping and separates the lashes.
A Comb Brush helps to separate the lashes and gives an even application. It further adds length and volume to the lashes.
A Big Brush Mascara coats more mascara and gives more volume to the eyelashes. The wand has tightly spaced bristles, which is perfect for extra thickness. A big mascara brush can add clumps and can be hard to use at times, but with some practice you will get used to it.
Long Brush is best for lengthening as a long wand with even space won't provide as much volume as a big brush. They are recommended to separate and define lashes.
Small Brush is better for small lashes, as it doesn't clump the lashes, thereby offering thickness.
Different Formulas Of Mascaras
1. Lengthening Mascara
A lengthening mascara adds length to the existing lashes. Most lengthening and volumizing mascaras have denser bristles, which allow the mascara to get onto the lashes especially on the tips.
This mascara is best for people with short and sparse eyelashes. To create the most length, you must apply at least two coats of mascara on the lashes. When the mascara is applied, its fiber binds to the tips of the eyelashes, making them appear longer.
According to the mascara market analysis, its market size is likely to grow at a CAGR of 7.9% between 2022 and 2030. The lengthening, curling, and volumizing variants are ruling the current mascara market. The lengthening mascara is the most popular mascara variant among users, and its market revenue will continue to grow during this forecast period. Even the curling and volumizing mascara market may see a significant revenue boost by 2030.

Mascara Market Trends By Product Type
Source: Mascara Market By Product (Lengthening, Volume, and Curls), By Category (Waterproof, and Regular), By Sales Channel (Offline, and Online), and By Region Forecast to 2030
2. Thickening/Volumizing Mascaras
Volumizing Mascara helps you achieve fuller and thicker eyelashes as it contains a thicker formula of waxes and silicone polymers. It claims to be perfect for people with thin or sparse eyelashes, regardless of length. They make thin lashes look like thick natural-looking lashes. Unlike lengthening mascaras, they don't apply synthetic fibers and are designed to complement the shape and color of our natural lashes.
3. Curling Mascara
Curling Mascaras help to enhance the natural curl of the lashes. The mascara consistency is a little thicker than other types of mascaras, which further helps to hold the curl.


Quick Tip
You can apply powder to your lashes with a Q tip before applying the mascara. This will add more volume to your lashes.
4. Lash Defining Mascaras
Lash Defining Mascara is an all-in-one product that offers volume and thickness. These are usually available as waterproof. Owing to its consistency and texture, it spreads evenly and each eyelash looks separate, fine and beautifully curled, which gives volume and thickness, thus offering a perfect appearance.
Most of the mascaras available in the market offer all these properties but a lash defining mascara is unique because it contains special pigments and polymers to define lashes from root to tip. Lash Defining mascaras give a natural look to the eyelashes. They are the most appropriate mascaras for everyday wear. Don't forget to use lash-building and conditioning serums and oils if you use mascara too often. This gives lash-enhancing, satin smooth results. Use a clear mascara for no-makeup glossy applications.
5. Non–Clumping Mascara
These are the latest addition in the market and contain glycerin and silk extracts, which give the lashes a neat finish. The applicators have a longer wand for a deeper and dramatic clump-free finish. Prep your lashes with a mascara primer for a fuller and more prominent look.
6. Water Soluble/Regular And Waterproof/ Water Resistant
Water soluble mascaras get easily smudged or flaked and are not long wearing. They can be easy-to-remove with any basic makeup remover.
Waterproof mascaras are smudge-proof, transfer-resistant, and long-wearing. They are the best bet for summers & Monsoons. They are hard to remove with ordinary removers and need special oil-based makeup removers. These are highly processed formulas which stay intact on eyes for long hours.

Learn about the different types of mascara and find out which one is right for you. Discover the various kinds, colors, and formulas in which they are available in the following video.

The makeup world is spoiling us with endless choices, and no, we cannot complain. The market is brimming with different types of mascara today, and our options for rocking different looks have only increased tremendously. From powder mascaras to cream and liquid, mascaras come in different forms to cater to your unique needs. You can pick a nourishing and hypoallergenic one to be on the safer side and keep your lashes flake-free. Vegan and cruelty-free mascaras are most likely to be fragrance-free and paraben-free, ideal for those who have sensitive skin and very delicate skin around the eyes. To add a dash of vibrance for the occasion, you may choose from a wide range of colored and tinted mascaras such as metallic green, holographic blue, purple, neon, red, bronze, copper, pink, gold glitter, and silver. Whether you want to go for thick lashes or long, super curly lashes, or defined ones, there is a mascara that can fulfill all of these wishes! So, pamper yourself with these mascaras and get yourself the desired look.
Frequently Asked Questions
Is it OK to wear waterproof mascara everyday?
Using waterproof and matte mascara everyday may cause your eyelashes to get dry and easily fall off. It can leave your eyelashes dehydrated and unhealthy.
Is it okay to wear mascara everyday?
It is not advisable to use mascara daily as it may cause damage. Instead apply some oil to your lashes to keep them healthy.
What mascara do makeup artists use?
Most makeup artists use long lasting mascaras that add volume and length to lashes. Ada Hsieh, a highly experienced makeup artist says," I often use a lengthening mascara first, and then a volume mascara. This creates the length I need plus volume. Every time I mix these 2 types of mascaras together, the end result is something I really covet for." This also depends on whether they are applying makeup for a red carpet event, film shooting, theater, period piece, runway show, etc.
What mascara does Kylie Jenner use?
To give herself that everyday natural look, Kylie Jenner uses a brown shaded overcurl mascara.
Key Takeaways
Mascara can make your lashes look fuller and longer and adds an eye-catching look.
There are different types of mascaras available in the market, such as powder, waterproof, cream, and liquid mascara.
The right mascara applicator is essential for its even application.
These must-have cosmetic products are available in volumizing, lengthening, and curling formulas.
The following two tabs change content below.