Diffusing Or Air Drying Which One Is Better For Curly Hair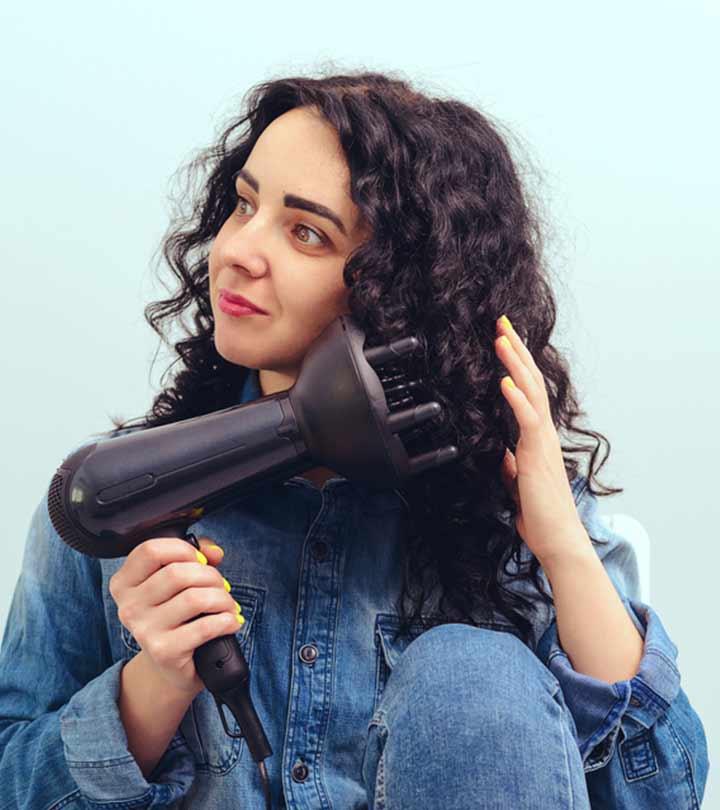 Diffusing or air drying? This ongoing debate is yet to reach any conclusion. It is because these are the only two ways to dry natural and curly hair. Your hair drying method determines the way your mane looks. Some swear by the diffuser (a blow dryer attachment) for curl definition, while others prefer air drying for a natural look. Both have their advantages and disadvantages, and it is all about your personal preferences.
If you are confused about which is the best for your curly locks, this article can guide you. Scroll through to understand the differences between diffusing and air drying and how each hair drying method can influence your hair health and curl definition.
Air Drying Naturally Curly Hair
Air drying your hair is going au naturel. Most people consider this the healthiest way to dry their fragile natural hair. Let's evaluate its advantages and disadvantages.
The Advantages Of Air Drying
Air drying the hair is the best way to prevent heat damage. Shampooing often strips the natural oils from your strands, leaving them vulnerable to damage and breakage. Blow drying can further amplify that damage.
Blow drying your hair takes time and energy, as you must section your hair and then work on each section. On the contrary, you need not do this while air drying. This saves time and effort.
The Disadvantages Of Air Drying
Air drying can make your hair frizzy, and you may lose the shape of your curls.  Frizzy curls are unmanageable, difficult to comb and style, and may lead to hair breakage.
Wet Curls Can Be Uncomfortable
If you have low porosity curls, they may air dry quickly. However, high porosity curls can take forever to air dry, sometimes even an entire day! Staying with wet hair all day long is uncomfortable. Your clothes and pillowcases may get damp, and  you may catch a cold or get a headache. Moreover, sleeping with damp and wet hair can lead to microbial activity and an unhealthy scalp.
If you want to air dry your hair correctly, follow the tips mentioned below.
Tips For Air Drying Curly Hair
Use leave-in conditioners and curl-defining creams to avoid frizz while air drying. Pick products that cater to your hair's needs. Check the ingredients and opt for products that contain nourishing and moisturizing ingredients like plant oils, glycerin, and ceramides. Choose leave-in creams and serums that can also double as detangling products. Buy creams that provide a nice slip.
Utilize The Cool Setting In Your Dryer
If you want to speed up the air drying process, use your dryer on the cool setting to avoid heat damage. Also, apply a serum to prevent frizz.
You might have seen the viral trend of people drying their hair wrapped in T-shirts. That is plopping! It involves wrapping your wet curls in a cotton T-shirt to make them dry faster. Beauty vloggers swear by plopping to speed up drying without frizz.
Microfiber towels absorb water quickly and speed up the drying time. They are gentle on fragile hair strands and help minimize friction, tangles, frizz, and breakage. However, instead of rubbing your hair with the towel, wrap it around your head and squeeze gently.
Now that you know everything about air drying, let us see what a hair diffuser can do for your curly hair.
Diffusing Naturally Curly Hair
A diffuser is a bowl-like attachment with multiple nozzles that changes the airflow for even drying. It does not manipulate your curls and helps maintain the curl definition.
The Advantages Of Diffusing
This is the main advantage of diffusing naturally curly hair. Using a diffuser and blow dryer helps maintain the original curl shape and add definition to it.
A diffuser distributes the air evenly across your tresses, allowing them to dry faster.
A diffuser attachment can combat unruly hair by giving it a better and tighter curl formation. The more defined your curls are, the less frizzy they look.
The Disadvantages Of Diffusing
Using a diffuser adds more volume to the hair. People with straight and wavy hair may feel happy about it. However, those with curly hair may end up with a poofy mane. Voluminous curls can be challenging to tame and style.
Whether you use a diffuser or any other nozzle on a dryer, the problem will always be the heat. Curly hair is more vulnerable to heat styling due to its fragile structure.
However, there are ways to minimize the heat damage and use the blow dryer and diffuser safely.
Tips For Diffusing Curly Hair Safely
Always apply heat protectants to minimize heat damage caused by blow drying and diffusing. They contain silicones and other ingredients that shield the hair to prevent heat damage.
Repeated heat damage can lead to loss of proteins in your curls. Add a protein-infused hair product to your routine to repair and strengthen your curls. However, avoid using multiple protein products to prevent protein overload and change in the natural hair texture.
Diffuse Your Hair Correctly
Before you start diffusing your hair, learn how to do it properly to get the desired results. Understand what settings work for your hair. You may watch tutorial videos or consult a professional hairstylist for tips.
This was all about diffusing and air drying. If you are still confused about which one to go for, scroll down to the next section.
Diffusing Or Air Drying: Which Method To Follow For Curly Hair?
You may choose any of the drying methods, depending on your curl type and convenience.
If you have high porosity hair and are in a hurry, you can use a diffuser to speed up the drying time. However, if you have low porosity hair, it can air dry quickly.
None of the methods can affect your hair texture, curl type, and quality if you do it properly, following all precautions, and with the help of the right products. Both methods have their pros and cons. Pick one that suits your daily routine.
The Takeaway
Small decisions like air drying or diffusing natural curly hair can impact the way your mane behaves. Hence, it is always good to do your research before trying out a hairstyling or care technique. Eventually, everything boils down to convenience, preferences, and how effectively you follow the drying methods.
Recommended Articles
The following two tabs change content below.