DIY – Easy Glitter Nail Arts
All girls sparkle by default anyway.
Glitter is a happy space for most of us – the sight of it brightens an otherwise dull moment.
Almost everyone loves glitter on their nails. The easiest way to get nail art with glitter is to apply any nail polish and apply glitter top coat over that. But today I am sharing four other ways to sport simple glitter nail art designs, which are very easy to do. The materials used in these tutorials are easily available and you can get them from your local cosmetics stores.
Glitter Nail Art Ideas:
Tutorial 1: Glitter Tips
Difficulty level: Easy
Drying time: 15-20 minutes
Things needed:
Black nail polish – the more the nail paint, the better the effect. But a shiny finish leads to a glossy finish, so choose as per your needs.
Loose powder glitter (eyeshadow glitter pigmentation works too)
Clear nail paint or top coat – this is a very important component. Choose one with top quality.
Base coat – this is essential to preserve the health of nails
Steps:
1. Apply your base coat and paint your nails black.
2. Now take your glitter pot (here I am using blue glitter eyeshadow pigmentation).
3. Dip your clear polish brush in your glitter and apply on your nails starting from the center of your nails and moving to the tips, allow it dry and apply topcoat.
Final Look:
Tutorial 2: Half Moon Glitter
Difficulty level: Easy
Dry time: 15-20 minutes
Things you will need:
Red nail polish
Loose powder glitter (Eyeshadow glitter pigmentation works too)
Clear nail paint or top coat
Base coat
Steps:
1. Apply base coat and paint your nails red.
2. Now take your silver loose glitter powder and dip your clear nail polish in it and apply the glitter from your cuticle area to the center of your nail. This is latest trend this year – to have uneven glitter half-moons on your nails. Don't forget to apply the top coat. Top coat seals the glitter and maintains the look for more days. It also holds the glitter back from falling away.
Final Look:
Tutorial 3: Glitter sandwich
Difficulty level: Easy
Drying time: 60 minutes
Things you will need:
Sheer polish (any polish which needs 3-4 coats to become opaque)(I am using one from Face Shop)
Glitter polish( I am using Jordana cosmic glitter polish)
Fast drying top coat and base coat
Steps:
1. Apply base coat and polish your nails with the first coat of your sheer polish and let it dry.
2. Now add a layer of glitter polish and let it dry for few minutes.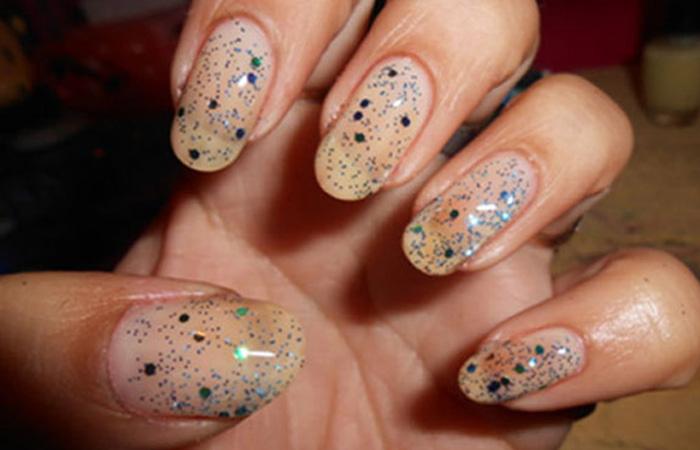 3. Now add other layer of sheer polish. Be sure that your layers are thin as thick ones take more time to dry and you won't get the required result. Also, thick layers are more prone to peeling and developing dents when you accidentally hit your nails against other surfaces. Thin layers don't chip away that easily.
4. After it dries, add another layer of glitter polish and let it dry.
5. Now add a final layer of your sheer polish and let it dry completely and apply fast drying top coats.
Final Look:
To dry your nails faster, here is a tip. Dip your nails in a bowl of cold water. This seals the color, gives extra glossy finish and also helps dry the pain faster.
Tutorial 4: Glittery Nails
Things you will need:
1. Clear nail varnish
2. Nail color of your choice
3. Loose glitter powder. (These are easily available at the stationary stores. I got them for Rs. 10. Also, you can choose any color of your choice. I am using silver colored glitters for this tutorial).
4.  A small piece of paper.
5.  A pair of scissors.
6.  A small plastic container.
7.  A toothpick / A Brush.
Steps:
a.  Glitter Nails:
Let's first start with how to do the glitter nails.
Clean your nails and file them to get the desired shape. Also empty some of the glitter in the plastic container.
Now apply the clear nail varnish on your nail.
Once you have applied a coat of clear nail varnish quickly dip it into the glitters in a plastic container. A tip here. When you dip your nail in the glitters press them a little. This way the glitters will stick better to the nails.
Once this is done take out the finger and tap it lightly in the container itself. This will help you get rid of the extra glitter. Don't worry about the extra glitter that has stuck elsewhere like cuticle line, below your nails etc. You can remove it using the toothpick or the brush.
Wait for it to dry and then seal it with 1 – 2 top coats. This will seal your nails and make it your nail art last longer.
You can do this on all the nails if you want. For this tutorial, I am doing only on one nail. I will apply glitter polish on the other nails. Read below to know on how you can make your own glitter nail polish trend.
b.  Glitter Nail Polish:
Make a cone out of a small piece of paper. Cut off the end to make an opening. This will act as a funnel to add glitter to the nail polish bottle without spilling it all over.
Add the loose glitter powder to the clear nail varnish using the paper funnel. Shake it well and your glitter nail polish is ready.
Apply any nail color of your choice and let it dry. Over this apply the glitter nail polish.
Remember to shake the glitter nail polish bottle well before every use.
And here you go you with your glitter nails ready!!!
Which is your favorite? How do you prefer your glitter nails? Let us know your glitter nail art ideas with us in the comment section.
You all love glitter polishes, don't you? It's damn easy to make one at home! Let's go straight into preparation.
DIY Glitter Nail Polish: Blue
Things you need:
Clear Transparent Polish
Blue glitter (finest quality the finer the better, you can also use loose eyeshadow glitters)
A paper cone.
Preparation
In an empty nail polish bottle, pour a portion with transparent polish and then do this, otherwise, if you don't like it, then your whole transparent polish will be wasted, but as far as I am concerned, I LOVED IT.
Just place the funnel at the mouth of the bottle, slowly pour in the glitter and close the opening with your finger, shake it well and that's it, close the bottle with the top cap of the bottle.
This is the best party wear blue glitter polish to me
When you wear this polish, the texture won't be up to the mark if it is not extremely fine. Do use a transparent top coat after two coats of this glitter polish.
DIY Golden Striped tapes
Things needed
Golden Wrapping paper
Scissors.
Preparation
Carefully take a small piece of paper and cut with fine small scissors uniform (as much as possible) lengthwise pieces. The best part, you can cut them thin or thick depending on your taste.
Now accordingly cut into small pieces and use.
You can immediately use it after using your nail polish (any polish) while still wet or after applying top coat. I'd say that it's better to use directly on the polish rather than letting the polish dry and then sticking it with the top coat as this may sometimes let the color of the wrapping paper come off onto the nails. Finish with a top coat to seal in the tapes more firmly.
Just look at this blue Party glitter polish with golden striped tape nail art!
Enjoy!

The following two tabs change content below.

puja malhotra
I am a trained nail artist and mother of 5 year and half year old girls...... I own my own nail art studio and do nail art professionally and teach nail art. I am nail polish addict.:) My nail polish obsession started since my childhood. I wont mind painting my nails every day. I love keeping myself updated with new nail art trends and I hope you enjoy reading it as much as I enjoy working on it.

Latest posts by puja malhotra (see all)