How To Make A Hair Detangler At Home – 4 Easy Detangling Recipes
Smart methods for painlessly unraveling those bothersome hair knots!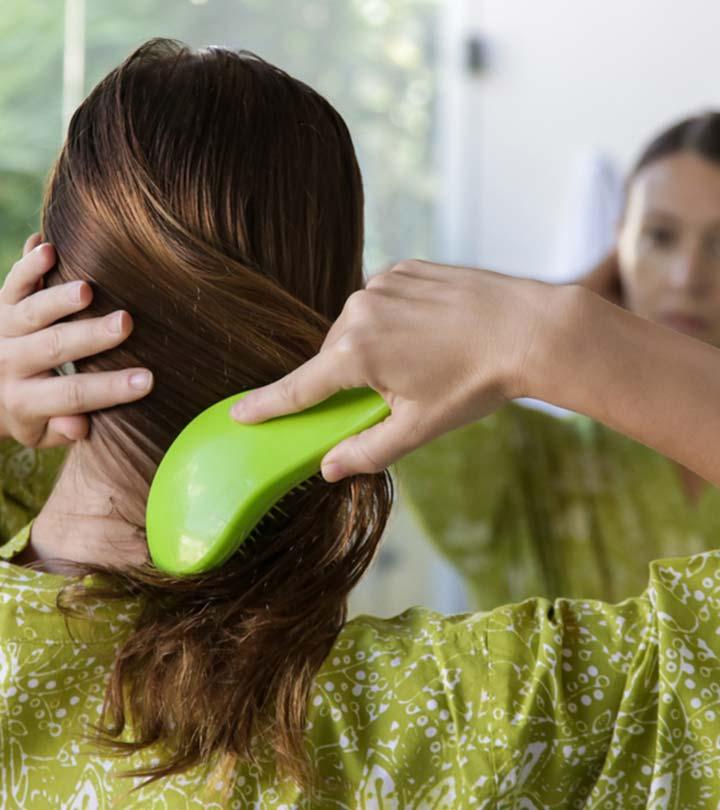 Curly and thick hair types are difficult to detangle. It takes time and effort to remove those tangles and knots. But you can make a hair detangler at home to spare yourself of the struggle.
Making a detangler allows you to choose what goes in it. You can add organic ingredients like fruits, vegetables, and carrier and essential oils. These ingredients detangle knots while replenishing hair with vital nutrients. Read our homemade DIY recipes and learn how to apply them to your hair.
How A Hair Detangler Works
A hair detangler is used to untangle knots in your hair. It saves time and minimizes discomfort while styling dry or wet locks. The conditioning agents and lubricants present in a detangler may help reduce split ends and breakage while providing a layer of protection against environmental stressors like UV rays and pollutants. When applied to damp hair, a detangler helps seal in moisture to keep your hair hydrated, enhancing its softness and manageability. This added moisture prevents tangles and contributes to a healthier, shinier appearance. Whether you have straight or curly hair, a good-quality hair detangler can be a valuable addition to your hair care routine.
The following section lists a simple recipe that can be used to prepare a hair detangler at home. Read on to know more!
How To Make Your Own Hair Detangler – Simple Hacks 
Here's how you can detangle your hair at home easily.
You Will Need
A spray bottle
Measuring spoons and cups
Leave-in conditioner
Hot water
1. Add The Leave-in Hair Conditioner To The Spray Bottle 
Fill your spray bottle with 3-4 tablespoons of the leave-in conditioner. Leave-in conditioners help nourish, soften, and detangle the knots. Trapped water molecules in the hair result in swelling and stretching of the hair, making it dry and tangled. A leave-in conditioner helps reduce scalp stress and detangles the hair easily.
2. Mix The Leave-In Conditioner With Hot Water
The leave-in conditioner, when mixed with lukewarm water, penetrates the hair to nourish and hydrate it from within. Spritz this mixture on your locks after a shower and brush with a wide-toothed comb. Using a wide-toothed comb and a paddle brush can help you detangle the knots easily without any pain.


Quick Tip
Ensure that the bristles of the wide-toothed comb are longer than the regular combs you use. This will make hair detangling easy and safe.
3. Massage With Oil 
A good oil massage not only nourishes and strengthens the hair but also helps detangle it quickly. Some oils penetrate the hair easily, reducing hygral fatigue and swelling (1). This property lubricates the hair, prevents damage, and reduces tangles.
Apply a few drops of olive, sweet almond, or coconut oil to your hair and brush with a wide-toothed comb to detangle it and get rid of knots. You can also mix essential oils like lavender, rosemary, and tea tree oils with other carrier oils to soothe and revive dry, limp hair.
The following section lists a few detangler recipes that can be prepared at home easily. Read on to know more!
DIY Homemade Detangler Recipes
1. Marshmallow Root Detangling Spray 
Ingredients
Organic marshmallow root – 2-3 tablespoons
Aloe vera gel – 2 tablespoons
Water – 2 cups
Organic lavender essential oil – 20 drops
Organic rosemary essential oil – 10 drops
Jojoba or olive oil (carrier oil) – 1 tablespoon
How To Prepare
Add water and the marshmallow root to a small saucepan and simmer for half an hour until the solution is reduced to half.
Remove the pan from the heat and let the mixture come down to room temperature.
Strain the solution with a muslin cloth to remove the suspended solids.
Add the essential and carrier oils to the solution.
Pour the mixture into the spray bottle.
Refrigerate and store for 1-2 weeks.
How To Use
The solution is thick, so shake it well before use. Spritz it on dry or wet hair. Let the detangler solution settle into the hair for 1-2 minutes. Detangle the hair slowly with a wide-toothed comb, starting from the bottom.
Here's a video to guide you through the process:
2. Flaxseed Hair Detangler 
Ingredients
Flaxseeds – ¼ cup
Water – 2 cups
Essential oil – 30 drops
Carrier oil – 1 tablespoon
How To Prepare
Add flaxseeds and water to a saucepan and allow it to simmer for at least 30 minutes until the solution is reduced to half.
Stir continuously for an even consistency. The longer you heat, the thicker consistency you will get.
Switch off the heat once the solution reaches the desired consistency. Let the solution come to room temperature.
Add the carrier and essential oils.
Transfer the solution to a spray bottle and refrigerate for 1-2 weeks.
Check out this video for more details:
3. Aloe Vera Gel Hair Detangler 
Ingredients
Water – 1 cup
Aloe vera gel – 1 teaspoon
Glycerin – 1-2 drops
Carrier oil – 1-2 drops
Grapefruit seed extract – 10-15 drops
How To Prepare
Add all the ingredients to a spray bottle and shake it well.
Use the solution as and when required.
Check out how a blogger used aloe vera gel to detangle her dry hair:
4. Apple Cider Vinegar Hair Detangler 
Ingredients
Apple cider vinegar – ⅓ cup
Water – ⅓ cup
Carrier oil – 1 teaspoon
Essential oil – 30 drops
How To Prepare
Mix the apple cider vinegar and essential oil and keep it aside for some time.
Add the carrier oil and water and shake well.
Adjust the consistency by adding more water.
Watch this video for more details:
Christina, a blogger, came up with a DIY detangler spray which contains organic conditioner, distilled water, and essential oils, such as rosemary, tea tree, and lavender. This was borne out of necessity. She writes, "I was looking for a natural alternative for a Hair Detangler Spray for my eldest daughter's long, long, long hair…. Although my daughter doesn't cry when we brush her hair, I still like the hair to cooperate instead of it turning into a chore multiple times a day (i)."
Mide, another blogger, developed a DIY detangler sparked by a suggestion from her brother. She created it by grating okra, simmering it with water, and adding coconut oil. Describing the impressive results she found, she writes in one of her blog posts: "The slip was so awesomely grossly slimy!…Absolutely perfect, it doesn't smell AT ALL, and my hair absorbed every bit of the beauty, it didn't feel slimy in the least once it did [the hair absorbed it] and it felt very moisturized (ii)."
Besides using homemade detanglers, follow these tips for a long-term solution.
Other Tips To Detangle The Hair
Release the knots with your fingers before detangling.
Start detangling the hair from the bottom. Comb some inches at the bottom and move upward gradually to ensure a painless experience.
Brush your hair before taking a shower to ease the detangling process.
Tie your hair in a braid while sleeping to avoid tangles.
Use a scarf or hat during windy days to prevent knots.
Apply a rejuvenating and restoring hair mask every 10 days. This will make your hair soft, smooth, shiny, and tangle-free.

Quick Tip
Sleep on a silk pillowcase to prevent friction and hair tangling.
Infographic: 4 DIY Hair Detangler Recipes To Make Your Life Easy
Tangled is only pretty when it comes to Disney movies and not your hair, right? While there are good hair detanglers available on the market, if you prefer natural treatments, check out the infographic below for a few DIY recipes for a detangler. Try them and say goodbye to rough, tangled hair.

It can be a Herculean task to detangle curly or thick hair, and if you do it wrong, it could lead to serious hair damage. But a homemade detangler can ease the process! Store-bought detanglers may contain ingredients that can be harsh on your hair and scalp. With the steps and recipes mentioned above, you can learn how to make a hair detangler at home the healthy way. There are many pros to using natural ingredients to make a hair detangler, such as their numerous hair care benefits. You can follow the additional tips provided in this article to detangle your hair with ease.
Frequently Asked Questions
What is the main ingredient in a hair detangler?
Silicone is one of the main ingredients in hair detanglers. It adds the slip for detangling, smoothens the strands, and reduces frizz.
How do you make a kid's detangler?
Kid's hair detanglers are easy to make. You need ¼ cup of water, ¼ cup of apple cider vinegar, and 10 drops of your favorite essential oil. Add the essential oil to the spray bottle first, followed by apple cider vinegar, and water.
Will coconut oil detangle hair?
Coconut oil works great on many hair textures and is used to moisturize the hair. It helps maintain healthy hair and also makes a good detangler.
Does baking soda untangle hair?
Yes. Baking soda, along with conditioner, helps get rid of tangles. Add one tablespoon of baking soda with three tablespoons of conditioner and apply to the hair, especially in the knotted areas. Let it sit for 5 minutes before running a wide-toothed comb.
What is the best detangling oil?
Mineral oil is considered the best detangling oil.
Does mayonnaise detangle hair?
Mayonnaise may act as a deep conditioner and detangle the hair.
Key Takeaways
Homemade detanglers can be enriched with organic ingredients to nourish the hair.
You can use essential oils, marshmallow roots, flaxseeds, aloe vera, ACV to prepare your detanglers at home easily.
Combing with a wide-toothed comb and detangler can reduce the pain and hair damage effectively.
"Get rid of your knots and tangles with an effective hair detangler made at home! Watch the following video to learn some simple steps to get smooth hair in no time."
Personal Experience: Sources
i. No Ouch! DIY Hair Detangler Spray
https://sweethaute.blogspot.com/2015/02/no-ouch-diy-detangler-spray.html
ii. DIY Okra Leave-In/Detangler
https://quirkymidzie.wordpress.com/2016/07/04/diy-okra-detanglerleave-in-conditioner/
Sources
Articles on StyleCraze are backed by verified information from peer-reviewed and academic research papers, reputed organizations, research institutions, and medical associations to ensure accuracy and relevance. Check out our
editorial policy
for further details.
The following two tabs change content below.