DIY Natural Hairspray Recipes For All Hair Types
Give your tresses some TLC with sprays made from the finest organic ingredients.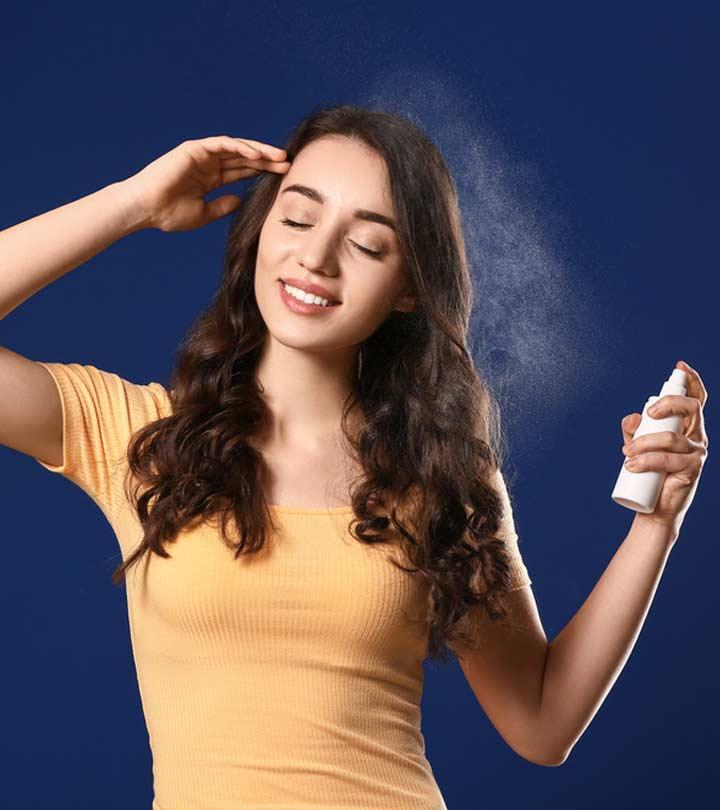 Hairsprays are must-haves for your everyday routine, as they perform so many functions, such as protecting your hair and styling it to perfection. If chemical ingredients are holding you back, we have got you covered with our DIY natural hairspray recipes. Some believe that the chemicals in hairspray may neutralize the product's benefits. A recent trend for DIY hair sprays is rising as people seek a more sustainable way of life. You can learn how to make DIY hairspray with the information in this article. Take a look.
Natural DIY Hairspray Recipes
1. Sugar Hairspray
Sugar may get a bad rep in general, but this DIY sugar hairspray is inexpensive, easily accessible, and natural. It is believed that it has a shelf life of 1 to 2 months. Plus, it only requires two ingredients – talk about easy! Here is how you can prepare a basic DIY sugar spray for hair:
Ingredients
2 tablespoons of sugar (adjustable as per the desired hold)
A cup of filtered water
Process
Boil water in a saucepan.
Stir in the sugar and allow it to dissolve completely.
Turn off the flame and let the solution cool.
Transfer the solution to a spray bottle. Shake well before every use.
2. Lemon Hairspray
The acidity of lemon is a great hack to get a DIY hair-lightening spray.
Even though the science behind it is unexplained, it is believed that you will also need sun exposure to trigger the bleaching process. Additionally, you would need multiple sessions to gain the desired effect. In fact, the same logic also dictates that you have greater chances of success if you already have chemically-treated or light-colored hair (think blonde or light brown), and those with dark hair may not notice any significant difference.
If you are not a fan of lightening your hair and simply want the antibacterial and antioxidant properties of lemon juice, you can neutralize the effect of citric acid by adding a little baking soda to the mix (1).
Ingredients
Juice of one medium-sized lemon (along with the rinds)
2 cups of filtered water
1 teaspoon of baking soda
Process
Heat the water in a saucepan. Add the lemon juice and rinds to it, and bring it to a boil.
Allow the water to simmer until it is reduced to half.
Let the solution cool.
Strain it and add the baking soda.
Transfer the DIY lemon hairspray to a spray bottle and store it in a refrigerator. This solution remains effective for about two weeks.

Quick Tip
Discard the hairspray at any time before two weeks if it turns cloudy, smells weird, or displays signs of mold.
3. Castor Oil Hairspray
Are you tired of all the frizz? This DIY oil spray for hair is ideal for you.
Castor oil is a rich source of vitamin E, omega-6 and 9 fatty acids, and keratin (2). As a result, it deeply nourishes the hair, tames all the frizz and fly a ways, and prevents the hair from going brittle. The omega-6 fatty acids in castor oil stimulate hair growth (3). Therefore, this DIY spray for frizzy hair can also double as a DIY hair growth spray!
Ingredients
2 tablespoons of sugar
1 cup of filtered water
1 tablespoon of castor oil
Process
In a saucepan, heat the filtered water and stir in the sugar.
Let the solution cool down.
Add the castor oil to the mixture.
Store this DIY anti-frizz hair spray in a spray bottle.
Shake the bottle before every use and discard the hairspray after 1 to 2 months.
4. Argan Oil Hairspray
Due to its many beneficial properties, argan oil is also known as liquid gold for hair. It is rich in antioxidants, minerals, vitamins, and fatty acids that support healthy hair (4). Since it can deeply moisturize and condition your hair, it is an excellent ingredient for a DIY leave-in hair growth spray. Additionally, the high smoke point of argan oil makes this DIY hairspray recipe double up as a heat protectant spray that can save your hair from some types of heat damage.
Ingredients
1/2 cup of filtered water
1 teaspoon of sugar
2 drops of argan oil
Process
Heat the water to a boiling point and turn off the flame.
Add the sugar to the water and let it dissolve.
Once the solution cools down, mix the argan oil in it.
Transfer the mixture to a spray bottle and shake well before every use. This DIY hairspray stays effective for 2-3 weeks.
5. Aloe Hair Spray
The DIY aloe vera spray for hair fits many arrows in a single quiver. It acts as a DIY hair moisturizer, anti-dandruff, and anti-frizz spray that can nourish and restore your damaged hair! Apart from smoothening and softening the hair, this DIY aloe vera hair spray also conditions the hair and promotes its growth, so you can use it as a leave-in conditioner (5).
Ingredients
1 cup of distilled water
1/2 cup of aloe vera juice
1 teaspoon of olive oil
Process
Heat the water in a saucepan. Turn off the heat when the water is slightly warm.
Combine the aloe vera juice, olive oil, and water.
Whisk them together for about 10-15 minutes until they are well-incorporated.
Transfer the contents into a spray bottle.
Shake thoroughly before use.
Discard the solution after 1-2 months.
6. Rose Water Hair Spray
Rosewater is a mild astringent with anti-inflammatory properties (6). Therefore, if you are plagued by oily scalp, dandruff, and itchiness, you should get your hands on a DIY rosewater hairspray recipe. Since it is essentially water, women with curly hair can also use this hairspray to reduce frizz and style hair easily. It is worth mentioning that DIY rose water spray for hair also smells amazing.
Ingredients
1 cup of rosewater
2 tablespoons of sugar
Process
Heat up the rosewater and stir in the sugar until it dissolves.
Once the mixture cools down, transfer it to a sterilized spray bottle.
Discard after 1-2 months.
Note: Salt is another ingredient that works well, and many commercial products sell saltwater hairspray for a beachy look.


Quick Tip
Always label homemade hair spray bottles with the ingredients and the date on which it is made. Include the shelf life as well.
The next section deals with the essential oils that you can use in your homemade hairspray.
Essential Oils That Are The Best For Homemade Hairsprays
The natural DIY hairsprays discussed above are the basic recipes that you can enhance with some select essential oils. Apart from adding that extra "oomph," DIY essential oil sprays for hair also serve several other purposes.
Add a few drops of any of the following essential oils to get your DIY essential oil spray for hair growth, moisturization, texturizing, etc. Rather than settling for a single essential oil, you could also create a blend containing two or more essential oils to tackle multiple issues.
1. Tea Tree Oil
Tea tree essential oil is a staple ingredient of DIY anti-dandruff hair sprays, shampoos, conditioners, and other products. Studies indicate that the presence of tea tree oil imparts antimicrobial properties to any hair care product it is added to (7). Adding tea tree oil yields a DIY tea tree oil spray for hair that reduces greasiness, itchiness, and lesions while protecting the scalp from lice!
2. Rosemary Oil
Rosemary essential oil boosts blood circulation and promotes cellular generation, which stimulates hair growth and increases thickness. Researchers believe that rosemary oil is just as effective as minoxidil, a commercially successful hair growth compound. It also causes lesser itching than minoxidil (8). To make DIY essential oil spray for hair growth, add five drops of rosemary essential oil per ounce of hairspray base.
3. Lavender Oil
Lavender oil offers several benefits to dry and damaged hair suffering from stunted growth. A study conducted on mice found that lavender oil promotes the growth of hair follicles and thickens your tresses (9).At the same time, it is claimed to reduce stress, which is one of the leading causes of hair loss. Add a few drops of lavender essential oil to your DIY hairspray. You may also add 1-2 teaspoons of sea salt to prepare a DIY texturizing hair spray!
4. Geranium Oil
Geranium essential oil promotes hair growth through the regulation of cellular response and growth factors (10). Add a drop of geranium essential oil per tablespoon of hairspray base to get a DIY leave-in hair growth spray.
Now that you know all about the basics of creating your very own DIY natural hairsprays and the various essential oils that you can use, let us check out the drawbacks of chemical hairsprays.
Dangers Of Chemical Hairsprays
Synthetic and chemical-rich hairsprays can damage your hair in several ways. Some of their side effects include:
The chemicals and compounds added to hairsprays for making them fragrant can induce an allergic reaction in users (11).
The toxic chemicals, such as parabens,

eugenol

i

  X

A naturally occurring pale yellow oily liquid found in several plants such as cloves, cinnamon and nutmeg.

, lilial, benzyl salicylate, etc., may make users fall sick (11).
They also contain flammable solvents, such as alcohol, which can prove to be a fire hazard.
Hairsprays also contain

plasticizers

i

  X

A colorless or odorless low-molecular weight polymer that increases the elasticity of a material.

and

PVP

i

  X

Polyvinylpyrrolidone, a faint yellow solid with a film-forming ability that offers extra fixative power to products.

that are claimed to cause intense hair damage and give it a plasticky look and feel.
There is no scientific backing, but users claim that the alcohol present in hairsprays caused their hair to turn dry, brittle, and frizzy.
Most hairsprays come in disposable

aerosol

i

  X

Suspension of extremely small solid particles or liquid droplets in the air or another gas, mist, or fumes.

packaging, which is harmful to the atmosphere and contributes to waste generation.
Some cosmetic products, including hairsprays, are tested on animals.
Do DIY natural hairsprays do a better job at mitigating these dangers? Let us take a look in the next section.
Advantages Of Homemade Hairsprays
Here is why you should be using homemade hairsprays:
When you put in the effort of making your very own DIY natural hairspray, you know all the ingredients that go into it. You can use pure, natural, and high-quality ingredients without cutting any corners.
Making your own hairspray allows you to customize it as per your needs.
DIY hairsprays are aerosol-free and cruelty-free.
They are extremely cheap, and you would be getting high-quality products – none of that mass-produced stuff!
You can reduce your exposure to allergens, cheap perfumes, and artificial scents that can harm you and those around you (11).
Given below are a few disadvantages of homemade hairsprays.
Disadvantages Of Homemade Hairsprays
While DIY hairsprays are an excellent substitute for their commercially-produced counterparts, they come with the following limitations:
Some ingredients may not be as effective in giving you the desired results. Case in point, many people have reported that the lemon hair-lightening spray did not work on their dark hair.
Achieving perfect results may require multiple attempts, which can be frustrating.
Homemade hairsprays have a low shelf life. Thus, you will be discarding them every 1-2 weeks or months.
DIY hairsprays can lose their effectiveness due to external conditions, such as temperature, the material of storage container, the perishable nature of the ingredients, etc.
Infographic: Make Your Own Natural Hairspray
In the long run, it's the natural products that ensure the least damage. The same can be said for hair products, especially when you are given to styling your hair regularly. While natural hairsprays may not give you a salon-style look, they work perfectly for everyday styling and hair maintenance. We have highlighted some recipes for such natural hairsprays in the infographic below. Take a look.


Hairsprays are an integral part of the hairstyling and grooming routine. They help protect your hair and style it perfectly. However, most people stay away from using them mainly due to their chemical content. That is where the DIY natural hair spray recipes shared in our article may rescue you; these are non-toxic and eco-friendly in nature. You can prepare your hairsprays at home with readily available herbal and plant-based ingredients like lemon, castor oil, argan oil, or aloe vera. In addition, you may use essential oils that work well as hairsprays. Making your hairspray at home will help you customize it as per your requirements.
Frequently Asked Questions
Is hairspray cancerous?
No. The ingredients used in hairspray do not cause cancer.
Is it okay to use hairspray every day?
It depends on your hair type and the product. If your hair feels and looks healthy and isn't sticky or dry, it is okay to use hairspray daily.
Does hairspray cause gray hair?
No. Graying hair depends on internal factors like genes, hormones, and nutrient deficiency, and hairsprays can't cause gray hair.
Should I brush hair after hairspray?
It depends on the type of hairspray. If you use a firm-hold finishing spray, brushing after applying the product may cause damage. However, you can brush and style your hair using light-hold hairspray.
Key Takeaways
A hair spray is a hair styling product that protects your hair from humidity and wind.
As chemicals in hairsprays cause allergic reactions, many people shift towards DIY natural hairsprays.
You can prepare these hairsprays easily using certain hair-nourishing essential oils like tea tree and rosemary oils.
Learn how to make your own maximum-hold hairspray at home with this easy DIY recipe! Check out this video and get ready for a long-lasting, strong hold without any chemicals.
Sources
Articles on StyleCraze are backed by verified information from peer-reviewed and academic research papers, reputed organizations, research institutions, and medical associations to ensure accuracy and relevance. Check out our
editorial policy
for further details.
The following two tabs change content below.