How To Make Homemade Sugar Lip Scrub For Super Soft Lips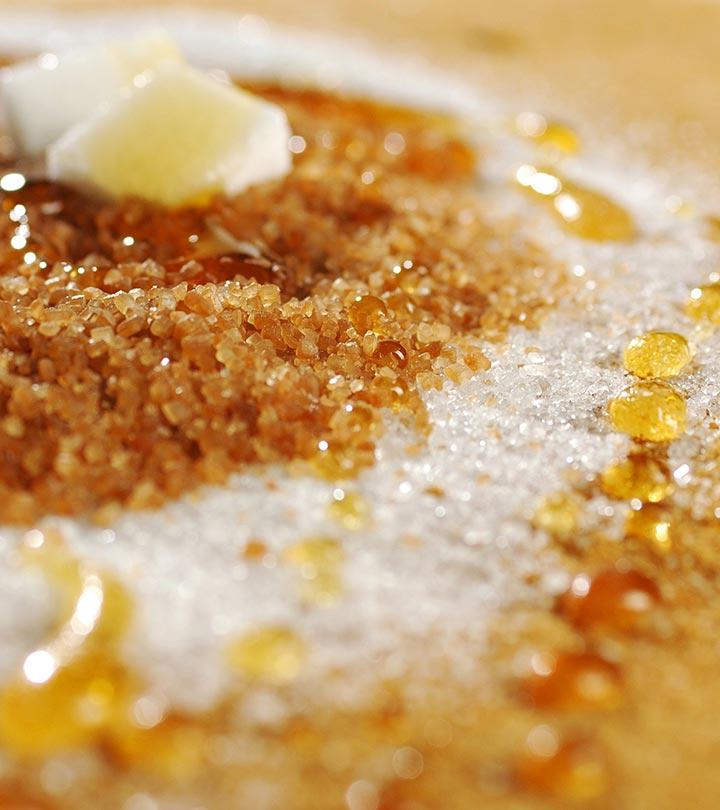 There is nothing better than homemade sugar lip scrub for getting soft and luscious lips. Lip scrubs get rid of dead and dry skin cells. They restore the softness and smoothness of the lips and improve their color and appearance. But, why would you buy a lip scrub from the store when you can make one at home? Lip scrubs made at home do not contain harmful chemicals. Their natural ingredients hydrate, moisturize, and heal your lips. So, what are you waiting for? Scroll down and check out how to make a sugar lip scrub at home!
Simple Homemade Sugar Scrub For Lips:
Things Required:
Sugar is the most easily available and least harmful substance to be used as an ingredient in the preparation of this lip scrub. So that would be our main ingredient. We shall use both white and brown sugar because they both offer different benefits.
Now since we are talking about the lips, the scrub has to be nourishing and soft on them, right? That is the reason I have added honey and almond oil to the ingredients list since they are the most likeable nourishing substances.
I have also included cinnamon in this list because this will bring a nice flavor to our lip scrub recipe. Is that all for cinnamon? Well, no. I have heard that cinnamon acts as a natural lip plumper too. Sounds amazing? Now go climb your kitchen shelves to catch hold of the corners where your mother must have hidden the cinnamon container.
Homemade Sugar Lip Scrub:
Let us follow the following easy steps to get the best homemade sugar scrub for lips:
Step 1:
Firstly, take a nice bowl to which our ingredients will be added. Add 1 teaspoon of white sugar to it.
Note: We are taking ingredients for the scrub mixture to serve 3 uses only. If you want the same for lesser or more number of times, you can adjust the quantity accordingly.
Step 2:
Now add half a spoon of brown sugar. No it doesn't mean that I am partial between the two sugars; it's because we need more of the granular component in the scrub which is provided by white sugar.
Step 3:
Add half to one teaspoon of pure honey according to your comfort and liking.
Step 4:
The mixture appears all the more attractive as we keep adding the ingredients.
[ Read: DIY Vanilla Lip Scrub ]
Step 5:
Add a little almond oil to the mixture. You would find me using almond oil in most of my DIYs since it is my favorite. It does not give that sticky, oily feeling. It does a lot of favor to our skin than we can think of.
Step 6:
Just a dash of cinnamon is required here in this mixture. It changes the aroma of the mixture and who does not want plumped lips? Though it may not work for everybody, if that would have been the case – actresses would have bought 2 kgs of cinnamon in their weekly grocery shopping instead of going for a lip surgery. Even if it works for some of us or to a minute extent; we still have nothing to lose, right?
[ Read: Get Rid Of Dark Lips ]
Step 7:
Now, mix them well. You'll get a paste-like consistency at the end.
Step 8:
This is how the final lip scrub looks. Doesn't it resemble chyawanprash? That does not mean you have to eat it! Scrub your lips with this mixture and rub over them with light strokes of your finger. Scoop a tiny amount of the mixture 2-3 times while scrubbing and rub it along the corners of your mouth as well. Finally wash off with lukewarm water. Apply Vaseline or a lip balm after this if required. I found the lip scrub to be very nourishing and did not require my lip balm for another 2 hours.
Lip scrubs can help exfoliate the lips and eliminate dry or dead skin cells that buildup over the lips. In addition, you can use lip scrubs to restore the suppleness of your lips and lighten them so that their color and appearance are improved. The biggest advantage of lip scrubs made at home is that they are free of harmful chemicals and contain natural and readily available ingredients. The natural ingredients in lip scrubs can help to hydrate, moisturize, and revive your lips. You can make homemade sugar lip scrub by combining brown sugar, white sugar, olive oil, and cinnamon powder in the correct proportions.
Video On How To Make DIY Lip Scrub
The following two tabs change content below.