DIY Rosehip Face Serum: How To Make Rosehip Seed Oil Face Serum At Home
Restore and rejuvenate your skin's health right at home, with this nourishing, nutritive oil.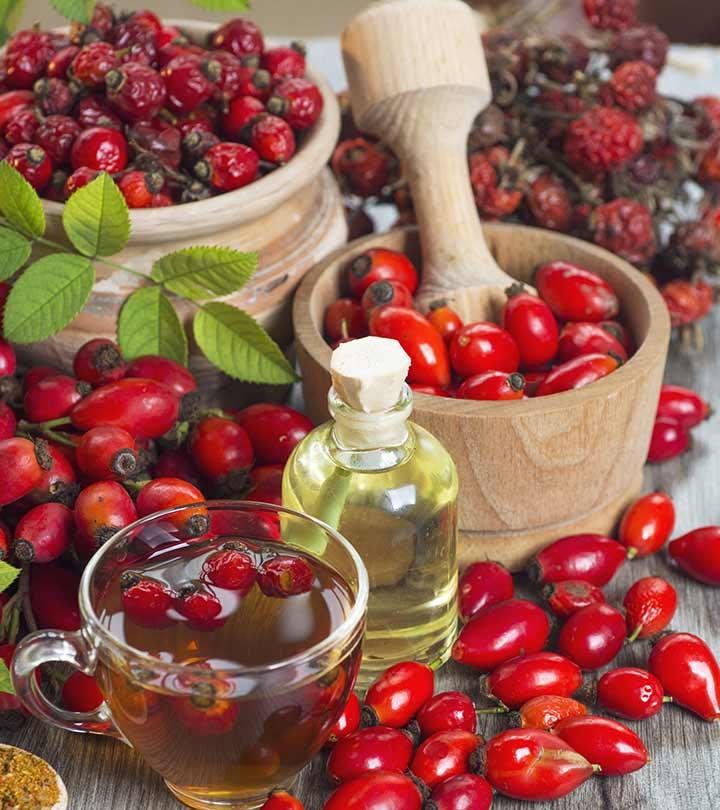 A DIY rosehip face serum recipe is what every skin care enthusiast wants to know or try.
The reason? The plenty of benefits it offers for the skin, such as reducing fine lines and soothing the skin. So, have you included rosehip face serum in your daily skin care routine? If not, do it at the earliest to achieve flawless skin. In this article, we have listed the benefits of rosehip seed oil, easy recipes to prepare face serum at home, its potential side effects, and many more. So, let us get started!
DIY Rosehip Face Serum Recipes
Note: Before you use rosehip seed oil, don't forget to do a patch test to avoid skin reactions or side effects (explained later in the article).
Once you are sure that your skin can tolerate rosehip seed oil, you can start using it. There are many ways to incorporate this wonder oil into your skin care routine. While you can buy commercially available rosehip face serums sold by various skin care brands, there's nothing better than DIY and natural serums. Check out the recipes below.
1. Rosehip And Jojoba Oil Face Serum
Jojoba oil is extremely beneficial in healing compromised skin and repairing the skin barrier. It can treat multiple skin issues, such as acne, eczema, and dermatitis (1).
You Will Need
9 teaspoons of rosehip seed oil
12 teaspoons of jojoba oil
12 drops of essential oil of your choice
1 dark glass bottle with a dropper
Method
Mix all the oils in a measuring cup. Combine well.
Pour the oil mixture in the glass bottle.
Apply 3-4 drops of the oil on your face.
Massage well with your fingertips in an upward motion.
Leave it on overnight.
Stylecraze Says
You can use essential oils like frankincense, evening primrose, neroli, geranium, or myrrh to keep your skin nourished and add a beautiful fragrance to your face serum.
2. Rosehip And Carrot seed Oil Serum
Carrot seed oil has skin rejuvenating properties. It scavenges harmful free radicals and keeps your skin feeling fresh and rejuvenated (2).
You Will Need
8 drops of rosehip seed oil
2-3 drops of carrot seed oil
Method
Combine the two oils.
Use your fingertips to spread the oil blend on your face.
Massage gently in an upward motion.
Leave it on overnight.
3. Rosehip And Aloe Vera Night Serum
Aloe vera contains salicylic acid (heals acne), antioxidants, such as vitamins C and E, and minerals. It reduces skin inflammation and promotes wound healing (3).
You Will Need
1 aloe vera leaf
20-25 drops of rosehip seed oil
Method
Scoop the gel from the aloe leaf.
Blend it for a few minutes.
Extract the juice from the mixture through a cloth.
Pour the aloe juice in a bottle and mix it with rosehip seed oil.
Massage the mixture onto your face
Leave it on overnight.
4. Rosehip and Pomegranate Seed Oil
Pomegranate seed oil is loaded with antioxidants that improve the transepidermal absorption rate of your skin (4). In other words, it helps your skin absorb other products better.
You Will Need
10-15 drops of rosehip seed oil
2-3 drops of pomegranate seed oil
Method
Combine both the oils.
Apply the mixture in small dots all over your face.
Massage with your fingertips for a few minutes.
Leave it on overnight.
These were a few ways you could incorporate rosehip seed oil in your daily skin care routine. But before you use the oil, take a look at the reasons your skin is going to love it.
Why Use Rosehip Face Serum? Benefits Of Rosehip Seed Oil
Rosehip seed oil is the primary ingredient in rosehip face serums. Rosehips are the round parts that you see below the rose flower. These are pseudo-fruits of the plants of the Rosa genus of the Rosacea family. These pseudo-fruits from different species of roses are widely used for medicinal purposes as they contain high levels of bioactive compounds and antioxidants (5).
1. It Hydrates Your Skin
Rosehip seed oil contains linoleic acid and high levels of polyunsaturated fatty acids (5).
Linoleic acid is the most abundant fatty acid in the skin, and it plays an essential role in maintaining the epidermal barrier or the skin's natural barrier. It prevents trans-epidermal water loss and maintains the hydration levels of the stratum corneum, the outermost layer of the skin (6).
2. It Has Anti-Inflammatory Properties
Rosehips are rich in vitamins B, C, and E and also contain carotenoids and polyphenols that help reduce inflammation (5). Rosehip seed oil may help calm your skin if you have inflammatory conditions, such as eczema, dermatitis, and rosacea.
3. It Prevents UV Damage
Rosehips are rich in vitamin C that protects the skin from UV damage. Long-term sun exposure can cause erythema and sunburn. Topical vitamin C has a UV protective effect on your skin. It also neutralizes the harmful free radicals (7).
4. It Prevents Collagen Damage
Collagen is a protein that naturally occurs in your cells. UV exposure can damage the skin collagen and speed up the aging process. It may cause signs of photoaging, such as wrinkles, fine lines, and hyperpigmentation. Since rosehips are loaded with vitamin C, they help prevent collagen damage and keep your skin youthful (7).
5. It Improves The Appearance Of Scars
A study found that rosehip seed oil could promote tissue regeneration and prevent post-surgical scars. The participants in the study saw significant improvement in the appearance of the scars after 6-12 weeks (8).
Stylecraze Trivia
Rosehip seed oil was used by ancient Egyptians as part of their family skincare routine due to its healing properties.
Although rosehip seed oil has numerous benefits, there are certain risks of using it.
Rosehip Seed Oil: Are There Any Side Effects?
The most common side effect of using rosehip seed oil is an allergic reaction. If you are allergic to rosehip seed oil or vitamin C, you may experience the following allergic reactions:
Itchiness
Skin rashes
Hives
Itchy and watery eyes
Anaphylaxis
Breathing trouble
Dizziness
Wheezing
Rapid heart rate
As we mentioned earlier, rosehip seed oil contains vitamin C. Many people are allergic to it. Researchers are not clear if the topical application of rosehip seed oil affects the body's levels of vitamin C.
Increased levels of vitamin C in the body affect people with conditions like hemochromatosis and anemia (9). Hence, it is better to do a patch test. Also, consult a doctor before using rosehip seed oil to avoid its interaction with any medications you may be taking.
Key Takeaways
Rosehip oil serum hydrates the skin, has anti-inflammatory properties, prevents collagen and skin damage from UV rays, and reduces the appearance of scars.
Mixing rosehip seed oil with aloe vera, carrot seed oil, pomegranate seed oil, or jojoba seed oil is the most common way to make facial serums.
If you are allergic to rosehip seed oil or vitamin C, you may experience reactions like itchiness, skin rashes, hives, dizziness, and troubled breathing.
Conduct a patch test before using rosehip oil on the face.
Follow the recipes discussed in the article to prepare DIY rosehip face serum at home. However, remember that rosehip oil can turn rancid quickly. Therefore, prepare the serum in small batches and store them properly to imcrease their longevity.
You can also use rosehip oil directly on your face. However, make sure to use only cold-pressed, 100% organic, and pure, therapeutic grade oil. This serum can improve your skin texture and help minimize signs of aging. Don't forget o do a patch test before using.
Frequently Asked Questions
Can I use Vitamin C serum and rosehip serum together?
If you wish to incorporate both ingredients into your skin care routine, applying each formula at different times of the day is preferable. This is the most convenient technique to allow the skin to develop a tolerance to new ingredients while avoiding irritation and allergies. For example, apply your vitamin C serum first thing in the morning and rosehip oil later in the evening to renew your skin as you catch up on your restful sleep.
Is rosehip face serum a retinol?
No, retinol battles the signs of aging, whereas rosehip oil, which is high in vitamin C, brightens the face. Rosehip oil and retinol, on the other hand, are said to work well together. Retinol, combined with rosehip oil, works wonders when it comes to aging or sensitive skin. They work together to rejuvenate, moisturize, and tone your skin.
References
The following two tabs change content below.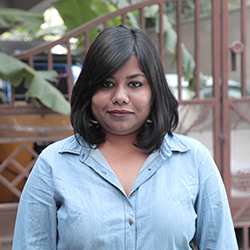 Ramona is an editor at StyleCraze. Prior to that, she authored over 200 articles on skin and hair care. She...
more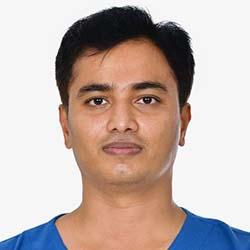 Dr. Sreekar Harinatha
(MBBS, MS, MCh, DNB )
Dr. Sreekar Harinatha is a double board-certified and award-winning plastic and cosmetic surgeon. He specializes in various cosmetic surgeries and...
more