How To Make Sea Salt Spray At Home For Perfect Beachy Waves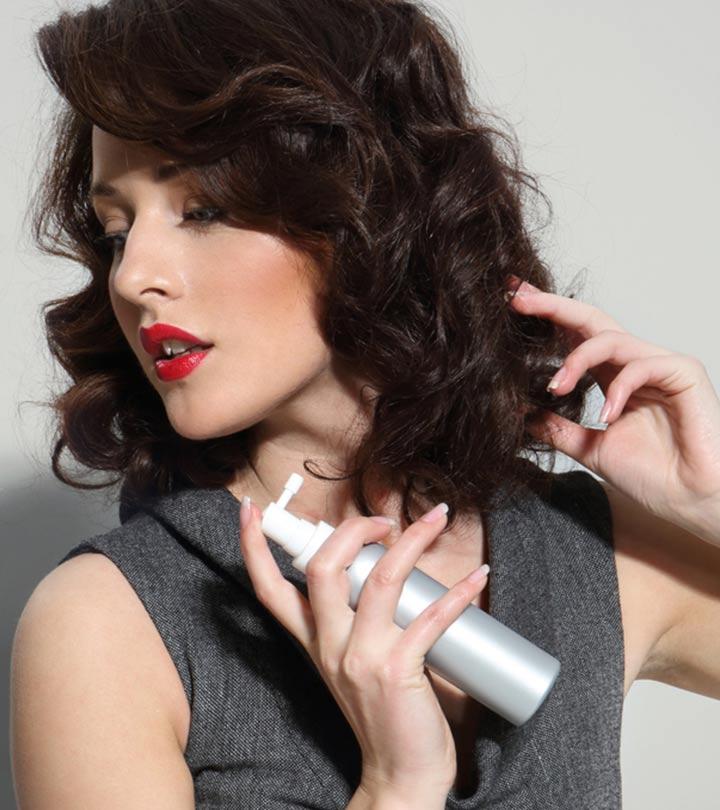 There is something magical about the sun, ocean water, humidity, and the warmth of the sand under your feet. The beachside escapades are refreshing for the soul, and they also leave you with perfectly sculpted wavy hair – reminding you of your beach holidays.
Recreating that perfectly tousled and flowing beachy waves at home is easy if you have a sea salt spray. It is great for texturizing your hair and is easy to prepare at home. If you are missing your beach hair, we have shared the recipe to prepare a simple sea salt hairspray for a tousled, beachy, and effortless look. The easy-to-follow recipe is perfect for anyone who wants a quick and pocket-friendly hair makeover. Keep reading to find out.
What Is A Sea Salt Spray?
A sea salt spray is what it sounds like – a spray that contains sea salt and sometimes some additional ingredients. It binds to the hair strands, absorbs moisture and natural oils, and adds texture to your hair, giving it a tousled, wave-like appearance. A sea salt spray adds body to the hair without leaving any residue, creating a well-defined hairstyle.
While there are numerous sprays available on the market, a DIY sea salt spray recipe will cost you less than half of the store-bought product and give amazing results. Check it out in the next section.
DIY Sea Salt Spray Recipe For Beachy Waves All Year Round!
You Will Need
Note: This recipe makes about 250 ml or 1 cup of sea salt spray.
1 cup of warm distilled water
1 tablespoon of sea salt
1 teaspoon of Epsom salt
1-2 teaspoons of argan or avocado oil
Melted unrefined/organic coconut oil
4-5 drops of any essential oil(s) (Mint, jasmine, lemongrass, orange, grapefruit, or lavender)
1 tablespoon of aloe vera gel
½ teaspoon of leave-in conditioner
An empty plastic spray bottle
A funnel
Instructions
Boil the water over medium heat.
Once it starts boiling, remove from the heat, and add the Epsom salt.
Stir continuously until it dissolves in the water.
Let this mixture cool down., Add all the other ingredients to it.
Pour the mixture into a spray bottle using the funnel and store in a cool, dry place.
Voilà, your DIY sea salt hair spray is ready!
Shake the spray before using.
Here is how you can use the sea salt spray for different hair types.
How To Use A DIY Sea Salt Spray
Hair Type
Instructions
Fine, Flat Hair
Towel-dry the hair and flip it upside down. Spray generously.

You may braid your hair (single or multiple braids) loosely to accentuate the waves and undo them in the morning. If you have naturally oily hair, use it sparingly.

Thick And Wavy Hair
Spray all over wet/dry strands, scrunch gently, and let it air-dry.

For an instant pick-me-up, use the spray and revive the wavy texture.

Curls And Coils
Spritz the spray on wet hair to hydrate your curls without adding any crunch.
You may wonder how a sea salt spray works to give you that perfect beachy look. Find out in the next section.
What Does Sea Salt Spray Do To Your Hair?
Salt primarily adds texture to your hair. If you have fine and limp hair, a sea salt spray can add a body to it, making it appear fuller. Please note that excessive use of sea salt can dry out your hair. However, natural conditioners counteract its drying effects and nourish the hair from the inside out.
Epsom salt may also help soothe your hair and scalp.
The oils, aloe vera gel, and conditioner present in the DIY sea salt spray work as moisturizing agents and prevent excessive dryness. They also condition the hair and hold the curls.
Essential oils are optional and are used for their captivating scents. All in all, they lend a summery essence to your spray.
This sea salt spray is power-packed with all the goodness of natural ingredients minus any chemicals, making you ready to flaunt a messy-yet-flawless look all year round.
Wrapping Up
All things said and done, this DIY sea salt spray works wonders in providing texture and light hold to your hair. More importantly, the nourishing oils and hydrating ingredients condition your hair, giving you soft, textured, beachy strands. Try this DIY sea salt spray and get the summery beachy vibes all the time!
Frequently Asked Questions
What types of hair can benefit from sea salt spray?
A sea salt spray is suitable for all hair types. However, it works wonders for fine and limp hair.
• For thick, curly hair, it defines your curls and lowers frizz.
• For straight/fine hair, it adds volume and texture.
• For wavy hair, it redefines and tames your waves.
Is it okay to use a sea salt spray every day?
No, a sea salt spray may dry out the hair. Hence, it is better to use it sparingly.
Does the DIY sea salt spray need a preservative?
Yes, if you are making it in large batches. Aloe vera gel is tough to preserve for a long time. You may use natural preservatives like Sharomix 705.
What does a sea salt spray do for straight hair?
A sea salt spray adds texture, body, and volume to fine and straight hair.
Can you make sea salt spray with regular salt?
Yes, you may use table salt or any other salt like kosher salt for the spray.
Is it okay to use sea salt spray on colored hair?
Yes, it is safe to use the sea salt spray on colored and keratin-treated hair.
Recommended Articles
The following two tabs change content below.