Do Hair Loss Shampoos Really Work? Know The Truth Here!
Understand what goes into these products to learn how they can benefit you.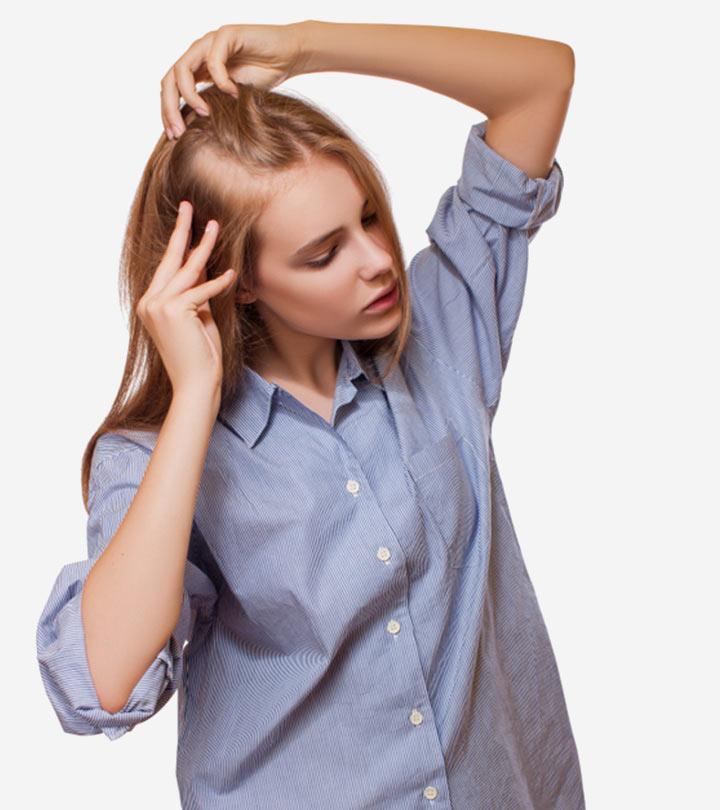 It is common for hair loss shampoos to make impressive claims about their effectiveness. For example, some products promise to increase hair growth and prevent thinning hair. We will tell you whether this is true or a marketing ploy to get your attention.
This article provides an overview of the various shampoos available for treating hair loss and how they work. Check out all the details below.
What Is Hair Loss Shampoo?
Shampoos that stop hair loss and promote hair regrowth are called hair loss shampoos. They usually contain DHT blockers, ketoconazole, hydrocortisonei  XA steroid hormone used to treat itching, redness, and rashes caused by various skin conditions. , or volumizing proteins.
DHT (dihydrotestosterone) is a hormone that is known to shrink hair follicles, resulting in thinning hair (1). Another common component used in hair loss shampoos is panthenol, which is known for its fortifying properties.
Ingredients such as caffeine that boost blood circulation are also used in hair loss shampoos to promote hair growth and hair restoration.
Few examples of hair loss shampoos include Nioxin, SIMFORT Carbonic Acid Shampoo, and Ultrax Hair Surge Hair Loss Shampoo.


Did You Know?
Female pattern baldness is the most common form of alopecia, or baldness, in women. Affected women may experience psychological distress and impaired social functioning (
2
).
Keep reading to find out if these shampoos really work!
Does Hair Loss Shampoo Really Work To Stop Hair Loss?
No, hair loss shampoos cannot in hair loss prevention. However, they may help in promoting hair growth and adding thickness and volume.
If your hair loss is associated with a scalp condition such as seborrheic dermatitisi  XA common chronic skin condition that affects the oily areas of the body, especially the scalp, causing flaking and scaly patches. or psoriasisi  XA chronic skin condition that causes itchy skin, rashes, and scaly patches, mostly on the knees, scalp, elbows, and trunk. , then using shampoos with antifungal or anti-inflammatory agents may help reverse it. According to anecdotal evidence, both ketoconazole and hydrocortisone help in boosting hair growth to some extent. You can find the best ketoconazole shampoos here. Keep in mind that ketoconazole is not approved by FDA for treating hair loss.
Similarly, shampoos with DHT blockers are said to suppress DHT, a hormone that is known to shrink the hair follicles. So, there is a slight chance that using these shampoos in your hair care routine may help in minimizing hair thinning.
Finally, shampoos with panthenol are claimed to add thickness to the hair. Thus, they are known as hair-thickening shampoos. This derivative of vitamin B2 is claimed to help in attracting moisture to the hair strands, which makes the hair look thicker, healthier, and shiner. However, there is no scientific evidence to prove the same.


Did You Know?
Studies have shown that significant female-pattern hair loss is seen in 1/4th of women over 50 (
2
).
Thus, there is no conclusive evidence regarding the efficacy of hair loss shampoos. Find out the alternative hair treatments to fight hair loss in the next section.
Treatments Options Currently Available
Drugs: The most popular drugs used to treat hair loss, especially male pattern baldness, are finasteride and minoxidil. These drugs have shown promising results in clinical trials (3), (4).
Hair Transplant: Hair transplant offers the best long-term results despite being on the more expensive side. In most cases, hair transplants can help manage hair loss successfully with little to no maintenance. Apart from the cost and recovery time, hair transplants are a great option to treat chronic hair loss.
According to the International Society of Hair Restoration Surgery: 2022 Practice Census Survey Results, there were a total of 149,254 surgical hair restoration procedures carried out in the United States and Canada in 2021. Worldwide, the number of surgical patients undergoing these procedures amounted to 628,604. On average, approximately 87.3% of these procedures were performed on men, while the remaining 12.7% were performed on women.
The cost of a hair transplant treatment may vary from country to country. According to a 2020-2021 survey, the total cost of a hair transplant in the US was approximately 13,610 dollars. Further, the price was the highest for Canada at nearly 17,500 US dollars, followed by 2,675 US dollars in Turkey. Check out the graph below to learn what a hair transplant treatment may cost in other countries.
Total Cost Of Hair Transplant Worldwide
Source: Hair transplant cost in select countries in 2020 and 2021
Infographic: Taking Care Of Your Mane If You Have Hair Loss Issues
Hair loss is due to various underlying factors that may not let your hair — new or old — grow. They leave your tresses fragile and more prone to breakage. Thus, you need to be extra cautious and gentle with your hair. Check out the infographic below to learn the hair loss remedies or tips for maintaining strands with hair loss issues.



It is important to state that while many hair loss and hair fall shampoos declare that they can fend off hair loss, you won't see results overnight. Hair loss shampoos are not miraculous elixirs that can vanquish the villain of the story, i.e., severe shedding. The best way to treat hair loss is to get to the root of the matter –⁠ its cause. Once you figure out the cause of your hair fall, choose a shampoo that addresses that specific issue. For example, if your hair fall is caused by inflammation or fungal infection, opt for an anti-inflammatory or antifungal shampoo. If the hair loss is caused due to hormonal issues, you should look for a shampoo with DHT blockers, like a caffeine shampoo. Remember to consult a doctor to diagnose the true cause of your hair loss and get proper hair loss treatment if needed.
Frequently Asked Questions
What shampoos are causing your hair to fall out?
Shampoos with SLES, SLS, parabens, phthalates, and mineral oil may cause hair fall. If your shampoo has a high pH level, it could also lead to hair damage and hair fall. Using the wrong shampoo for your hair type may cause hair fall as well.
Is biotin shampoo good for hair loss?
Anecdotal evidence suggests that using biotin shampoo may improve hair health, in turn reducing hair loss. But it is better to try biotin supplementation over a biotin shampoo.
Can I use hair loss shampoos along with other hair loss treatments?
Combining hair treatments like minoxidil and finasteride with ketoconazole shampoos helps boost hair growth and improves hair health. However, using ketoconazole and zinc pyrithione shampoo with minoxidil is not recommended as there is a risk of harmful interaction between the ingredients.
Are there any natural alternatives to hair loss shampoos?
Yes, there are natural alternatives that can reduce hair loss and promote hair growth. Massaging the head with essential oils like peppermint, rosemary, or lavender mixed with carrier oil improves blood circulation to the scalp. Onion juice contains sulfur which promotes hair growth by improving collagen production. Antioxidant-rich green tea and aloe vera can also encourage hair growth and health.
How do I know if a hair loss shampoo is right for me?
Before picking up any hair loss shampoo, you must know your hair type and choose a product formulated for your hair and scalp type. Understand the underlying reason for the hair loss and choose sulfate-free shampoos with natural active ingredients.
Can I use hair loss shampoos if I have sensitive skin?
Sensitive skin is prone to react with harsh chemicals leading to itching and rashes. Specially formulated hair loss shampoos, free of parabens, sulfates, and fragrances, are suitable for sensitive skin. However, perform a patch test to check for adverse reactions.
How often should I use a hair loss shampoo?
Using a hair loss shampoo 2-3 times per week is recommended. Excessive shampooing can strip the hair of its natural oils and damage the hair strands.
Can hair loss shampoos be used on all hair types?
Yes, you can use hair loss shampoos on all hair types, provided you choose the shampoo based on the specific hair type, scalp type, and reasons for hair loss.
Key Takeaways
Hair loss shampoos contain caffeine, DHT blockers, ketoconazole, and panthenol that help strengthen your hair and check thinning.
You cannot trust all the tall claims that manufacturers make. In this case, there is little evidence to suggest that these shampoos stop hair loss.
Instead, you can go for drugs like finasteride and minoxidil for promising results.
Struggling with hair loss? Find the perfect shampoo to address your concerns! Discover expert tips and recommendations in the following video and say goodbye to your worries! Don't miss out—click to watch now!
References:
Articles on StyleCraze are backed by verified information from peer-reviewed and academic research papers, reputed organizations, research institutions, and medical associations to ensure accuracy and relevance. Read our editorial policy to learn more.
The following two tabs change content below.